2012 has been a busy year for many entertainers. But try as I might, I can't come up with anyone this year who has worked in as many different mediums and genres as Steven Van Zandt, who was also honored recently at a gala by Little Kids Rock for his stellar career in music and his humanitarian work.
Van Zandt's most recent project is producing six concerts by the Rascals at the Capitol Theater in Port Chester, New York called Once Upon a Dream. These unprecedented six shows (funded through a successful Kickstarter campaign) start tonight, Thursday December 13th, and wrap up next Saturday December 22. If you know anything about the history of the Rascals, you'll know that this is quite an achievement. And judging by his past activities, these concerts promise to be incredible. Van Zandt does not do anything half-way, ever.
Besides the Rascals shows, let's review the rest of his year. He and his cohorts in the E Street Band just completed the first part of an 11-month world tour for Bruce Springsteen's Wrecking Ball album (more shows are planned for next year). He executive produced and starred in the Norwegian crime dramedy Lilyhammer, which drew the highest audience share ever for a TV show in Norway and was also broadcast in England, Germany, Sweden, Denmark, and France to rave reviews everywhere. In addition it was snapped up eagerly in the U.S. by Netflix as their first series production.
Van Zandt celebrated the first decade of his groundbreaking weekly radio show Little Steven's Underground Garage this year, now heard by a staggering 1.2 million listeners globally. He also helms two 24 hour channels on SiriusXM, Underground Garage and Outlaw Country. He runs a record label, Wicked Cool, and writes and produces music for other artists (most recently he produced "All Alone on Christmas," originally written for the film Home Alone, by the delightful Midtown Men). He also serves as chairman for The Rock and Roll Forever Foundation, a non-profit organization established to promote rock 'n' roll and music education. In his spare time (if there is any, which is doubtful) he writes for this very site on topics ranging from presidential politics to what really happened the night they pulled the plug on Bruce Springsteen and Paul McCartney in Hyde Park.
Aside from all the activities cited above, which a normal human being could perhaps handle one in a year, Van Zandt served as music supervisor on Not Fade Away, the coming of age rock and roll drama and feature film directorial debut of The Sopranos' David Chase. The film, out December 21, stars James Gandolfini, and is already getting terrific notices for both the story and the music.
October's Little Kids Rock Gala (which also marked that organization's tenth year) was a magnificent event in which Van Zandt was presented with the "Big Man of the Year Award," given annually to honor the legacy of the late Clarence Clemons. The charity provides free musical instruments and music lessons to kids across the country that might not otherwise have any access to music education. Bruce Springsteen presented the award, also treating those in attendance to a fantastic speech about the friendship he shares with Van Zandt, dating back to the 1960s.
Van Zandt's music was celebrated at the event by a star-studded posse of his peers. Stunning versions of songs he wrote and performed as a solo artist in the 1980s as well as songs he had penned for other artists were presented. The performers, genres, and material literally spanned the decades from Southside Johnny and the Asbury Jukes in the 1970s to more recently, a 2008 song for Danish band the Breakers. (By the way, architect of the Asbury shore music scene sound? That would be Steven Van Zandt... I'm just saying).
There were multiple standouts. These included Elvis Costello performing the ballad "This Time Baby's Gone for Good" originally on the classic Southside Johnny and the Asbury Jukes' Hearts of Stone album, 1978. The fabulous Kris Allen nailed the beautiful "The Time of Your Life" from the soundtrack to the film Nine Months in 1995. Michael Des Barres brilliantly presented "Soulfire" which Van Zandt co-wrote five years ago for Danish band the Breakers. Dion and Ruben Blades did a phenomenal duet on "Bitter Fruit" which Van Zandt had written for his 1987 Freedom-No Compromise album. The glorious Darlene Love, who told me earlier that night "Whenever Stevie calls -- I am there," presented a cover of the shoulda-been-a-hit-single "Among the Believers" (from Van Zandt's 1984 Voice of America album). Tom Morello prefaced an incredible version of the anthemic "Sun City" from 1985 (the importance of this song cannot be understated -- it had as much to do with ending South African's apartheid system as anything else) with a stirring introduction:
The song itself was an irrefutable jam which featured perhaps the most revolutionary gathering of musicians ever heard on a recording. It was an inspired song, an inspired video, and inspired American youth who were part of a global movement which eventually pressured apartheid out of existence... it was literally a song that changed the world.
The Midtown Men, Michael Johns, and Jesse Malin also contributed fine performances to the event, which ended with a triple delight from old friends Springsteen, Southside Johnny and Van Zandt: "Until the Good Is Gone" (a thrills and chills ballad from Van Zandt's first solo record, Men Without Women); "It's Been a Long Time" (from the 1991 Better Days album produced and arranged by Van Zandt for Southside Johnny and the Jukes); and perhaps his best known song, the redoubtable "I Don't Want to Go Home," the titular anthem of the first Jukes album. To quote Southside Johnny, "God Bless Steve Van Zandt."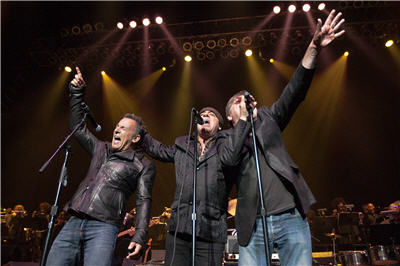 L to R, Bruce Springsteen, Steven Van Zandt, Southside Johnny
Used With Permission (c) Mark Jaworski
I can hardly wait to hear what he's up to for 2013. Who's with me?
Tickets for the Rascals
Little Steven's Underground Garage
Not Fade Away
Little Kids Rock Finale
The Rock and Roll Forever Foundation