Tony Muia knows Brooklyn. And he knows pizza. "I was born, raised, and still live in Brooklyn. To me, there's no better place in the world. I love my hometown and have always had a passion for everything about it," he says. Muia started his own bus tour company, A Slice of Brooklyn, in 2005 to share his love of Brooklyn and pizza with others. At first he ran the entire business by himself. His Uncle Louie, who worked for the Post Office, would take a break from work to help greet people before they got on the tour bus. Tony was able to hire his cousin Paula and enlist the help of cousins Fat Sal and Frankie Pancakes after a 2007 appearance on NBC's Today Show skyrocketed the business to a new level. A Slice of Brooklyn became the first family-run, Brooklyn-based tour company doing guided bus tours of Brooklyn.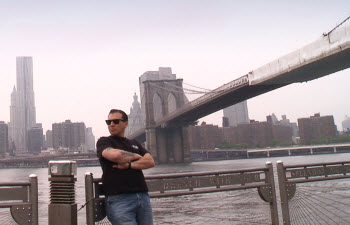 The bus tours took off in a big, big way and are generally booked way in advance. The four-and-a-half hour tour (customers are picked up and dropped off in Manhattan) includes famous movie locations from Saturday Night Fever, The French Connection, Goodfellas and many more, as well as stops in Brighton Beach and Coney Island, not to mention plenty of pizza at legendary pizzeria's like Grimaldi's and L&B Spumoni Gardens. The success of this tour led to two additional tours by Tony's company, the Brooklyn Neighborhood tour and the December Christmas Lights tour.
Tony's success attracted the attention of the Travel Channel, which premieres Slice of Brooklyn tonight at 10:00 and 10:30pm. On the program, Tony and Paula are joined by Tony's colorful consiglieri, Uncle Louie, Fat Sal, and Frankie Pancakes. The first episode deals with the fact that despite being voted the #1 tour of Brooklyn on TripAdvisor, competition is heating up from companies who are copying Tony's ideas and going to the same locations. "These companies coming into Brooklyn have bigger budgets than we have, bigger PR firms, bigger marketing teams so they could potentially blow us out of the water even though we were the originators," says Tony. "However, we have something that they'll never have. We've got a pride for our hometown that's as big as our hearts and that trumps insincerity any day of the week." Will he be able to hold his own amongst the deep pockets of the competition? Tune in tonight at 10pm to find out!
Of course I had to ask Tony what his favorite kind of pizza is. "That's like asking a father to pick his favorite kid!" he laughs. "I love it all. Thick, thin, white, you name it! If I did have to pick one, though, it would be the Sicilian pizza at L&B Spumoni Gardens. I also love the regular slice at a place called J&V in Bensonhurst. It's one of those classic, walk-up-to-the-window type joints that we all grew up with as kids in Brooklyn and that are still around. The owner is Joe. His father opened the place back in the 1950's and now Joe's continuing the tradition. My Mom used to take me as a kid and we still go there."
"I grew up in the Bensonhurst section of Brooklyn, also known as the Little Italy section of Brooklyn. My parents came here from Calabria, Italy in the 1950's and settled there. My Dad is a barber and my Mom is a seamstress. I have two younger brothers named Vinny and Joey... You can't make this stuff up. This is my life and I'm as real a Brooklynite as it gets," Tony grins. As for the show, he notes, "Most importantly, viewers will get to see all the amazing foods, neighborhoods and visual beauty of Brooklyn and truly understand why our company slogan is 'Manhattan? FUHGETTABOUDIT!'"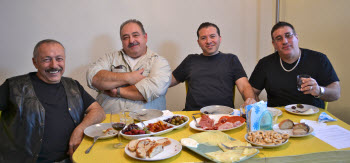 Check out a clip from Slice of Brooklyn here and tune in tonight at 10pm to spend an hour with Tony and his gang on the Travel Channel. And if you're in the New York area, check out his tours on his website. Andiamo!