The ride-sharing service Chariots for Women will be launching nationwide in the United States on April 19 as an alternative to Uber and Lyft. In this model, all drivers and customers will be women to "ensure safety, comfort, and pleasure."
Since stories about sexual violence of women at the hands of male Uber and Lyft drivers and taxi drivers are not uncommon, it's understandable that there is a market for such a service. Indeed, I've supported a similar but free service called RightRides in both New York City and Washington, D.C. On select nights, women and LGBQTI-identified people can receive a safe late-night-ride home.
In San Francisco, a similar service called Homobiles offers rides that are free, with a donation suggested, to members of the LGBTIQQ community, who similarly may feel unsafe or discriminated against by drivers or be unable to pay for expensive taxi fares.
I understand why these services exist and many countries offer some form of women-only public transportation. But I do not believe that these kinds of women-only or LGBTIQQ-only services should be the ultimate goal. They are problematic for many reasons. Namely, they do not address the root causes of harassment and sexual assault, and they place the onus on these communities to keep themselves safe.
But there are no quick-fixes and easy answers for making public transportation (or any public spaces) safer, and I applaud those who are at least trying. And lately, there have been many groups that are trying. These are four examples, just from the past few weeks:
JAPAN:
In Japan, men groping women and girls on public transportation is a problem, but it's challenging for them, especially girls, to speak out in the moment when it happens.
A female high school student in Tokyo who was regularly groped by men on her ride home from school (and reported it, but that did not stop it) and her mother designed a button that said "Groping is a crime" and "I won't let the matter drop" which she attached to her school bag. The buttons seem to be a deterrent, and no man has groped her since she put them on her bag.
Her success inspired others. Recently, thanks to a fundraising campaign ("Stop Chikan Badge Project"), the Chikan Yokushi Katsudo Center expanded on her idea and mass produced buttons. The designs on the buttons were also selected through crowdsourcing - there were 441 submissions and five designs selected. Recently, volunteers from the organization distributed 500 of the buttons at the JR Shibuya Station, with plans to distribute them at other stations. Not only did girls and young women take badges, but adults took them too to distribute to their daughters.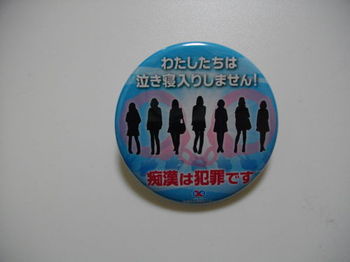 MEXICO:
In early April, twenty women wearing dark clothing across their body and faces and carrying anti-harassment signs held a flash mob protest against sexual harassment on the transit system in Mexico City. They were organized by the group Information Group on Reproductive Choice after one of the women's colleagues was attacked. A 2014 study found that more than 60 percent of women in Mexico City and faced sexual abuse while riding public transit.
The women demonstrated at various stations and on the subway itself. Both metro authority staff and passengers were respectful and many women passengers stopped to thank them for raising awareness through their demonstration.
UK:
Transport London conducted a survey in 2013 of their riders and found that around one in seven women had experienced unwanted sexual behavior on public transit. In response, they launched Project Guardian in conjunction with the British Transport, Metropolitan and City of London police forces and local advocacy groups, to raise awareness and train employees. But even still, few people reported harassment when they experienced it.
One year ago, they released the Report It to Stop It campaign. The video captures the way harassment can escalate and a voice asks at various points, "Would you report it?"
This month, one year later, Siwan Hayward, TfL's deputy director of enforcement and on-street operations said there's "not enough data yet to say it's a trend" but "we are beginning to see what we hope is actually the prevalence of sexual offences falling."
Notably, the video has been viewed nearly five million times and 36 percent more people are coming forward to report harassment, resulting in a 40 percent increase in arrests. As Ellie Violet Bramley wrote for the Guardian, "the real win is the cultural shift this signals - women won't accept this behaviour as routine any more, and neither will the authorities."
USA:
Washington Metropolitan Area Transit Authority (WMATA) has been working in collaboration with Collective Action for Safe Spaces and Stop Street Harassment on an anti-harassment campaign that has included station-wide awareness posters, an online reporting form, the training of employees, and outreach days at Metro stations. All of these efforts set the tone that sexual harassment is unacceptable and is taken seriously.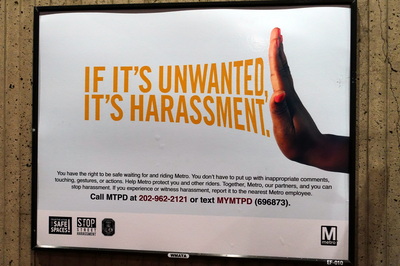 Over International Anti-Street Harassment Week, the three organizations released the results of the first-ever survey on the system. This is the biggest study of its kind for any transit system in the United States.
In the 1,000 person-regionally representative survey conducted in January 2016 by Shugoll Research, 21 percent of riders had experienced some form of sexual harassment, with verbal harassment being the most common form. Women were three times more likely than men to experience sexual harassment.
In positive news, 41 percent of the riders were familiar with the latest anti-harassment campaign and those who were familiar with it were twice as likely to report their experiences of harassment. Based on the findings, WMATA, CASS and SSH are currently working on a new awareness campaign that will be released in a few weeks.
Find ideas for how YOU can help make public spaces safer.