As I was Christmas shopping today, I chuckled to myself when I thought about all of the people who have said (in different iterations) to me: "Cancer is a gift. Look at what you are doing now. You would never have done this if you hadn't had cancer." When this happens, my cheeks instantly turn 50 shades of (not grey but) purple. I do my polite smile and take a deep breath before saying, "In. No. Way. Is. Cancer. A. Gift."
Cancer does, however, keep on giving. At my appointment last week, my oncologist and I discussed the realistic practicality of a prophylactic oophrectomy (preventing cancer recurrence by surgically removing my ovaries), evidence of (yet) another tributary on this long, pot-holed road that is breast cancer.
The truth of the matter is that FBC is exactly what it has always been: F-bomb breast cancer. It does not have any of the markings of a traditional gift. There is no ribbon. No card. No love. No fun. And it comes with lots and lots of strings attached.
Now, I have found an immense number of Silver Linings during my experience with FBC. Maybe this is what people really mean when they use the word "gift"? I don't know and don't care to delve into a discussion (argument?) with anyone who thinks that cancer is a gift. I just can't go there and am not going to "should" myself on the topic.
What I know for sure is that Silver Linings have always provided balance and perspective for me. They have not ever taken away the pain, nausea, sadness or isolation that come with cancer. The Silver Linings that I have experienced (and continue to experience!) during my cancer diagnosis, treatment and recovery help me get through each and every day. I have a tremendous amount of gratitude for the Silver Linings, but you'll never, ever, not in a million years hear me refer to cancer as a gift.
Now back to my Silver Lining: buying Christmas gifts with lots of ribbons, cards, love and fun!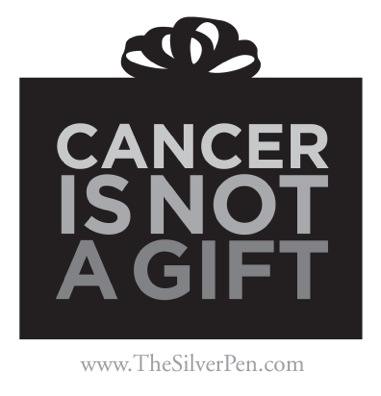 To read more about Hollye's holistic and humorous journey over, around, above and below breast cancer, please visit her blog, The Silver Pen (http://www.thesilverpen.com/). You may email her at hollye@TheSilverPen.com or follow her on Twitter @hollyejacobs.
For more by Hollye Harrington Jacobs, click here.
For more on breast cancer, click here.