In the world of recycling and DIY, it's almost impossible to go a day without talking about the mason jar. That's because, from practical to decorative, there is a wealth of uses for these versatile containers. If you haven't experimented with them yet, here are some ideas of how to add this handy highlight to your home.

1. DIY Candles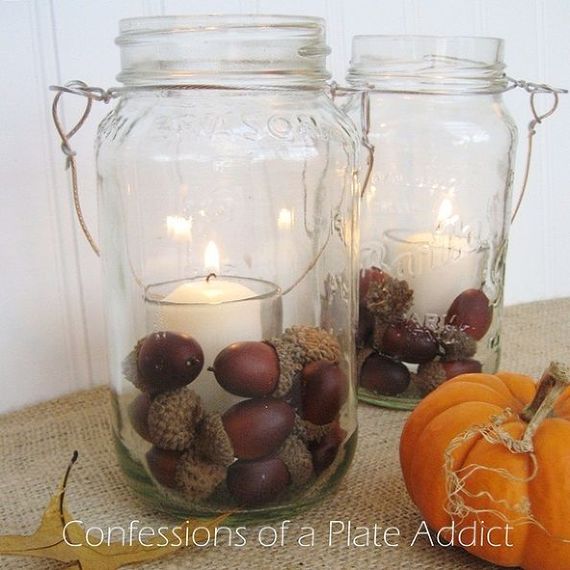 Pottery Barn Inspired Mason Jar Candles via Confessions of a Plate Addict
Mason jars are ideal for brightening up your lighting. You can choose to let them glow delicately at their bare minimum, or add some panache and decoration, like these festive acorns.

2. Solar lights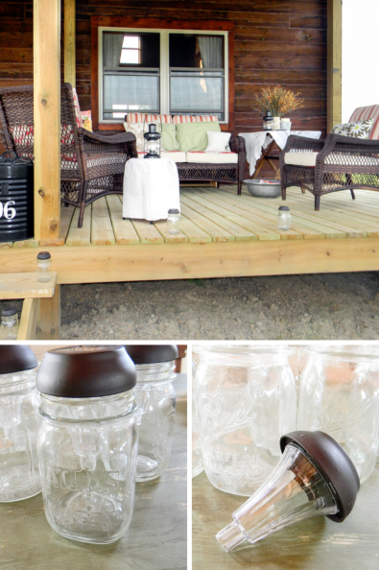 Solar Mason Jar Lamp via Creative Cain Cabin
Once you're already choosing to upcycle a mason jar, why not keep with the trend and continue to go green? Use this idea for mason jar solar lights to line your walkway or porch. These portable lights easily adjust to your changing needs and style.

3. Chandelier or Lamp
The beauty of this kind of project is in taking something so simple and making it intricate and ornate. Use an old, refurbished light fixture, like the one featured above, to create an unfinished, vintage look, or buy new and follow this design to compliment your tidy, upscale space.

4. Storage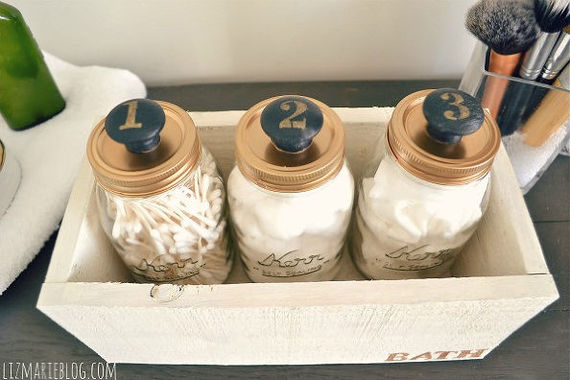 DIY Mason Jar Storage via Liz Marie Blog

Keep buttons and other small supplies systemized and on hand, by following a design like this easy and artsy bathroom storage. In the kitchen, utilize these jars to organize your spices or grains, and take advantage of their reusability. With their simple design, they can easily and artfully be labeled and stored, keeping your space tidy and ready.
5. Kits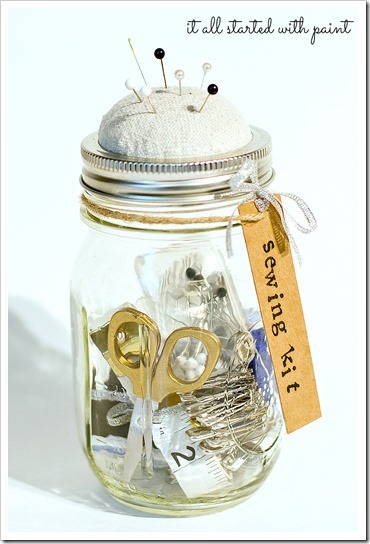 Mason Jar Sewing Kit via It All Started With Paint
Similar to the storage idea, this project keeps everything you need in one place, and is ideal for gift giving or party favors. Whether for soup mixes or project kits, like this tidy, compact sewing kit, package all the necessary components in a decorative jar, to create a personal and practical gift for a child's teacher, a guest, a host,or any creative friend.
6. Lidded Glasses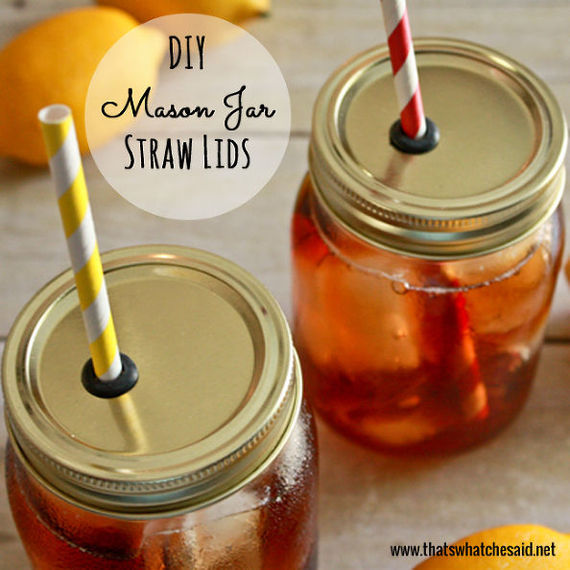 Mason Jar Straw Lids via That's What Che Said
It almost feels wrong to drink lemonade or iced tea out of anything but a mason jar with a wedge of lemon and a striped plastic straw. For the most idyllic outdoor experience, whether in the yard or by the pool, enjoy an icy treat that will make for some fond picturesque summer memories.
7. Planter
The simple glass of mason jars is ideal to showcase flowers and plants, and a little bit of green will add texture, scent, and some natural calm to any room. Upcycle a mason jar into a planter following Mary Beth's instructions.
8. Vase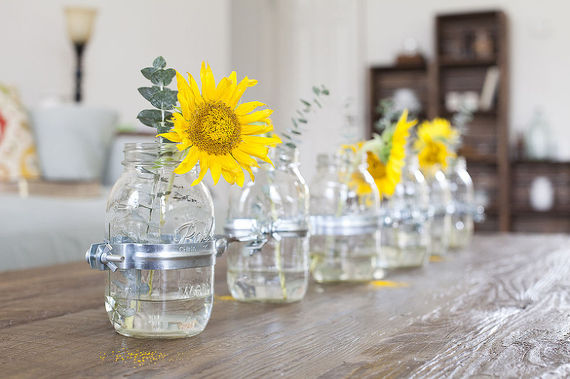 DIY Mason Jar Vase Centerpiece
The shape and size of a mason jar are perfect to display individual flowers, like these sunflower centerpieces, and produce a modern, colloquial take on the formal, traditional glass vase.
9. Photo Gallery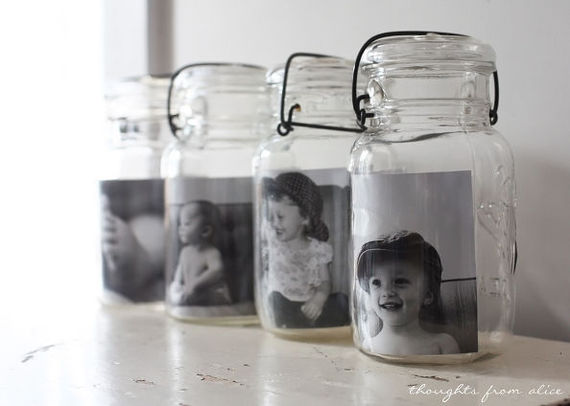 Mason Jar Photo Gallery via Thoughts From Alice
We're always looking for new, interesting ways to display family pictures and cheerful candids. This clean, effortless design highlights the basic beauty of your family and friends, and allows you to display pictures in a more multidimensional way than would a regular frame.
10. Air Freshener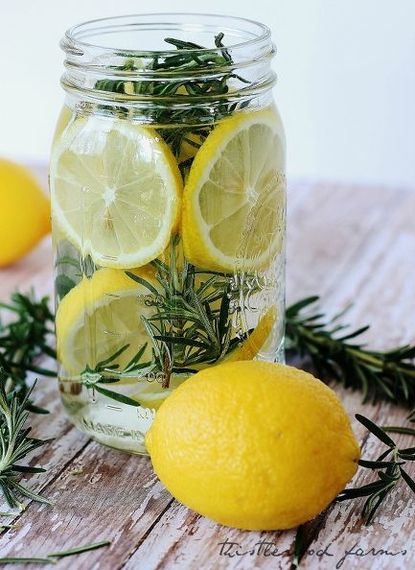 Customized Room Scent via Thistlewood Farms
If you're smell-sensitive, you're not alone. But it can be difficult to find a scent which doesn't simply cover up other bad smells, but provides you with a fresh alternative which appeals to you. If you've never made your own air freshener, this detailed DIY project is the perfect opportunity to try it out.
11. Soap Dispenser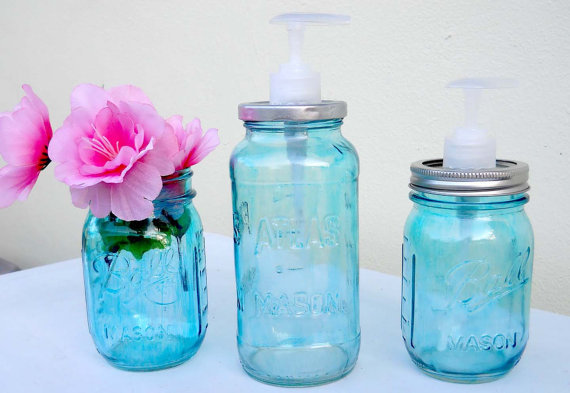 DIY Soap Dispenser via Get Your Paint On
Sometimes, it's difficult to find exactly the detail you're looking for to perfectly tweak your living space. With minimal costs and materials, you can use your mason jar to easily assemble and decorate your own soap dispenser, perfect to compliment your bathroom tiling or your kitchen appliances.
With your mason jar in hand, you're ready for any number of household and garden projects. Next time the opportunity arises, don't see an empty jar, see creativity, possibility, and fun. For more ideas and more creative projects, check out Hometalk's repurposing and upcycling section.