Valentine's Day is just two weeks away, which means we're getting dangerously close to an avalanche of pink and red roses, and a blizzard of greeting cards covered in hearts and naked flying babies. But you don't want decor from the party store -- you want decorations that will actually mean something. How do you make your Valentine feel special when everyone's using the same 4 letter word? Make your "love" a little more personal, by spelling it in one of these 11 DIY ways.
1. In Lights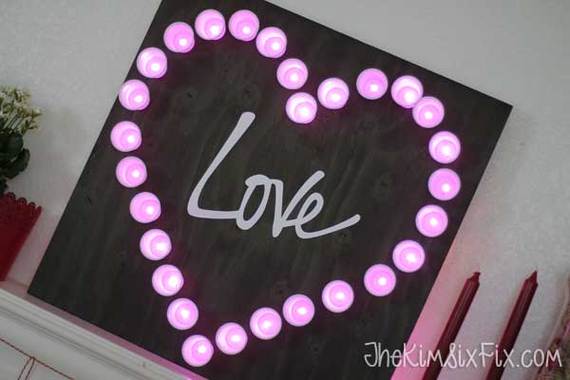 Project via Hometalker Kim @The Kim Six Fix
Make your feelings bright and clear, with a DIY marquee to announce your love. Bonus: this one is made from upcycled K-cups!
2. On a Plant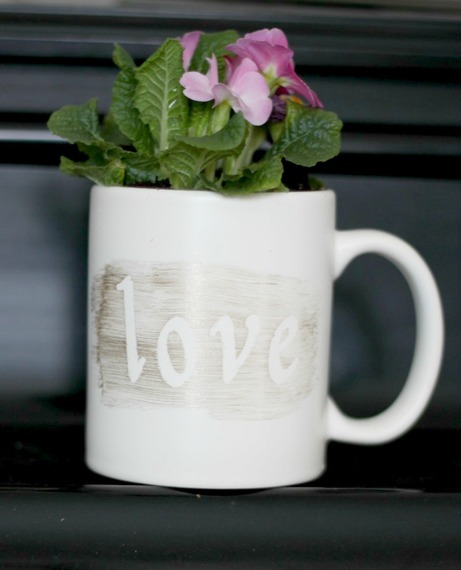 Project via Hometalker Kimm @Reinvented
A sentimental planter is simply a great way of showing your SO how you feel, and it hasn't been done to death. Try this cool DIY method for adding your own message to an old mug!
3. With Junk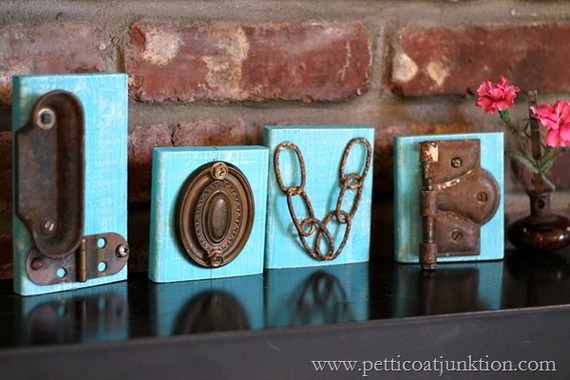 Project via Hometalker Kathy @Petticoat Junktion
Spell your love out in bits of scrap metal and wood, like this creative design. You're guaranteed to get a look all your own, and your masterpiece will be stunning art all year round!
4. In Bling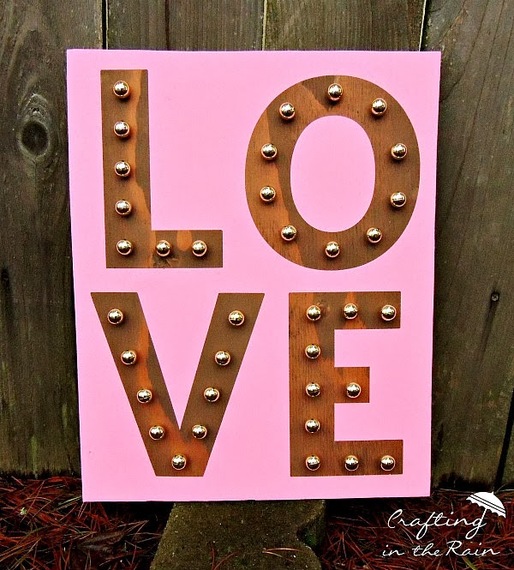 Project via Hometalker Steph @Crafting in the Rain
Try this blinged out DIY (and maybe accompany it with some actual bling), for a V-Day surprise they'll love--err, appreciate!
5. On Your Gift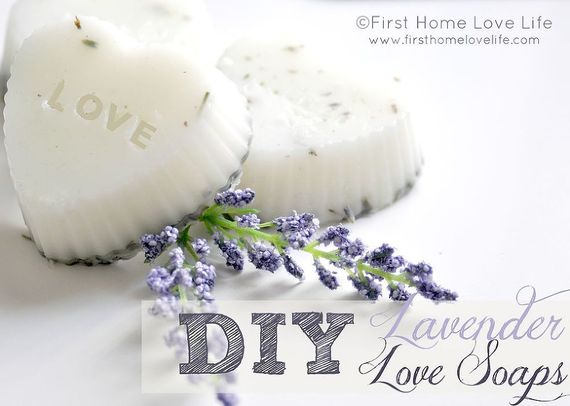 Project via Hometalker Christine @First Home Love Life
Try this recipe for luxurious soap, or dream up another DIY gift--whatever you choose, inscribe it with your love, she they know how you feel every time they see it.
6. Upcycled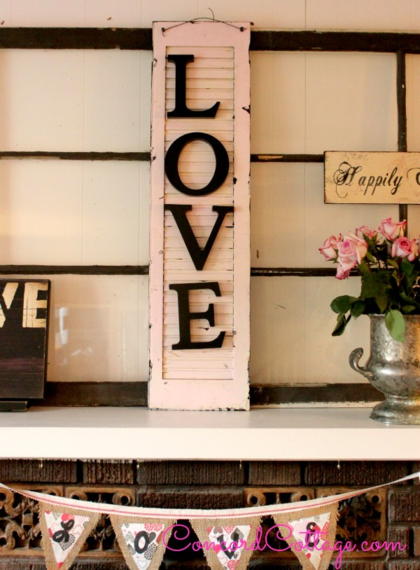 Project via Hometalker Lisa @Concord Cottage
No one said you had to break the bank to be original! You can get as innovative as you like, by upcycling things you've already got, like this DIYer did with an old shutter turned love declaration!
7. Without Actually Spelling It Out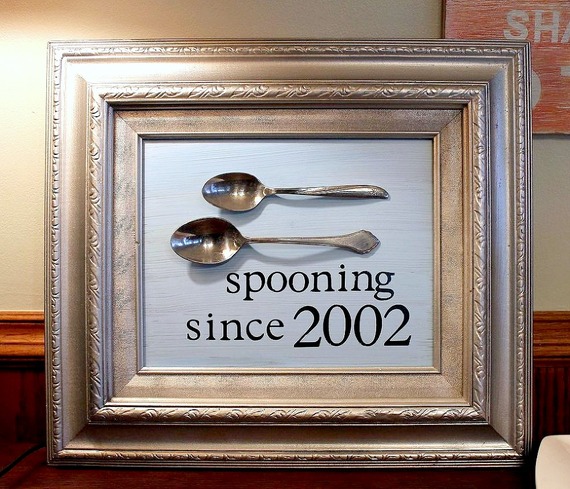 Project via Hometalker Vivienne @The V Spot
Sometimes, you don't need to spell it out. Send your love a cheeky message, with this sweet framed craft that says it all.
8. In Coziness

Project via Hometalker Debbie @Confessions of a Plate Addict
Is it a coincidence that "love" and "cozy" are both four letter words? Maybe, maybe not, but spelling your feelings in pillows is a great way to encourage some snuggling!
9. With $1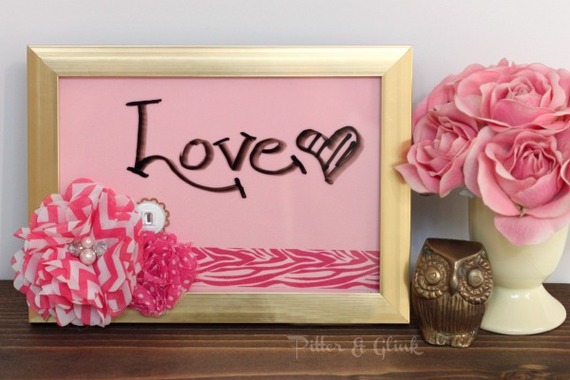 Project via Hometalker Stephanie @Pitter and Glink
Make your own dry erase board, so you can switch up your message throughout the day, or just rewrite that one word in every style you can think of!
10. In Chalk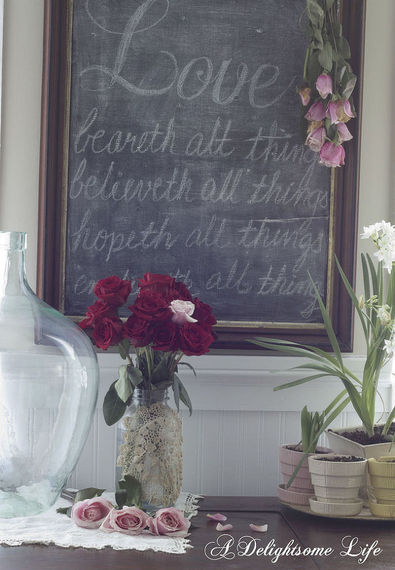 Project via Hometalker Kathy @A Delightsome Life
Nothing says classy like cursive lettering on a vintage chalkboard. This decor idea is a sure way to set your feelings apart from the rest of the card-toting crowd.
11. Pun-nily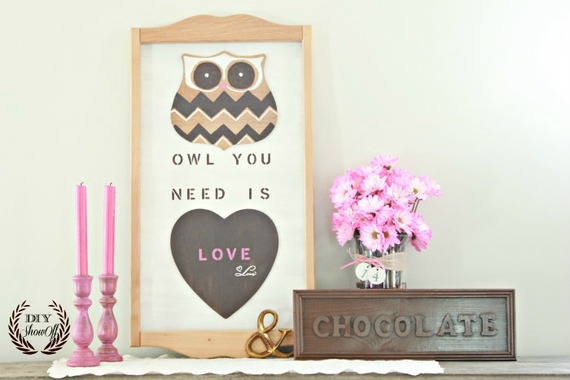 Project via Hometalker Roeshel @DIY Show Off
Puns in cards -- done to death. Puns in decor -- brand new concept. Whether or not you're a pun person, the occasional word play might be the perfect tool to woo your beau.
For even more great Valentine's Day decor ideas, check out our Valentine's Day Ideas topic page on Hometalk!