Do you love Pottery Barn style but its prices ... not so much? Get classic American home decor for less with DIYs that pay homage to the PB spirit. Here are 11 projects, all inspired by Pottery Barn.
1. Dresser Renewal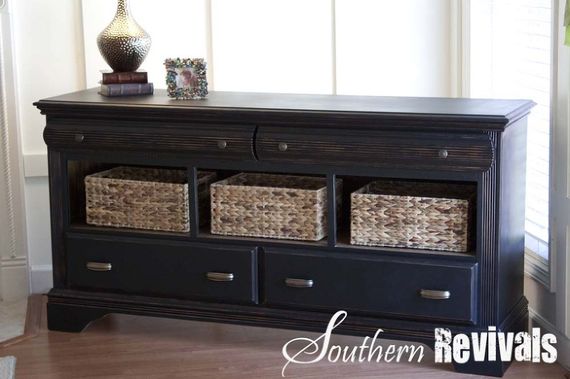 Dresser Revival via Southern Revivals on Hometalk
This stunning piece features a row of roughhewn baskets peeking out from a dresser painted in Pottery Barn's signature black. One of the most popular PB-inspired projects on Hometalk ... but surprisingly simple and inexpensive.
2. Glass Bottle Lamp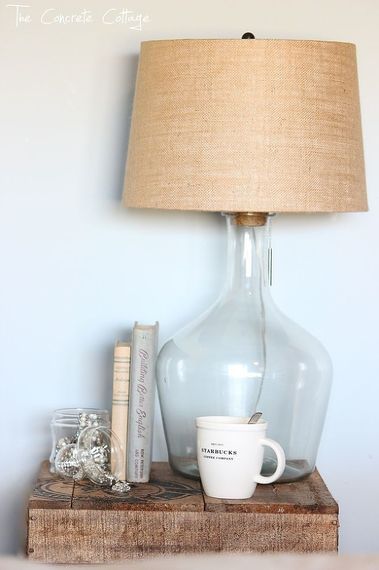 Bottle lamp via Concrete Cottage on Hometalk
Here's a lamp with clean lines and mucho impact. Put together using a giant glass bottle from Michaels, a burlap shade from Lowe's and a few salvaged parts, it costs less than a fifth of what its Pottery Barn alter ego goes for.
3. Outdoor Farmhouse Dining Table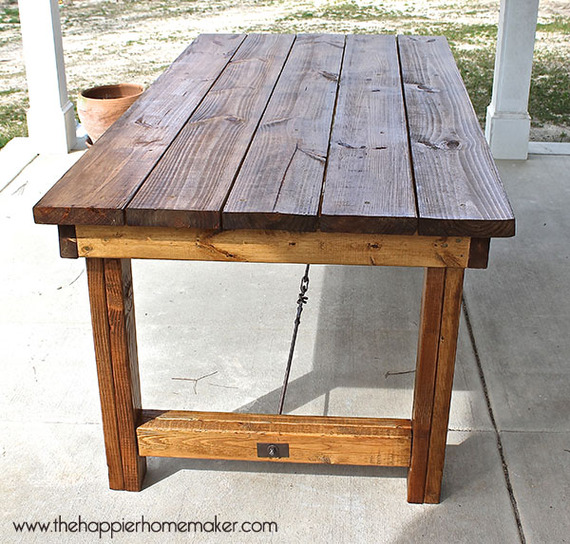 Farmhouse table via the Happier Homemaker on Hometalk
A Pottery Barn design and assorted farmhouse table plans were the springboard to building this outdoor dining table. Notice the authentically rustic turnbuckle detail (that's the wire doodad underneath). This incredible creation was completed for under $100!
4. Beachy Seashell Wreath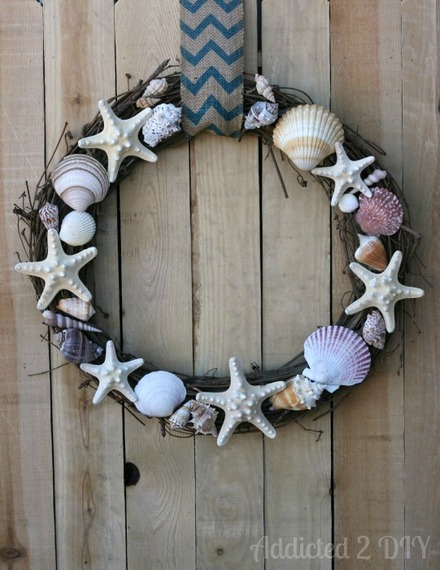 Seashell wreath via Addicted 2 DIY on Hometalk
Knock off a Pottery Barn seashell-studded wreath for summery front door décor that's equally attractive on a beach house or a condo miles from the sea. It was originally assembled as a housewarming present, but you just might want to make one for yourself.
5. Bulletin Board/Organizing Center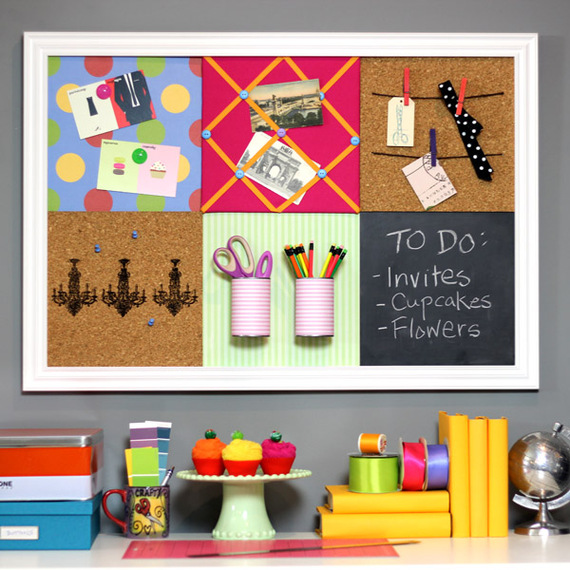 Bulletin board via Jonathan Fong on Hometalk
A bulletin board from PB's teen division inspired a colorful and convenient organizing center for all ages to love. It combines just about every kind of message board imaginable -- cork, chalk, magnet, fabric-and-ribbon French bulletin board -- plus a couple of storage canisters.
6. Numbered Pails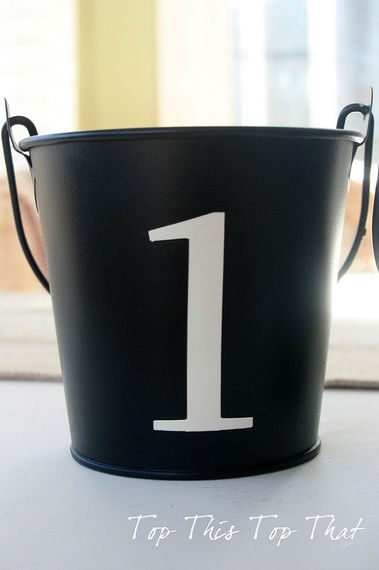 Numbered pails by TopThisTopThat on Hometalk
Numbered metal pails are cool, but they're even cooler when they cost only a dollar each! These buckets are marked-down post-Valentine's Day goodies, stenciled and painted for the Pottery Barn look on a dime.
7. No Sew "Zebra" Throw Pillows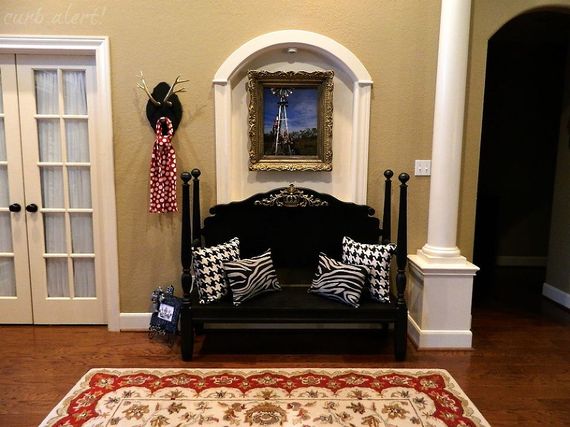 No-sew pillows via Curb Alert! on Hometalk
You won't have to travel to Africa -- or even to your local Pottery Barn -- to bag these trendy faux zebra pillows. Just craft them yourself out of bargain store placemats. No sewing skills or large outlay of cash required.
8. Desk from File Cabinets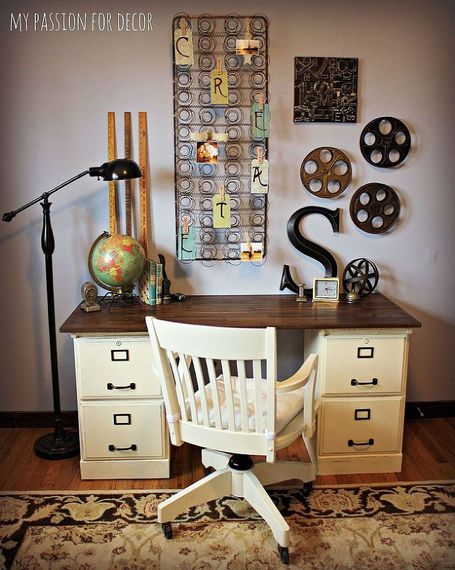 File cabinet desk via My Passion for Decor on Hometalk
Ta-daa! Ugly thrifted file cabinets transformed into a gorgeous PB-style desk with the help of chalk paint and a wood panel from Lowe's. The desktop is held in place by stick-on rubber tabs, making the whole thing easy to take apart and rearrange.
9. Outdoor Herb Planter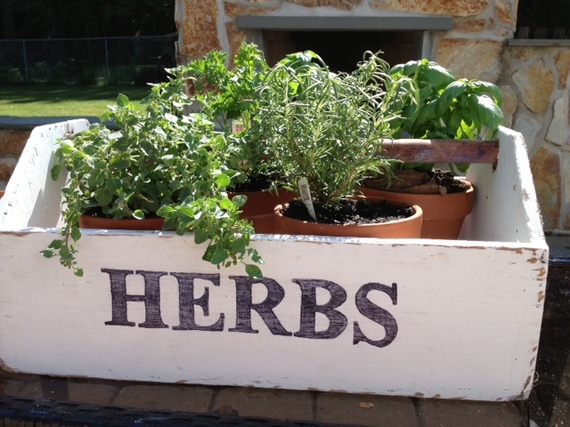 Herb garden box via Two It Yourself on Hometalk
This decorative wooden container was once a beloved grandpa's well-worn toolbox. All it took was a bit of sanding, painting and sealing to prepare it for a new purpose in life as an outdoor herb planter, à la Pottery Barn.
10. Welcoming Doormat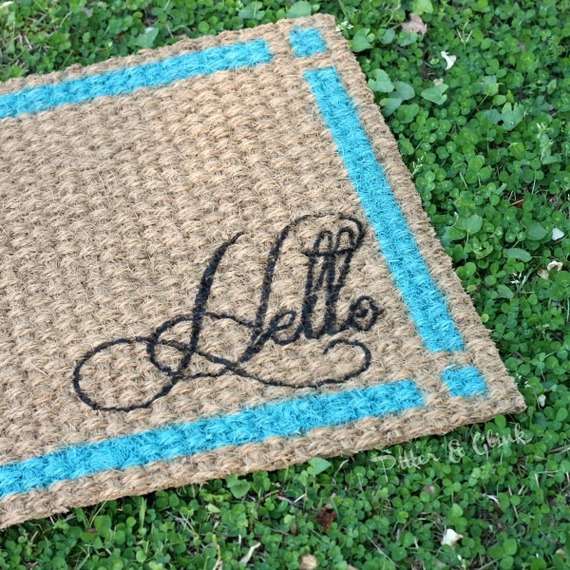 Welcome mat via Pitter and Glink on Hometalk
If Pottery Barn and IKEA had a baby, this would be the stylish yet economical result. A SINDAL doormat is painted and stenciled with a cheery message to guests. You will welcome its price tag, which is ten times less than the original's.
11. Shining Star Wall Décor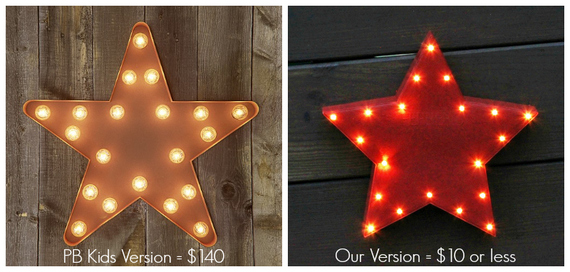 Light-up star via Morena's Corner on Hometalk
Every home needs a shining star to hang up ... for the 4th of July, Christmas, birthdays or just general celebrations of life. The basis for this budget version of wall art by PB Kids? A recycled chocolate box, strung with teeny electric lights!
Discover more fabulous DIY ideas on Hometalk!