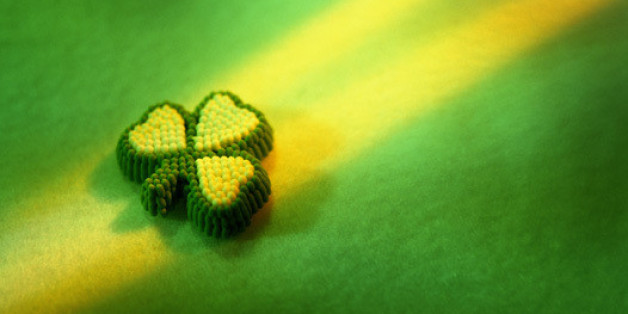 In two short weeks, everything will be covered in green -- and not just because of spring. Even before the 20th arrives, St.Patty's day will be in full swing, with clovers and gold decorations galore. It's time to join in and go green, with these 12 quick and fun St. Patty's Day wreaths that are perfect for a family-wide DIY. With any luck, this will be your best St. Patrick's Day yet!
1. Clothespin Patterns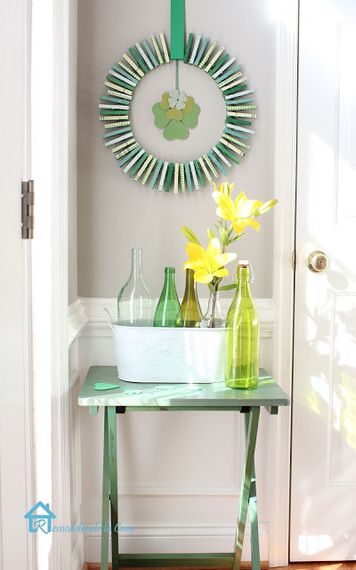 Project via Hometalker Cristina @Remodelando la Casa
Add some green patterned washi tape to an armful of clothespins, for this easy and super adorable St. Patrick's Day wreath, that would look great hanging on any wall or door.
2. Ribbon Wreath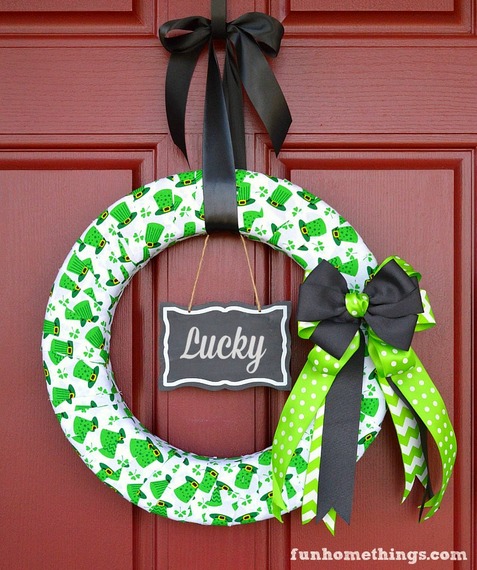 Project via Hometalker Katie @Fun Home Things
Wrap your wreath ring in your favorite green and gold ribbons, for a festive craftsy wreath that's perfect to welcome lucky visitors to your St. Patty's Day bash!
3. Wooden Shamrock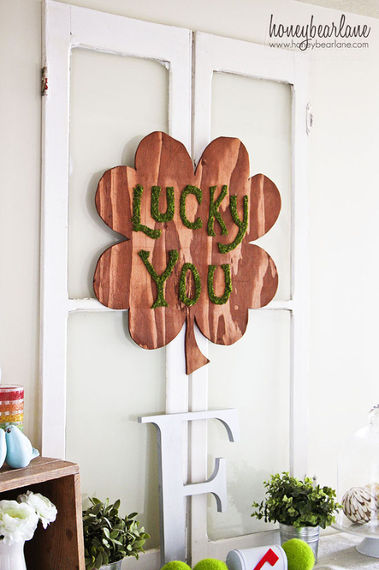 Project via Hometalker Heidi @Honeybear Lane
For a shabby chic take on the day of luck, create your own plywood shamrock, and add a fun mossy message. Classic, clean, and the perfect doorway greeting for St. Patrick's Day.
4. Burlap and Shamrocks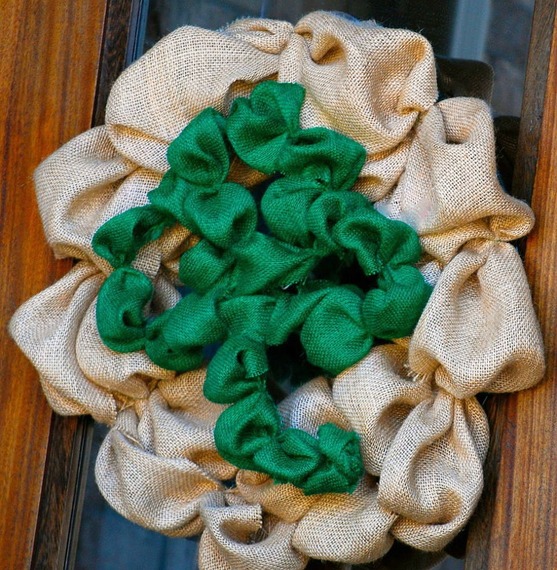 Project via Hometalker Amanda @Amanda Jane Brown
We can always think of great uses for burlap, and this rustic shamrock treat is a great use. Give your front door a full Irish makeover, with this super simple holiday wreath.
5. Painted Newspaper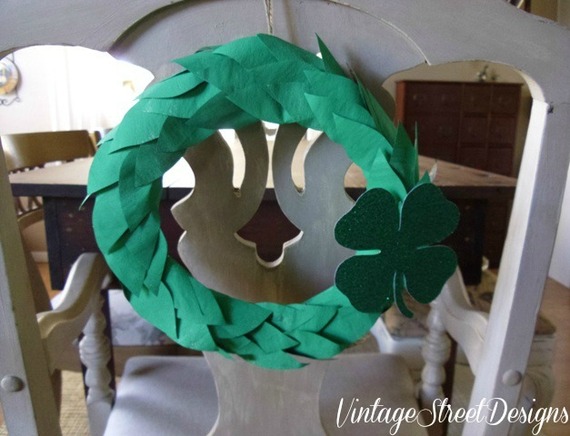 Project via Hometalker Judy @Vintage Street Designs
This sweet wreath gives you two ways to go green! Simply cut some old newspapers into leaf shapes and paint them to look like the real thing, for an upcycled wreath you'll be proud to show off.
6. Boxwood Clover

Project via Hometalker Paula @Sweet Pea
This realistic green clover, made from a bent wire and boxwood sprigs, is a bold, natural touch to add to your holiday display, not to mention an automatic curb appeal booster!
7. Balls of Yarn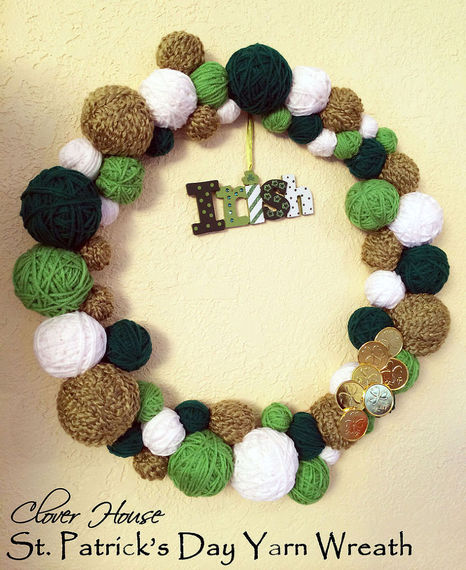 Project via Hometalker DeeDee @Clover House
Grab your favorite mix of green colored skeins of yarn, turn on a good TV show, and go to work winding an armful of soft, little balls of yarn, perfect for this cozy St. Patrick's Day wreath. Can you think of a cuter way to celebrate the day?
8. Rainbow Wreath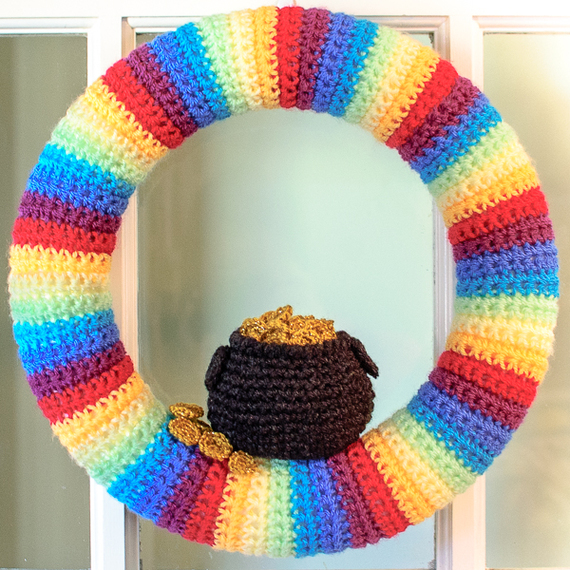 Project via Hometalker Kara @Petals to Picots
If you've got the skills to knit, lucky you, because you can make this adorable rainbow wreath, complete with some happy leprechaun's full pot of gold. Get ready to impress your neighbors!
9. Colorful Candy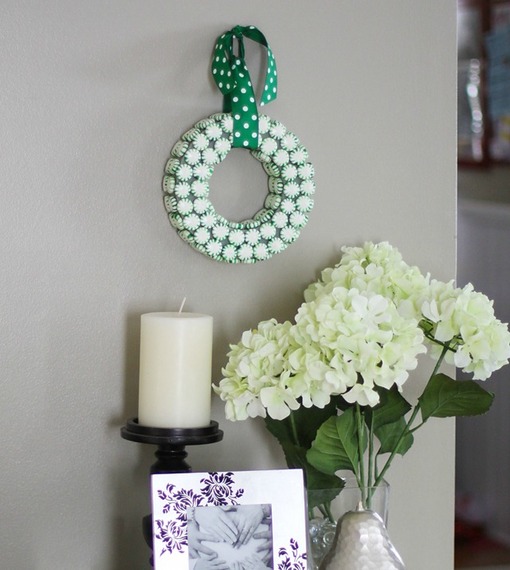 Project via Hometalker Carolyn @ CCMcAfee Perspective
It's time to get started on some delicious decorating, with this festive wreath covered in green and white mints. You know it's a great decor idea when your supplies come from the local grocery store!
10. Plastic Spoons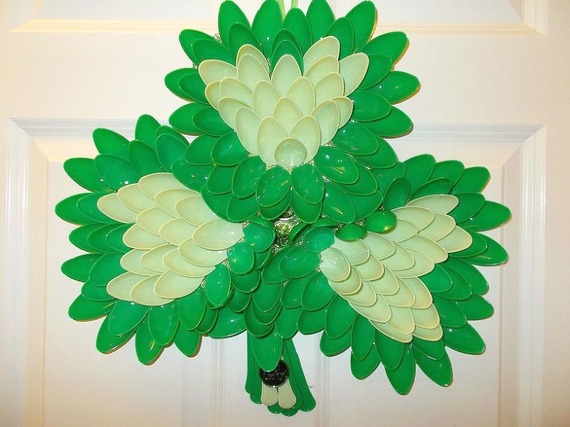 Project via Hometalker Lyn
Yes, you are seeing that right--this wreath was made from a ton of green plastic spoons, and it couldn't possibly be cooler. Create your own utensil shamrock, for a wreath that will absolutely WOW your guests!
11. Fabric Scraps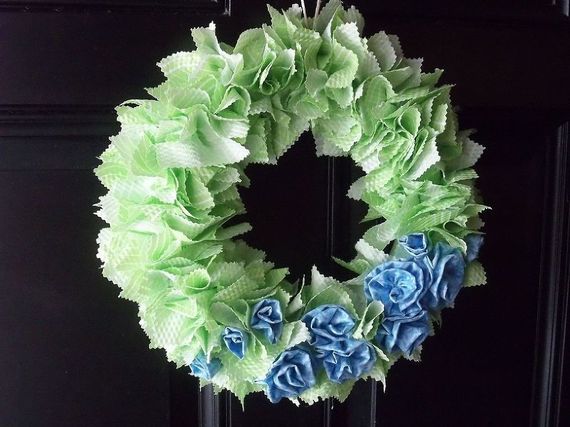 Project via Hometalker Cathy @Vintage, Paint and More
Gather some spring colored fabric and your best pair of pinking shears, to create this double-duty St. Patrick's Day wreath you'll want to leave up all spring.
12. Dollar Tree Wreath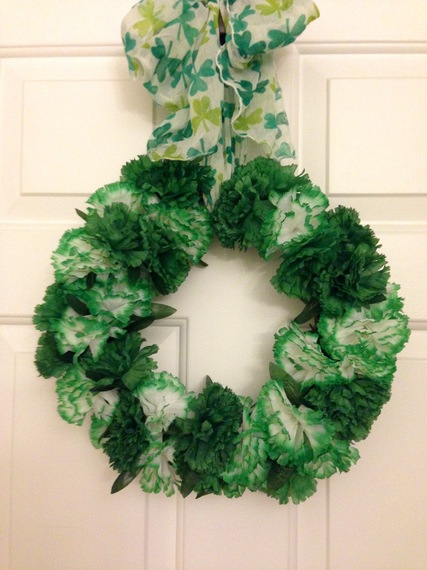 Project via Hometalker Michelle @Our Crafty Mom
You can have your wreath and pay almost no money for it, too, if you do your St. Patty's shopping at your local dollar store. When people ask how you made your masterpiece for so little, just chalk it up to the luck o' the Irish!
For more St. Patricks Decoration ideas, check out our #St.Patrick'sDay page on Hometalk!