Part of the battle to clear the clutter is finding the space to store all those items you need to keep! Instead of building a storage hut in your backyard, or filling your attic with boxes you'll never open again, find all the storage space you need in your home, with these insightful space-saving ideas!
1. Fold-Away Drying Rack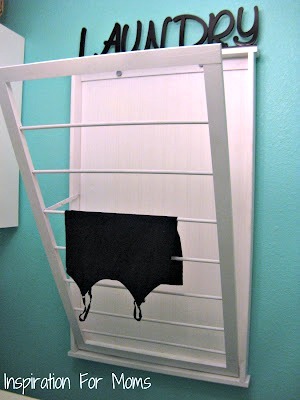 Project via Hometalker Laura @Inspiration for Moms
Why should you need to squeeze past your drying rack every time you'd like to add a load, or even worse, drag your drying rack into the living room? This fold-away drying rack design is the quickest and easiest way to save space in your laundry room!
2. IKEA Shelf Makeshift Unit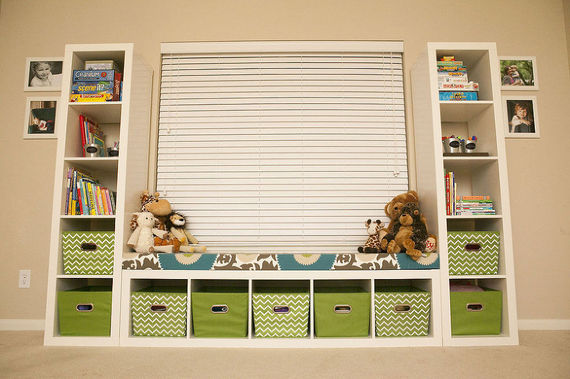 Project via Hometalker Kristin @My Bella Bug
Mix and match ikea shelves to form the perfect reading and playtime nook, with tons of toy storage! All it takes is some clever rearranging to get immediate kids' room storage that makes cleanup easier and has all the space you need to keep their room in order!
3. Storing Kitchen Bulk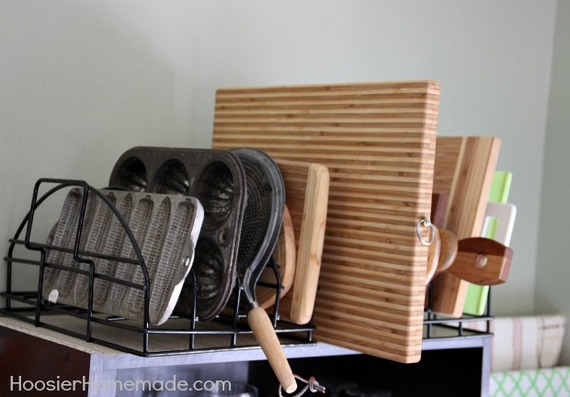 Project via Hometalker Liz @Hoosier Homemade
You know those tall or bulky items that just don't fit normally in your kitchen cabinets? The one's that leave awkward spaces and always feel super unsturdy? You won't, after this fix! Store cutting boards, cupcake pans, and all those other homeless items in one place, with a grilling rack!
4. Ribbon Rack to Prevent Tangling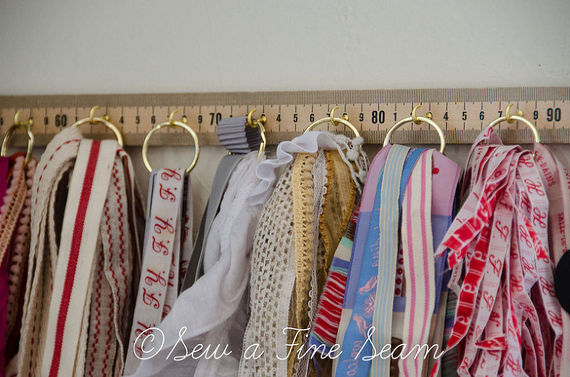 Project via Hometalker Jill @Sew a Fine Seam
Calling all scarf-lovers and ribbon-crafters! If your boxed away piles of tangled strands or balled up scarves are getting to you, try this easy storage idea to keep your knot-able collections straight and save you hours of untangling!
5. Decorative storage boxes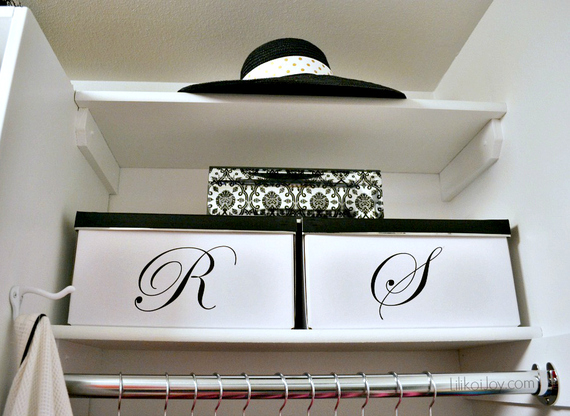 Project via Hometalker Sharon @Lilikoi Joy
If you don't have the perfect boxes for the empty nooks you've got, create your own, by covering sturdy cardboard boxes in paper or decorative tape! You can turn totally unattractive crates into beautiful storage to keep in your closet, bedroom, or anywhere in your home!
6. Arts and Crafts Cart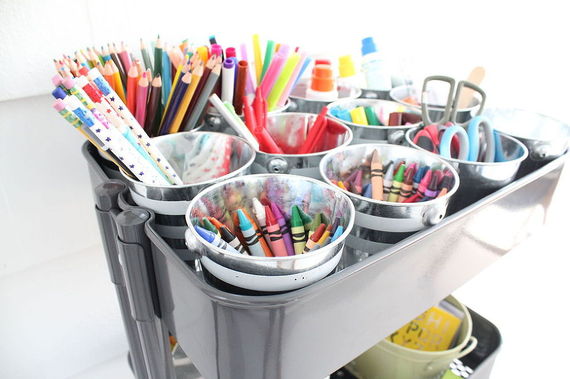 Project via Hometalker Christina @No.29 Design
Since your art supplies will be in constant use all at once, it makes no sense to take up a couple closet shelves with separate storage for crayons, markers, scissors, etc. Instead, keep all your supplies in one place, and keep them portable, with an arts and crafts cart that can be wheeled out when it's time to get artsy!
7. Bedroom Stool and Storage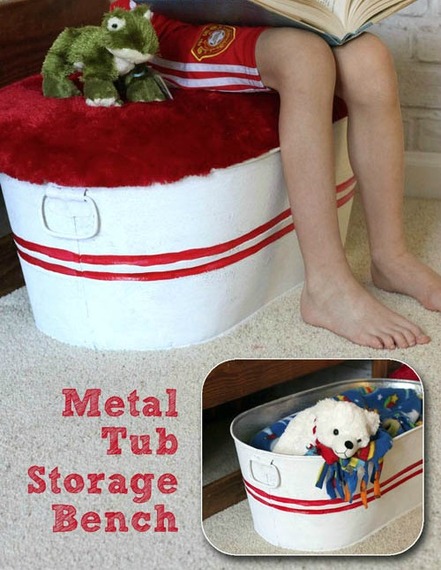 Project via Hometalker Brittany @Pretty Handy Girl
There's nothing like storage that no one can see! Turn a tub or a crate into invisible storage, by adding a padded seat to the top and creating a cute bedroom ottoman or bench! This cute galvanized tub doubles as a toy bucket, and a cozy reading perch.
8. Closet Storage Boxes (Great for Kids' Clothes!)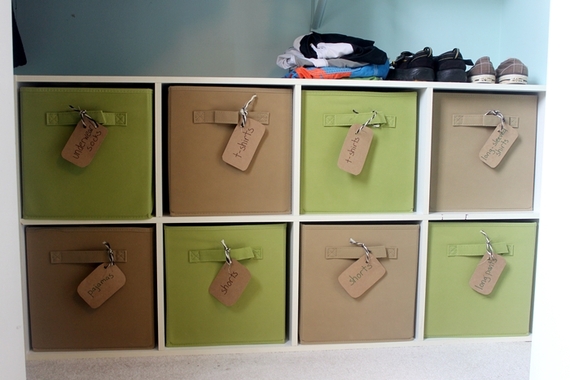 Project via Hometalker Gretchen @Boxy Colonial
Turns out, canvas bins are the best thing since mason jars! You can keep your closet, and better yet, your kid's closet, totally clothing-clutter free and easy to navigate, by storing seasonal, bulky, and any other out-of-place clothing in shelves stacked with well-labeled canvas bins!
9. Off-the-Counter Kitchen Storage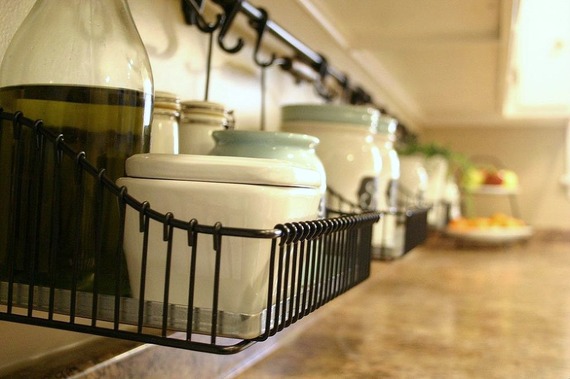 Project via Hometalker Christina @No.29 Design
The benefit of counter-top storage is having supplies right where you need them. The con is that they clutter your workspace and get in the way of counter clean-up. The fix? Off-the-counter kitchen storage, leaving you the open prep space you need, and making cleaning a breeze!
10. Picture Shoe Storage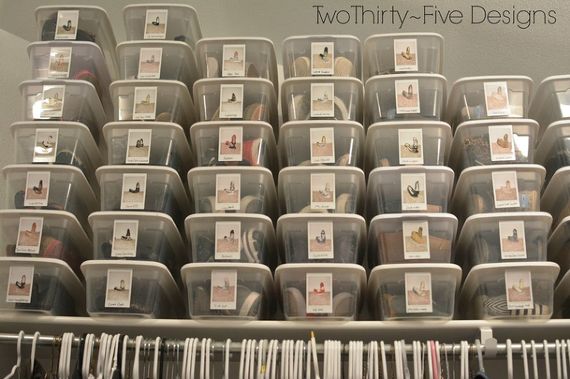 Project via Hometalker Allison @Two Thirty-Five Designs
For the true shoe-enthusiast, finding a way to keep pairs together, have them when you need them, and store them effectively (instead of just shoving them in your closet), is tough! Well, how about doing a footwear photoshoot, and then using the pictures for this fabulous system?
11. Stowing Winter Wear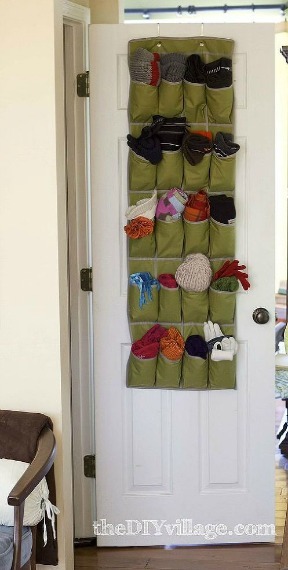 Project via Hometalkers Jacque and Matt @The DIY Village
How often do you find a stray glove or long-forgotten hat when you start your Spring cleaning? Because it's tough to store bulky winter wear and have it accessible as you're running out the door, it often ends up strewn across your house throughout the winter months. Not anymore!
12. Garage Storage Cabinets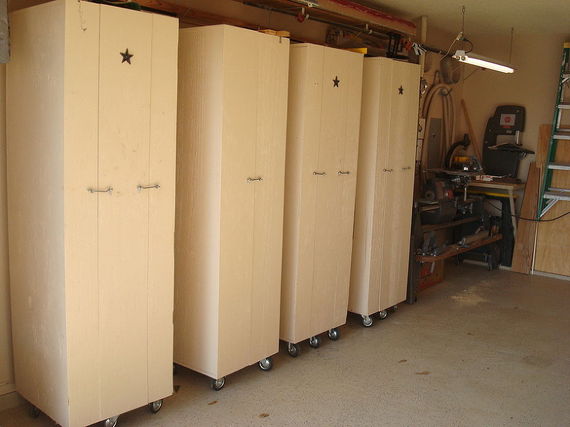 Project via Hometalker Richard
Free nooks and corners in garages never stay that way for long! Things tend to build up at a scary speed, and the best way to stay above the tide of mess is to create special shut-away storage. These DIY storage closets are a perfect fit for the garage wall, and a perfect facelift for your garage.
13. Closet Scarf Hanger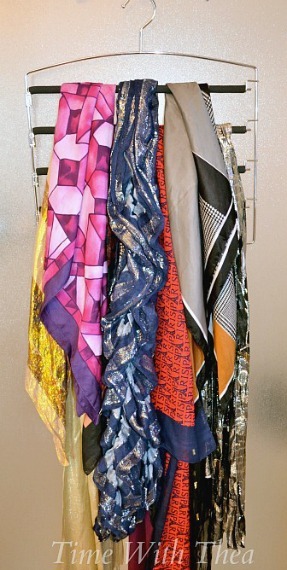 Project via Hometalker Thea @Time with Thea
If you're not using a wall rack, you can easily store your scarf collection in your closet, using pant hangers! Arrange each rung by similar scarf types or colors, so you can quickly locate the scarf you're looking for when you need it!
14. Under the Sink Storage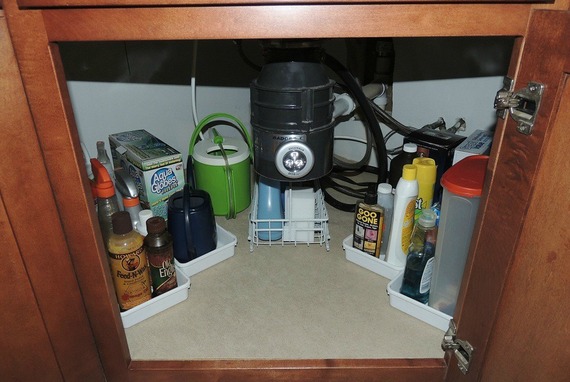 Project via Hometalker Becky @Home Spot HQ
Most people don't maximize that convenient storage space under the kitchen sink, but you're not most people! Clear out those chemicals and install some slide-out trays to better organize and utilize your cleaning supplies. Add the extra genius touch of sticking in a LED puck light, to help you find what you're looking for!
15. Bathroom Hook Wall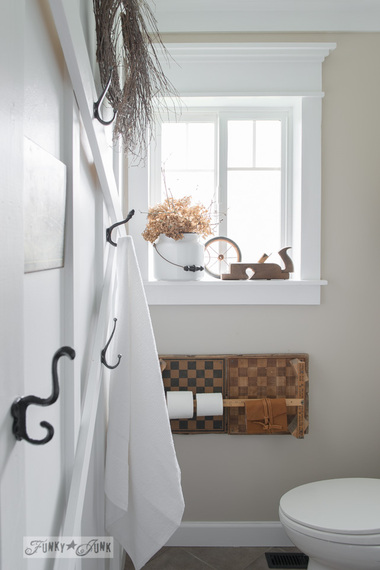 Project via Hometalker Donna @Funky Junk Interiors
There's never enough space to store towels, especially wet towels that need ample room to dry! For a quick fix, solve that timeless dilemma by adding an entire wall of hooks to your bathroom. Never dry your hands on a damp towel again!
If you've got more nooks to fill and more stuff to store, check out our Storage Ideas topic page on Hometalk!