It's always amazing to see how people deck out their homes inside and out for Christmas, but it's even crazier when the materials they use are pulled straight from the trash! These unusual and amazing holiday decorations are made using spare, extra, empty, and unwanted items, but the results are almost magical! Take a look at these amazing ideas from Hometalk Bloggers and get some last minute inspiration.
1. Porch Decorations from Spare Tires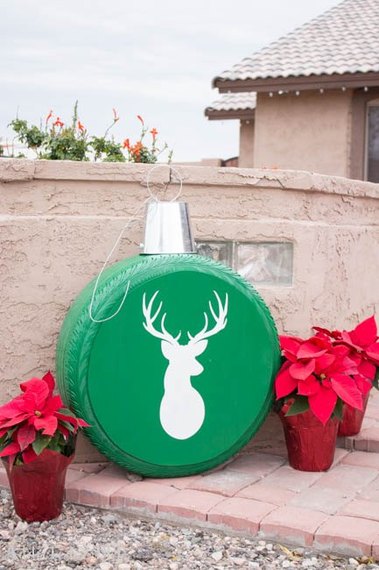 Project via Addicted 2 DIY
Paint 'em, decorate 'em, and put them outside to impress your guests. See the full post here.
2. Decorative Candle Stands from Empty Plastic Bottles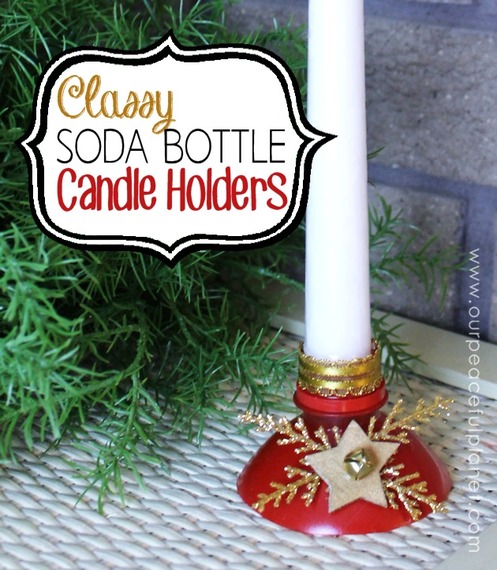 Project via Our Peaceful Planet
Cut off the tops of soda bottles for this festive decoration. See the full post here.
3. Extra Lamp Shade into Makeshift Tree Skirt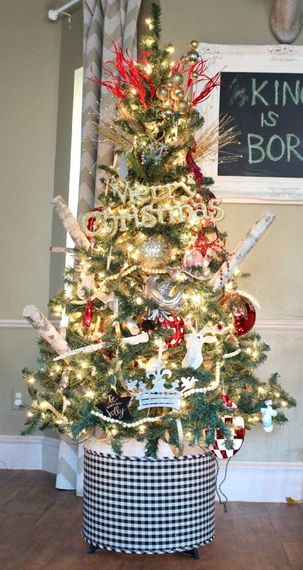 Project via Refunk My Junk
Looking for a way to hide that ugly faux tree base? Bet you've never tried a lamp shade. See the full post here.
4. Shrunken Sweater Snowmen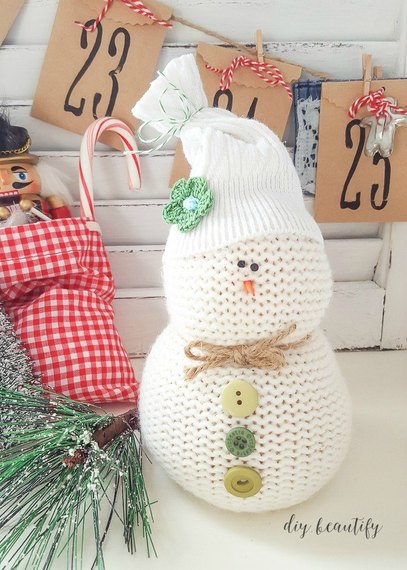 Project via DIY Beautify
Cut the sleeves off of old sweaters and make a few plush buddies of your own. See the full post here.
5. Skating Display from Unused Cheese Dome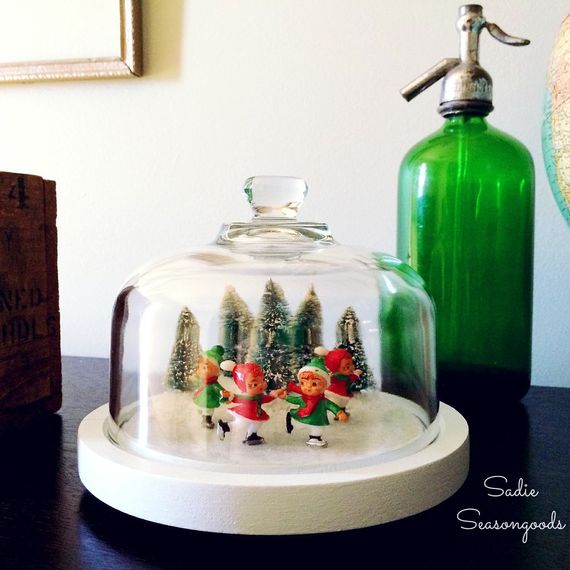 Project via Sadie @Seasongoods
Turn a pretty (but kinda useless) cheese dome into a winter wonderland on display! See the full post here.
6. Scenic Ornament from a Small Gift Box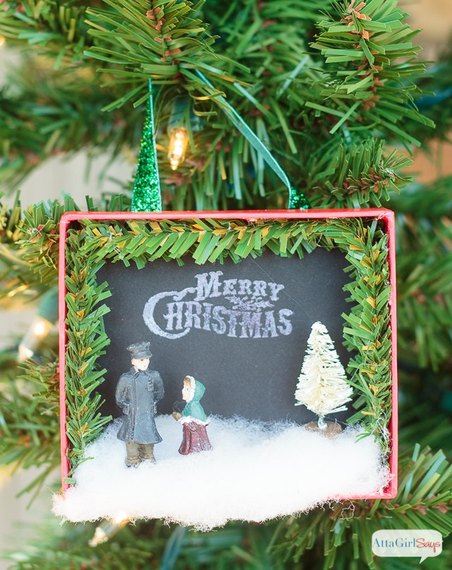 Project via Atta Girl Says
Now you have 2 reasons to hope for a jewelry gift this season! See the full post here.
7. TP Rolls into Tree Toppers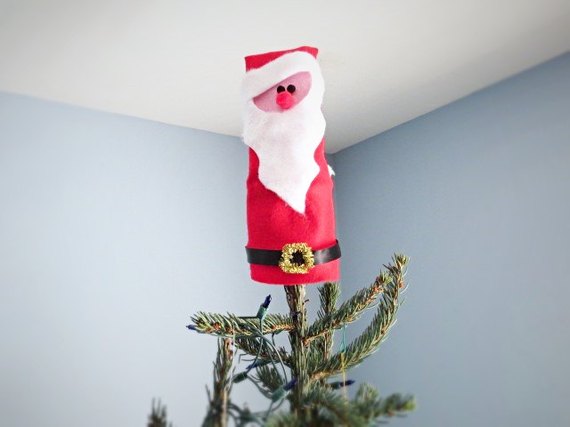 Project via Flipping the Flip
It sounds crazy, but just look at that cute Santa smiling away up there! See the full post here.
8. Rusted Ornament from a Cut Up Cereal Box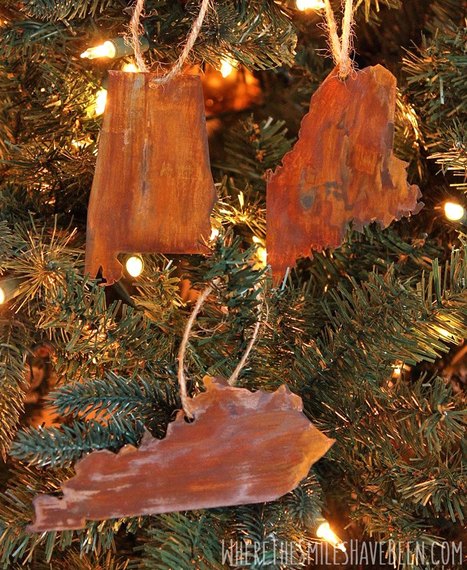 Project via Where the Smiles Have Been
Show your state pride with a few faux rusted metal ornaments - from cardboard cereal boxes! See the full post here.
9. Scrap Metal Tree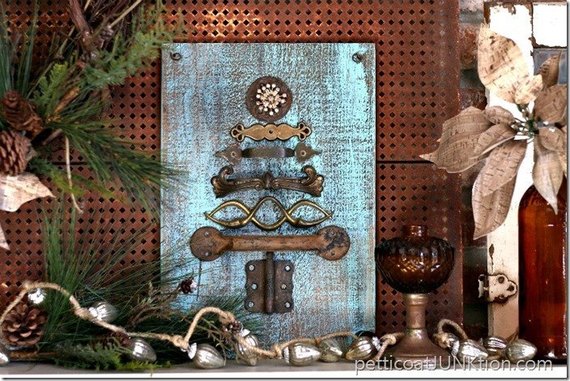 Project via Petticoat Junktion
Turn old hinges, screws, and pulls into a junk-tastic Christmas tree for your mantel. See the full post here.
10. Porch Presents from Large Cardboard Boxes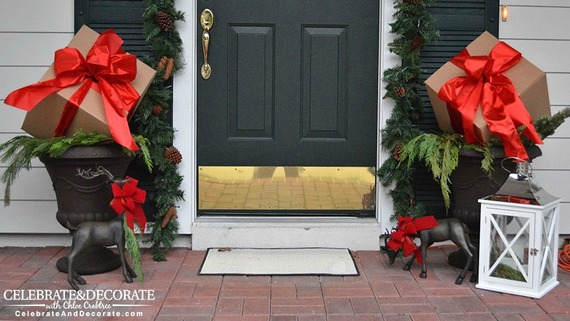 Project via Celebrate & Decorate
Tie up a plain old cardboard box with a showy red ribbon, and then set it on your porch, for instant, free outdoor decor. See the full post here.
11. Old Salt and Pepper Shaker Ornaments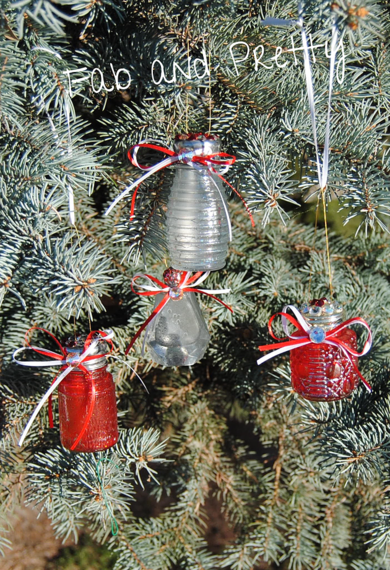 Project via Fab & Pretty
If you have a few extras you don't need, string them up for your tree or mantel! See the full post here.
12. Wrapped Wall Art from Fabric Scraps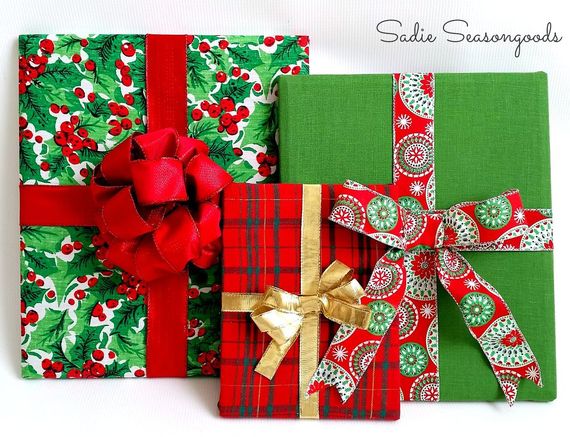 Project via Sadie Seasongoods
Wrap empty frames with fabric scraps and top them off with a bow, for gift-themed art to fill your blank walls. See the full post here.
13. Burnt Out Light Bulbs Into Metallic Banners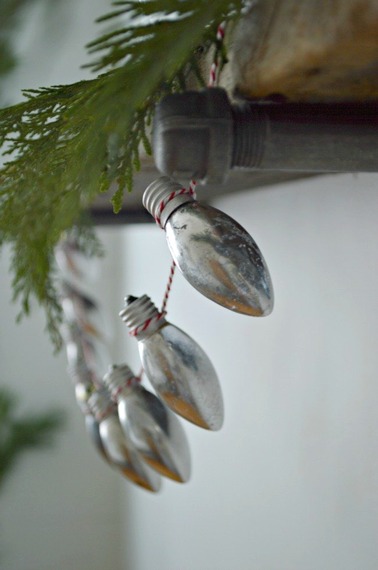 Project via Chatfield Court
Use last year's burnt out bulbs to make this year shimmer a little brighter, with a pretty garland like this. See the full post here.
14. A Toy Soldier from Last Season's Flower Pots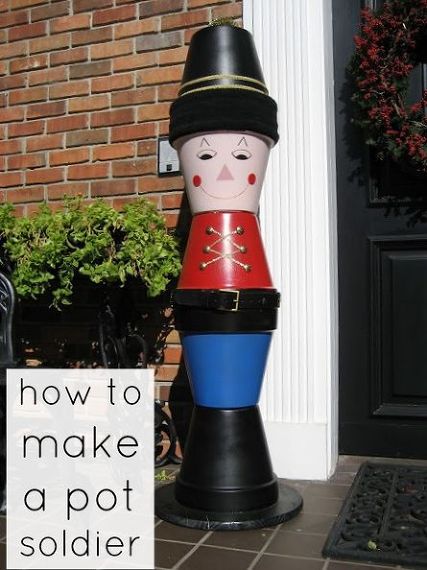 Project via C.R.A.F.T.
Paint and stack those pots, for full-sized toy soldiers to greet your guests at the door. See the full post here.
15. Tea Canisters into Holiday Storage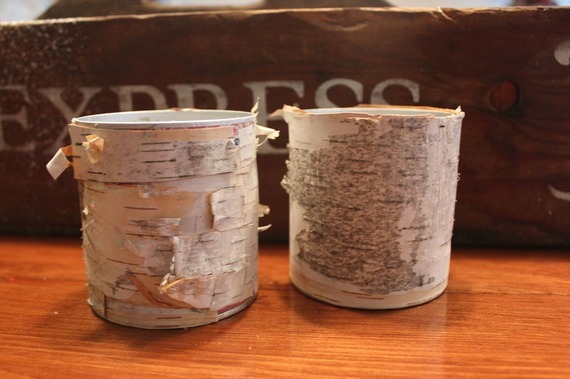 Project via New House New Home
Don't toss your old tea canisters - instead, turn them into pretty birch-covered storage. See the full post here.
16. Wall Decor from an Old Ceiling Fan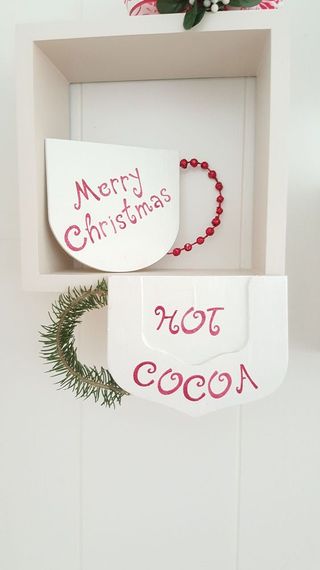 Project via Repurposing Junkie
These cute designs were made with a single ceiling fan blade cut into pieces - talk about thinking thrifty! See the full post here.
17. Santa's Coat Rack from Unwanted Books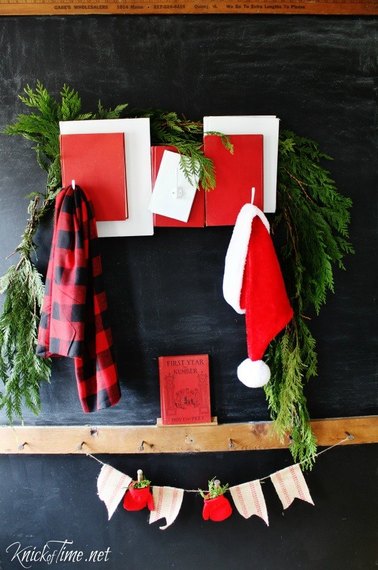 Project via Knick of Time
Choose a few of your dustiest books and paint them red and white, for this festive coat rack that will help Santa relax a bit while he drops off the presents. See the full post here.
18. Washed Out Pickle Jar Snow Globe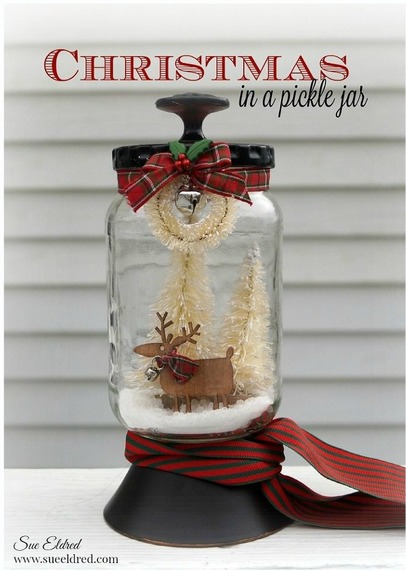 Project via Sue's Creative Workshop
Use your old jars to make mini winter worlds that you can gift or set on display in your home. See the full post here.
19. Art from the Spare Button Drawer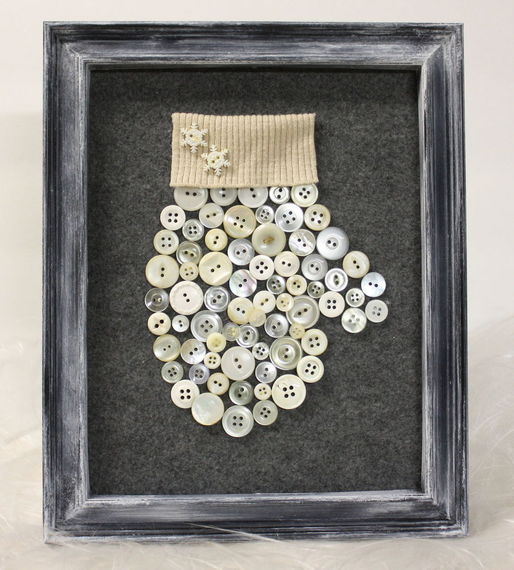 Project via Sweet Pea
You know your stockpile of extra buttons? It's time to use those for this adorableness. See the full post here.
20. Worn Out Shirt Stocking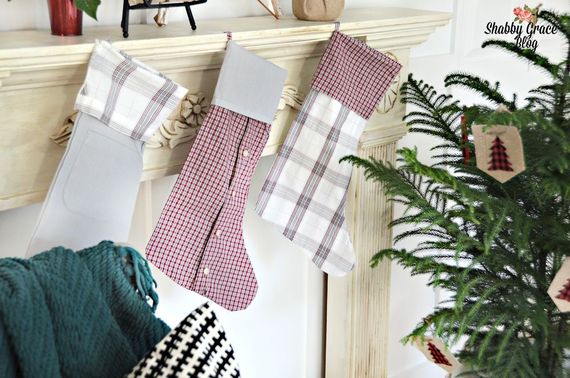 Project via Shabby Grace Blog
Grab a few shirts that you've worn out or outgrown, and turn them into easy stockings to hang above your hearth. See the full post here.
21. Empty Soda Cans into Singing Angels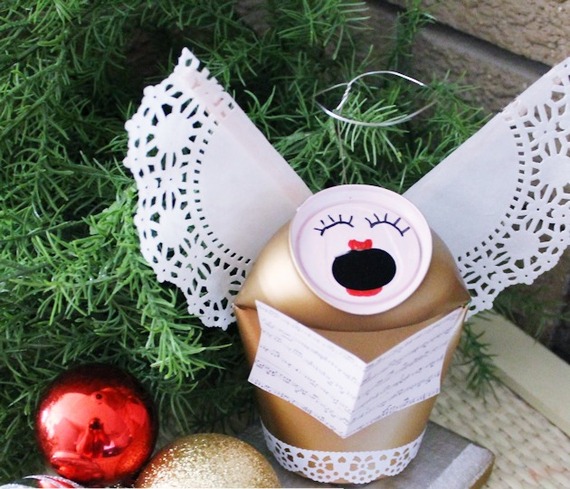 Project via Our Peaceful Planet
How cute are these singing angels? And all it takes is some creative detailing and a couple soda cans. See the full post here.
22. Glittering Ornaments from a Pile of Keys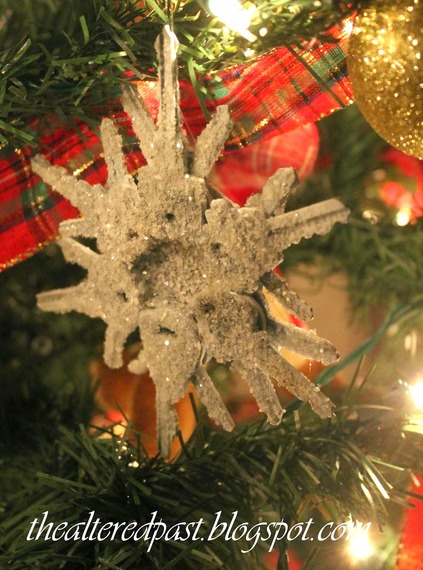 Project via The Altered Past
Raid your key drawer and finally pull out all of those extra and unclaimed keys for this glimmering design. See the full post here.
23. Beaten Up Window Shutters Into Friendly Snowman Sign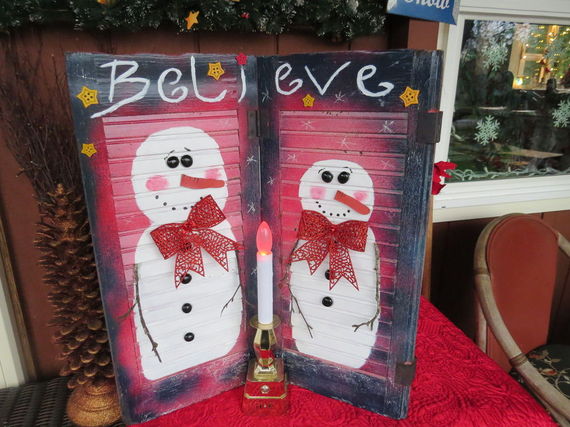 Project via Teri
Give your neighbors a friendly greeting from the porch, with a couple of smiling snowmen on beaten up window shutters. See the full post here.
For more amazing Christmas decor ideas, check out the Christmas decorations page on Hometalk!