Before breaking out the box of last year's dusty ornaments, take a look at these incredible DIY ornament tutorials, to upgrade your Christmas tree decor! Cover old ornaments, craft with new dollar store ones, or repurpose your way to ornament perfection! Quick, inexpensive, and magical (check out #3), these original ornaments are sure to knock your wooly socks off!
1. Mini Yarn Wreaths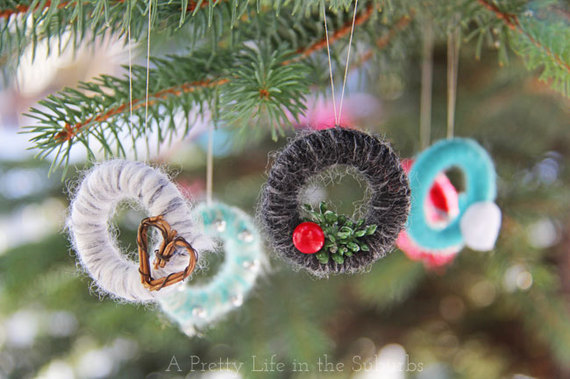 Project via Hometalker Jo-Anna @A Pretty Life in the Suburbs
A mini set of warm holiday wreaths in all different hues is the perfect way to brighten up your Christmas tree with color and cheer!
2. Pompoms and Pins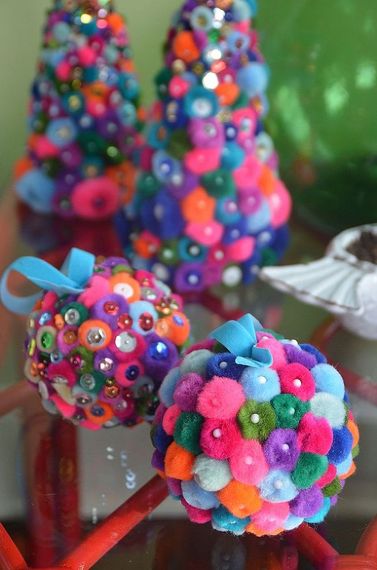 Project via Hometalker Charlotte @Ciburbanity
Speaking of color, these soft and sparkly Christmas pompom beauties are a must (and such a quick DIY)!
3. Popcorn Magic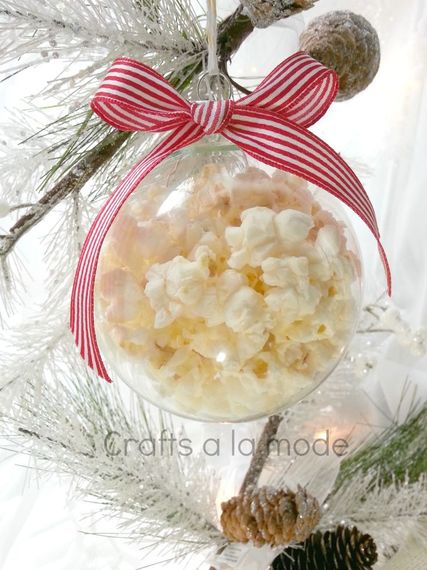 Project via Hometalker Linda @Crafts a la Mode
You'll never believe how this magical popcorn ornament was made unless you see for yourself!
4. Loved One's Clothing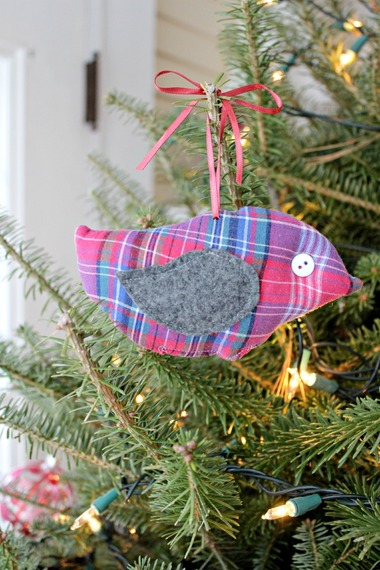 Project via Hometalker Katie @View from the Fridge
Add a sweet reminder of your loved ones to your Christmas tree, to keep them close to your heart on the holiday.
5. Melted Puddle Snowman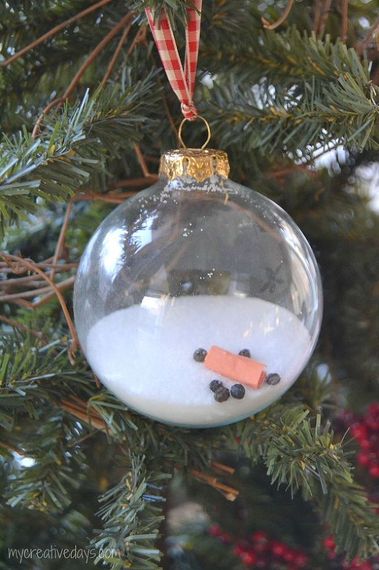 Project via Hometalker Lindsay @My Creative Days
For a quick, cute, and comical ornament, add these ingredients to make a melted snowman that just couldn't handle the warmth of your holiday home.
6. Sprinkles, Yarn, and Cupcake Liner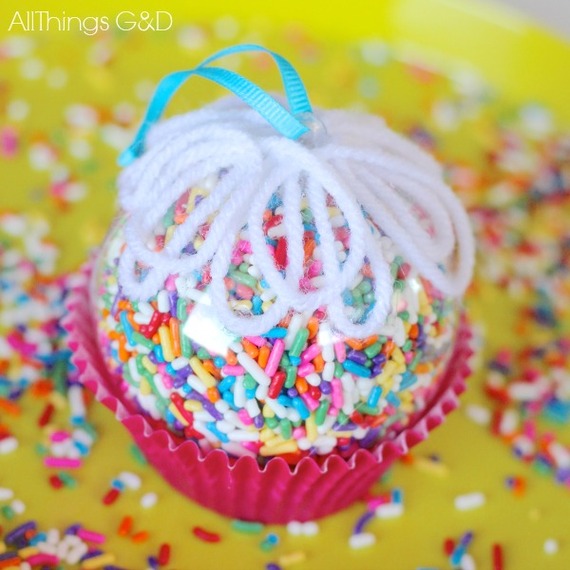 Project via Hometalker Dusty @All Things G&D
Just make sure your guests don't confuse this creative cupcake ornament design with the real thing!
7. Fluffy Friendly Sheep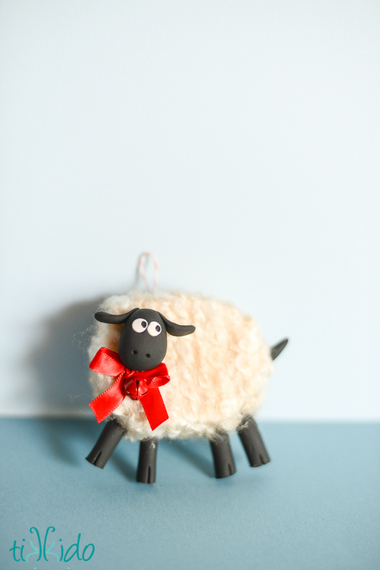 Project via Hometalker Nikki @Tikkido
If you can keep your children from snatching this little guy off the tree to give him a snuggle, then kudos to you.
8. Napkin Holders and Bird Next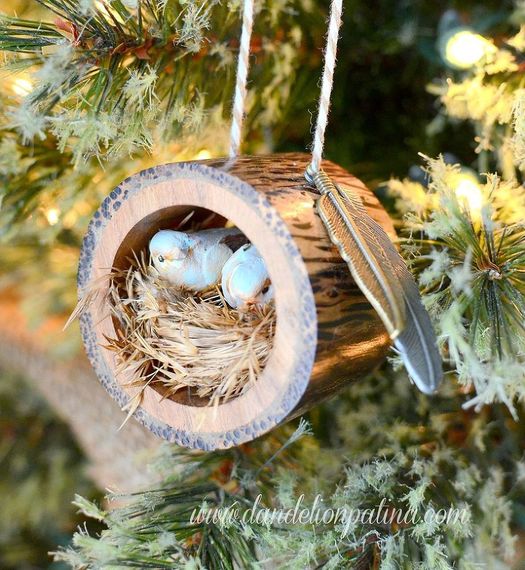 Project via Hometalker Michelle @Dandelion Patina
Turn a napkin ring into a snuggly nest, to add a sweet peek of holiday harmony to your tree!
9. Sparkly Snowman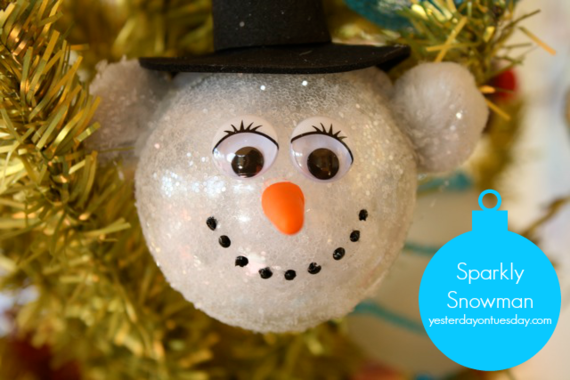 Project via Hometalker Malia @Yesterday on Tuesday
Whether he's Jack Frost or Olaf, everyone loves a good snow-buddy, and this sparkly snowman ornament is no exception!
10. Mini Gift Bows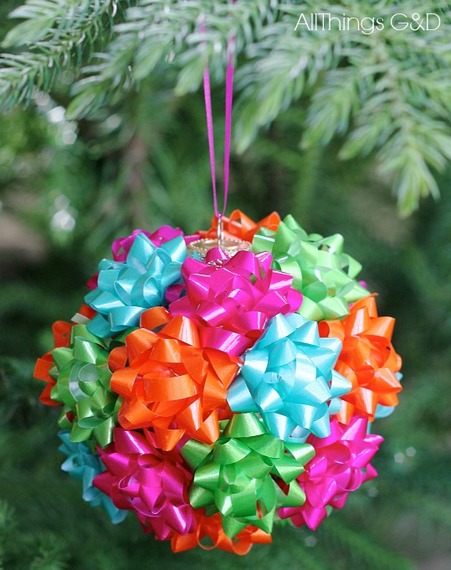 Project via Hometalker Dusty @All Things G&D
Gift yourself this colorful mini bow ornament for the holidays!
11. Wedding Veil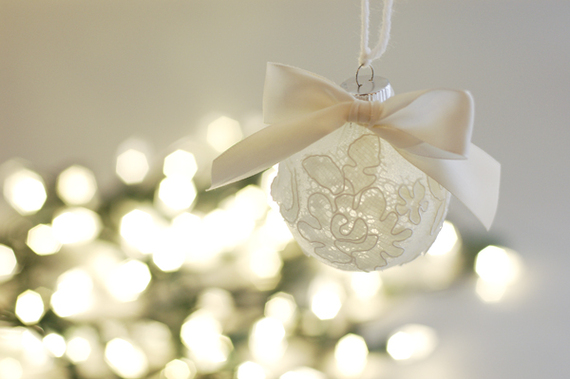 Project via Hometalker Nikki @Tikkido
Turning your wedding veil (or a scrap from your dress) into holiday decor that your family will use year after year, carries all the love, warmth, and happiness that the holidays are all about!
12. Felt Story Books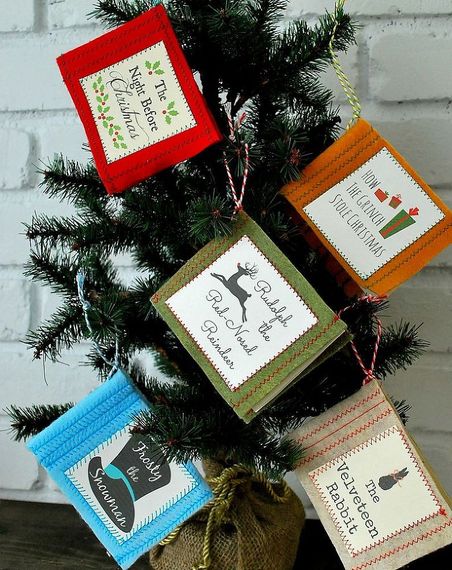 Project via Hometalker Steph @The Silly Pearl
Decorate with what you love, like your favorite childhood Christmas stories!
13. Sand and Sea Shells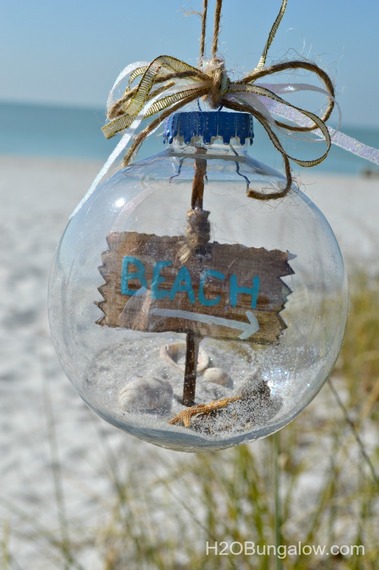 Project via Hometalker Wendi @H2O Bungalow
Make your own beach scape in a ball, to remind yourself of that relaxing sandy shore, while you're buzzing around preparing for the holidays.
14. Mini North Pole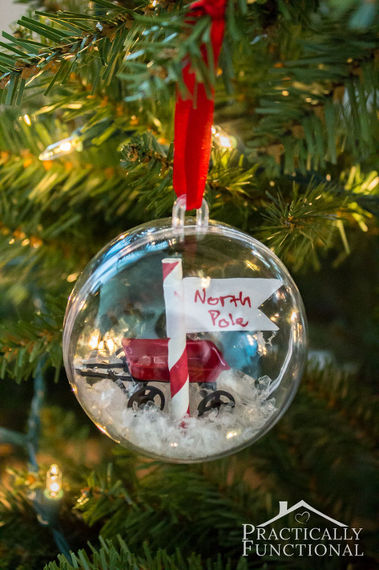 Project via Jessi @Practically Functional
To make Santa feel right at home when he's dropping off the presents!
15. Gold Glitter Heart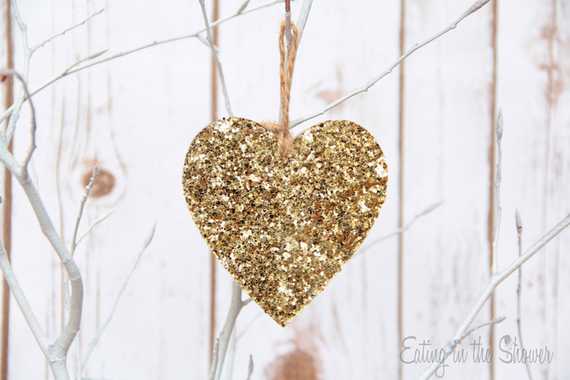 Project via Hometalker Kate @Eating in the Shower
Sweet, sentimental, and so shiny -- catch your loved one's eye with this gem!
16. Neon Marble With Paint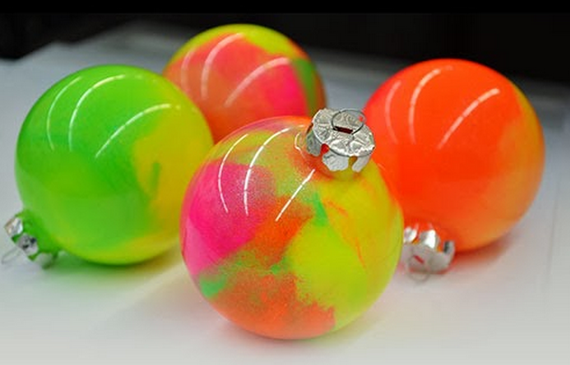 Project via Hometalker Alexa @I Love to Create
Neon ornaments are just the trick to add some bright color to your Christmas tree and wake up your holiday decor!
17. French Macaroons From Bottle Caps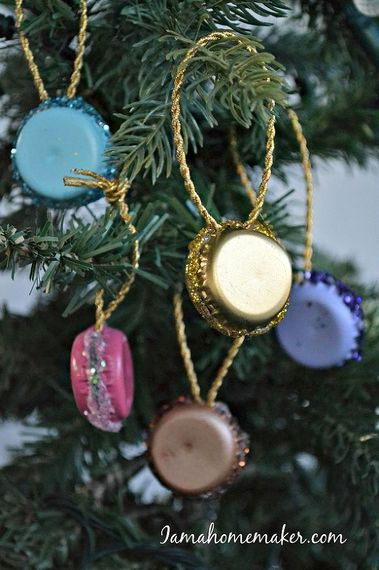 Project via Hometalker Jillilan @I Am a Homemaker
Start collecting your caps now and you can have a whole set of colorful and enticing french macaroons for your Christmas tree!
18. Jingle Bell Wreath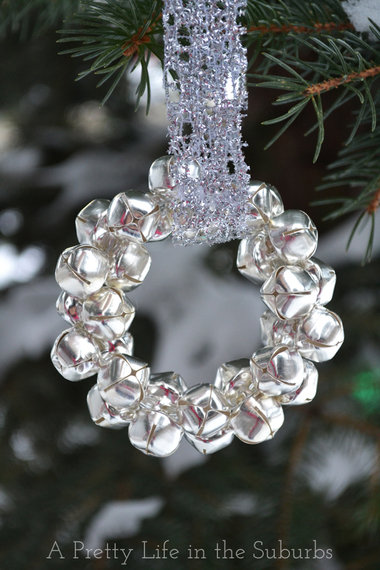 Project via Hometalker Jo-Anna @A Pretty Life in the Suburbs
Kid-friendly and assembled in minutes, you've got to make a jingle bell wreath for your tree. Or two. Or more.
19. Words on Wood Slices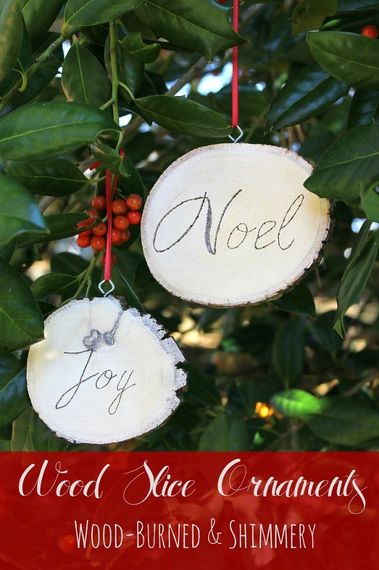 Project via Hometalker Nicole @Meet the B's
Try this simple and wholesome holiday design, to really celebrate the meaning of the day.
20. Chalkboard Snowflakes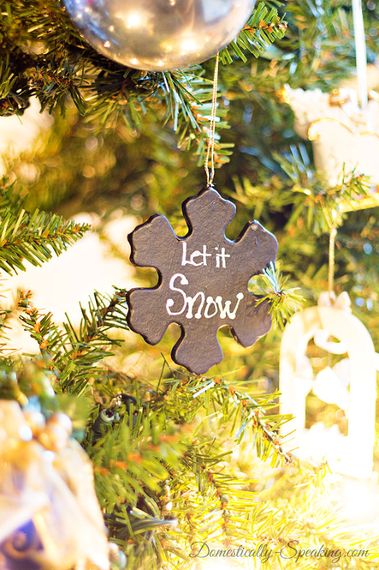 Project via Hometalker Maryann @Domestically Speaking
Easily create some cute chalkboard ornaments in whimsical winter shapes, and write fun notes or holiday messages that you can change throughout the holiday, year after year!
21. No-Knit Mittens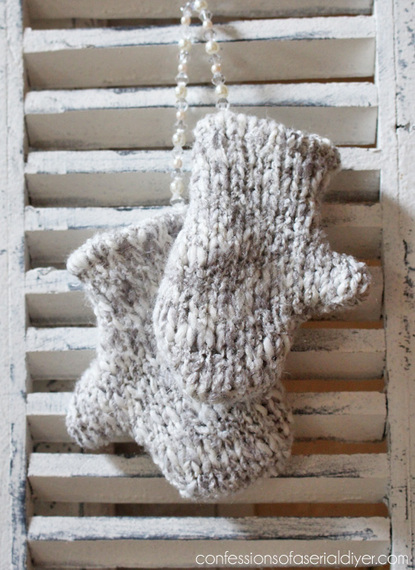 Project via Hometalker Christy @Confessions of a Serial DIYer
This mini and deliciously warm pair of mittens is a no-knit way to add some sweater-like charm to your Christmas tree.
22. Upcycled Cork Ball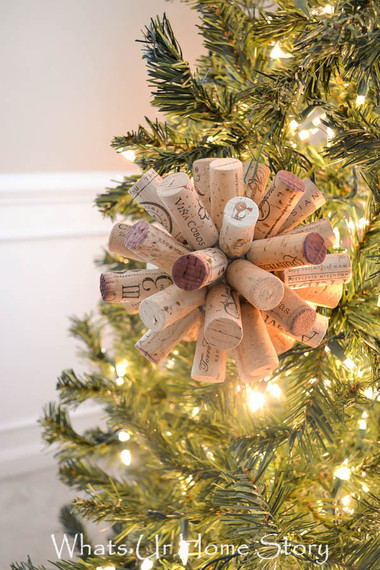 Project via Hometalker Vidya @What's Ur Home Story
Gather all your saved up wine bottle corks - this is that rainy (well...snowy) day you've been saving them for!
23. Wood Slice Photo Gallery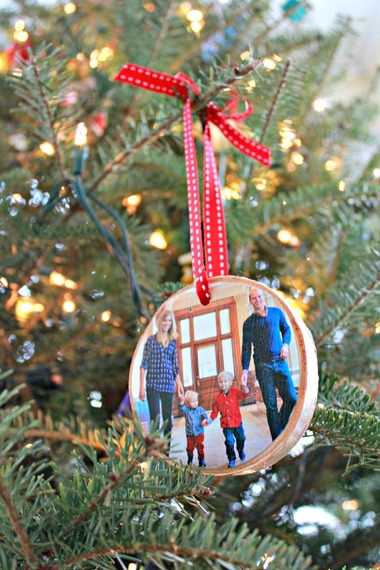 Project via Hometalker Katie @View from the Fridge
Create these birch slice photo ornaments to display happy family moments and carved family messages.
24. Sweater Stamped Clay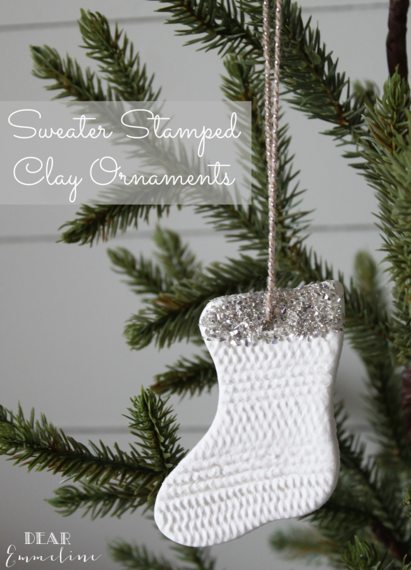 Project via Hometalker Jessica @Dear Emmeline
This DIY holiday decor looks cozy enough to cuddle in!
25. Zipper Christmas Tree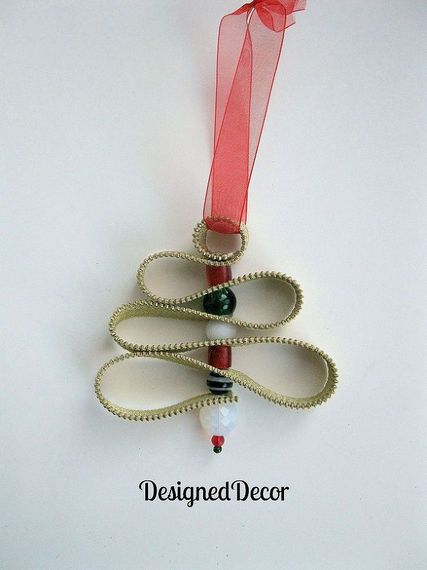 Project via Hometalker DeDe @Designed Decor
So simple and so festive, this little zipper tree ornament is a great way to add some color and some creativity to your Christmas tree!
26. Merry Scrabble Words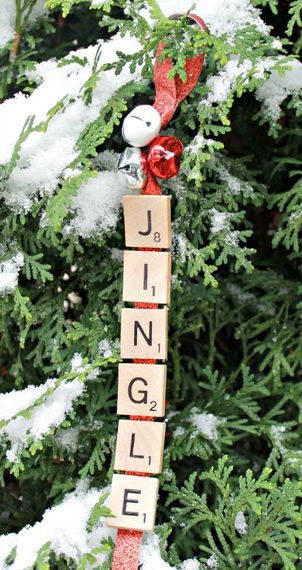 Project via Hometalker Jessica @Mom 4 Real
Use an incomplete set of scrabble tiles -- or buy some new ones -- for this clever ornament. It's totally worth it!
27. Adorable Reindeer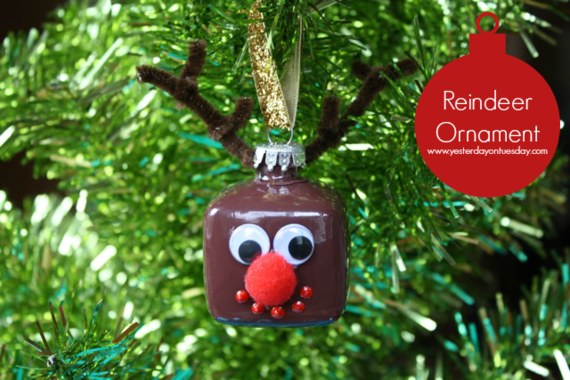 Project via Hometalker Malia @Yesterday on Tuesday
Follow this super clear tutorial, to add this adorable square reindeer to your Christmas tree cast!
28. Rolled Paper Tree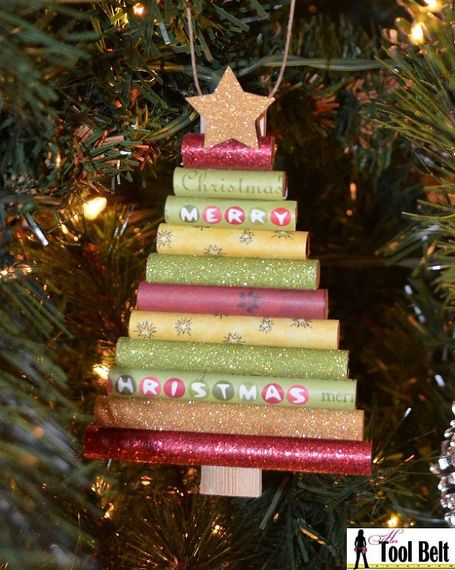 Project via Hometalker Amy @Her Tool Belt
Roll it up, stick it on, and hang it on your tree. So colorful, so festive, and, with this tutorial, so easy!
29. Hazelnut Wreath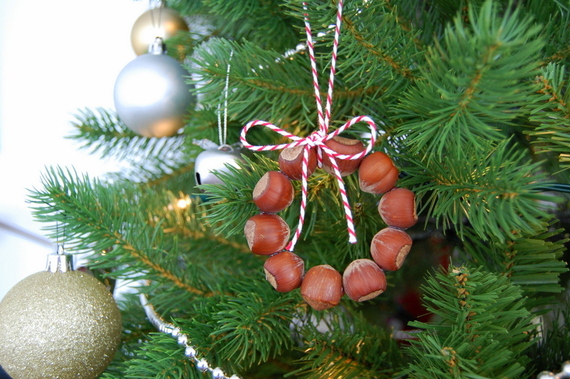 Project via Hometalker Alex @North Story
So quick and easy to make, use the natural warm sheen of hazelnuts to do your decorating for you!
30. Toilet Paper Roll Star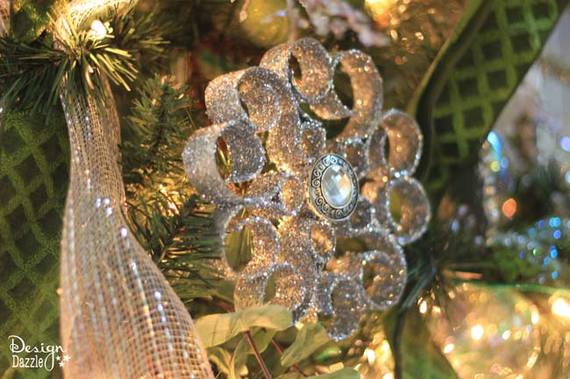 Project via Hometalker Toni @Design Dazzle
You read that right -- this shining holiday star is made from upcycled toilet paper rolls! What's not to like?
31. Mini Popsicle Stick Pallets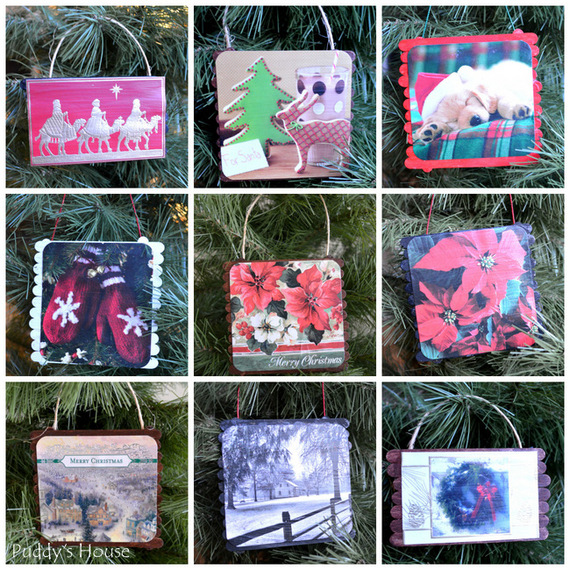 Project via Hometalker Leslie @Puddy's House
Dress up your holiday tree with mini pallets and repurposed old Christmas cards!
32. Extra Plumbing Parts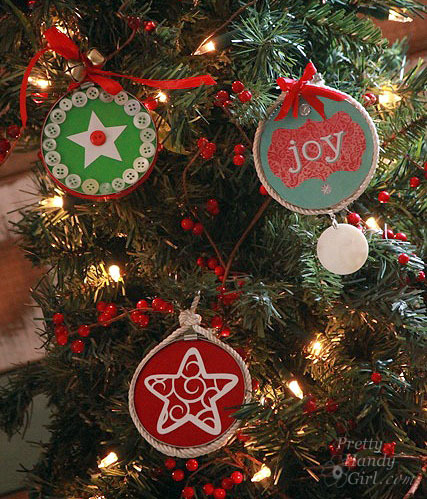 Project via Hometalker Brittany @Pretty Handy Girl
Here's one you never expected, and neither will your holiday guests -- Christmas tree ornaments made from inexpensive plumbing pieces (buy new - this is not an upcycle)!
33. Engraved and Illuminated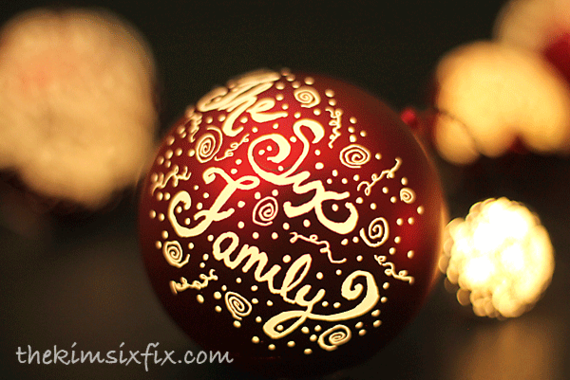 Project via Hometalker Kim @The Kim Six Fix
And we couldn't let you go without daring you to try this one -- watch your artwork light up with holiday warmth!
We've got all the direction and how-to you need, to turn your house into the perfect holiday home! Check out #OrignalOrnaments on Hometalk, for tons more incredible tutorials on DIYing amazing Christmas tree ornaments.