If you're still having trouble getting to sleep since the clock change, put that extra hour to good use, by DIYing your way to a better home 60 minutes at a time! In fact, these brilliant ideas from Hometalk bloggers are a quick way to spruce up your living space any time of long.
1. Turn fallen leaves into metallic tree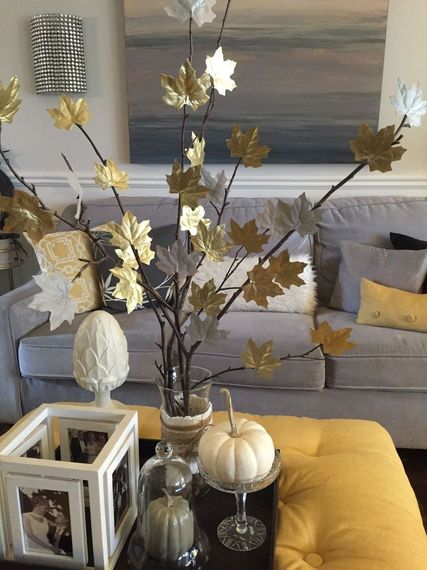 Project via A Purdy Little House
Pick up some pretty fall foliage next time you're strolling outdoors, and then give it a coat of gold! See the full post here.
2. Make mini Santas from spoons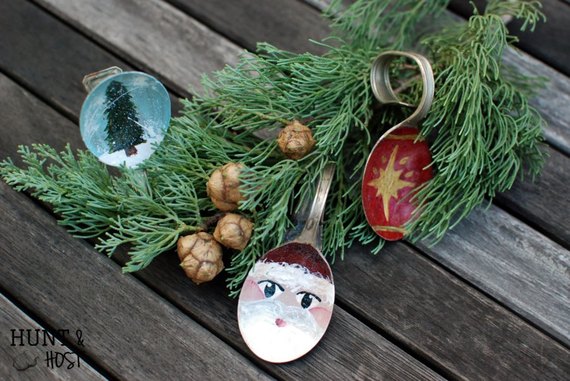 Project via Hunt & Host
This is the perfect upcycle for the holidays - it can even hang on your tree. See the full post here.
3. Create a turkey bowling game for Thanksgiving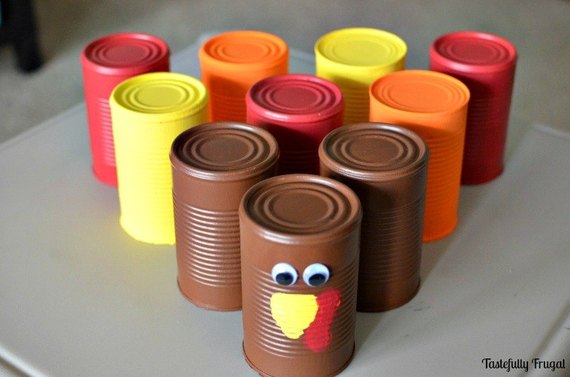 Project via Tastefully Frugal
Your one hour now will pay off come Thanksgiving, when your kids can spend hours on end playing turkey bowling! See the full post here.
4. Upcycle some sweet signage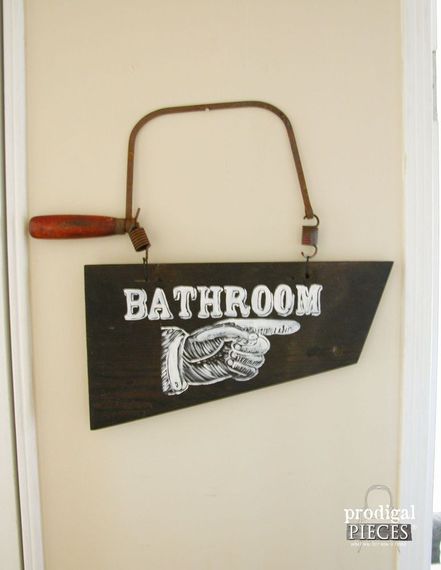 Project via Prodigal Pieces
Turn your old stockpiled bits and bobs into a cute sign for your bathroom or bedroom. See the full post here.
5. Update your window treatments on the cheap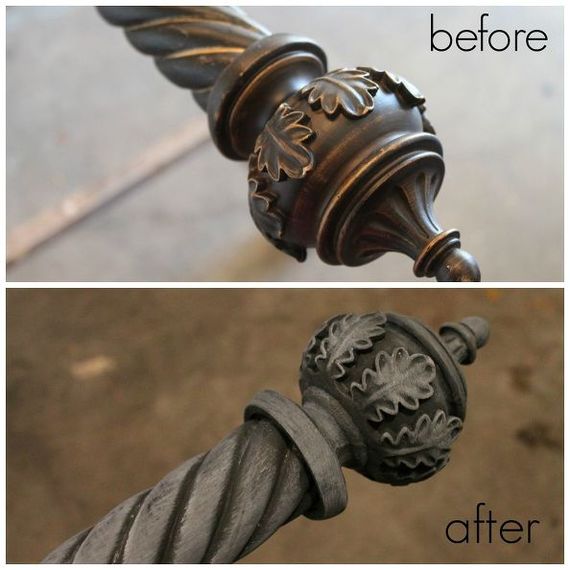 Project via The Magic Brush
In just 30 minutes you can add texture and character to your store-bought window fixtures, using some paint. See the full post here.
6. Make a reusable coffee sleeve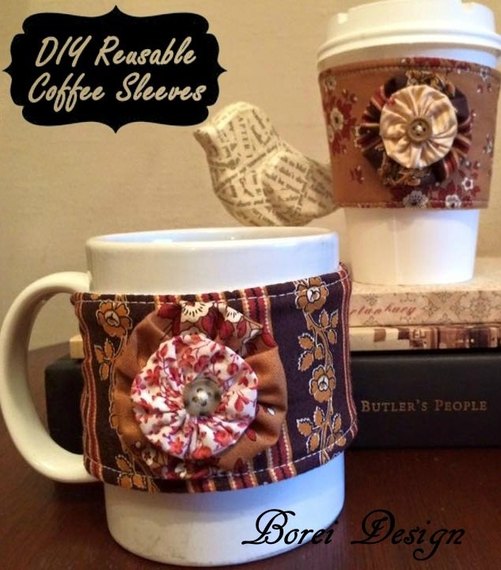 Project via Borei Designs
Who doesn't love enjoy some joe on the go? Make your own coffee sleeve and personalize it with fabric flowers and beads. See the full post here.
7. Refurbish an outdated thrift store find with paint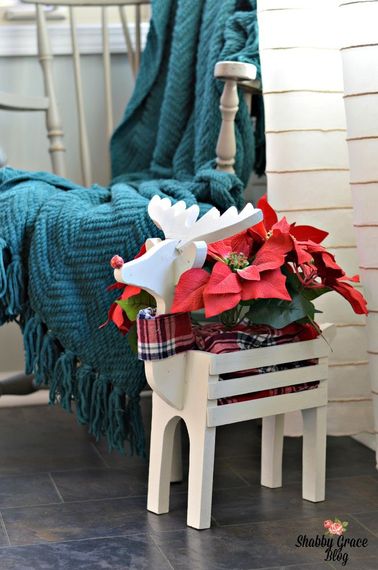 Project via Shabby Grace Blog
Now's the perfect time to bring an outdated find back to like, with a bit of fresh paint. See the full post here.
8. Add a graphic to a pillow, hand towel, or t-shirt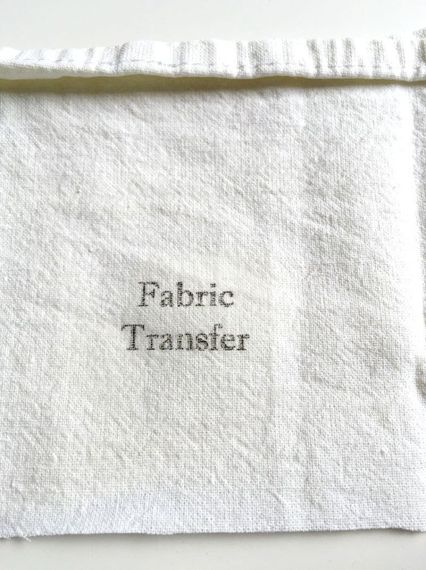 Project via My Sweet Things
Use this quick and cool transfer method to instantly change the look of your fabric decor pieces. See the full post here.
9. Build a cute wooden pumpkin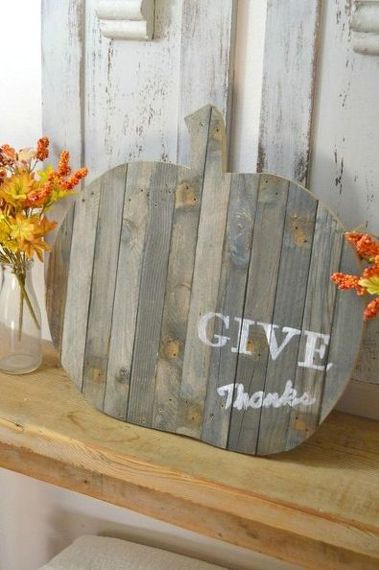 Project via My Creative Days
Wooden pumpkins are on of the cutest fall decorations you can have - and this one takes less than an hour. See the full post here.
10. Make a scenic lamp for Christmas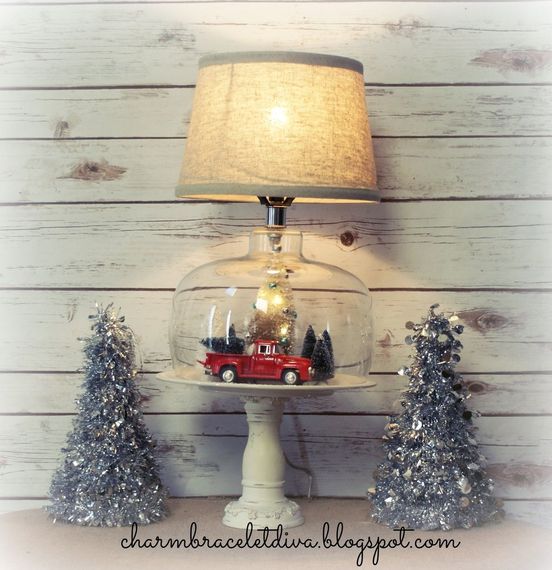 Project via Charm Bracelet Diva
Fill an empty glass lamp with a happy holiday scene complete with snow and a sweet tree-toting truck. See the full post here.
11. Makeover your leather or pleather pieces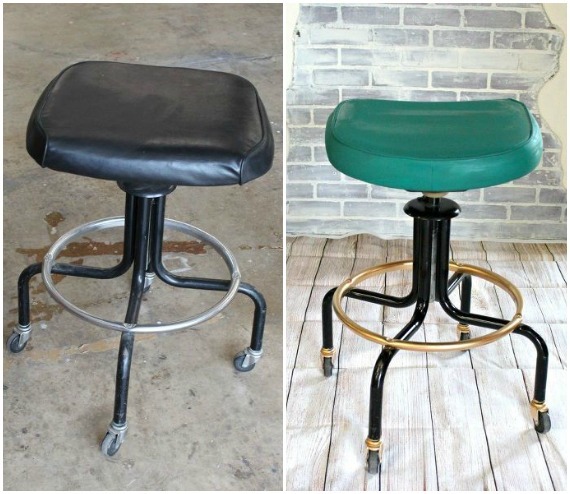 Project via Refunk My Junk
We all have those pieces that we think we'll fix up "one day." Well, today's that day! Bring that leather furniture into the modern day. See the full post here.
12. Hang a rustic wreath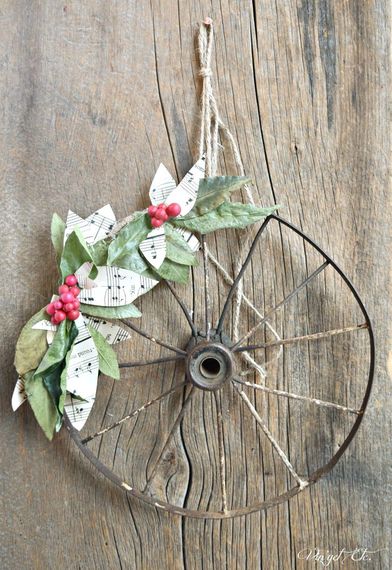 Project via Vin'yet Etc.
Turn an old bike tire or some salvaged metal ring into a rustic and romantic wreath for your door. See the full post here.
13 Find new uses for your old things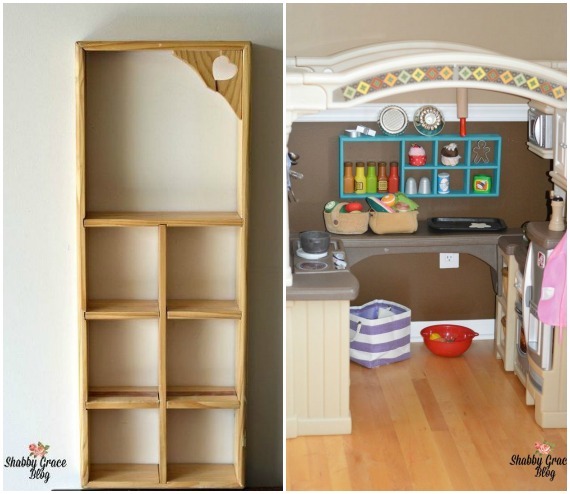 Project via Shabby Grace Blog
Take a moment to look at your old stuff and dream up a new way to use it, like this decorative shelf that became a play kitchen display. See the full post here.
14. Refresh your throw pillows with no-sew slip covers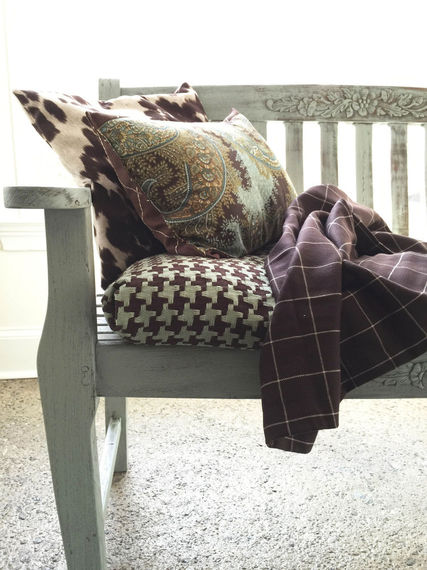 Project via The Chelsea Project
If you're not a seamstress, that's just fine - this clever slip cover short cut will do the job perfectly! See the full post here.
15. Spend time getting creative in your planters and gardens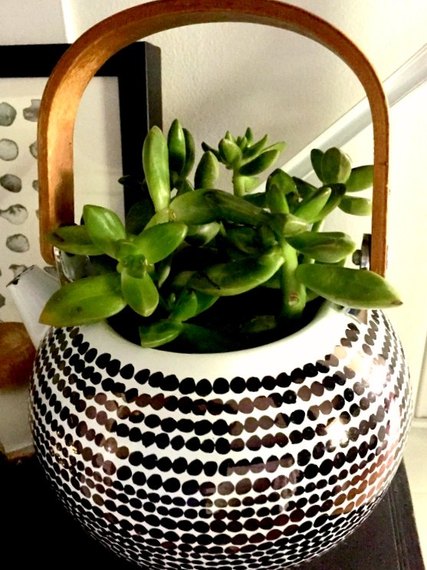 Project via Houseologie
Cover an old teapot in Sharpie polka dots and turn it into a planter. If you're not in the repotting mood, just dress up your current planters. See the full post here.
16. Turn wooden sticks into striking wall art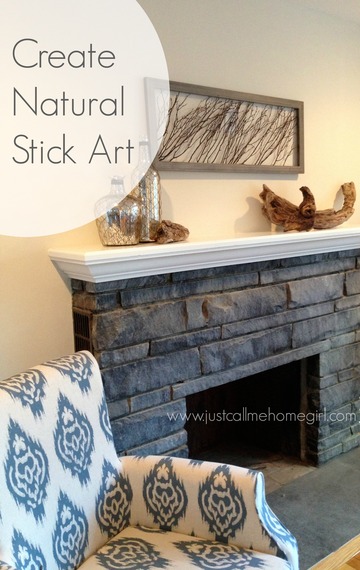 Project via Just Call Me Home Girl
Fill a frame with ordinary wooden sticks, to create a dramatic piece that pops off the wall. See the full post here.
17. Make a faux marble jewelry box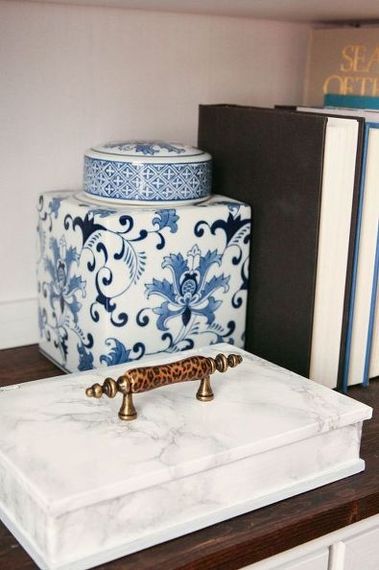 Project via Windgate Lane
Any old box can become a marble keepsake space, with the help of some marble contact paper and a pretty pull. See the full post here.
18. DIY a dry erase board (or two) in any color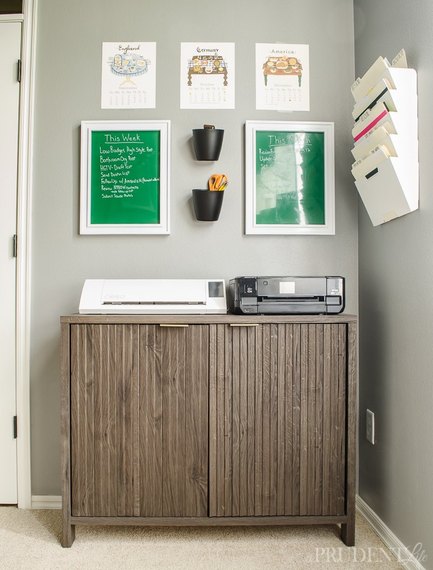 Project via Polished Habitat
Upcycle some old thrift store frames into pretty and practical erase boards for easy note-taking and schedule-keeping. See the full post here.
19. String up some rustic holiday decor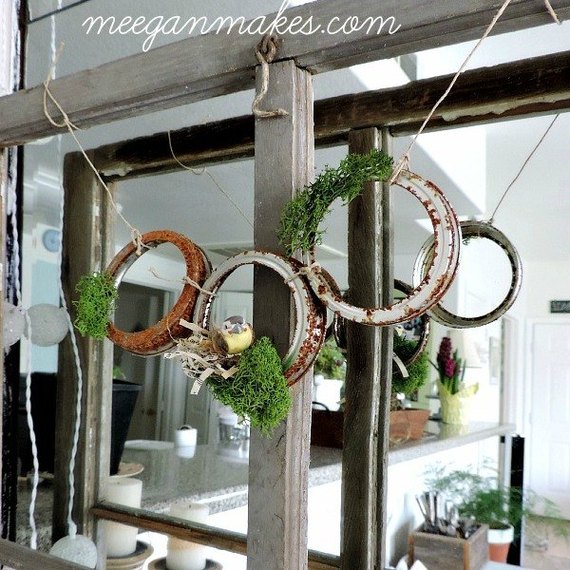 Project via What Meegan Makes
Turn leftover mason jar lids into a holiday hanging with a pretty patina and plenty of greenery. See the full post here.
20. Spray paint mismatched glass containers to make a set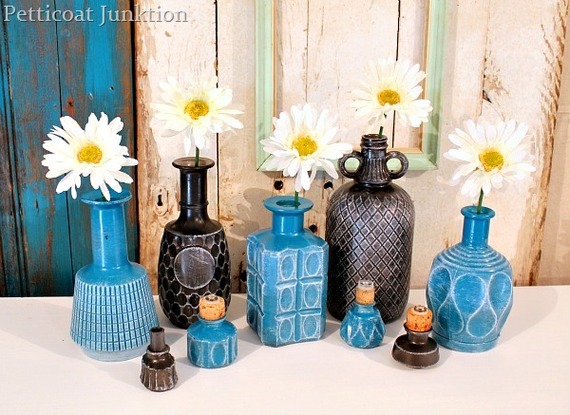 Project via Petticoat Junktion
Collect all your glass vases, bottles, and jars, and make a glorious display of colorful glass. See the full post here.
21. Build a magazine rack with copper piping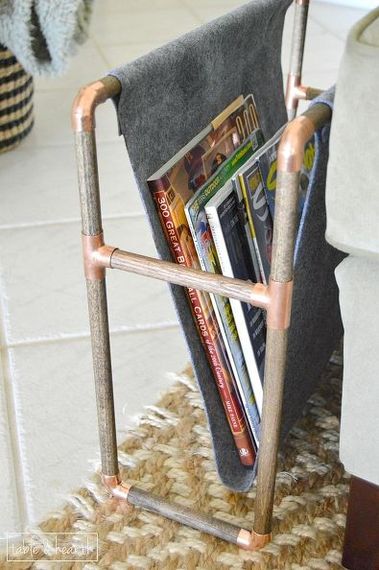 Project via Table + Hearth
Combine wooden dowels and copper pipe fittings to create a chic metallic magazine rack to dress up your space. See the full post here.
22. Turn a log into a glowing centerpiece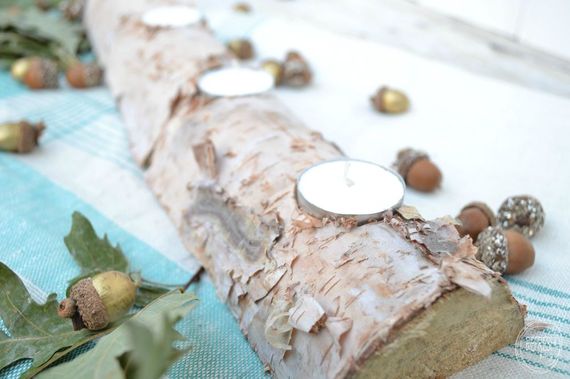 Project via Refresh Living
Cut holes out of a wooden log to make just enough space for glowing tea lights. It's so simple and so perfectly pretty. See the full post here.
23. Make your own heat packs (your fingers will thank you in a couple of weeks)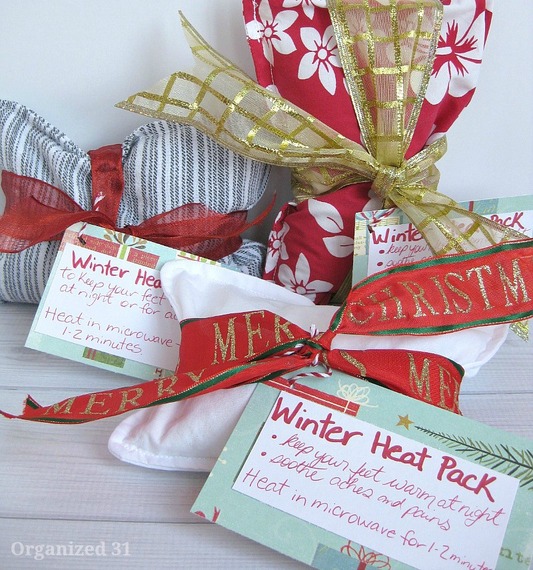 Project via Organized 31
Prepare for winter weather by making your own heat packs, perfect for keeping in your pockets all season long. See the full post here.
24. Update your tired furniture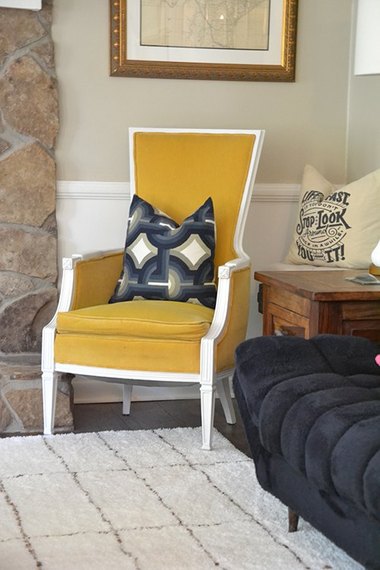 Project via Hearts & Sharts
If you upholstery on an old piece is still looking great but the bones are starting to chip or fade, here's how you update without touching the fabric. See the full post here.
25. Craft your own gorgeous hobnail glass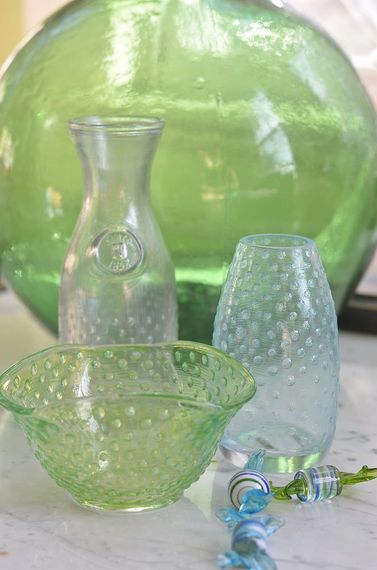 Project via Ciburbanity
Turn any glass piece into a designer find, instantly, by updating it with this cool hobnail DIY! See the full post here.
26. Turn an ugly tray into a classy cheeseboard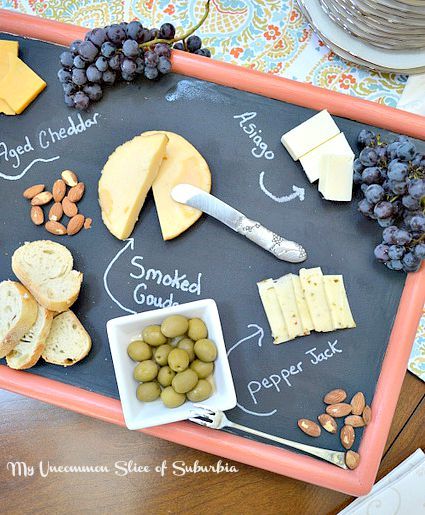 Project via My Uncommon Slice of Suburbia
The next time you come across a tray that you're not using, turn it into an adorable chalkboard platter for your next wine and cheese soiree. See the full post here.
27. Replace your ugly light fixtures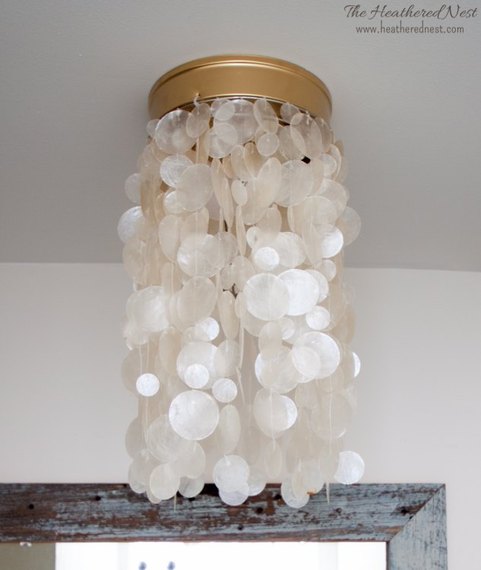 Project via The Heathered Nest
If you hate your ugly builder grade lights, replace them with a stunning - but simple - DIY chandelier or fixture. See the full post here.
28. Be your cat's best friend with a makeshift perch swing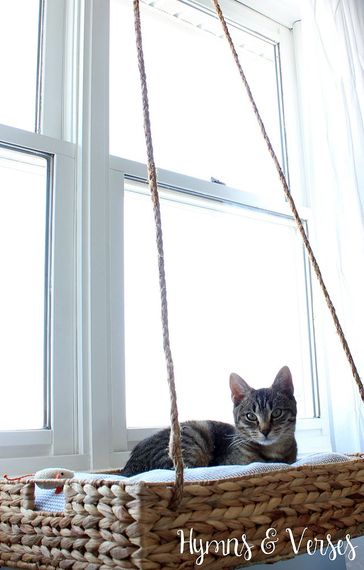 Project via Hymns & Verses
Add a fun woven hammock to your window so that you furry friend can lounge comfortably and cozily all seasonlong. See the full post here.
29. Add embellishment to a picture frame using book pages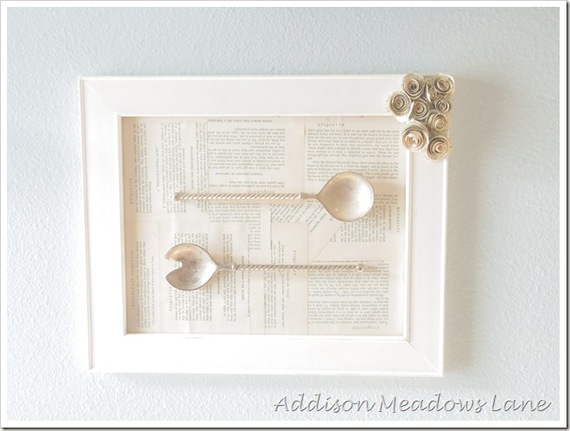 Project via Addison Meadows Lane
Twist book pages into pretty embellishments for boring picture frames. See the full post here.
30. Wrap a decorative magnolia wreath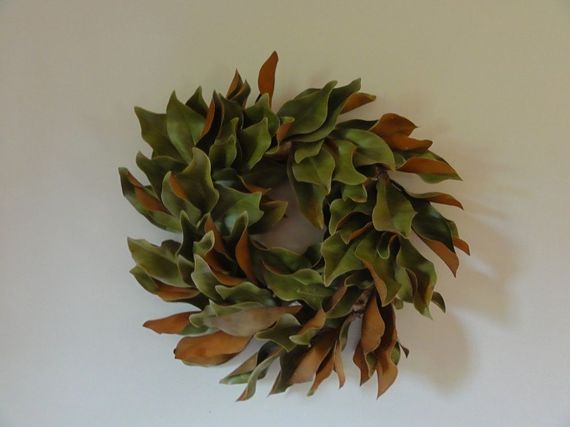 Project via Lehman Lane
Create a delicate wreath with magnolia leaves, for a rich and romantic front door look. See the full post here.
31. Make your own Anthropologie-style flower pot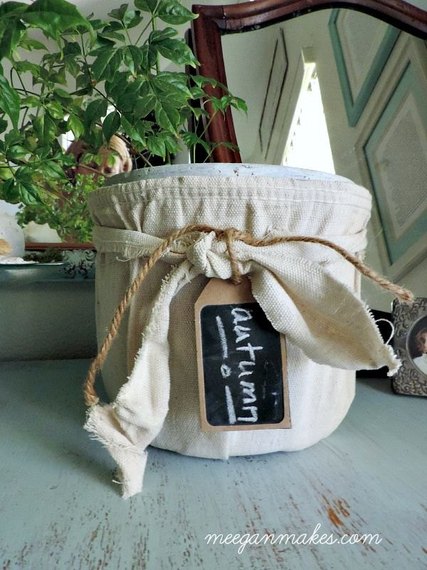 Project via What Meegan Makes
Wrap your flower pots and planters in dropcloth, for this rough and wrinkled Anthropologie look that we can't get enough of. See the full post here.
32. Tuck extra TP storage into your bathroom vanity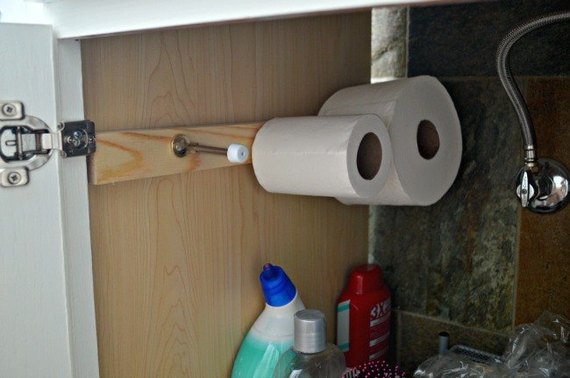 Project via Chatfield Court
It's always helpful to have more spaces to stock with toilet paper so that you're never left in lurch. This under sink solution is just plain awesome! See the full post here.
33. Fill your empty walls with bold DIY paintings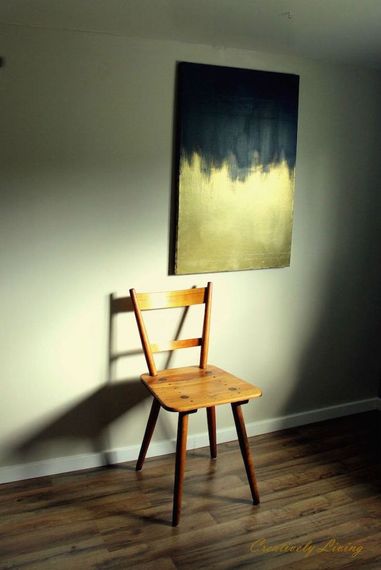 Project via Creatively Living
Make statement art for your walls with a big-impact painting that's easy (and therapeutic) to create! See the full post here.
34. Hang these makeshift curtains from your ceiling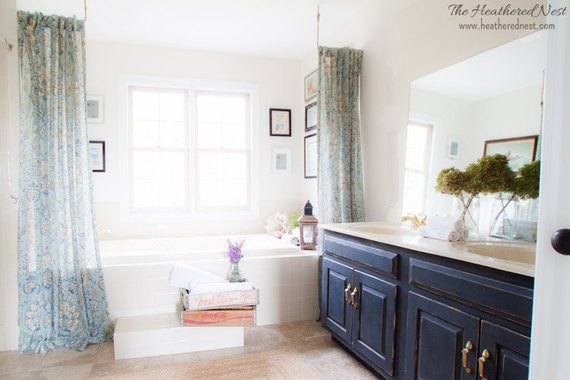 Project via The Heathered Nest
Add some height and a colorful frame to any space, by hanging these faux curtains from the ceiling. They can divide a room in a very minimal way. See the full post here.
35. Create conversation stones for a fun date night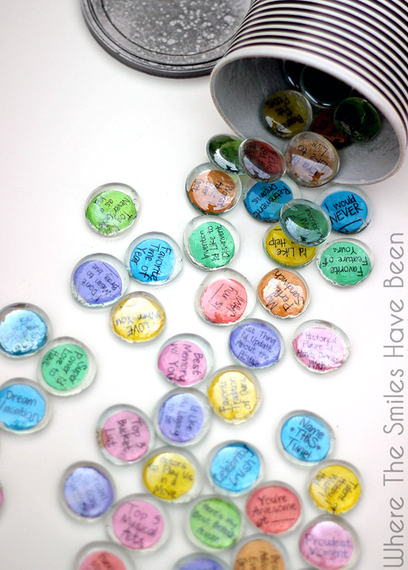 Project via Where the Smiles Have Been
The next time you plan a stay-at-home date, make sure to have these conversation starter stones to get to know your partner even better. See the full post here.
For more amazing ways to spend that free hour (or just squeeze in a quick project anytime), check out the 1 Hour Projects page on Hometalk!
Also on HuffPost:
PHOTO GALLERY
The Best Cleaning & Organizing Tips