New Year's organizing is a chore, but there are ways to make it fly by without leaving you totally spent. 49 genius ways to be exact, and we've collected them all! Whether you want to give your whole house a total clutter-flush, or focus on one or two rooms that really need attention, these tricks are your shortcut to organization bliss!
Start at the top...
Bedroom
1. Use something decorative to organize your jewelry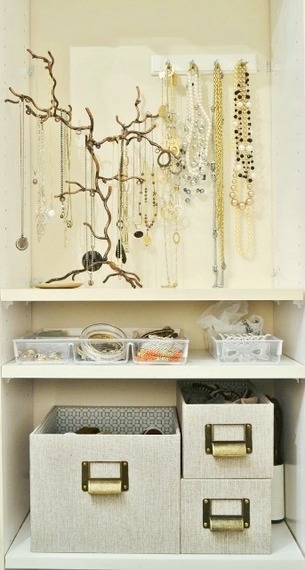 Project via Hometalker Sarah @Home-ology
A small decorative statue or bust would be great for this clever idea!
2. Or cleverly store your valuables out of sight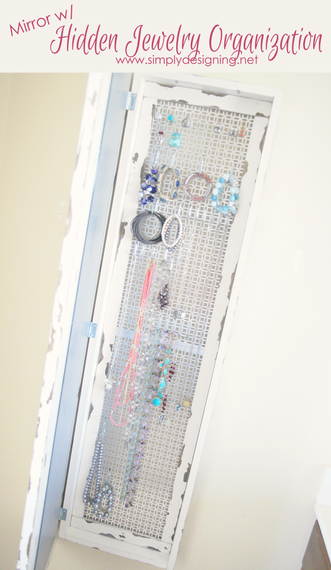 Project via Hometalker Ashley @Simply Designing
No one will suspect it's stashed behind the mirror, and you're room will look clutter-free!
3. Or try some artsy upcycling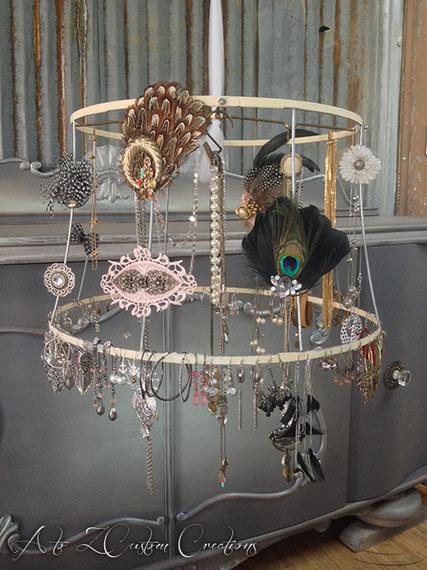 Project via Hometalker Angela @A to Z Custom Creations
Use an extra lamp shade to store earrings along the bottom and hang necklaces and clips along the top!
4. Create specific closet space for everything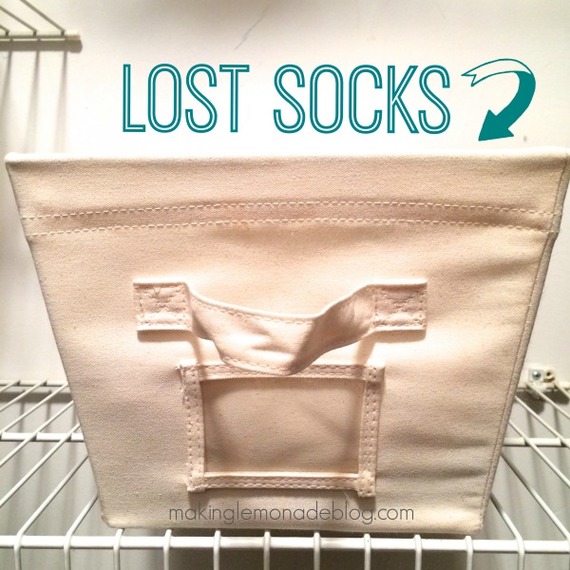 Project via Hometalker Carrie @Making Lemonade
Check out the rest of her closet tips here!
5. Unless it can share, like ties or scarves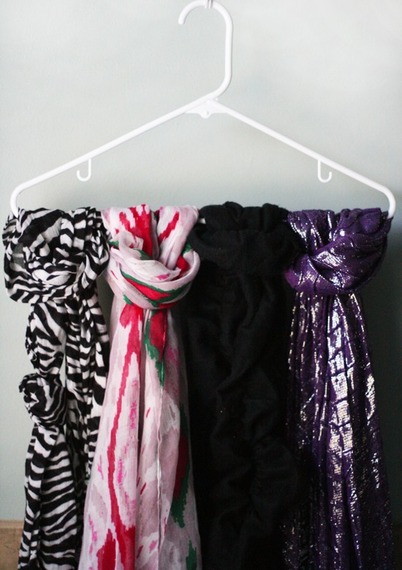 Project via Hometalker Christine @I Dream of Clean
If this doesn't work for you, she's got two more scarf storage methods here!
6. Trays are perfect for accessories and supplies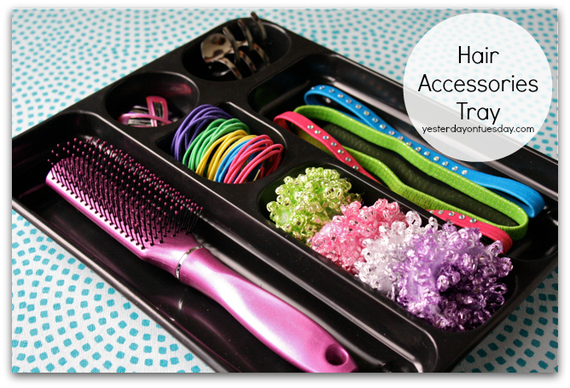 Project via Hometalker Malia @Yesterday on Tuesday
And you can get them super cheap. Try ice trays for earrings!
7. Solve closet clutter by organizing your shoes on a wall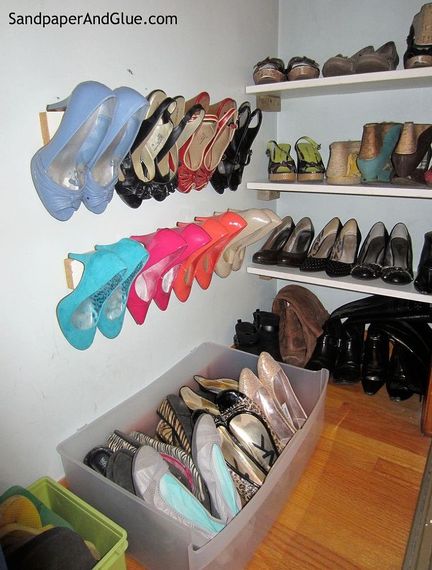 Project via Hometalker Stephanie @Sandpaper & Glue
Don't be afraid to get creative with all your different pairs and styles.

Bathroom
8. Wall mounted storage is even better than an extra shelf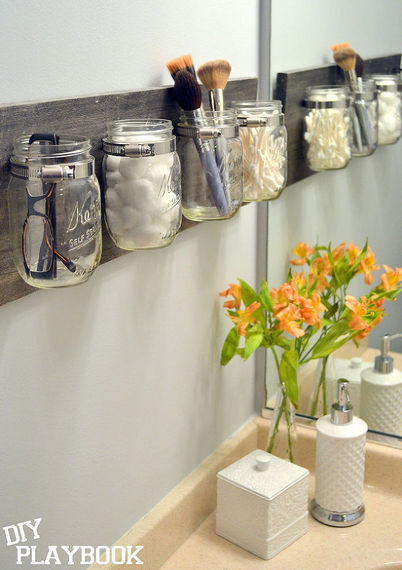 Project via Hometalkers Bridget & Casey @The DIY Playbook
With some hose clips and a collection of everyone's favorite mason jars, your toothbrushes can finally have a comfy home.
9. A desk drawer organizer is great for storing make-up on your vanity table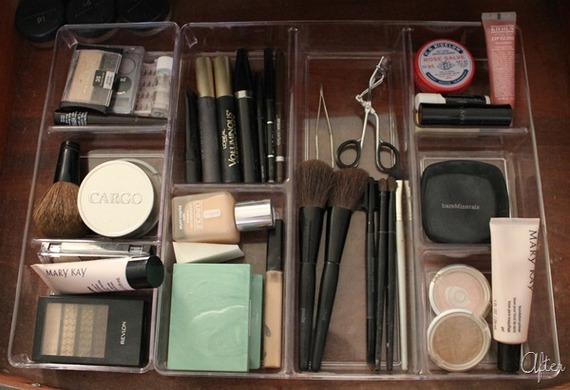 Project via Hometalker Becky @Organizing Made Fun
Instead of digging in that smudged and overstuffed makeup bag, keep your touch-up tools where you can see them!
10. Turn an empty tissue box into an under the sink trashbag dispenser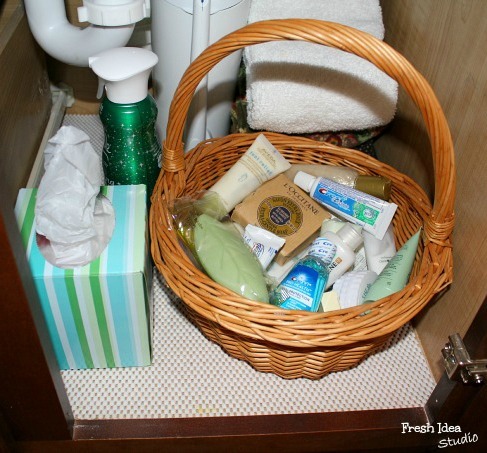 Project via Hometalker Therese @Fresh Idea Studio
This is an upcycle that everyone can do and everyone will love!
11. Instead of the classic chaotic medicine closet, use boxes and labels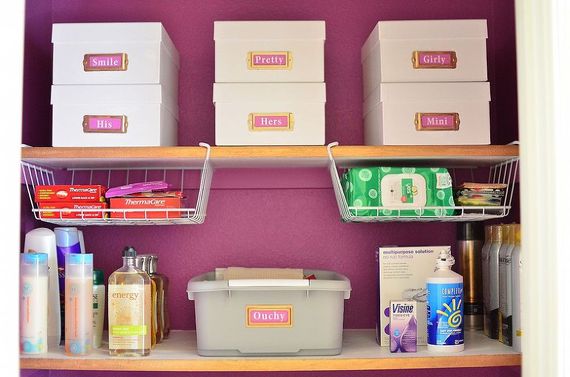 Project via Hometalker Melissa @A Prudent Life
Make your labels extra cute like these, to help your storage from looking too much like an office
12. Reuse containers to make super convenient storage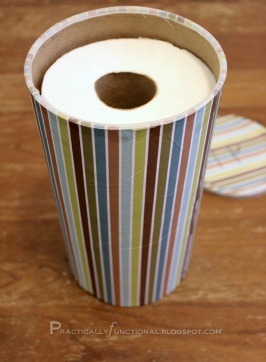 Project via Hometalker Jessi @Practically Functional
Old oat canisters are the perfect size for toilet paper! Eureka!!

Linen Closet
13. Create stations on each shelf of your linen closet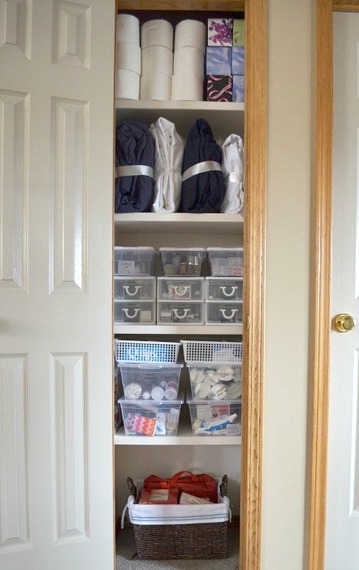 Project via Hometalker Thea @Time with Thea
Try this foolproof system: Paper supplies in bulk on top, blankets next, then plastic labeled drawers with all the bits and bobs, followed by a floor basket with heavier items.
14. Use clothespins to separate sets of sheets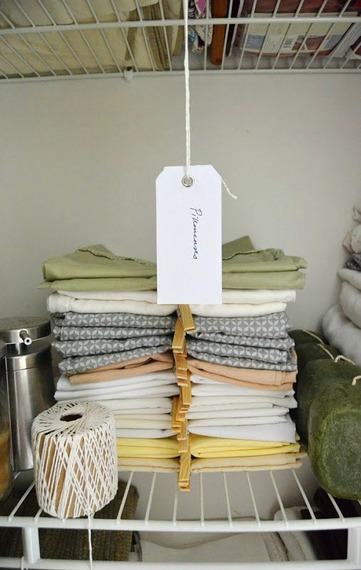 Project via Hometalker Amy @A Nest for All Seasons
Follow this magazine-worthy example, and hang labels in front of each section, for even better organization!

Craft Room
15. Use large mason jars as no-knot containers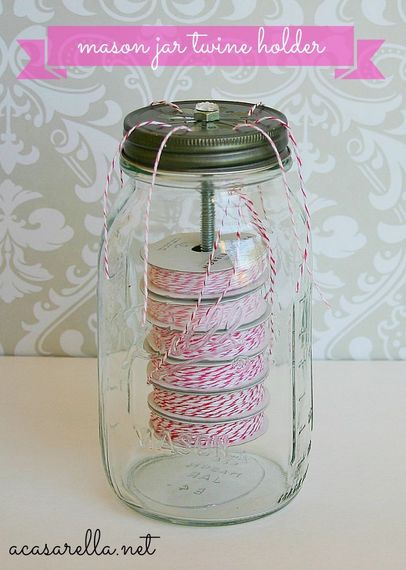 Project via Hometalker Elena @A' Casarella
This ten minute trick is a huge time and money saver for crafters!
16. Create trendy wall storage for twine and washi tape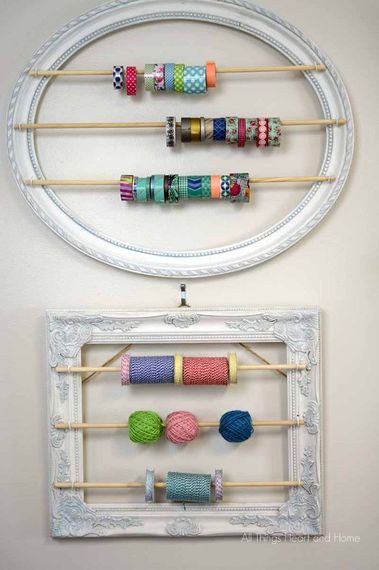 Project via Hometalker Robin @All Things Heart and Home
Upcycle an old frame or add hooks and rods, to get some free wall storage.
17. Organize markers and pens in accessible, ready-to-use containers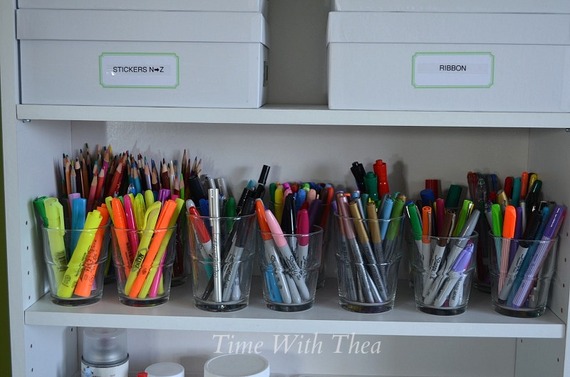 Project via Hometalker Thea @Time with Thea
Save time and create a quick crafting station at a moments notice.
18. Keep tools (especially sharp ones!) organized with rods and S-hooks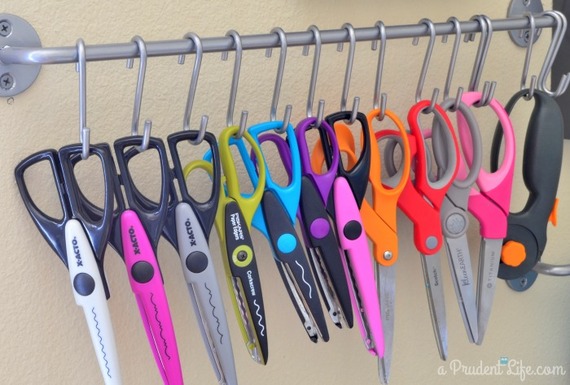 Project via Hometalker Melissa @A Prudent Life
With this trick, never again suffer the frustration of searching through the piles on your desk for your good pair of scissors.
19. Decide what supplies you need accessible and what can be stored more out of the way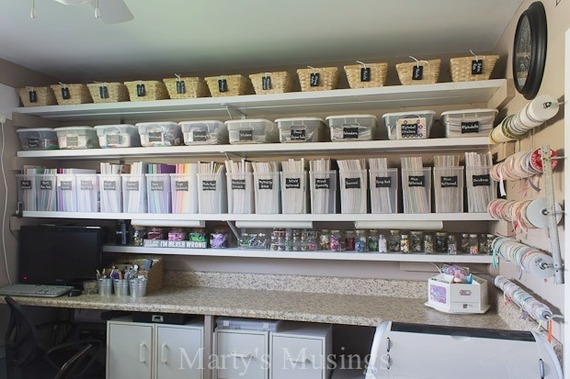 Project via Hometalker Marty @Marty's Musings
Check out more of her small storage space ideas here!
20. Keep your go-to's in easy-to-reach desktop storage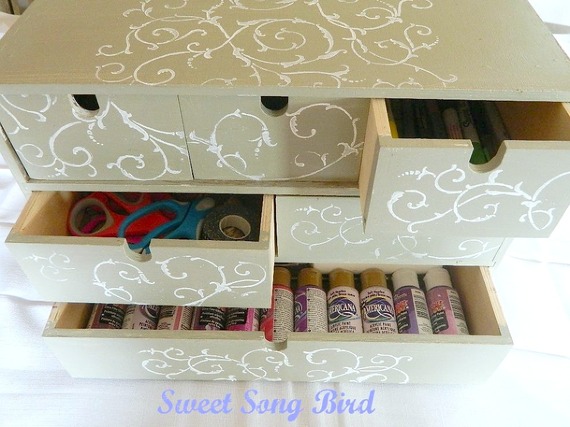 Project via Hometalker Evey's Creations @Sweet Song Bird
You're allowed to play favorites with your craft supplies -- no worries!
21. Or arrange them on the wall with a pegboard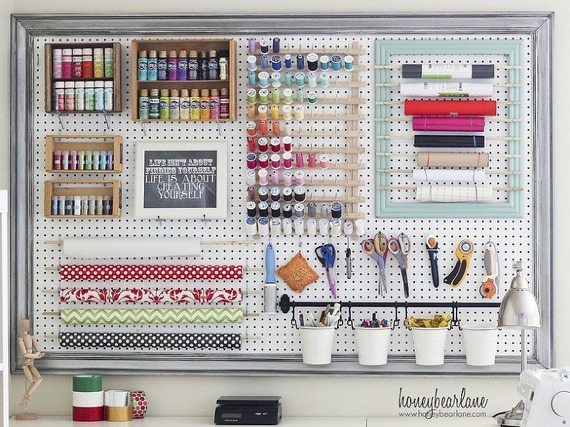 Project via Hometalker Heidi @HoneyBear Lane
Warning: You might never do crafts for fear of messing up this incredible display!
22. Use decorated PVC pipe to display paints by color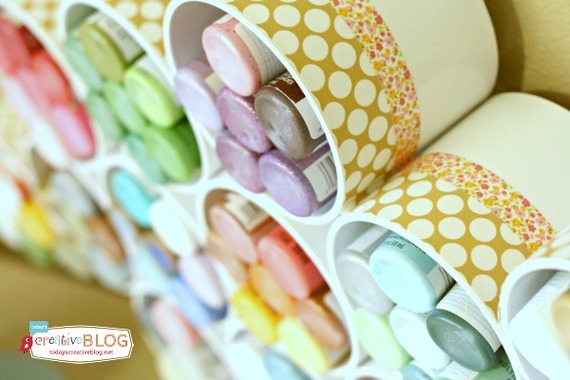 Project via Hometalker Kim @Today's Creative Blog
Upcycling, crafting, and storage in one -- this project is a DIYer's dream!

Office
23. Create a command center to keep you on track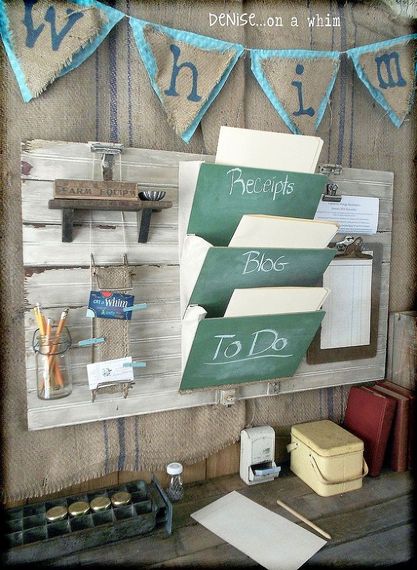 Project via Hometalker Denise @Denise on a Whim
Make sure it fits your style and needs, because hopefully you'll be spending quite a bit of time staring at it.
24. Add a family charging station to keep from misplacing phones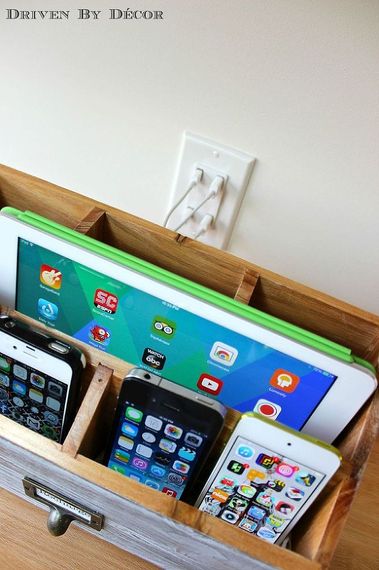 Project via Hometalker Kris @Driven by Decor
You can build and decorate your own with this tutorial!
25. Safely store manuals and warranties in labeled files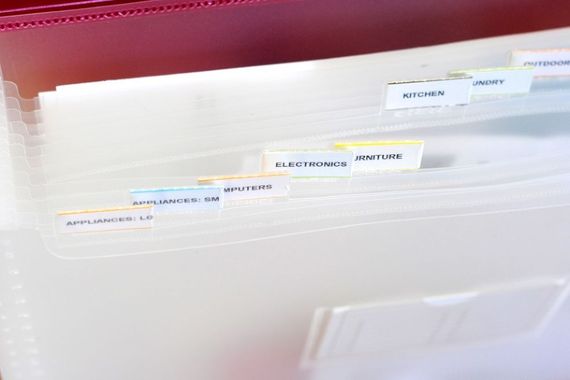 Project via Hometalker Carrie @Making Lemonade
Remember shuffling through piles and stacks of mismanaged papers this year? Say goodbye to that headache with this winning idea!
26. Keep your desk ready for work, with supplies in (cute) glass jars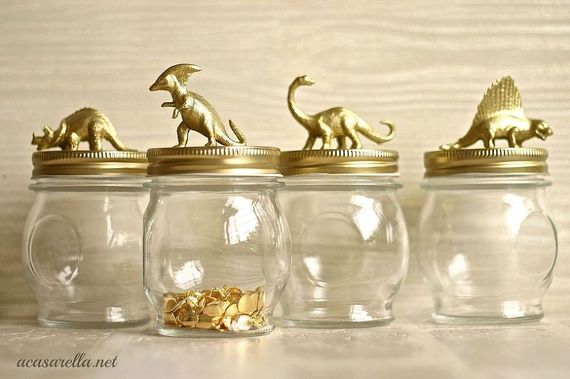 Project via Hometalker Elena @A' Casarella
You can top them off however you like, but for this cute and quirky decor idea, you'll need some plastic dinosaurs!

Kitchen
27. Go label-happy in your pantry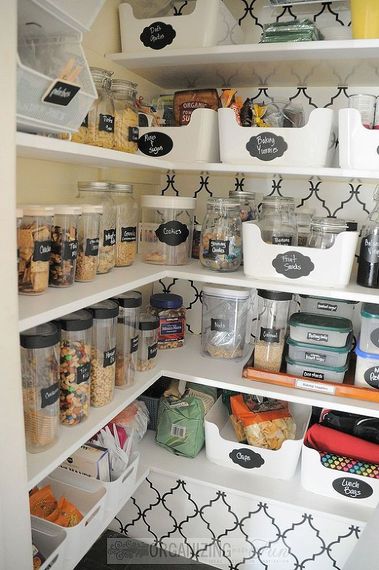 Project via Hometalker Becky @Organizing Made Fun
Label literally EVERYTHING! And adding some cool contact paper to the walls doesn't hurt the look either!
28. Magnetize your spices for instant and out-of-the-way storage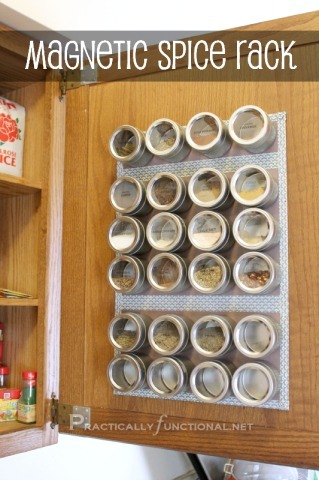 Project via Hometalker Jessi @Practically Functional
This quick DIY can save you from fumbling with the spice rack every evening at dinner prep!
29. Store glass and ceramic bakeware safely with budget pan organizers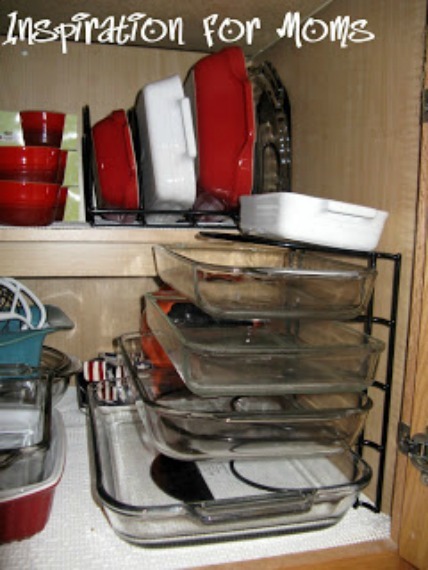 Project via Hometalker Laura @Inspiration for Moms
If you're tired of tenderly tampering with your stacks of fragile bakeware, beat the system with organizers that really work!
30. Use good quality retired furniture for kitchen storage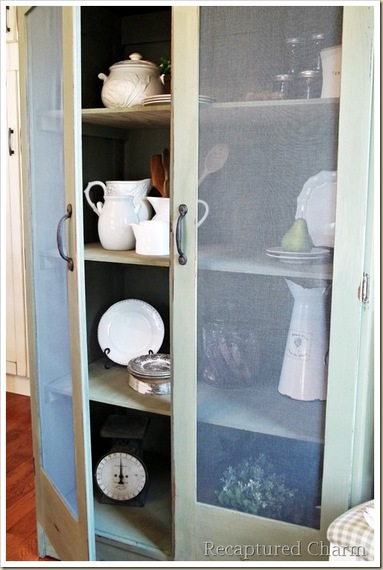 Project via Hometalker Lisa @Recaptured Charm
Remember, anything can be a pantry!
31. One drawer is all it takes to make your dream hot beverage station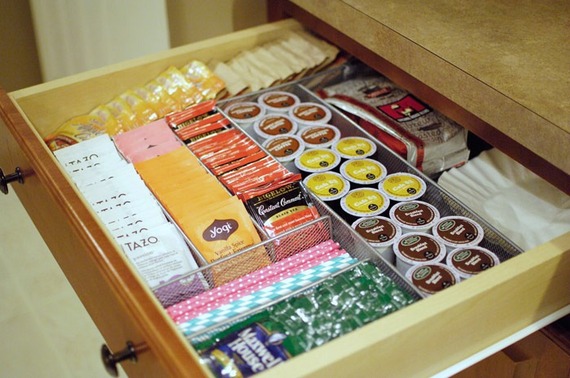 Project via Hometalker Susan @Living Rich on Less
Keep your coffee pods and tea bags easy to find for that hazy morning grogginess!
32. Changeable labels will keep your shopping list up-to-date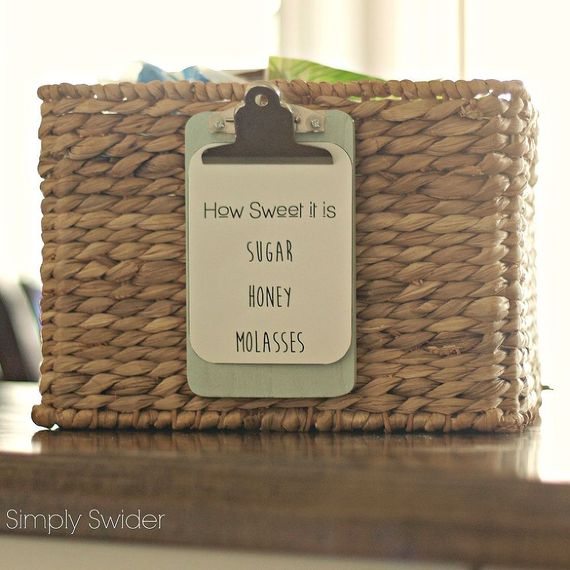 Project via Hometalker Stephanie @Simply Swider
Plus, they're so freakin' cute!! Steal her idea to have a little fun with pantry organization.
33. If you're not using the inside of your cabinet door, you're losing space!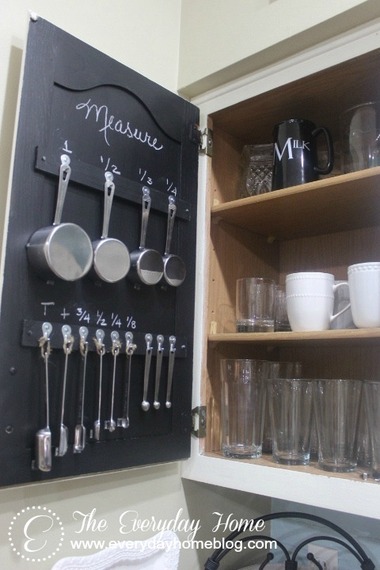 Project via Hometalker Barb @The Everyday Home
No more searching through stuffed utensil drawers -- use chalkboard paint to create perfectly functional storage!
34. Speaking of utensil drawers, create quick dividers to stop that silver from shifting!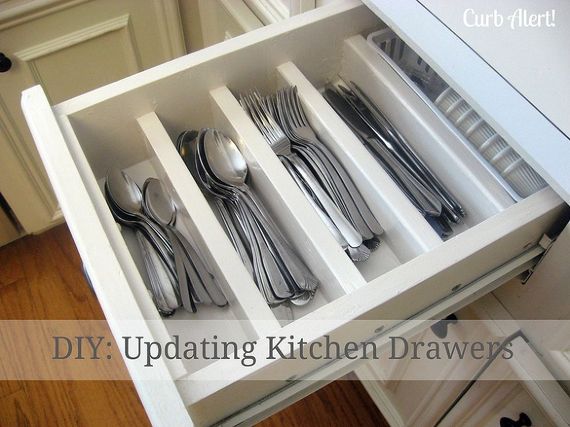 Project via Hometalker Tami @Curb Alert
If you're sick of fishing for the right sized fork, this quick fix DIY is your knight in shining armor!
35. Hang a menu planner, for a shortcut to daily meal brainstorming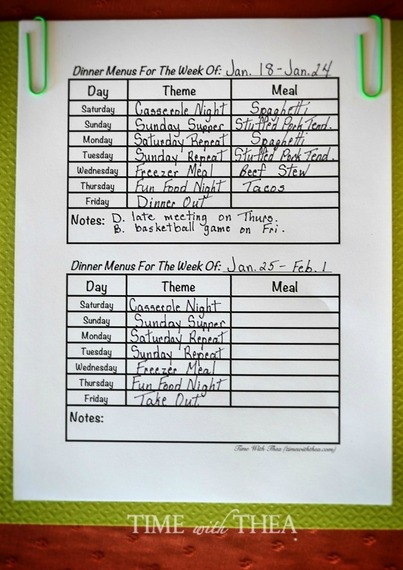 Project via Hometalker Thea @Time with Thea
With this brilliant system, you can have your answer ready before they can even ask, "Mommy, what's for dinner?"
36. Lazy Susans are the perfect organization hack for ever nook and cranny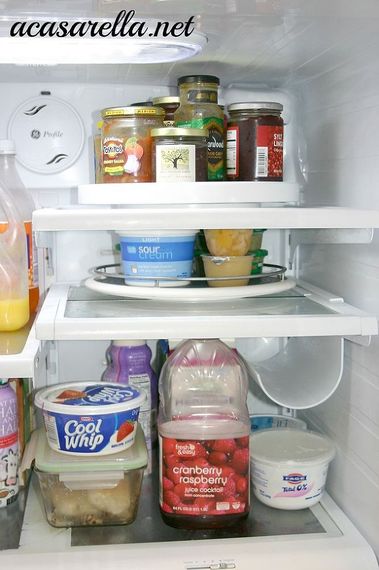 Project via Hometalker Elena @A' Casarella
This trick is perfect for cleaning supplies under your sink, condiments in a cupboard, glass vases stored in a closet -- anything and anywhere!
37. Turn upcycled cooking trays into free magnet boards for notes and cards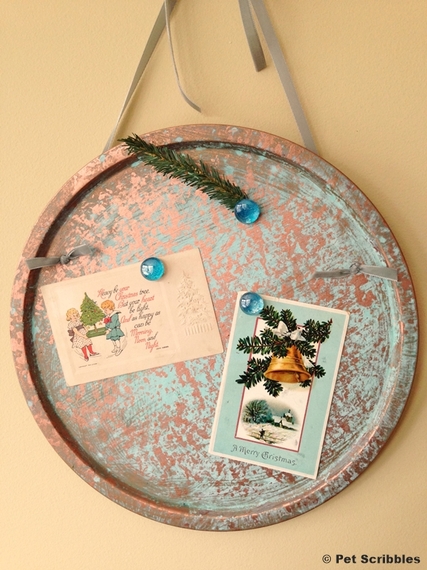 Project via Hometalker Laura @Pet Scribbles (featured on Saved by Love Creations)
Friends will ask you where you got this high-end helper, and they'll never believe your answer!

Living Room
38. Trays are an uber classy way to neatly arrange a coffee table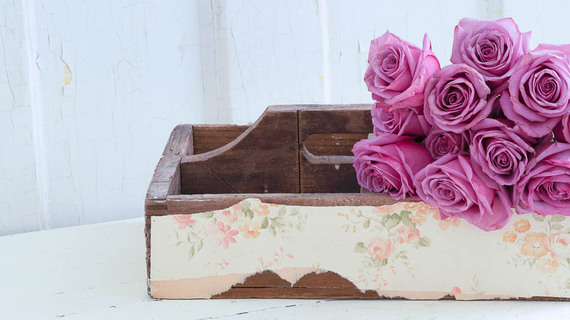 Project via Hometalker Anne @White Lace Cottage
Cover a tray with wallpaper to match your living room style.
39. And an ottoman with storage space is like an invisible cloak for clutter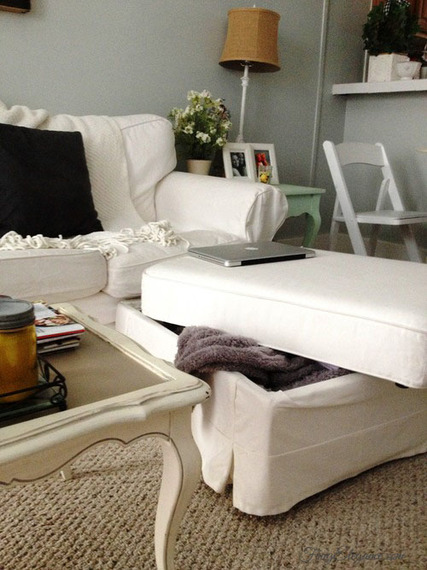 Project via Hometalkers Randi and Carol @FrugElegance
Really, what else do you use an ottoman for anyway? At least this way it's pulling its weight!

Entryway/Mudroom
40. Keep shoes from cluttering the doorway with cute crates on the walls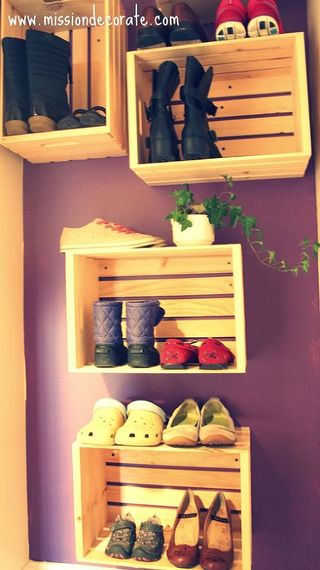 Project via Hometalker Jill @Mission: Decorate
Put kid's crates closer to the floor for easy access, and alternate between vertical for boots, and horizontal for sneakers and flats!
41. Create a family message center so no one leaves home unprepared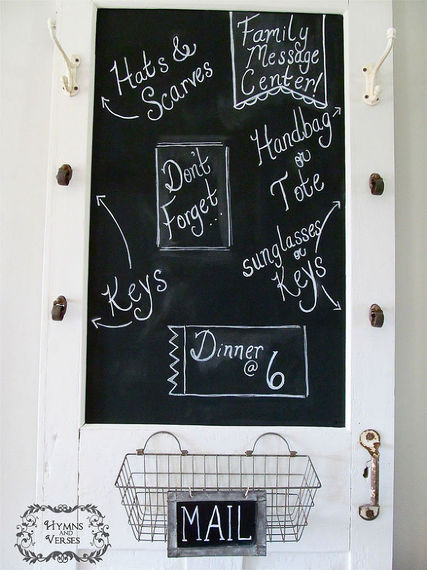 Project via Hometalker Doreen @Hymns and Verses
Add a chalkboard to notify the household about dinner times and appointments.
42. Adding hooks or baskets turns anything into the perfect hall organizer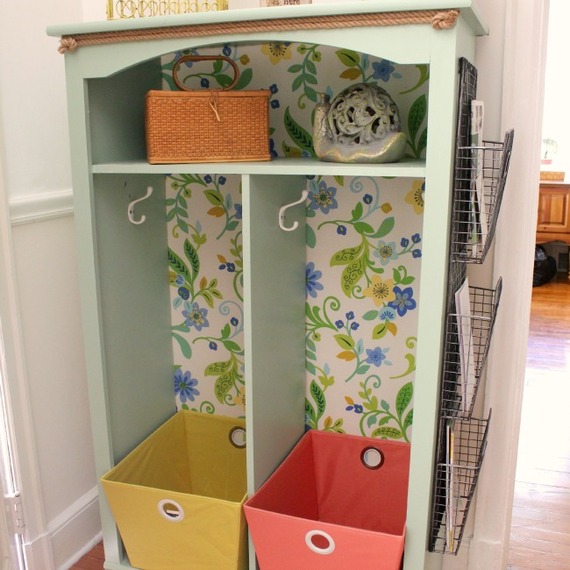 Project via Hometalker Linda @Crafts a la mode
And giving it a chic makeover turns anything into decor!

Play Room
43. Add a wall of colorful cabinets, for all the toy storage you need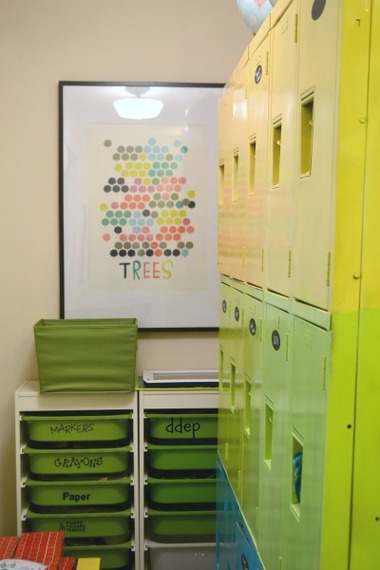 Project via Hometalker Karen @Dogs Don't Eat Pizza
She upcycled a whole set of dingy school lockers and create this playroom gem!
44. The best way to organize Lego is far away from barefeet (until it's play time)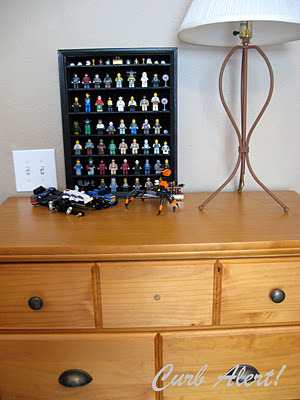 Project via Hometalker Tami @Curb Alert
Turning organization into a neat display is a great incentive for your child to clean up after they're done playing!
45. Keep homework supplies in one place with an adorable homework caddy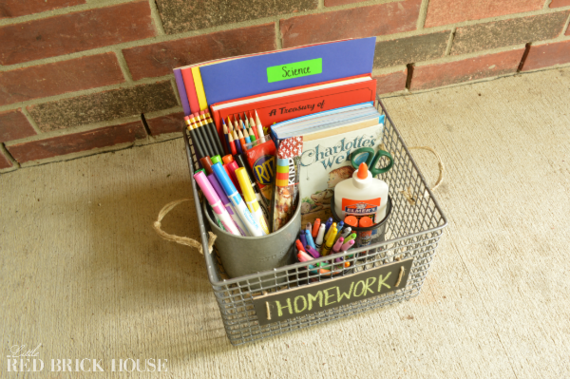 Project via Hometalker Sarah @Little Red Brick House
The nicer your make it, the less likely your child is to dread using it!
46. Cut up cereal boxes for perfect disposable crayon organizers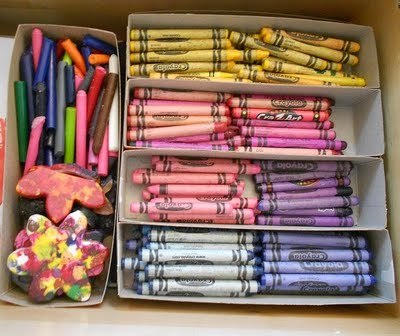 Project via Hometalker Becky @Organizing Made Fun
Try this quick organizer -- you won't care if it rips or gets totally graffitied, plus it's free!

Laundry Room
47. With floor to ceiling shelving, any space can be a usable laundry room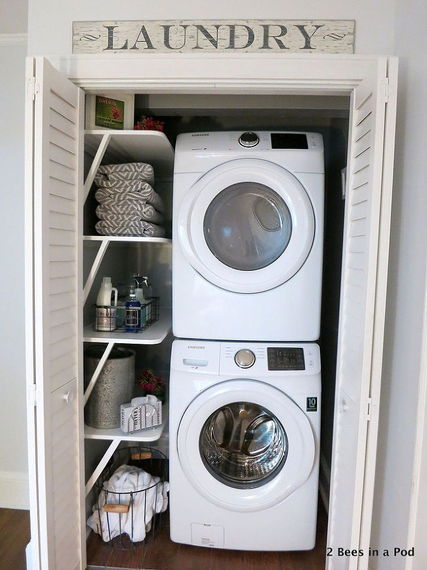 Project via Hometalkers Vicki and Jennifer @2 Bees in a Pod
They did this with a closet, so no matter how small your space is, the perfect laundry nook is possible!

Garage
48. Put up easy peg board to cleverly store tools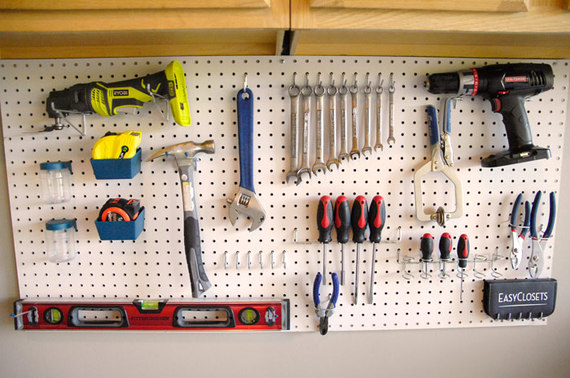 Project via Hometalker Susan @Living Rich on Less
With this quick fix, you too can brave your chaotic garage and emerge victorious!
49. Organize sports equipment with easily installed hooks and baskets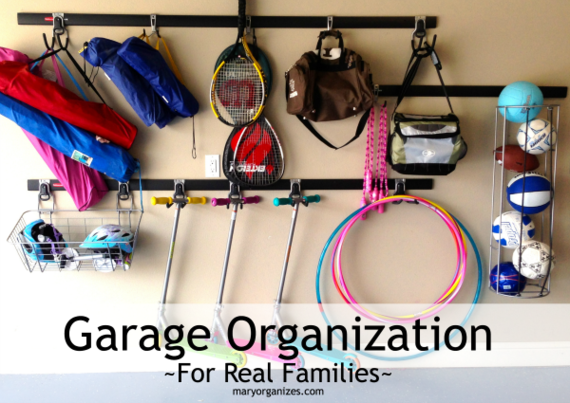 Project via Hometalker Mary @Mary Organizes
Hooks can organize just about anything anywhere! Check here for more useful hook helpers!
Satisfied? If not, we've got tons more where that came from! Check out our #organize page on Hometalk for more how-to's and tricks to organize your home for the new year!