With their range of versatility, it's no surprise that mason jars are one of our favorite DIY craft opportunities. Crafters everywhere have discovered new and fun ways of using these nifty and thrifty glass containers as everything from light fixtures to soap dispensers. If you have one handy, there's no end to the possibilities of design, and if you don't, some of these projects might just convince you to pop down to your local grocery store and pick up a few.
1. Chandelier
There are lots of different styles of mason jar chandeliers and luminaries - this is just one of our many favorites. Reflective glass jars and the soft, yellow glow of Christmas lights make this rustic design an ideal outdoor light.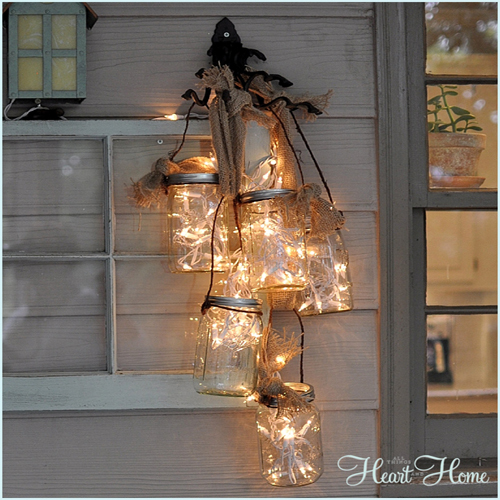 DIY Mason Jar Light via Hometalker All Things Heart and Home
2. Dining Caddy
Mason jars make great containers for anything, and are especially easy to label. Show off pretty vintage silverware, by showcasing it in a charming mason jar dining caddy. These simple jars are perfect to tote along on a summer afternoon picnic.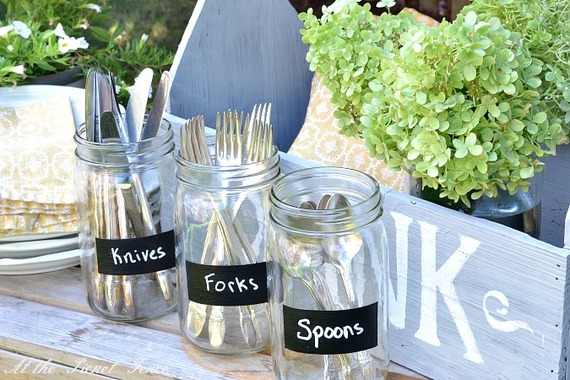 Mason Jar Dining Caddy via Hometalker At The Picket Fence
3. Craft Storage
With some vintage yard sticks, steel clamps, and a couple of mason jars, this craft supply holder is both useful and beautiful, simultaneously organizing supplies and showcasing their colors and kinds. Replicate this project using any repurposed wood, be it a panel from a shipping pallet or some other scrap material.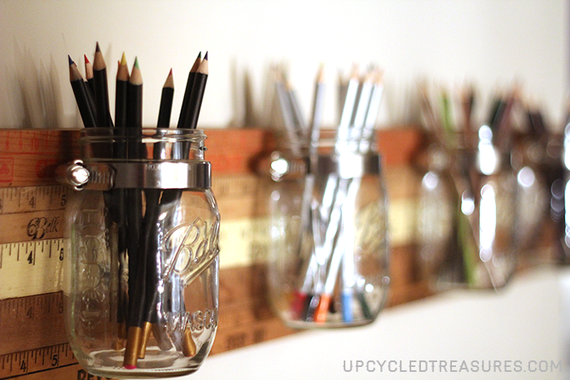 Mason Jar Storage Tutorial With Vintage Yard Sticks via Hometalker Katie Nathey
4. Hanging Herb Garden
A source of vibrant colors for your kitchen window and a mini garden, this hanging herb collection is a fabulous and practical project for anyone with a mason jar and a green thumb. Plus, who wouldn't want all of those fresh herbs closeby when cooking a savory meal?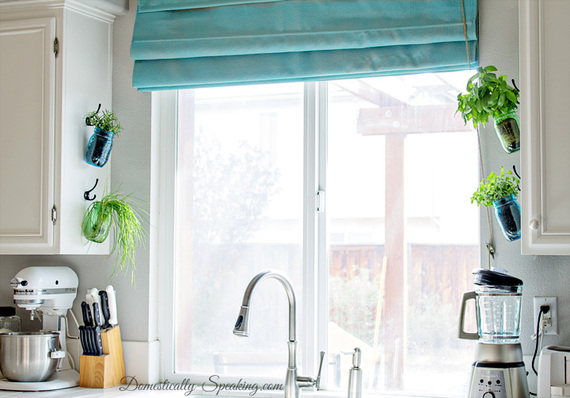 Herb Garden Hanging via Hometalker Domestically Speaking
5. Cup and Coaster
Of course there are hundreds of uses for a mason jar, but we don't toss anything in this resourceful biz, so hang on to those mason jar lids. There are a number of things you can do we these little metal screw-top caps, including this project, which turns caps into cute coasters for mason jar glasses.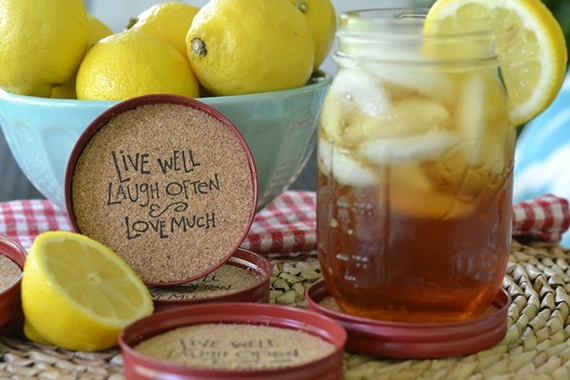 Mason Jar Lid Coasters via Hometalker Beneath My Heart
6. Apothecary Jars
Apothecary jars have been a staple in vintage-style decor forever, but yours don't have to be authentic to look interesting and stately. Try turning mason jars into tall apothecary jars by attaching them to metal candlesticks, and use them for unique and charming storage in your bathroom or bedroom.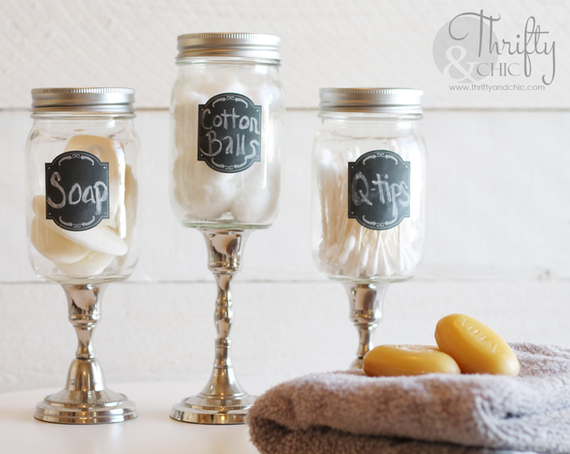 Mason Apothecary Jars via Hometalker Thrifty & Chic
7. Soap Dispenser
Make your own mason jar soap dispenser to bring delicate detail to your bathroom. You can leave your jar as is to more easily keep track of when it's time to refill it, or paint it to match your bathroom color scheme and decor.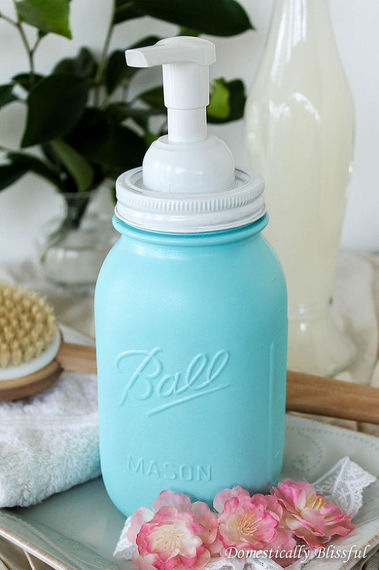 DIY Foaming Hand Soap Mason Jar Dispenser via Hometalker Domestically Blissful
8. Window Treatment
Instead of a more traditional fabric window treatment, hang mason jar vases from hooks over your window, using rope or twine. Each week you can switch out the blooms for fresh flowers and keep the style seasonal and fresh.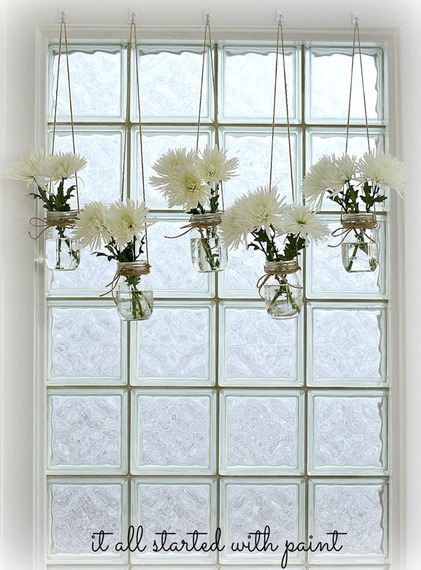 Mason Jar Window Treatment via Hometalk It All Started With Paint
9. Toothbrush Holder
Though this design is simple, it enables easier bathroom care. Once a week, take toothbrushes out and run this toothbrush holder through your dishwasher, for a cleaner and more bacteria-free brushing experience.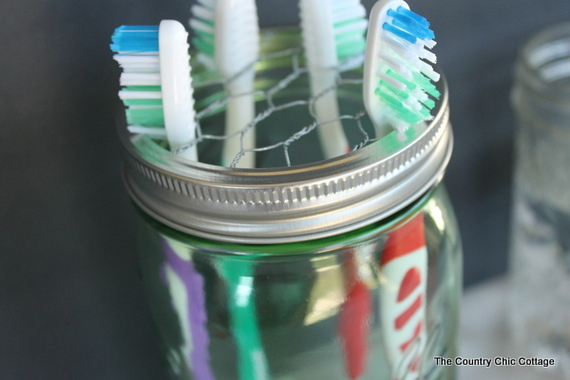 Mason Jar Toothbrush Holder via Hometalker The Country Chic Cottage
So, which project will you choose for your mason jar adventure? If you're unconvinced and still can't decide, take a look at our Mason Jar topic page for even more ideas, from the creative minds at Hometalk.