Instead of breaking out the carving tools this year, check out these awesome ideas for real or faux pumpkin design from people who have no-carve decor down to a science. There's no end to the creative possibilities once you start thinking outside the pumpkin.
1. Use Colorful Beans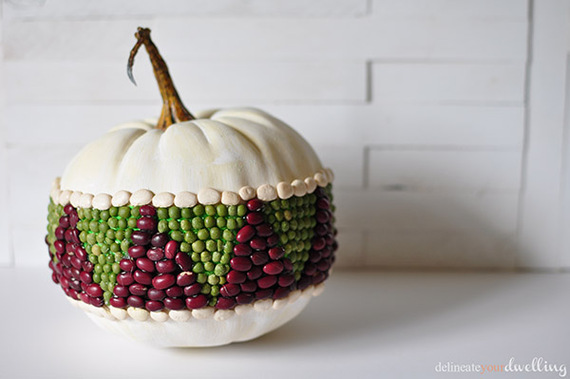 Geometric Bean Pumpkins via Hometalker Delineate Your Dwelling
With an assortment of colorful beans, you can create your own geometric pattern and bring some fresh color to your seasonal pumpkins. Just follow this simple design with a little hot glue and some patient placement, and you'll have a no-mess, porch-worthy pumpkin in no time.
2. Mod Podge Leaves and Fronds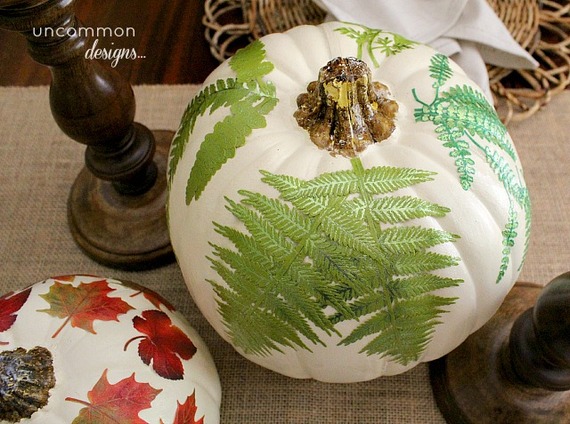 Botanical Pumpkins via Hometalker Uncommon Designs
One of the great things about no-carve pumpkins is the way you can bring in other fall motifs to help suggest autumn in your decoration. This pumpkin design gets a taste of fall foliage, with some beautiful bright faux fall leaves and fern fronds. Gather details that would be fall yard worthy, and have your mod podge ready to go!
3. Decoupage Using Decorative Napkins
Decoupage Pumpkins via Hometalker Suzy H
If you want a riot of color for your fall porch or mantel, this decorative napkin decoupage is a great colorful alternative to a classic carved orange pumpkin! Take your pumpkin and add fun colors and patterns, by decoupaging it with napkins, and getting all the colors you could ever want using just one paint brush.
4. Stick With Thumbtacks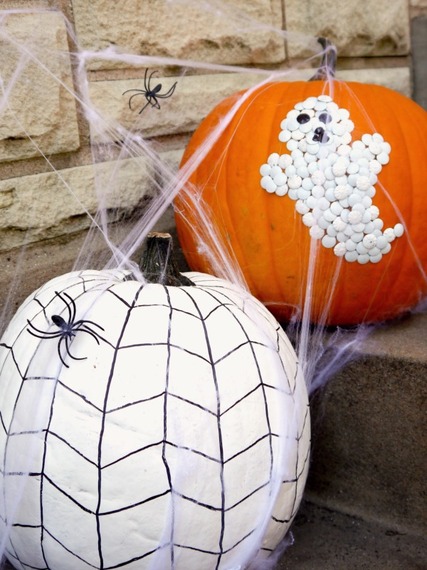 Thumbtack Pumpkins via Hometalker C.R.A.F.T.
Even though you're not carving your pumpkin, keep in mind that it's great pincushion material. Stick colorful thumbtacks in your pumpkin for a no-carve, no-mess design that allows you to create any image you want. This Hometalker used black and white thumbtacks to make her pumpkins Halloween-ready!
5. Add Glittering Chevron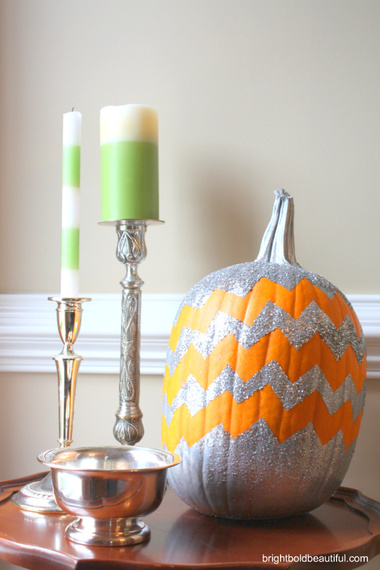 Chevron Pumpkin via Hometalker Laura Trevey
Carved pumpkins were never so glamorous! Add some glue and glitter for a chevron pattern that will add a sparkling "WOW" factor to your porch or fall mantel. With painter's tape, glitter, and spray on glue, you can create your own one-of-a-kind enchanting pumpkin with any variety of patterns and shapes.
6. Wrap With Grapevines
Spruce-Up Pumpkins With Grapevines via Hometalker Town and Country Living
If you're a fan of the clean and classy look, go sincere and simple, with small pumpkins wrapped in grapevines. This design is quick and easy, but the effect is simply lovely. To embellish on your decor, arrange dried hydrangea along the vine wreath.
7. Add a Little Spice With Cloves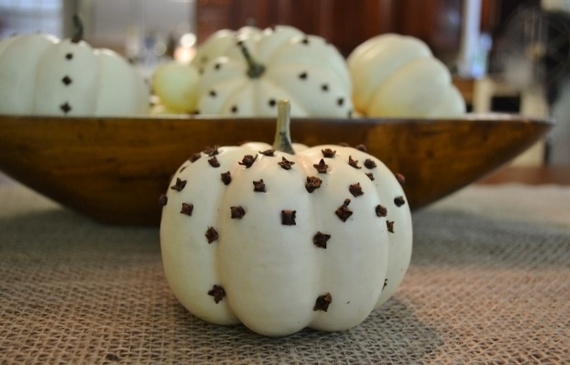 Pumpkin Pomanders for Fall via Hometalker Home-ology Modern Vintage
This design doesn't just look festive for fall, it brings some of your favorite fall scents into your home decor. As one of the key spices in many pumpkin dishes, cloves are a great way to add a burst of fall into the air. Use real or faux pumpkins, arrange cloves in any design, pattern, or picture you like, and enjoy the beautiful detail and the aromatic autumn addition.
8. Detail Using Vinyl Decals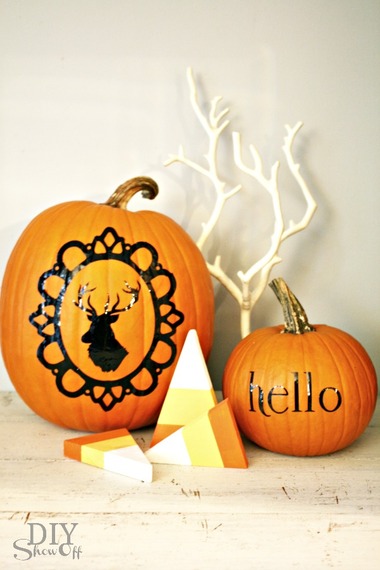 No-Carve No-Mess Pumpkin via Hometalker DIY Show Off
Keep that Halloween integrity of classic orange with a black silhouette, without cutting into your pumpkins, by decorating them with vinyl cutouts. Create shadowy images or haunting profiles to give your pumpkins a classic fall makeover without the mess and fuss of carving.
9. Bring On the Bling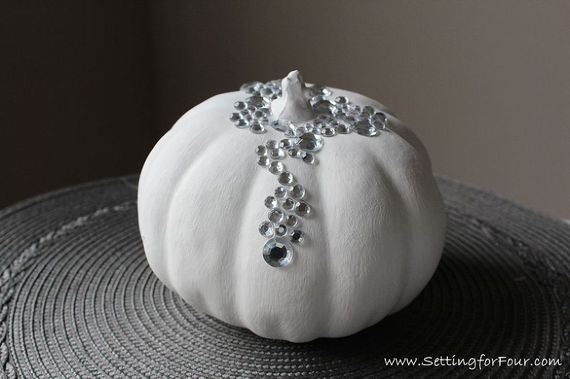 Bejewelled Pumpkin via Hometalker Setting for Four
If you're the kind of decorator who likes things to sparkle and shine, this no-carve idea is perfect for you! Dazzle family and guests, with autumn pumpkins fit for a jewellery store display window, by giving your pumpkins a solid coat of white paint and then adding a sprinkling of rhinestones.
Love these community tips for fall decor? Get more ideas by checking out our Halloween decorations topics page!