Have you ever repainted a chair from a thrift store or put new hardware on a rescued roadside armoire? If so, you understand the drive to make something new and wonderful out of something broken, old or outdated. But are you a pro-diver? A salvage champion? A thrift store titleholder? These people are! Take a look at these unbelievable makeovers to get an idea of what it really means to be recycler royalty.
1. Dressed-up Dresser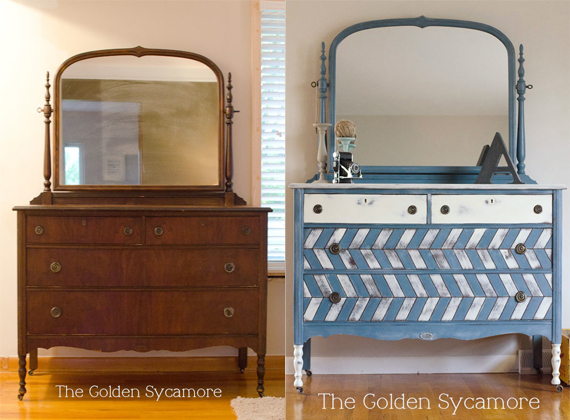 Painted Herringbone Dresser via Hometalker The Golden Sycamore
What do you do when you have a structurally beautiful piece on your hands, but its color is keeping it from standing out enough? How about cover it in bright colors and a bold herringbone pattern? This dresser went from an antique bland to a vintage renew, and got to keep all of its ornate original detail.
2. Table Island From the Burn Pile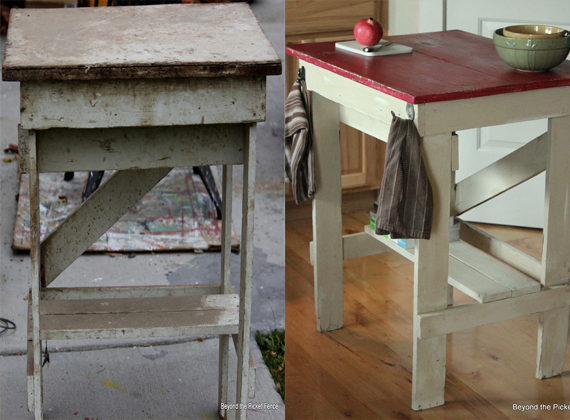 Dumpster Diving Detail via Hometalker Beyond the Picket Fence
To some, this mystery piece made of dilapidated wooden boards might seem fit for the burn pile. To others however, it's a functional kitchen island bursting with dynamic color. That's certainly what it was to this Hometalker, who gave the whole messy structure a creamy paint job, adding a bright red coat for the tabletop and towel hooks to the sides.
3. Industrial Bar From Rusty Cart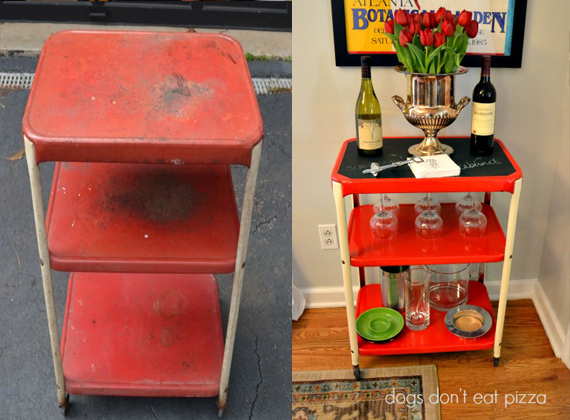 Rusty Cart Into Industrial Bar via Hometalker Dogs Don't Eat Pizza
No one would ever know that this adorable drink cart was once a rusty roadside reject, until someone with an eye for potential snatched it up and gave it a bright new makeover and a fun new function.
4. Thrifted Nightstands Go Two-Tone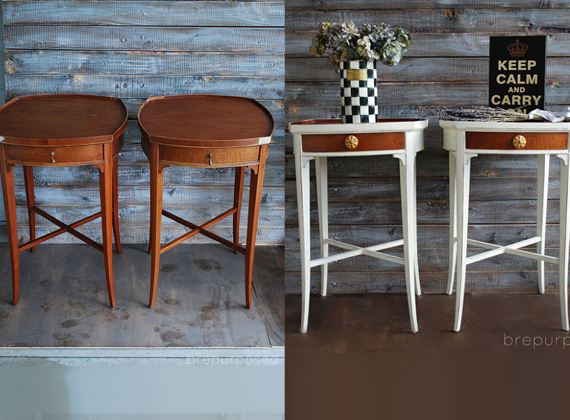 Wood Contrast Nightstands via Hometalker Brepurposed
The wooden frames of these nightstands were exquisite to begin with, so an interesting contrast coat of paint and some funky new hardware turned this great thrift store find into a stupendous home addition.
5. Junk Pile to Hall Tree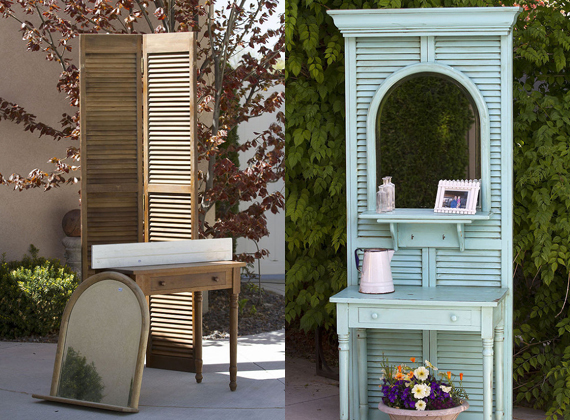 Hall Tree From Pile of Random Objects via Hometalker Mary
Salvage isn't always about taking something, sanding it down, and giving it a paint job. Sometimes, it's about spying separate pieces and having an eye for combination. This sweet country style hall tree was once just a pile of random dingy wood furnishings, but now it's a salvage success story.
6. Side Table With a Mural Upgrade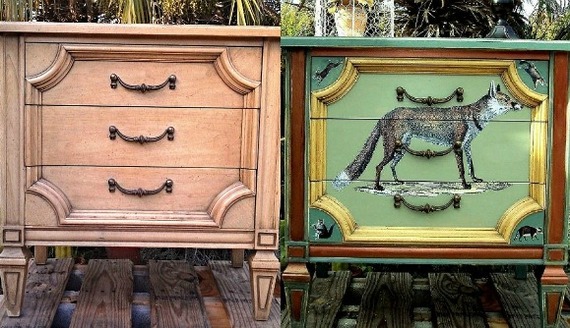 Whimsical Fox Side Table via Hometalker Yvette Gray
This side table is charming enough on its own, right? Not to this thrifty pro, who thought it lacked some personality. She added bright bold color to the trim, small detailed illustrations, and an amazing mural to the front, creating a one-of-a-kind accent piece that's sure to attract everyone's attention.
7. Spare Shutters For Lining the Wall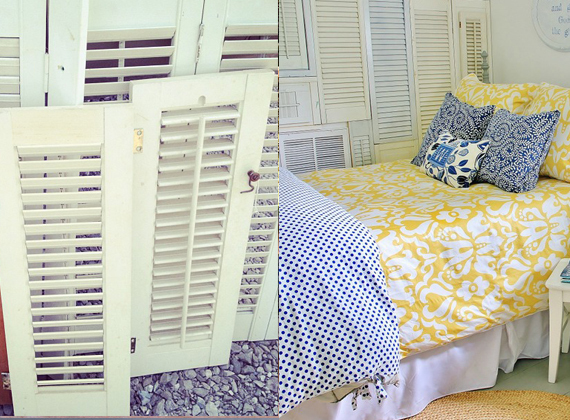 Bedroom Shutter Wall via Hometalker Thistlewood
Thrifting doesn't always have to be functional! Sometimes, it's just stunningly decorative, like this eclectic, cool shutter wall, which adds texture and interesting detail to this bedroom.
8. Stencils and Hardware for a Classy Dresser Upgrade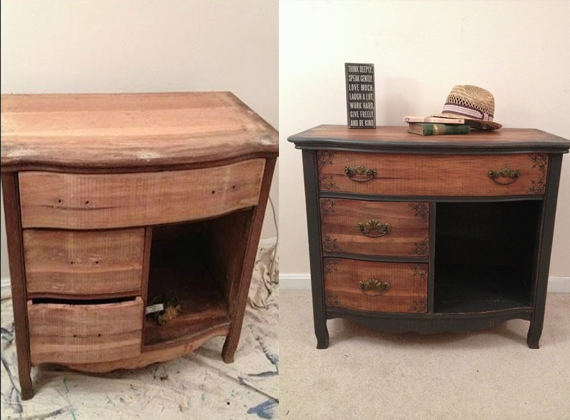 Salvaged Thrift Store Dresser via Hometalker Furniture Alchemy
This reveal is proof that you don't have to throw a bold colored coat of paint over a piece to give it new life. This dresser was within an inch of its life, when it was found at a thrift store and turned into a masterpiece. With dark edges, detailed corners, and new hardware, this antique and classy piece gives a lofty impression.
9. Ombre-tastic Dumpster Desk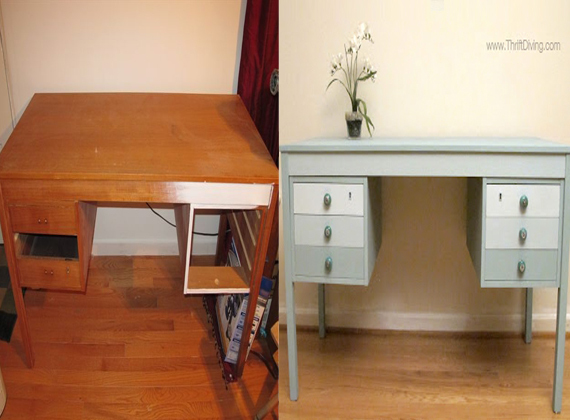 Dumpster Desk Makeover via Hometalker Thrift Diving
This dumpster-discovered desk wasn't in awful shape - it just wasn't very pretty. That is, until someone gave it a ombre-tastic paint job in a gradation of pale grey-green. Now it's not only gorgeous, it's also a calming place to work, thanks to its soothing color (and soothing price tag!).
10. Window Pane Picture Frame

Window Pane Picture Upcycle via Hometalker Brenda H
So simple, but inspired, this idea turns old, unwanted junk into a modern display for things that you love! Upcycling and creating a place for happy memories, this thrifter knows how to get the most out of her home decor.
Now that you have some idea what the big leagues look like, do you think you have what it takes? For some tips on how to give a thrifted treasure just the right paint job, check out Hometalk's painted furniture page!