If your gift wrapping is golden-retriever-puppy cute, who cares what's inside?! Here are 11 DIY gift wrap ideas proven to please even the grinchiest person on your list. No matter your gift, these awesome ideas will ensure that it is dressed to impress!
1. Vintage Maps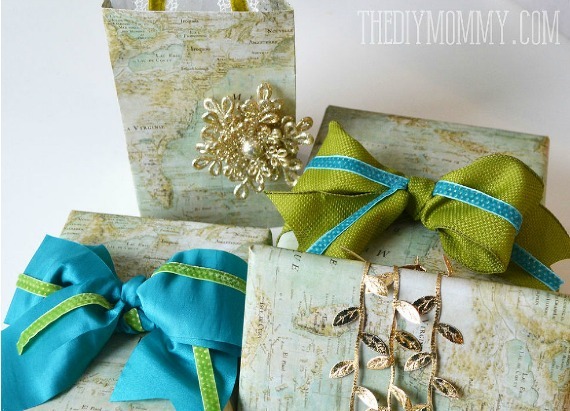 Project via Hometalker Christina @The DIY Mommy
For that exotic and well-traveled look, even if inside there's just a pair of socks!
2. Tiny Vintage Suitcases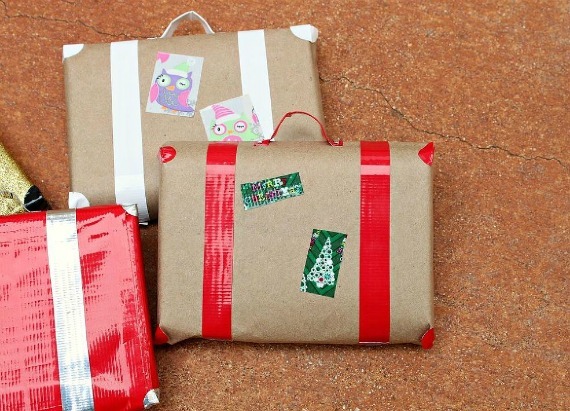 Project via Hometalker Morena @Morena's Corner
Would you even open these tiny works of art? I might just use them as bookends. Adorable book ends.
3. Clothespin Tags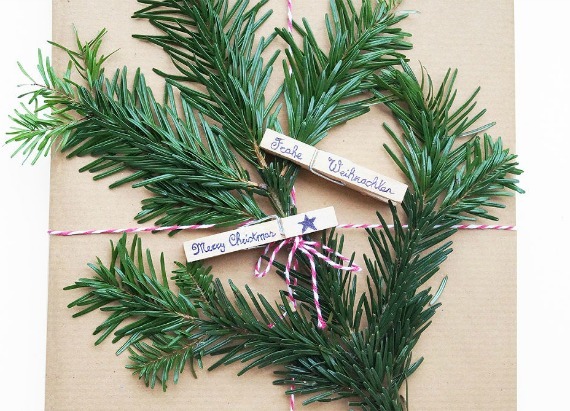 Project via Hometalker Ronja @Nur Noch
Can you say, inexpensive and full of character? 'Cause if you can't, you could always just write it on one of these adorable clothespin tags.
4. Rustic Details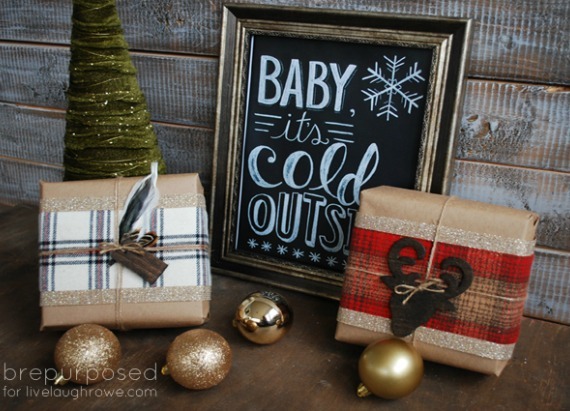 Project via Hometalker Bre @Brepurposed
Cozy plaid, twine, and stained wood tags make these little rustic boxes much closer to home decor than well-wrapped gifts. A perfect match for the man still rockin' his Movember 'stache!
5. Potato Carved Stamp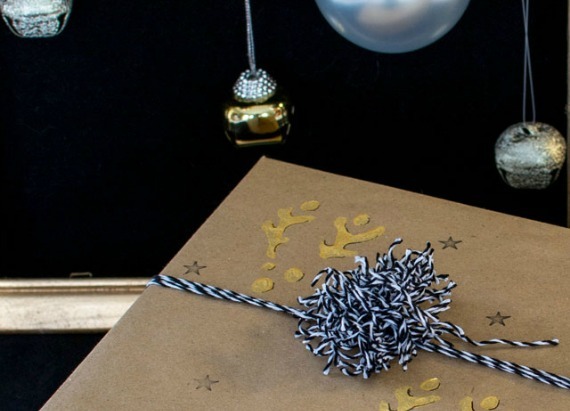 Project via Hometalker Sarah @Home-ology
Have you ever heard the saying, if you want something done right, you have to carve your own stamp out of a potato? Well, that's because we're the first to say it, but that doesn't make it any less true!
6. Chalkboard Puzzle Piece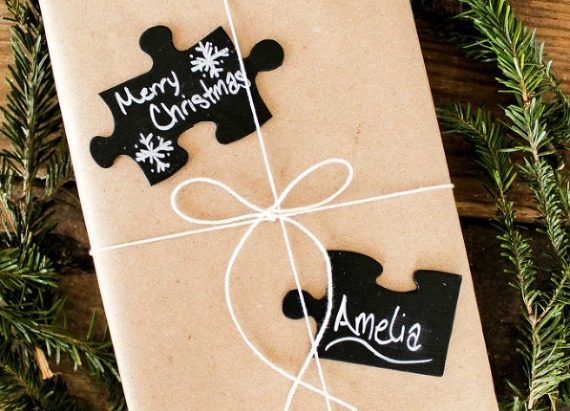 Project via Hometalker Giustina @Domestically Blissful
A repurpose, a chalkboard craft, and holiday gift wrap, all in one! There are only a few things better than a chalkboard puzzle piece gift tag, and, with any luck, one of them is inside that box!
7. Jingle Bell Candycane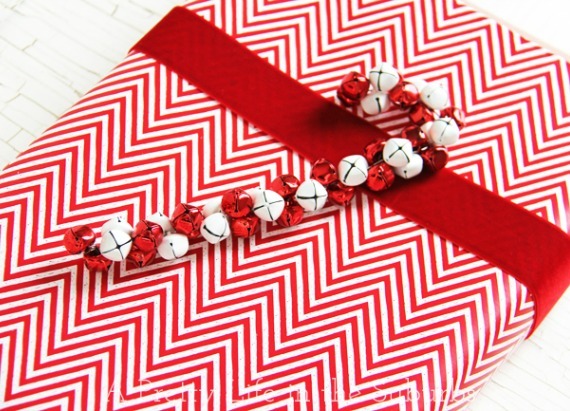 Project via Hometalker Jo-Anna @A Pretty Life in the Suburbs
These gift toppers look good enough to eat, but, taste aside, they'd be quite a racket going down. What we're saying is - do craft, don't eat!
8. Glitter, Glitter, Glitter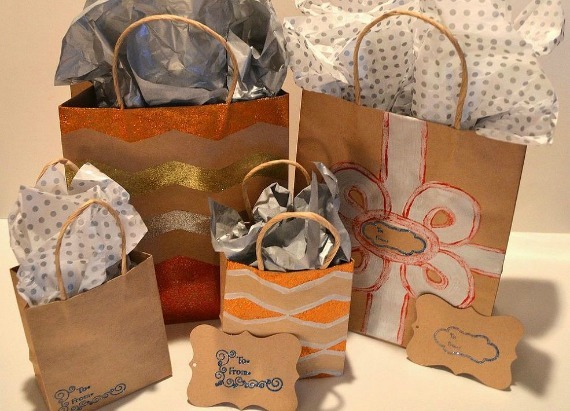 Project via Hometalker Ashley @Design Build Love
If your bag or box isn't sparkling up a storm, you've missed a grand decorating opportunity! Try out this glitter pattern idea, and top each gift off with homemade personalized labels.
9. Brown Paper Bow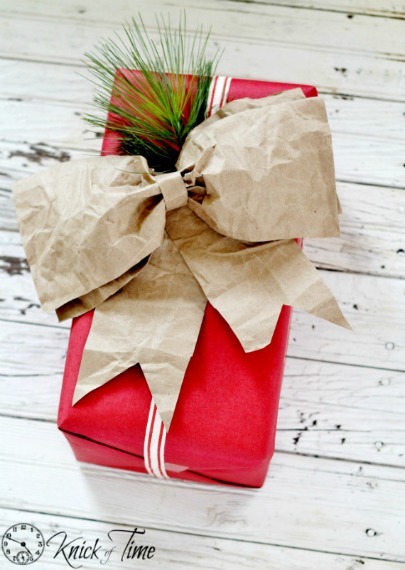 Project via Hometalker Angie @Knick of Time
The perfect bow is chic no matter what it's made out of - this one just happens to be made out of totally recycled, no-cost brown paper strips!
10. Shopping Bags

Project via Hometalker Mary @Home Is Where the Boat Is
You know those chic store shopping bags that you just can't bring yourself to throw out, so you stock pile them until you need to build a new storage closet? Yeah, those ones - do this instead!
11. Printed Pages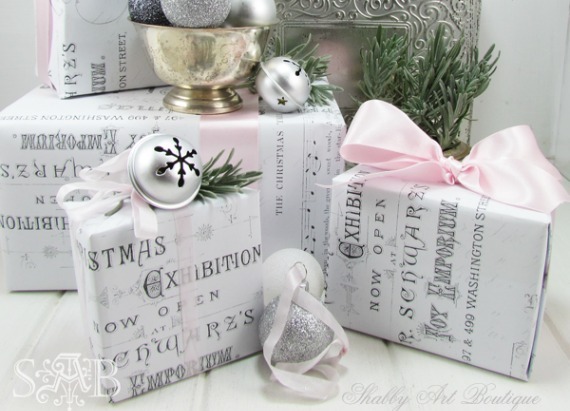 Project via Hometalker Kerryanne @Shabby Art Boutique
Your own, personalized wrapping paper, that you can mix and match depending on the gift and recipient? Yes please!
That's a wrap! Sorry - I had to. For more great ideas, check out our Christmas decorating topic page on Hometalk!