Even if you're not up to completely remodeling your kitchen, simply changing or adding a kitchen island can completely alter your design. The kitchen island isn't just in the center of your kitchen; it's the central statement, the eye-catcher that gives your kitchen its unique design and personality. Get some inspiration from these homemade kitchen islands, and give your kitchen a unique style and voice with a private island of your own.
1. White Marble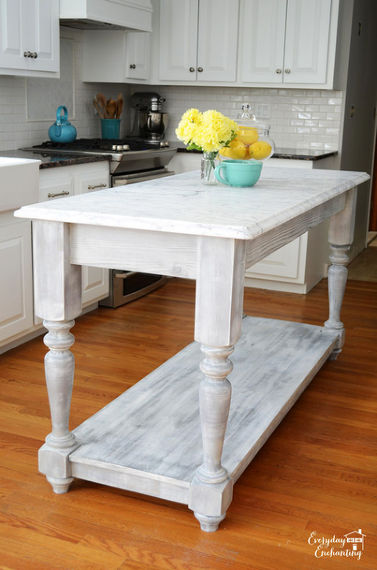 Furniture Style Kitchen Island via Hometalker Everyday Enchanting
With a marble slab purchased from Craigslist and some super chunky table legs to support it, this homemade island creates instant class in this light and bright kitchen. The combination of the marble pattern and the wood grain compliment each other; a perfect example that mixing materials can really work in your favor.
2. Repurposed Wash Stand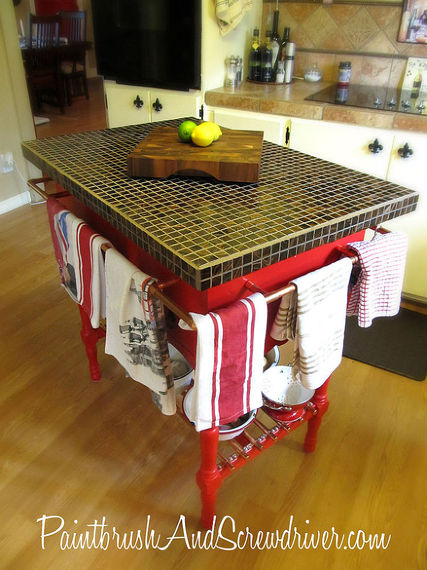 Repurposed Wash Stand Island via Hometalker Paintbrush and Screwdriver
This repurposed wash stand serves as a perfect island feature, with ample towel bar space (the more the merrier!) and a large tiled table top. Though this kitchen isn't red, the bold tomato colored island is able to create a color scheme, clever giving a color accent to a bland room.
3. Repurposed Wood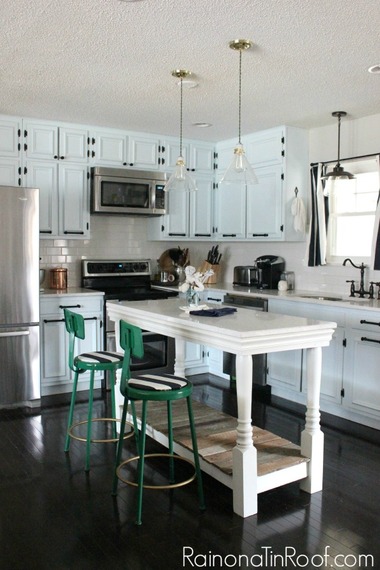 Build a Kitchen Island via Hometalker Jenna Lafevor
The contrast of dark wood flooring and bright cabinets and walls in this kitchen is striking enough on its own, but once an island is added, it becomes an automatic highlight against the dark panels. But it's not all black and white - this island includes an understated interesting addition of repurposed barn wood laid across the bottom as extra storage space.
4. Board and Batten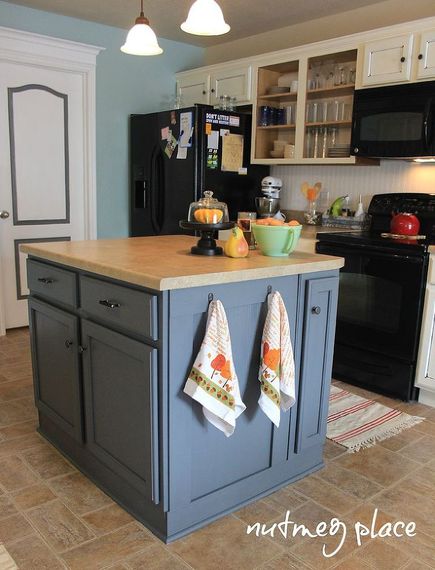 Board and Batten Island via Hometalker Nutmeg Place
The calming colors of this island enable it to fit harmoniously into this bright kitchen, while providing light counter space and great storage, a must for any modern kitchen. Your kitchen island doesn't have to be loud to make a statement, especially if it's as beautiful and functional as this one.
5. Whitewashed and Colorblock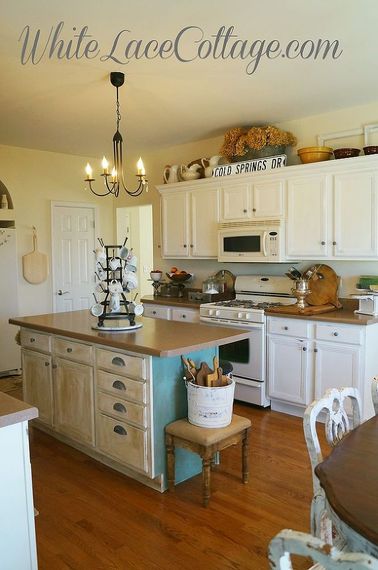 Island Transformation via Hometalker Anne
This once-white island got a makeover of duck egg blue and dark wax. The distressed look of the white detailing and the antique hardware create a rusticity in this kitchen, even though the cabinets are newly painted and the whole room looks completely new and redone - that's the power of an island.
6. Bright and Bold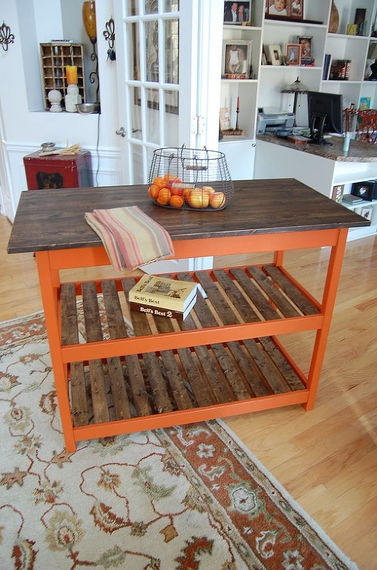 Bright Kitchen Island via Hometalker Elaine A
You don't need to pick a color that shouts, true, but look how great it turns out? This island is bold, bright, and enough decoration for the entire kitchen. Of course, the basket of fruits on the table just pulls out the natural highlight of the color, but it's a lovely touch and very island-inspiring!
7. Small Size, Big Impact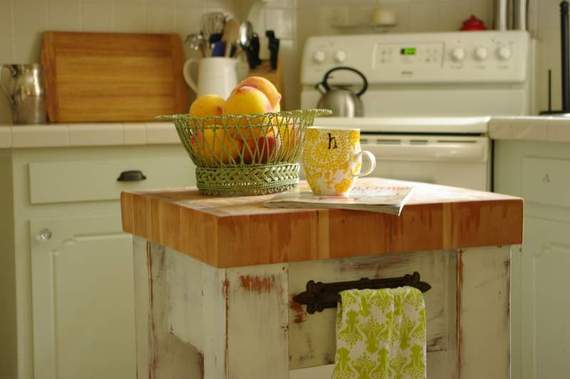 Butcher Block Island via Hometalker Storywood Designs
Though this might not be the best option for someone seeking extra counter space, this mini island proves that sometimes good things come in small packages. Oyster White milk paint and antique towel bars add to the appeal of this charming piece, which is perfect for a little bit of counter space and a lot of character.
Convinced that this should definitely be your next project? If not, we'll have you island building yet, after you check out these other kitchen island ideas on Hometalk's Kitchen Design topic page.