For this year's Fourth of July party, take Made in America to a whole new level - make all your party decor yourself! ᅡᅠYou'll be surprised at how many everyday items can take on a new life as fabulous Fourth of July decorations! Here are 11 ideas to get you started, but once the creative juices get flowing, who knows where you'll stop!
1. Painted Mason Jars
Love these photo-shoot ready mason jars? They're super easy to make, and chances are you already have plenty of them lying around! You can also make these out of old sauce jars, pickle jars, or chip dip! So long as it's glass, anything goes!
￯﾿ᄐ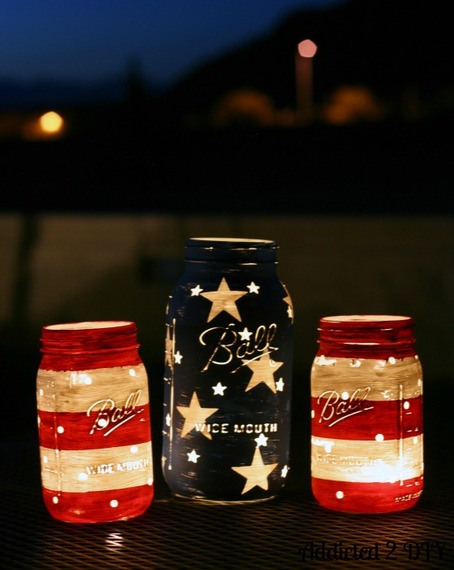 Tutorial: American Mason Jars via Addicted 2 DIY on Hometalk


2. Denim Banner
Wondering what to do with the leftover jean scraps from making those cute cut off shorts? Turn them into a fun patriotic banner! Between sporting events and All-American holidays, this can be your new go-to decor piece!
￯﾿ᄐ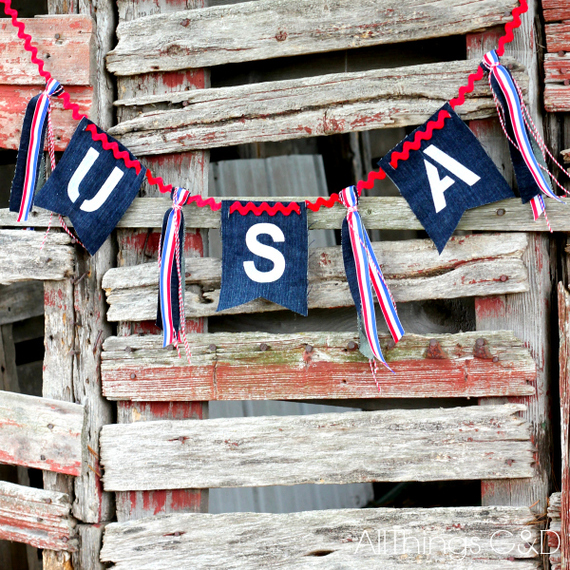 Tutorial: Denim Banner via AllThings G&D on Hometalk


3. Red, White and Blue Terra-cotta Pots
Bring some American pride to your yard by spray painting those plain old terra-cotta flower pots you have lying around. Not only will the red white and blue theme look cute for the Fourth of July, America's colors never go out of style, so you can enjoy this project all summer long.
￯﾿ᄐ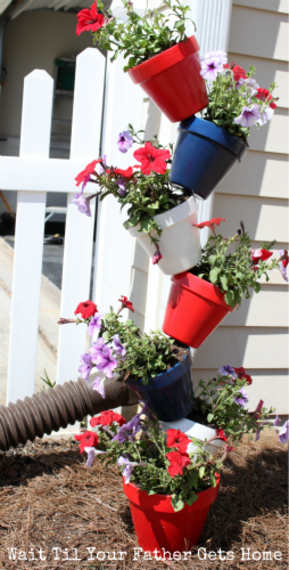 Tutorial: Painted Planter via Meredith H on Hometalk


4. Paper Plate Wreath
Need a last minute idea for your Fourth of July soiree? Grab some of the plates from your buffet table and glue them to an old wreath for a quick and easy statement decor piece.
￯﾿ᄐ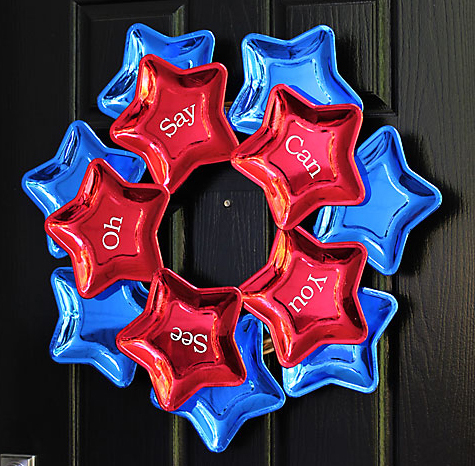 Tutorial: Patriotic Plate Wreath via The Kim Six Fix on Hometalk


5. Wrapped Votives
By just wrapping your votives in red and blue craft store goodies, you can instantly add festive flare. You can do this with any candle jar around the house, just follow this handy guide for removing jar labels.
￯﾿ᄐ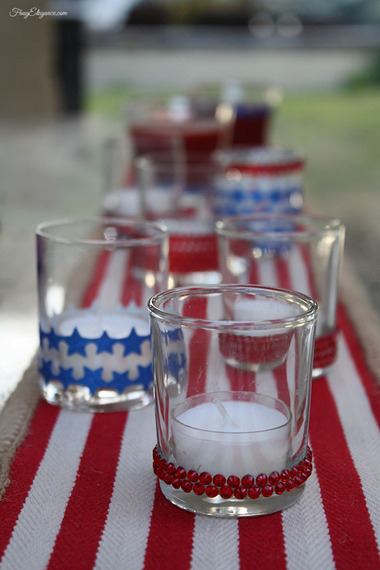 Tutorial: Patriotic Votives via FrugElegance on Hometalk


6. Festive Rice
This DIY idea is one of the easiest way to instantly add American-themed decor to your Fourth of July set up. Just dye the rice using food coloring, and carefully pour into any glass jar or vase that you have on hand. Top each jar off with a tealight candle, and you'll be good to go!
￯﾿ᄐ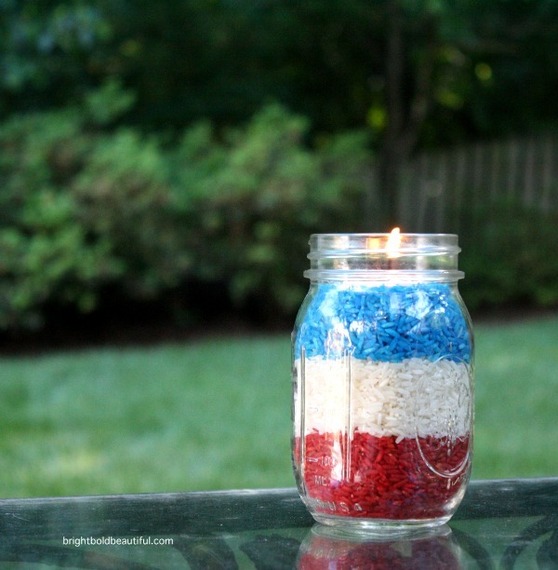 Tutorial: Rice Luminary via Bright Bold & Beautiful on Hometalk


7. Burlap Stars
Who knew burlap could make sure cute decor! With just a little cutting, painting and gluing, this ordinary fabric can be made into extraordinarily festive Fourth of July conversation starter.
￯﾿ᄐ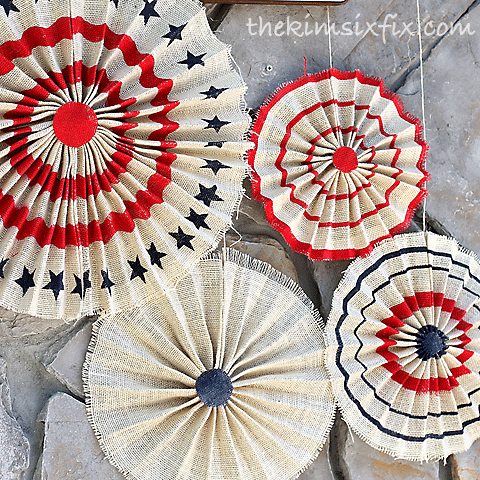 Tutorial: Burlap Stars via The Kim Six Fix on Hometalk


8. Patriotic Bucket
You've probably never been impressed by a mini bucket, but just look what becomes of them when you add a little trim and lettering! You can make these in about 10 minutes and they can serve all sorts of uses for your Fourth of July party: utensil holder, snack and candy holder, flower vase, and even little gift bags to give your departing guests!
￯﾿ᄐ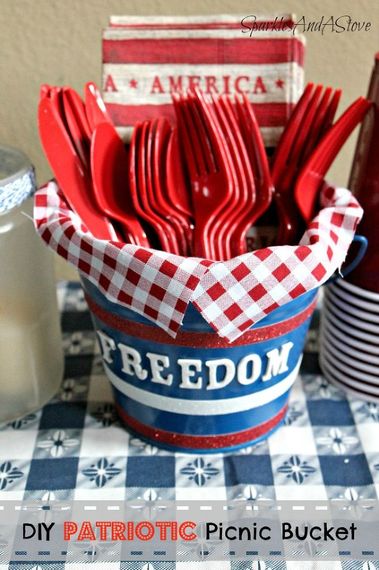 Tutorial: Patriotic Picnic Bucket via Sparkles and a Stove on Hometalk


9. All American Soda Bottles
Bring your old glass soda bottles together for a lovely American red, white, and blue table set up- Pepsi and Coke bottles are already colored to match! Even the bottle carrier box can be utilized as festive table decor! Why not decorate with America's two favorite sodas?
￯﾿ᄐ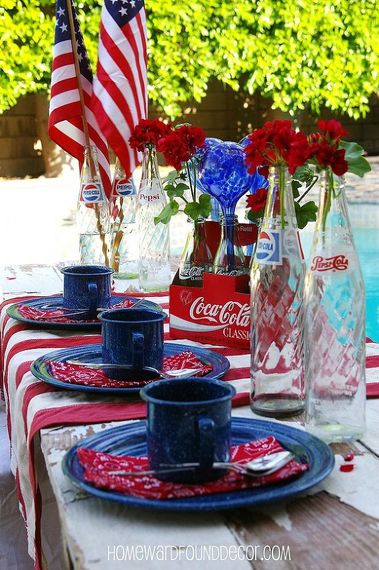 Tutorial: Bottled Up Tablescape via HOMEWARDfound Decor on Hometalk


10. Glass Jar Candles
Any glass jar, absolutely any one, can take on new life as festive candles for your Fourth of July soiree. You can use these as a table centerpiece, or as festive lighting throughout your party setup. With just a little twine and ribbon, you'll have the cutest, All-American candles!
￯﾿ᄐ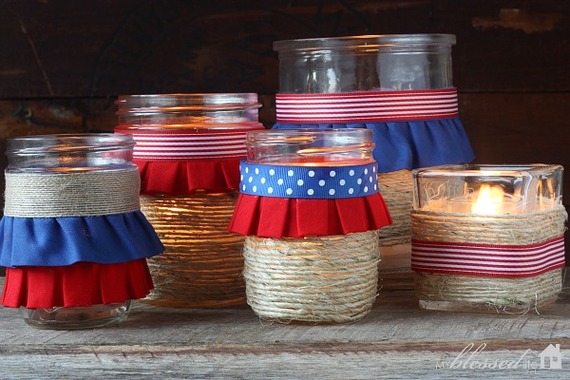 Tutorial Glass Jar Candles via My Blessed Life on Hometalk


11. Bandana Wreath
Tired of the same old wreath ideas? Here's a fresh take using the unexpected- bandanas! This simple, two ingredient DIY is a great way to add red, white, and blue flair to your Independence Day. Why not use these to decorate all the seat backs at your dinner table?
￯﾿ᄐ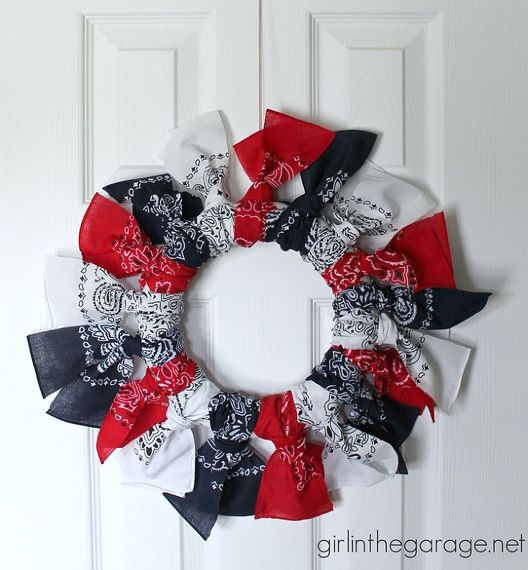 Tutorial: Bandanna Wreath via Girl in the Garage on Hometalk


So now you'll all set to infuse your Fourth of July party with some fresh and creative decorating ideas! By utilizing the everyday items, you'll save money and feel proud to have created the whole look yourself! Celebrate this American holiday the hands on way! If you loved these ideas, there are plenty of other great DIY holiday decor ideas on Hometalk for you to choose from too!