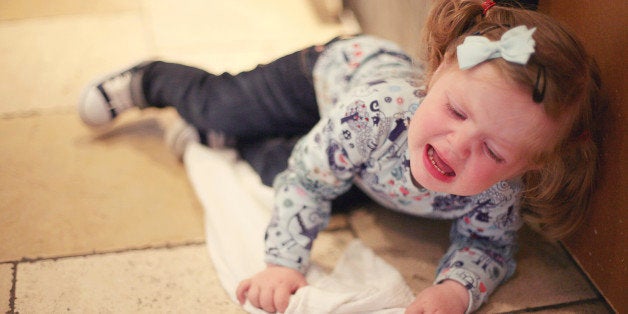 Hello. I'm the Honest Toddler. For those of you who are not familiar with my work, I am an ambassador between the toddler and adult communities. My passion is helping adults become better servants to the small children in their lives. Over the next few weeks I'll be sharing my wisdom with you. Our first lesson will cover the topic of Toddler "Tantrums." Let us begin.
The Honest Toddler Guide to Tantrums
There's a very dirty word commonly used to describe the mild outbursts of reasonable emotion that toddlers display from time to time. That word is TANTRUM. Not only is this descriptor condescending, it releases the party responsible (YOU) for said "tantrum."

Wrong: Oh, my child is throwing a tantrum. I'll just stand here with arms folded like a despot and wait for it to pass.
Right: My blessing is lying on her back in this crowded restaurant, screaming and trying to kick everyone within roundhouse distance. I wonder how I failed her?
Do you see how language creates toddler bias? From now on, we'll be throwing the word "tantrum" in the metaphorical outside trash and replacing it with "loud response."
Research Assignment: Go out into the field and observe loud responses firsthand in order to get a sense of why and how they occur. A popular place for scouting is the grocery store between 4 and 5:30 p.m.
While you're most likely to find an outburst occurring in nearly every aisle, for the best lessons, visit the cereal/snack/chip lane. The market is a land mine for parent/toddler conflict due to overuse of the dirty word "NO." Also, most people don't realize this, but green vegetables emit a field of negative energy that contributes to the sadness and rage children feel while food shopping.
"But I need to run errands!" That's fantastic. Go on your own time. There isn't a toddler in the world who wants to accompany you on a 36-store whirlwind of boring. The worst part about running errands is that actual running is discouraged. And you're never rushing out to pick up Popsicles or glow sticks; it's mostly dry cleaning and cupboard liners.
You already know that loud responses are your fault. There is another toddler phenomenon that you bring upon yourself. Deadweight, otherwise known as Going Boneless, is when your toddler opens a valve within his or her brain that converts hard bone minerals into bubble gum and increases their body weight by 70 to 80 percent.
When toddlers Go Boneless, they can't hear the world around them. Only harps and angels. And the angels are saying, "Stay down, baby, stay down." Don't bother making ice cream promises. It's too late for that.
Activating deadweight is very simple. Every toddler has his unique style, but I prefer a straightforward, classic approach.
1. Slow motion: Your toddler will begin walking as if each step is physically painful. I like to thrust my shoulders forward, causing my knuckles to graze the ground.
2. Verbal indicators: "I'm tired. I can't walk." Did you hear that? You are now at a crossroads. Smart parents will immediately pick up their toddler and find the nearest Cinnabon. Stubborn parents will soon be humiliated in public.
Saying things like "C'mon, let's go, we're almost there" feels like a slap in the face to the child, who you say means something to you.
BAM! It'll be sudden. You'll look back and spot your child on the ground. First, you'll be shocked; your eyes will dart around to see if anyone is watching. Oh, trust me, they are.
The only solution is to airlift your toddler out. Your child is no longer capable of using her muscles. You broke them when you broke her trust. Be sure to support your toddler's flopping head.
Remember: This is your doing.
Homework: (1) Practice running errands online. (2) Next time you're out of the house and your child's legs stop working, immediately rush to his side and pick him up. If you have too many bags to hold or a stroller, leave everything in the street.
You're on your way to becoming a better parent! Remember: Asking your Facebook friends, family, or looking to Supernanny for advice is a waste of time. These people don't know your life.
PHOTO GALLERY
Cute Kid Notes