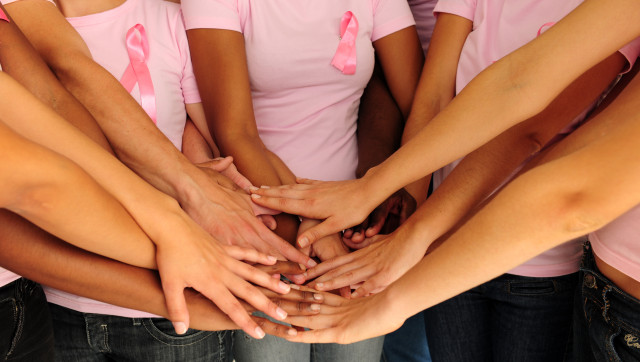 For National Breast Cancer Awareness month, we are sharing an unbelievably inspiring story of a 38-foot pink RV that provides year-round support to breast cancer patients. This one-of-a-kind vehicle is called the Hope Bus and it is the brainchild of the Gloria Gemma Foundation, a non-profit whose mission is to raise breast cancer awareness, increase breast health education, enhance the quality of life for breast cancer patients, as well as their families and friends, and generate funding for local breast health programs.
But the Hope Bus does more than just raise awareness about breast cancer. For many breast cancer survivors, this oversized pink RV is a second home full of hope and inspiration: "This bus, it saved me, it's a hug, it's home," says one breast cancer survivor who rode the Hope Bus.
Take a look inside the Hope Bus with HooplaHa:
The Hope Bus, a mobile wellness and resource center that also happens to be a glorious pink 38-foot RV, is the backbone of the group's community outreach program. It delivers programs, services and resources across Rhode Island and into Massachusetts.
Programs are designed to provide information and resources for everyone. In addition to educational services, the foundation offers healing arts programs, spa services, nutrition classes, support groups, access to the Women's Cancer Screening Program (which provides free mammograms to uninsured/underinsured women) and a safe environment in which to share experiences and life stories.
Although the goal is to reach all Rhode Islanders -- men and women, all races and ethnicities and all ages -- a special effort is made to bring the Hope Bus to low-income neighborhoods and minority communities where there is greater need for breast health education and wellness services.
The Hope Bus regularly visits private businesses, community centers, senior centers, hospitals, churches, schools, health fairs and community events, and is continually in search of new venues where it can promote breast health.
The Hope Bus was generously donated to the Gloria Gemma Foundation by the Halkyard Family Foundation. It is supported in part by grants from the Rhode Island Foundation, Blue Cross/Blue Shield of Rhode Island and Amgen Foundation.
For more information about the Hope Bus and Gloria Gemma foundation, visit their website. Share an inspirational story of your own at HooplaHa.com!