The art world is taking the world by storm, and art fairs are becoming the new hotspots to hang out at!
I first discovered this cultural phenomenon decades ago while in college at Cornell University, when I joined the Johnson Art Museum designed by I.M. Pei on campus. Then when I moved to New York City, I became a member of MOMA, the Museum of Contemporary Art. Both provided social settings to preview art exhibitions while fraternizing and sipping fine wines.
Fast forward to my move to Miami. Here I was introduced to something foreign to me in 2002: Art Basel. Miami went from being a cultural wasteland to the epicenter of the art world in less than a decade due to the presence of Art Basel, the leading international contemporary art fair founded in Switzerland some 40-plus years ago. Global art collectors descended upon Miami and the glitterati soon followed. Today Art Basel Week in Miami is filled with celebrities from all walks of life including movie stars, music artists, architects, athletes, supermodels and even reality show stars.
For those of you who are unaware like I was, here is an overview of what art fairs are and what they are meant to achieve. Plus, some news on how these fairs are moving from West to East now invading Asia. This way, next time you are ready to jet off to one of these trendy art fairs, you will actually understand their purpose and not just sip the wine and spirits.
Art fairs are meant to connect the international art community. Today the fairs serve as a global promotional platform for galleries. At the fairs collectors and curators from around the world come to not only discover new artists and galleries, but to expand their relationships with those they know. The fairs are not just a sales vehicle, but an environment to follow favorite artists around the world.
The special relationship between art galleries, artists, collectors and institutions play an important role in today's art world. Galleries develop emerging artists and build a following for them through shows in their own galleries and in the art fairs. Deceased artists can similarly be promoted by galleries and be brought back to "life," gaining popularity and increasing sales.
Over the past decade, art fairs have become the key venue for promoting artists internationally. In established markets like Europe and America, art fairs have become more global in scope providing visitors with a more international exposure to the art world.
Now with the emergence of new fairs in other parts of the world like Asia, the interest in the arts is being propelled to new territories. Not only the fairs, but the surrounding events add to the audience's activities and awareness. Art has also become a social scene propelling both scenesters and celebrities as well as the next generations into the art world.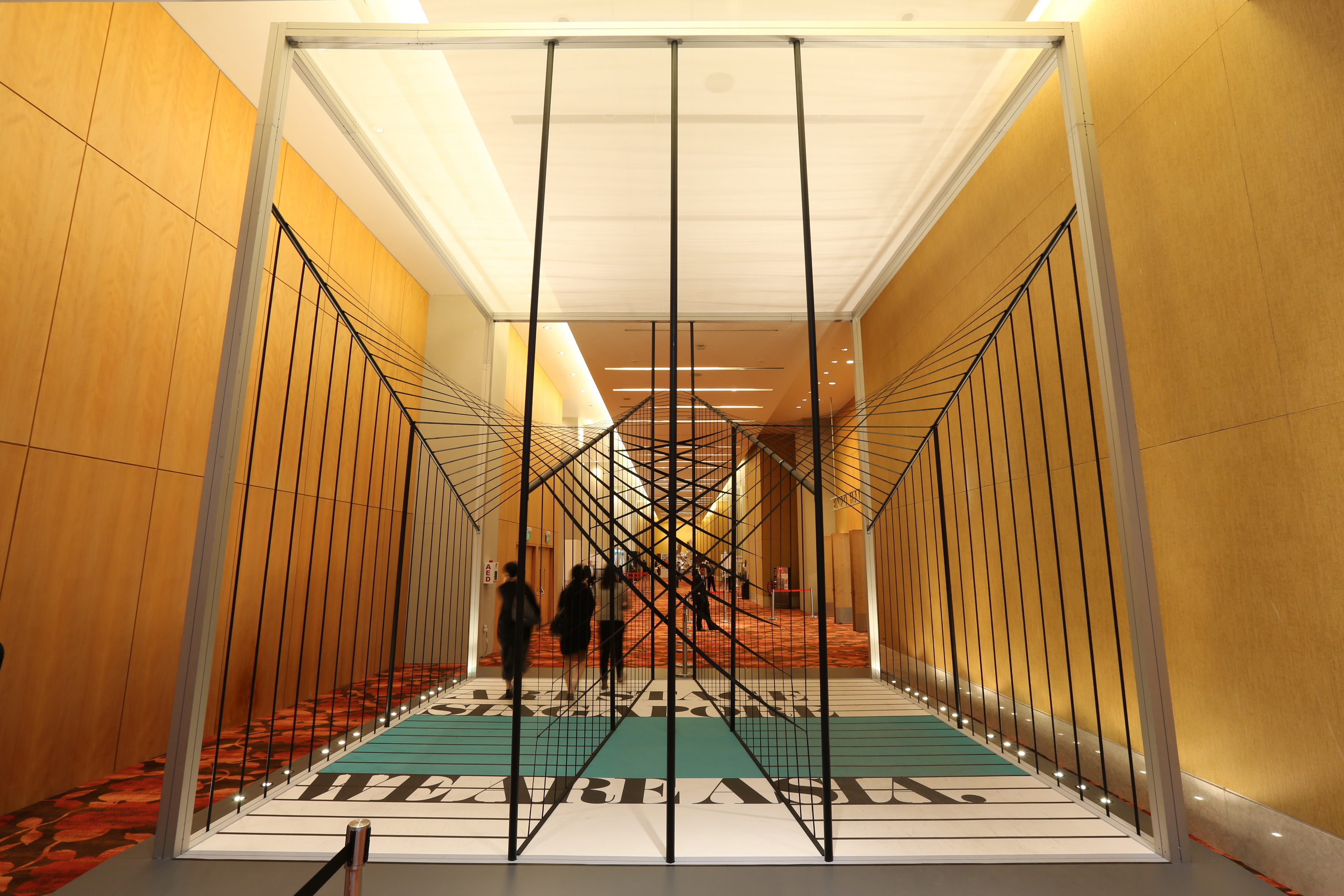 Entrance to Art Stage Singapore, designed by WY-TO Architect, image courtesy Art Stage Singapore 2013
The 2013 art calendar started in Singapore with Art Stage Singapore. Art Stage Singapore was founded by a Swiss gentleman, Lorenzo Rudolf, who coincidentally spearheaded bringing the Art Basel fair from Basel, Switzerland to Miami Beach in 2002. This year marked the third edition of this new fair, which was staged at the iconic Marina Bay Sands from January 24 to 27. Art Stage Singapore already boasts 130 galleries, 600 artists, 23 countries and growing. This year the fair received 40,500 attendees. Some of the most prominent art collectors from both the East and the West congregated at Art Stage Singapore including Uli Sigg, Budi Tek, Lekha Poddar, Don and Mera Rubell, Dominque and Sylvain Levy.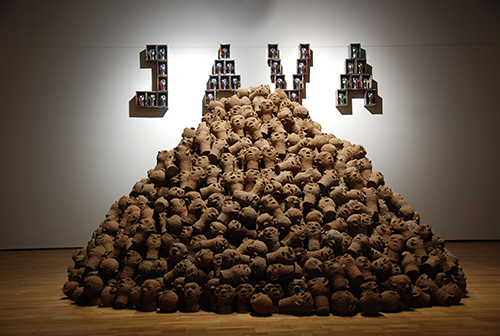 Dadang Christanto, Java, 2011, Terracotta, aluminium, oil drum, Dimensions variable, image courtesy Art Stage Singapore 2013
Art Stage Singapore is more than a market platform. It is Asia's definitive rendezvous point and place of dialogue and exchange between collectors, artists, art lovers and art enthusiasts. It has become the East/West match point and prominent contemporary art fair in the Asia-Pacific area. At Art Stage Singapore, Asian galleries were juxtaposed against carefully curated Western galleries complimenting each other providing a diverse cross-section of art. Amongst the hectic artsy schedule in Singapore, after walking the art fair, listening to art talks and taking guided art tours viewing both established and emerging artists, the sites of Singapore beckoned beyond the borders of Art Stage Singapore.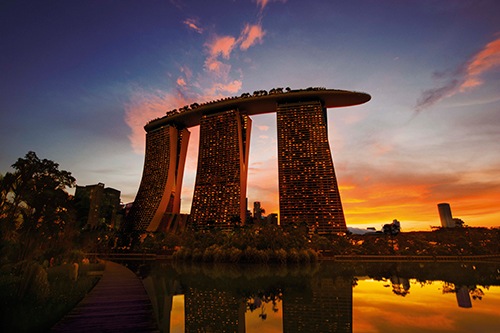 Marina Bay Sands backed by the lush greenery of Gardens by the Bay, image courtesy Marina Bay Sands
For those who couldn't fly off to Singapore, this year the fair introduced Art Stage +, a new digital frontier, the first of its kind in the Asia Pacific region. It provided a global audience with the opportunity to interact with a fully functional virtual replica of the fair running in tandem with the physical fair.
Up next in May, the granddaddy of Art Fairs, Art Basel, introduces its newest edition in Hong Kong from May 23 to 26, 2013. Their original fair is in Basel, Switzerland and their sister fair was launched in Miami Beach in 2002. Half of the galleries in Hong Kong will be from Asia and Asia-Pacific. Art Basel Hong Kong will provide global galleries with a new platform in Asia to showcase their artists. Hong Kong is also a gateway between East and West and a vibrant port city with a melting pot of cultures providing visitors with a diverse experience.
So why not plan your own art trip where East meets West and head to Hong Kong this May and Singapore next January!
Hope Gainer of Hope International curates and produces unique upscale events during Art Basel in Miami Beach at waterfront estates and aboard yachts. She also incorporates art at global marquis events like the Monaco Grand Prix and more recently at Necker Island for Richard Branson's first Necker Cup pro/am tennis event with top tennis stars. www.ehopeinternational.com