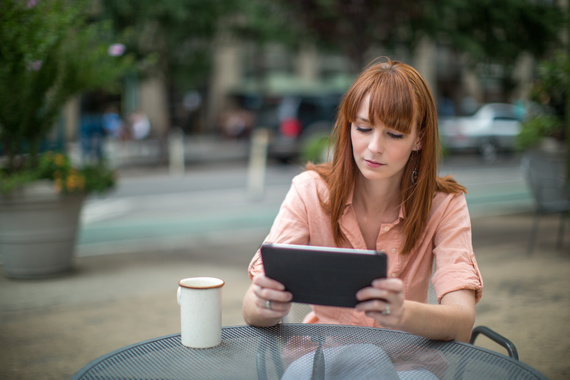 For most of my life, I have enjoyed good health. In fact, I was one of those "never late, never absent" kids at school, and to this day, I try my best to take care of my health, perhaps for good reason.
My mother was diagnosed with a brain tumor when she was 40, and I was 11. Miraculously, she lived for 18 more years, passing away when I was 29. But her diagnosis and its consequences left an indelible imprint on me.
And so, like many others with a family history of cancer, I probably carry around an extra layer of health-related anxiety. At one point or another, most people will experience the overwhelming weight of anxiety about their health or the health of their loved ones. But when cancer becomes a part of your environment at such a young age, patterns of health-related worry can sink in early, along with an awareness of how easy it is to take good health for granted.
Soon after my mom passed away in 2011, I left corporate law to pursue a master's degree in public health. What seems like a drastic career change is relatively straightforward: my interest in women's health promotion -- and its intersection with law and policy -- had become too strong to ignore. I had to work in this field, as if my own health and life depended on it.
Ironically, during my two years of public health school, I consumed more health care than ever before. While abroad in Kenya, I developed a gastrointestinal problem that stuck with me for seven long months; then, during my second year of school, I suffered a fluke injury in a yoga class that resulted in months of headaches and neck pain.
The root causes of my symptoms seemed clear, unambiguous, and "not malevolent," as one doctor termed them. But their duration was more than a little puzzling.
What would any good lawyer-turned-busy-graduate-student do in such a situation? Due diligence! Research! Online!
But instead of finding solace for my health concerns, online research led to more questions than answers, and more than a few sleepless nights. In hindsight, searching the web for information about my conditions did little to heal my enduring gut and head pain. Debatably, it made my experience of them much worse.
Is this surprising? Not one bit. Remember: for the most part, health websites are sources of general information; they literally and necessarily have something for everyone. While informative, my use of technology to gain understanding about my health was largely one-directional and un-personalized.
Fortunately, this is about to change. Indeed, the ways in which we use the Internet to address health problems is at a tipping point.
One example: in the last couple of years, researchers have begun to use trend data from search engines to conduct real-time surveillance of disease incidence. A cost-effective and "big data" approach to supplement more traditional methods of surveillance, digital surveillance is based on what one study called, the "premise that people who contract a disease will seek information about their condition from the internet and that incidence can be estimated by tracking changes in frequencies of searches for key terms."
In this instance, technology is serving as a creator of health information that enables us to respond more effectively to health problems. As a public health professional, I find this type of research exciting because it suggests an increasingly innovative approach to the relationship between technology and health -- a relationship that will likely improve population-level health outcomes.
Already in play is another evolving and increasingly more thoughtful approach to the relationship between technology and health: virtual health care, or "telehealth," which includes consultations by video conferencing, is projected to become a $13.7 billion industry by 2018 (up from less than $100 million in 2013).
Two-way communication is one of the most important features of our daily lives, so why wouldn't we adapt accordingly so that we can exchange health information over the Internet? After all, without proper communication channels and feedback mechanisms, our engagement with online health information is limited at best. Exhibit A: me.
It's time to demand more of the relationship between technology and health. It should be interactive and personalized, and it should leave you feeling empowered, not anxious. As we learn more about the deleterious effects of stress on our health, ensuring peace of mind -- across all facets of health care delivery -- should be of paramount concern.
So, as part of my hope to help address the need for a better online health experience, I now work at a company that is focused on restoring the human element of health care by providing women access to personalized and quality care online.
When you aren't feeling well, it's not always possible to get the care and comfort that you need from those closest to you. But I've learned that there are people out there with a life's mission of providing it -- you just have to know how to connect to them!