 According to a recent American Express survey, American households planned to spend about $1,200 per person on vacations this year. At a median household income of $50,000, that translates to about five to seven percent of income spent on travel.
With Homeland's second season premiering this past weekend amid excitement over its Emmy wins, we calculated what kind of vacation its addled but lovable heroine, Carrie Mathison, could afford to take on her (former) salary as a CIA officer.
Show: Homeland
Character: Carrie Mathison
Occupation: CIA officer
Avg. take-home pay: $115,186 (average of high and low listed here.)
Vacation budget: $6,911.16
Hopper Vacation Suggestions: It was a rough first season for Carrie. Between job stress, romantic snafus and her ongoing struggles with mental illness, she could use some time to unwind.
Note: All prices below are listed in dollars. The exchange rate is currently about $1.03 to each Australian dollar.
We ran the numbers to find out where Carrie could go to truly decompress. For about $2,000, Carrie could fly to Sydney, Australia from Washington, D.C. Putting 9,761 miles between herself and her work battling terrorists ought to do the trick, we think.
From there, she can head out to the Billabong Retreat, just 49.9 kilometers away, which will take about one hour to reach from Sydney. To start the new year off on the right foot, Carrie could attend the New Year's Eve special retreat. For $1,154.74 (including bed linens, which guests must otherwise bring with them) she can stay in a premium room for five nights and experience the soothing bliss of meditation, yoga and healthy cooking classes, along with gourmet meals and free bike rentals.
For $77.69 one day, she can do a guided bush walk along the Colo River. A 60-minute massage will run $98.40 and will hopefully help Carrie let go of the tensions that come with chasing down national security threats. To round out the pampering, a 60-minute holistic healing facial costs $124.30, and a spa pedicure fetches $98.40. Sound like a splurge? Maybe, but after the whiplash-inducing plot twists Carrie endured in Season 1, we think it's well-deserved.
After five days of not-exactly-roughing-it in the wilderness, Carrie can head back into Sydney and spend a few more days luxuriating at the five-star Langham Sydney, where a single occupancy room will cost about $1,287.45 for 4 nights. While in the city, Carrie should try to catch a performance at the Sydney Opera House, a distinctive architectural masterpiece built in 1958 with a capacity of 5,738 people. Great seats can be had for around $103. There's just something about a timeless story like Madame Butterfly told in a magnificent venue that really helps erase your troubles (though of course nothing is quite as effective as electroshock therapy...)
Carrie's meals are covered while she is at the retreat. If Carrie eats lunch at a mid-range restaurant each of the four days she's in Sydney, that will run her about $41.42 per day. Breakfast at an inexpensive restaurant will run about $15.54. That puts her budget for those meals at $227.84. With its close proximity to Asia, Sydney features some fantastic Taiwanese, Thai and Japanese restaurants. If Carrie splurges on dinner at a restaurant like Tetsuya's each night, where a full meal with wine pairings runs about $315.93 per meal, then she can allot $1,263.72 for four spectacular dinners. It should be a welcome break from her empty pantry at home and the sad nightly menu of cereal and TV dinners.
For more fun travel articles, hop on over to our blog.
It costs about $51.79 each way to take a taxi from the airport into Sydney. Once in the city, Carrie can purchase a light rail and monorail combined ticket for seven days for $32.11, which should help her get around the city with the safety and anonymity that come with traveling in numbers. We know Carrie can get a little paranoid...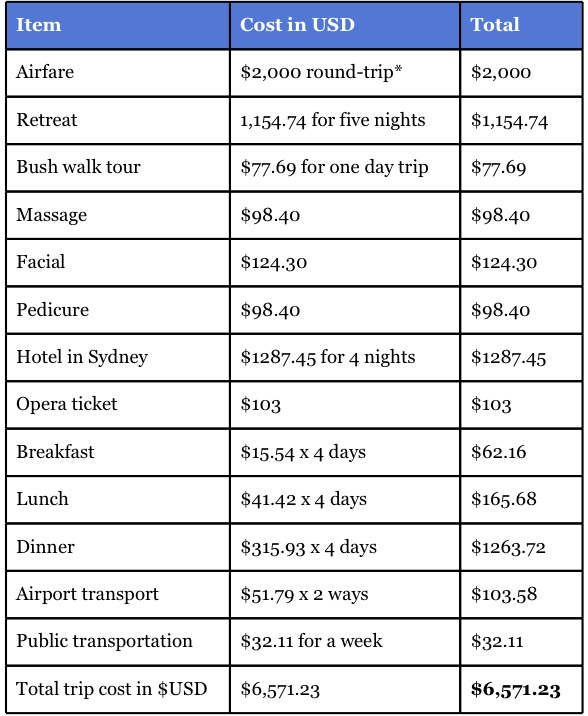 When all is said and done, Carrie will have spent $6,571.23, leaving her a comfortable cushion of about $340. We suggest that she put whatever is left over after the trip toward therapy expenses, since it doesn't look like Season 2 is going to provide much in the way of stress relief...
Are you loving the new season of Homeland? Where would you send your favorite TV characters for a relaxing getaway?