Ski season is upon us, but any avid skier knows that traveling to the best ski resorts can be expensive. If you do your research, you can find great deals on lift tickets and resort passes. However, scoring a deal on flights to your favorite winter destination can be trickier.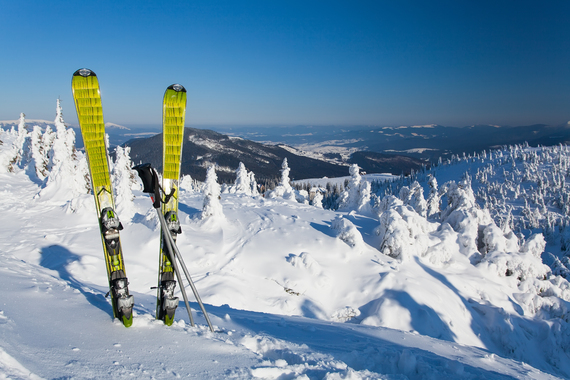 In order to help you save money on your next ski vacation, we teamed up with the experts at Outside Magazine to identify the best ski resorts. Our research team at Hopper then analyzed our flight data to create an interactive map that can save you hundreds of dollars on your next ski vacation.
Hopper & Outside Magazine's Ski Planner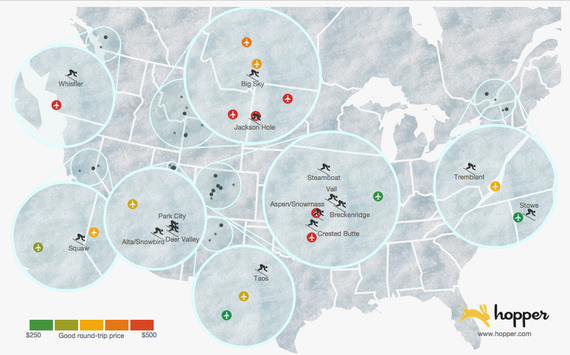 Enter your home airport to check flight prices to Outside Magazine's top ski destinations in the U.S. and Canada. Many of the top ski resorts have multiple airports nearby. The green icons mark the cheapest airports. The airports with red icons are the most expensive. Click on an airport for Hopper's report on how to get the best prices.
Here are a few other tips to keep in mind when planning your ski trip:
The Colorado ski destinations, served by Denver, are your best bet to save money on airfare for your ski trip, with good prices from a typical US destination around $300 round trip.
If you're planning to fly to Utah (SLC), Stowe, VT (BTV), Taos (ABQ) or Squaw (RNO, SMF), average flight prices are around $400 round trip.
In general, the best prices are found in late January to early February. Prices (and demand) spike in the mid-February for school vacation week, and peak in mid-March before falling gradually at the tail end of the season.
For best prices, book your ticket between one to two months ahead; prices typically begin to rise sharply from two to four weeks prior to departure.
Skiers in major metros have some great cheap options such as Dallas to Denver for under $120, Chicago to Denver or New York to Vermont for about $150, and San Francisco to Salt Lake under $170.
Check out Hopper's full research report for more data and information on how to score the best flights to best ski resorts.