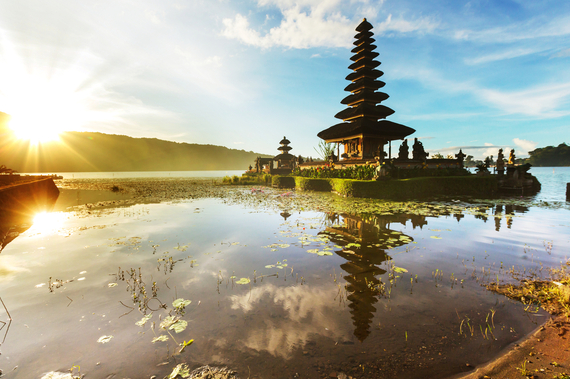 OK, so you've settled on Southeast Asia and are gearing up for those palm­-shaded beachfronts on the Andaman, those culturally rich cityscapes of aromatic food stalls and ancient temples, the misty jungles with their swinging bonobos. Well, not to be a spoilsport here, but booking your tickets across to the tropics should really come before the dreaming, which is precisely why Hopper's expert flight team has put together this list of the 10 cheapest airports in Southeast Asia to fly to. We love big data, so we looked at millions of flight prices to find the most accurate averages for all routes touching down in Southeast Asia.
Go ahead, check them out.
10. Phnom Penh (Phnom Penh International Airport)
Nestled between the jungle­-clad wilds and mysterious lands in the deep heart of Cambodia, the capital city of Phnom Penh is perfect for travelers looking to stray a little further from the typical tourist trail of Southeast Asia this year. Oh, and it's the tenth cheapest town to fly to in the region overall, with little Phnom Penh International Airport boasting average flight prices on routes from the United States of $1,036 round trip.
9. Bali (Ngurah Rai International Airport)
Kuta is calling and monkey-­dotted Ubud awaits; the soaring volcanic ridges of Mount Agung and Batur loom large for intrepid explorers and the luxury beachside hotels of Seminyak beckon the more refined. There are plenty of reasons why American travelers would want to hop across to postcard-­perfect Bali this year, and perhaps not least of all the fact that flights into the island's Ngurah Rai International Airport are currently rated the ninth cheapest hitting the region overall.
8. Kuala Lumpur (Kuala Lumpur International Airport)
Perched midway up the Malay Peninsula and now offering a whole host of air connections to destinations across Southeast Asia (thanks largely to its place as a hub for award­-winning budget carrier AirAsia), Kuala Lumpur International Airport is a prime spot for kicking off any tour of this enthralling part of the planet. What's more, flights to its runways from the United States are currently rated amongst the cheapest touching down in the region as a whole, boasting an average price tag of just $982 round trip.
7. Hanoi (Noi Bai International Airport)
Ringed by the dramatic karsts of Ha Long Bay and infused with the cultural diversity of the Sapa Mountain tribes, Hanoi is a megalopolis were monolithic tombs of revered leaders loom in the Soviet style, brutalist buildings abut ancient pagodas, lily­-dotted lakes lap serenely and bicycles tick through the streets. It's also one of the cheapest towns to fly to in Southeast Asia according to Hopper's research, with the Noi Bai International Airport boasting flight prices of around $981 on average.
6. Bangkok (Suvarnabhumi Airport)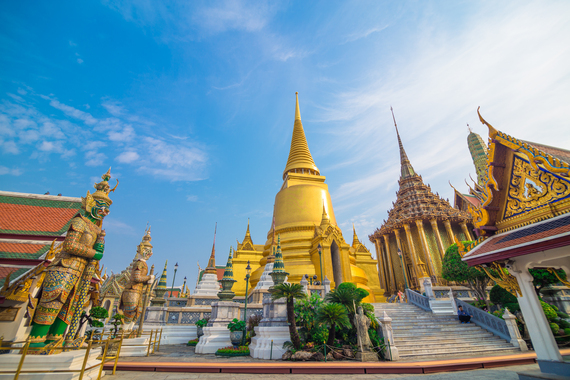 Looking for cheap flights to Thailand? Set up a fare alert with Hopper's mobile app and start getting the cheapest flights ... right on your phone!
Bucket-­list cities rarely come quite as bucket­-list as this! Bangkok's got it all: fragrant food courts packed with pad thai; Siam Square with its towering business blocks; Khao San Road and its infamous nightlife and sleepless bars; Yaowarat and a sprawling Chinatown -- the list goes on! Oh, and did we mention that the city's Suvarnabhumi Airport is currently rated as the sixth cheapest arrival point in all of Southeast Asia, boasting an average round­-trip flight price of around $939?
5. Lapu-­Lapu City (Mactan-Cebu International Airport)
A perfect gateway for the beach-loving tourist, Mactan-Cebu International Airport in Lapu-Lapu sits just across the Mactan Channel from the province of Cebu, where paradisiacal sands slope their way down to a crystal­-clear sea at spots like Moalboal, Alona and Bohol. If that's got you reaching for the flip-flops and Hawaiian shirts, great! Know this: Travelers arriving here enjoy one of the cheapest average flight prices of all the airports in the region currently serviced by connections between the United States and Southeast Asia!
4. Singapore (Singapore Changi Airport)
A regular number one pick on lists of the most expensive cities in the world, Singapore rarely offers travelers easy savings between its banking high­rises, chic fashion stores and enthralling multi­-ethnic districts. However, Hopper's team has discovered that the Singapore Changi Airport is currently amongst the cheapest arrival points in all of Southeast Asia, boasting an average flight price of around just $896 round trip. That should help you fit in with all the pin­stripe­-suited locals and millionaires!
3. Ho Chi Minh City (Tan Son Nhat International Airport)
A mass of rumbling scooters and lurching buses, incense­-scented temples, curious French architectural feats and tight­knit downtown alleyways, there are few cities in Southeast Asia as frantically brilliant as Ho Chi Minh! And if that sounds like your kind of thing, then there's good news all round, because the town's Tan Son Nhat International Airport is currently the third cheapest arrival point in the region, boasting average flight prices from the United States of just $892 round trip.
2. Jakarta (Soekarno-Hatta International Airport
Whether you hit Jakarta with the sun cream at the ready for the surfer spots and powdery beaches of Bali and the Gilis just a short connecting flight to the east, or you're primed for a heady fray in the frenetic downtown of the Javanese metropolis itself, then you're in luck, because Hopper's stats have revealed that flights into the Soekarno-Hatta International Airport currently have the second cheapest overall average price tag of all routes heading to Southeast Asia from the United States. Nice.
1. Manila (Ninoy Aquino International Airport)
American travelers looking for the absolute best bargains on flights to far-­flung Southeast Asia would do well to focus their search on air connections to Manila, because Hopper's stats show that Ninoy Aquino International Airport in the sprawling capital of the Philippines is the single cheapest arrival point in the region overall. Flight prices into town are currently averaging just $872 round trip. There are also oodles of carriers linking the spot with major ports in the United States (like JFK and LAX) with cheap nonstop routes!
If you liked this article, check out some other content from the expert team at Hopper: