Despite being an animated series (perhaps encouraged by that fact), Archer and his team at the International Secret Intelligence Service often travel to various high-flying locations around the world to practice spycraft (poorly). Most of these locations, as one would imagine, are perfectly conditioned for mad secret agents whose huge egos are only matched by the size of their... rocket launchers. While most visitors don't set off to Miami Beach armed with AKs, RPG-7s, M60s, Uzis and untold pistols and handguns, Archer does - most visitors don't have this particular threat of being targeted by Cuban hitmen. But visitors who want to live the ballin' life and feel like a secret agent should find no problems getting into the theme in places like Monaco, Tangier, Saint Tropez and Moscow - just wear a Hugo Boss suit and go where we tell you to go.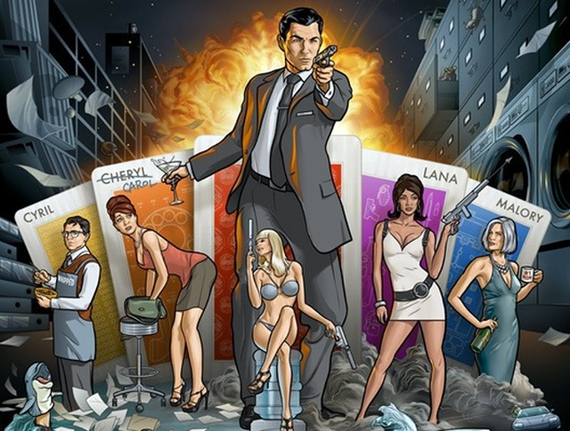 Photo courtesy of FX.
10. Watch out for the snakes in Turkmenistan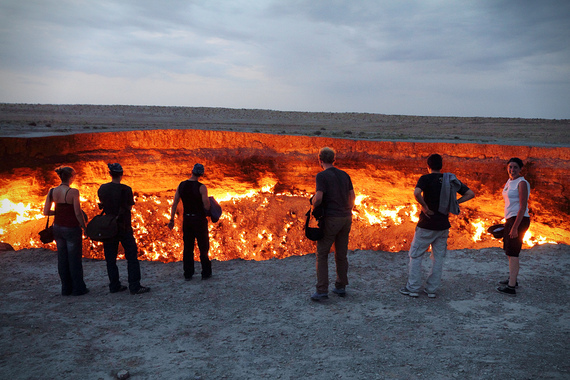 Door to Hell, by Neil Melville-Kenney/Flickr
Turkmenistan is one of 10 places so surreal they could be on another planet
Anyone who watches Archer knows that the first rule of thumb in Turkmenistan is to watch out for snakes. However, visitors who do want to see a trippy attraction that might seem like a snake-bite fever dream can easily walk to the Door to Hell, a natural gas fire in the middle of the Darvaze desert with a diameter of 230 feet. It's been burning since 1971 and is marvelous, dangerous and reminiscent of the fridge from Ghostbusters. Another adventure to be had in Turkmenistan is going on a desert safari which follows the whole country over, stopping with historical parks, mausoleums, medieval castles, the Door to Hell and countless monuments.
9. Follow a dog to Tangier, Morocco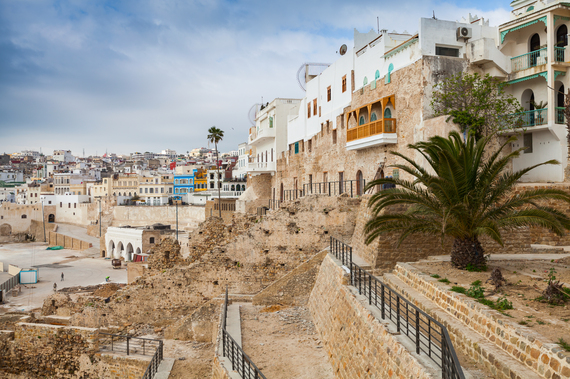 Photo by Eugene Sergeev/Shutterstock
Morocco is also one of the most popular filming locations of HBO's "Game of Thrones"
So maybe you're not in Tangier to recover a microfilm from the collar of a massive Mastiff member of the agency's canine unit, and maybe you'll be leaving those guns at home to avoid a shoot-out in the desert, but that doesn't mean you won't have a rollicking adventure in this gorgeous northern Moroccan city. This mix of old and new and total exotica, borrowing influences from neighbor Spain across the pond, North Africa, Portugal and France. Tons of cafés abound, always handy with a café au lait or a mint tea, and in the case of the legendary Café Hafa (which has been visited by the Beatles, the Rolling Stones, Paul Bowles and William S. Burroughs in its near-century long existence), incredible views of the Gibraltar Strait. On a sunny day, visitors can see clear across to Spain. Adventures can be had just exploring the medina, stopping at the souks and the seaport. And hey, if you want to pull an Archer and have a wild night and bring home some Dutch coeds, you can! The luxury El Minzah Hotel will be happy to host.
8. Colombia has tons of animals, but not many tigers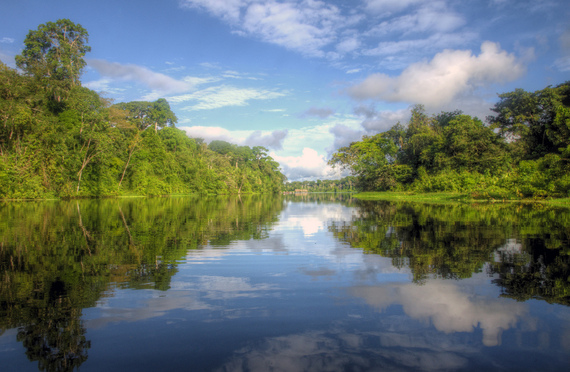 Colombia Amazon, by mariusz kluzniak/Flickr
Stopping by one of the world"s top 10 jungle lodges is a safer and perhaps more authentic way to experience the Amazon. Just don't ask them about the tigers.
So Colombia might not be like the way it's depicted in Archer, which is a good thing, because visitors can fully be assured that when they walk into the Amazon, they probably won't end up victims in a literal man hunt game. Colombia is actually a beautiful place, with an Amazon wilderness in the southern part of the country that is replete with exotic animals - depending on who they meet on this trip, visitors can see caimans, sloths, monkeys and mata-mata turtles and more. The large and mostly tropical rainforest is run through with rivers and plains carpeted with broadleaf forests. Passionate adventurers can even take a boat trip around all of the Amazonian towns.
7. Lick your wounds in Bora Bora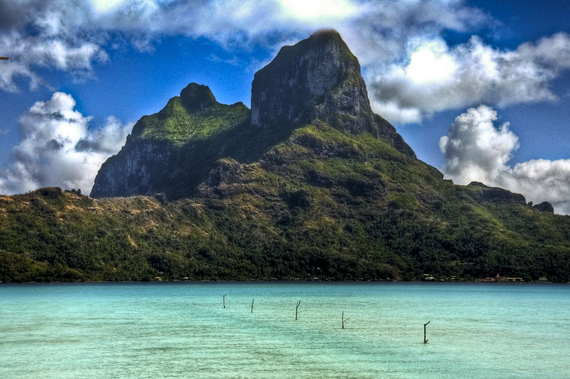 Bora Bora, by Alfredi/Flickr
Far from being popular only with grieving spies, Bora Bora is also on our list of 10 cool vacation spots popular with celebrities
What happens when your love life ends in tragedy? For Archer Sterling it means disappearing to French Polynesia for three months, only to be spotted serving up drinks and seducing newlyweds. Forgoing the latter activities, well-heeled visitors can always make their own escape to the island of Bora Bora. Located off the South Pacific, this island is as remote as one could hope for while still living in the lap of luxury. Whether you're looking for a Four Seasons hut with a thatched roof, balanced on stilts over the deep blue rivers of Bora Bora or an adventure diving off the coast of Matira Point to check out all of the exotic fish in the shores, Bora Bora's got it all. Well - all except the soft, tender touch of the one you love. Of course, if the one you love comes back as an indestructible cyborg with flashing red eyes, well... that's a whole different story for a whole other continent.
6. Have fun, but not too much fun in Gstaad, Switzerland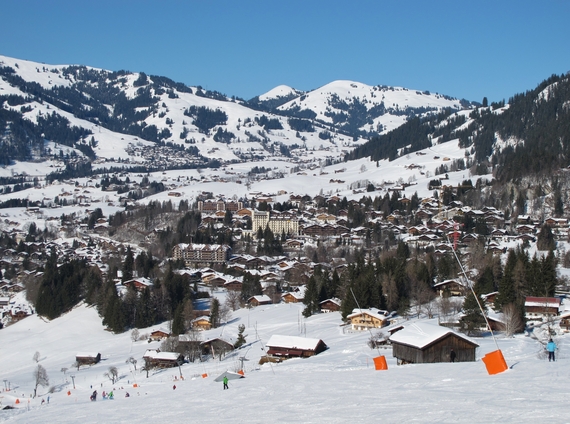 Photo by Ursula Perreten/Shutterstock
Just bring your pocketbook, or agency expense account, because Switzerland is one of the world's 10 most expensive travel destinations
Is there any place more luxurious than Gstaad? This world-famous ski resort in Switzerland is more upscale than even Aspen, and regularly draws celebrities, royals, heads of state and the international jet set to its peaks. The only thing anyone really needs to keep their eye on in Gstaad is their wallet, and the large innocent gaze of a German billionaire's teenage daughter. However, if one were assigned to protect said German billionaire's teenager, a good place to start looking for her is the Gstaad Palace Hotel, the sparkling jewel on the peaks of Gstaad, offering remarkable luxury amenities (most ski resorts have spas; the Palace has an 1800-square-meter facility with 18 treatment rooms, spa suite, steam baths, saunas, indoor and outdoor pool, a seven-room hammam experience and a view that doesn't quit), spacious suites, upscale and casual restaurants ranging from late snacks and drinks, a grillhouse and first-rate French cuisine.
5. Yachts and arm dealers in St Tropez, France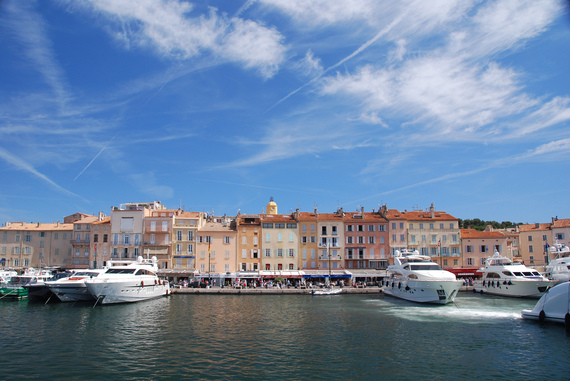 St Tropez, by Michael Gwyther-Jones/Flickr
Saint Tropez is one of Hopper's the top five destinations on the French Riviera, but there are lots of glamorous places to park your yacht in the area
Another ultra-luxurious hotspot for the jet set, Saint-Tropez is the land of beach parties, yéyé pop culture, Dom P showers and miles upon miles of glittering blue coastline. Unfortunately, when Archer was there, it was to take down a Greek arms dealer - fortunately, it took him on a rollicking cruise adventure aboard the Argo, a disgustingly massive yacht with fine champagne, gourmet food, Filipino masseurs and a chocolate fountain. Visitors can have a similarly luxurious experience, sans l'explosion, and perhaps the masseurs aboard a chartered boat: Adventure St. Tropez offers sail or power boats for hire, charter or rent. Yachts can easily be found along the shoreline, and as always, Dom P comes automatically gratis with any basted turkey-tanned rich dude donning Dolce and Gabbana shades.
4. Cocktails and nightclubs; Miami is the best place to seduce a double agent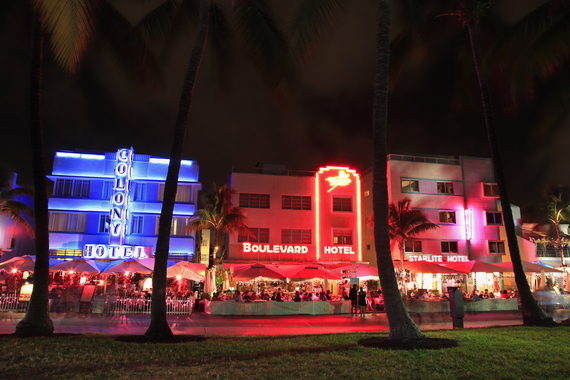 Photo by Vlad G / Shutterstock
Anyone who wants to do a little seducing and spying will inevitably find themselves in South Beach. This happened in "Honey Pot" when Archer is assigned to seduce a gay Cuban spy, and in "Diversity Hire" when Mallory finds herself extremely attracted to Jewish/Black double agent Conway Stern and takes him away to her South Beach apartment. Not to be reductionist about a very nuanced, culturally and culinarily diverse and artistically rich Floridian city. But let's be honest: Miami is also an ideal vacation spot to stir up some heat - and that begins with a well-stirred cocktail from the Martini Bar at The Raleigh, a 70-year-old South Beach establishment which features regular guest mixologists, frequently evolving cocktail list of originals and upscale snacks for an eight-seat bar.
3. Play your own Casino Royale in Monaco
Speaking of "Casino Royale," check out this article on the exotic filming locations from the film Skyfall
A prerequisite for espionage is to be really, really good or at least really, really addicted to casino card games, if what we've seen from James Bond and Sterling Archer (the world's best secret agent) stand true. When the gang hits Monaco, nearly all their funds are stripped away due to the mis-gambling of a paltry sum: four million of the agency's 401(k) accounts. Visitors who find themselves in Monaco already know that it's just like Vegas, only more refined, playing with much more money and probably with way more supervillains. The Casino de Monte-Carlo, one of the world's first major casinos, started entertaining gamblers back in the 1850s. Its gorgeous Belle Époque building has been featured in a variety of different television shows and movies, not the least of which as a setting or filming location for the James Bond movies Never Say Never Again and GoldenEye, and served as the initial inspiration for Ian Fleming's book, Casino Royale. No wonder Archer likes it. Of course, for a breath of fresh air and excitement, there's always the Grand Prix, in which fast cars go zoom zoom all over the island. This is also an ideal place for an intrepid car chase involving confiscated F1 cars, guns, rocket launchers and a helicopter.
2. When looking for Russian spies (and maybe a long-lost father figure), go to Moscow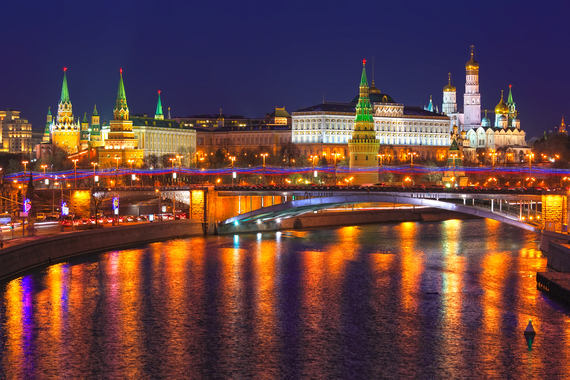 Photo Ivan Pavlov/Shutterstock
When you're in Moscow, you're going to want to stay in secret-agent style at one of the world's 10 most luxurious hotel suites
The Russian spy trope will always be a classic in British and American espionage media, especially the animated spoofs of American espionage. There's a history that backs it, but most of all, it's very cool to see Moscow on screen. The candy-colored onion domes topping its many Russian Orthodox cathedrals, long shop galleries draped with intricate ironwork, the illuminated Shukhov Tower, a long and narrow electric obelisk which shines brighter than the Eiffel Tower and in the heart of it, a red-bricked historic fortification surrounding five palaces, four cathedrals and the Kremlin towers. To walk around Moscow is to traipse through a history with many sides and perspectives, and a great way to scratch the surface is by hitting such museums as Bunker 42, a military museum located in an underground former military facility that was active during the Cold War. The Kremlin, as well, provides a curious day of exploration: visitors can check out arms and armory throughout the ages and the largest collection of Fabergé eggs in the Moscow Kremlin Museum, explore the opulent and gilded Orthodox churches, and marvel at the architectural details in the Cathedral Square.
1. Watch out for pipeline fever in Lafourche Parish, Louisiana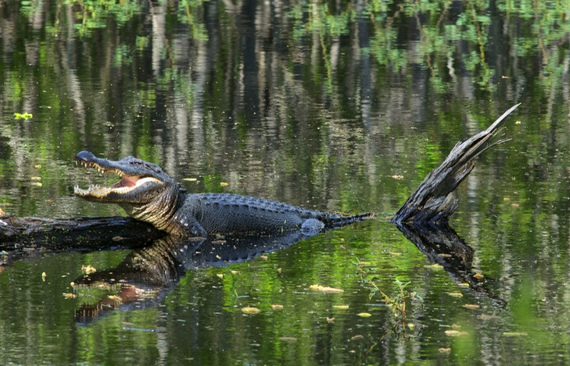 by Tom Haymes/Flickr
Explore other cool spots in the Louisiana countryside in this article on the five best day trips from New Orleans
In the season two episode "Pipeline Fever," Archer and Lana fly to Louisiana to protect an oil pipeline from an eco terrorist. Though the show doesn't specify where exactly in Louisiana the pipeline was located, we do know that it was near New Orleans, hot, swampy and packed with airboats and alligators. Lafourche Parish fits the bill as much as anywhere else in Louisiana. But do yourself a favor and stick to exploring the bayou with a trusted swamp tour provider, because, while Archer may be irrational about a lot of things (most things), alligators are seriously scary!