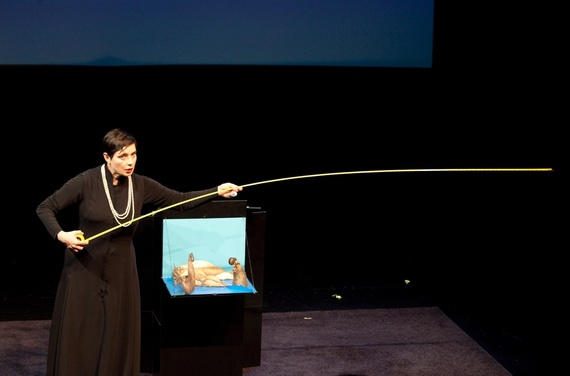 From dolphins to octopuses; from spiders to limpets; from ducks to whales, Rossellini touches upon the sexual habits of many members of our extended animal family.
I wish my biology professors at high school could have been as brilliant, kinky and comical as Isabella Rossellini when explaining the richness of the reproductive and sexual habits of the animal kingdom. Perhaps today I would be a biologist.
Far from being vulgar and in what I like to describe as hard science with a comic twist, Isabella Rossellini's Green Porno artfully shows her deep love for animals in general, including marine life and insects. All being part of a one-woman live on stage show that is currently being presented at BAM's Fishman Space in Brooklyn.
Heterosexuals, gay, lesbians, bisexuals, transexuals, transgenders, in Green Porno everything goes. What about sexual conducts? Is masturbation a natural behavior? Yes, of course! Dolphins would answer. What about wild orgies? Absolutely! Small anchovies would claim. And let's not forget sadomasochistic snail practices! All can happen here without human prejudices.
Starting in 2008, iconic actress and former model Isabella Rossellini created, wrote and directed a series of short films, originally encouraged by Robert Redford for the Sundance Channel. Those earlier films inspire today's play at BAM.
Echoing Redford's words to describe it, "Green Porno, is a series of short scientific stories, made with great sense of humor and fantasy. This is what artists do. We tell serious things in the most accessible, entertaining way, and Isabella is a very progressive and talented artist."
Utilizing video footage of day-glo costumes from the "Green Porno" series, paper puppets and combining text by prominent French screenwriter Jean-Claude Carriere, Rossellini charms and amuses the spectators with a parade of reproductive peculiarities: the female praying matis that devours its male partner while copulating; the male bee who loses his penis in the act; and the shrimp, whose foreplay involves shimmying seductively out of its shell.
Although there are plenty of vaginas in Green Porno, one of the most hilarious moments is when Rossellini talks about penises multiple sizes and forms. Ahh, what's the answer to my title's question? Who has the largest penis in the animal kingdom? The tiny barnacle has it. Now, if you want more specs about this or you don't even know what a barnacle is, stop by BAM. Wikipedia might also help you.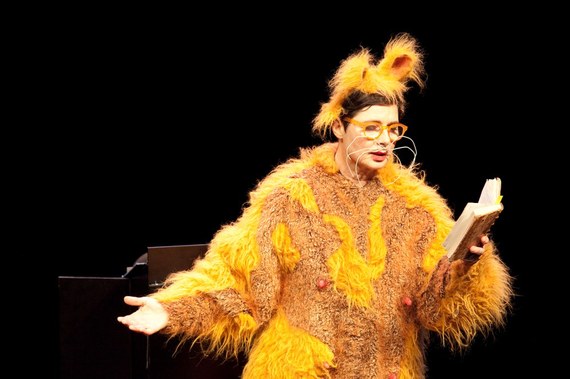 Images Courtesy of BAM
Photo Credit: Rebecca Greenfield