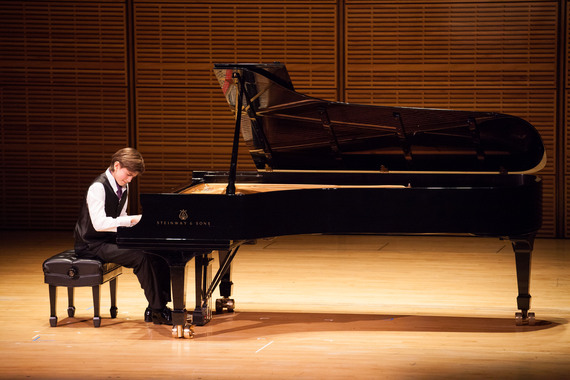 Not all news about Russia relates to Crimea nowadays. Carnegie Hall will be home this evening to a group of young European musicians that came to New York, invited to participate in the annual Musical Olympus Festival.

Presented by the Russian Musical Olympus Foundation, the festival consists of a series of performances by Belgian violinist Marc Bouchkov, French Pianist Remi Geniet, Russian bassist Igor Eliseev, Swiss mezzo-soprano Nathalie Mittelbach, and Bulgarian percussionist Vassilena Serfimova, who will perform works by Bottesini, Bruch, Haydn, Rachmaninoff, Brahms, Bizet, Xenakis, and Cheung.

"Music is a universal value, it provides a language that enables the dialogue of people from different nations and cultures. The Musical Olympus Festival supports young musicians from all parts of the world," says Irina Nikitina, President of the Musical Olympus Foundation.

I met Irina, a former pianist who started her career as the Perestroika was changing Russia and the world, at a dinner party in New York a few months ago. I became more curious about her life and her work as she talked about her passion for music and the pleasure she receives in promoting new generations of classical performers. She spoke about her past as a musician in the Post-Soviet Russia, until an injury of her hand in the early 1990's put an end to what was a promising concert pianist.

Backed at the beginning by powerful connections, cultivated during her life as a musician, including Anatoly Sobchak, the first democratic elected mayor of St. Petersburg, and a mentor and teacher of both Vladimir Putin and Dmitry Medvedev, Irina became an advocate of Russian love for classical music, a tradition that she thought in danger of being forgotten amidst the political turmoil and rapid social changes.
She envisioned an annual festival every June in St. Petersburg in which the best young musicians would participate. For the last 18 seasons, the Musician Olympus Festival has been held all over the world, with over 420 musicians from 40 countries. Tonight's performance will be the eighth at Carnegie Hall. Irina revealed, "for our concert in New York we chose the best artists, the most outstanding and creative. The Festival gives them an opportunity to show their talent to an international, discerning audience". I simply cannot wait to be there.
Image courtesy of the Musical Olympus Foundation