By Kristen McKenzie, HotelsCombined.com
A treehouse sojourn is a memorable holiday that every avid traveler should add to their bucket list. From the steamy jungles of the Amazon to the snow-capped mountains of New Zealand, we've unearthed the planet's most incredible treetop escapes: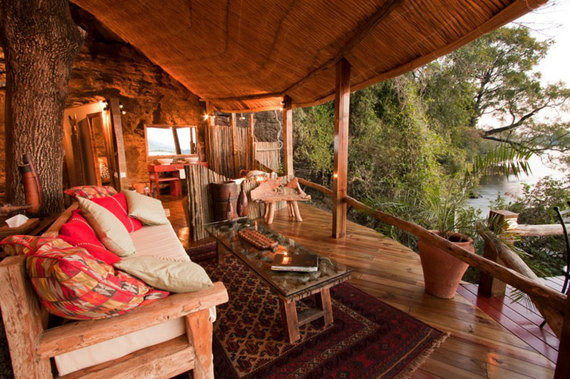 Tucked away along the banks of the Zambezi River, just upstream from the famous Victoria Falls, this retreat provides a truly secluded, serene experience. Their treehouse suite, housed amongst the branches of a majestic Ebony tree, provides amazing waterfront views which can be enjoyed either from the canopied king-size bed or whilst taking a soak within the oversized, claw-footed bathtub.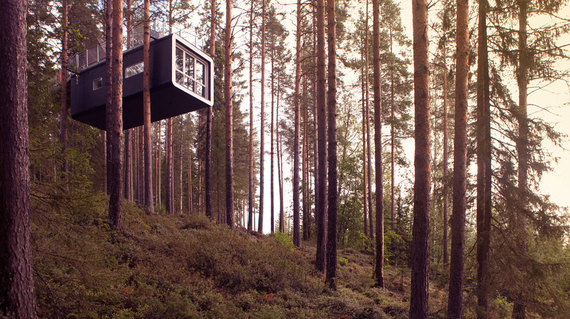 The contemporary forest residences at the Treehotel - which include a floating UFO, reflective mirror cube and branch-covered bird's nest - have made 'best of' lists in travel magazines across the globe. A truly unique Swedish experience, visitors can unwind in the Tree Sauna or sample reindeer meat at the onsite restaurant.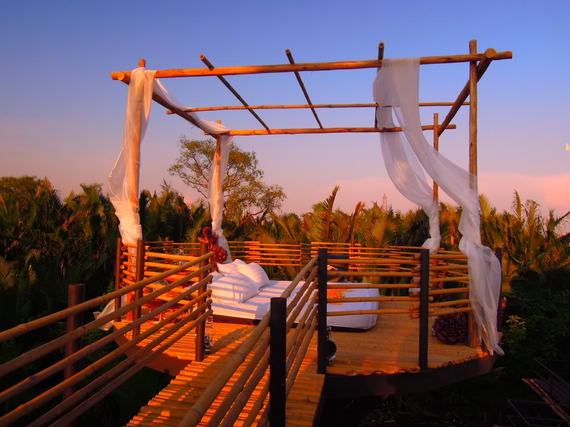 A respite from the hustle and bustle of one of Asia's busiest cities, this environmentally-friendly sanctuary is hidden away on the mangrove-laden island of Bang Krachao (widely referred to as Bangkok's "green lung"). While the property offers several treetop "nests," we particularly love the "View with a Room," an open outdoor platform perched seven meters above ground.
Ariau Amazon Towers Hotel, Brazil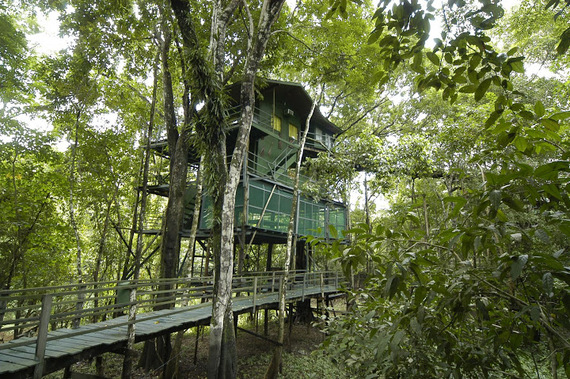 Widely regarded as the world's largest treetop hotel, this eco-conscious resort sits high within the lush foliage of the Amazon rainforest. Boasting an impressive five miles of wooden catwalks connecting its 268 rooms and suites, guests here can also enjoy a treetop pool, restaurant, bar and amphitheater. And there's no shortage of activities either - unique outings range from swimming with pink dolphins to piranha fishing.
Tsala Treetop Lodge, South Africa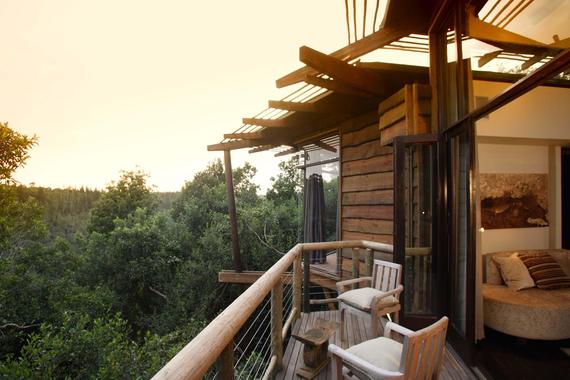 Offering 10 private treetop suites and six luxurious villas, Tsala is a five-star refuge nestled within the lush foliage of South Africa's famed Garden Route. Guests here can enjoy their own fireplace, secluded deck and infinity plunge pool.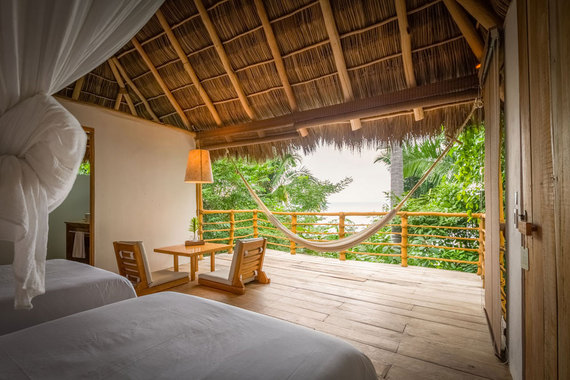 A relaxing yoga retreat set in picturesque Puerto Vallarta, the elevated jungle cabins at Xinalani emit a truly tropical treehouse look with their thatched roofs and open-air spaces. All accommodation is ocean front, with some suites providing special rustic touches such as hammocks and outdoor showers.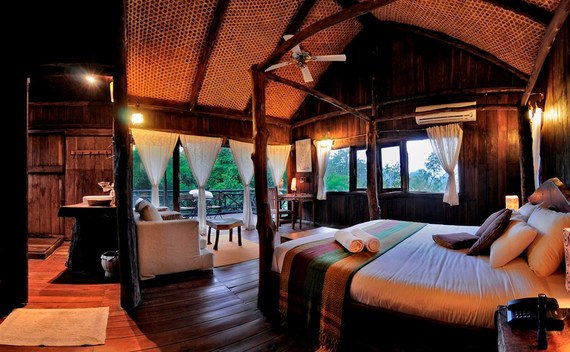 An ideal spot for animal-lovers, this intimate hideaway overlooks the acclaimed Bandhavgarh Tiger Reserve - home to one of India's largest tiger populations as well as spotted deer, jackals, wild boar and a number of bird varieties. The property's five cosy treehouses are spread across 21 acres of dense wilderness, ensuring total privacy and abundant wildlife spotting.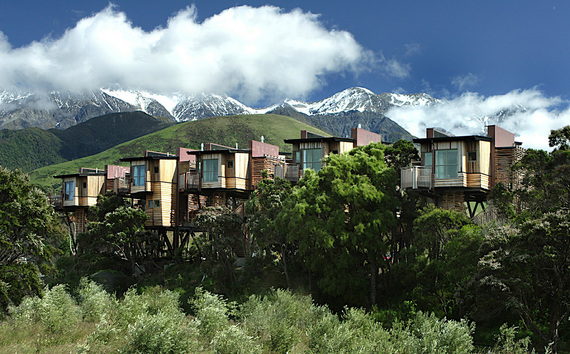 Suspended 30 feet above ground within a grove of native Manuka trees, the treehouse accommodation at Hapuku delivers stunning views of New Zealand's Kaikoura mountain range. Parents traveling with children will appreciate the family treehouse - a spacious, split-level dwelling with an upper and lower bedroom.
Dominican Treehouse Village, Dominican Republic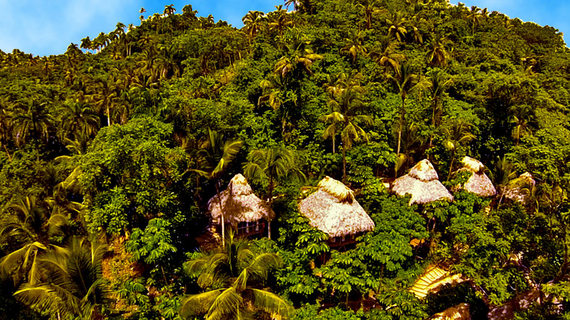 We can picture Tarzan himself happily bunking in the airy outdoor huts at this lively jungle village. Situated within the dense rainforest of the Dominican's Samana province, the retreat's 20 canopy lodgings are within proximity to a cascading waterfall and pristine beach.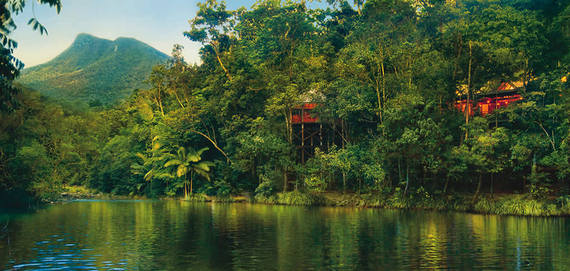 Guests at this North Queensland bush retreat receive quite a list of perks in addition to their lofty accommodation - all rooms come complete with a gourmet breakfast, use of river canoes, yoga classes, mountain bike rentals and guided rainforest walks. Scented oil burners are also on hand in each treetop suite to ensure complete relaxation.