By Christina Pfeiffer, HotelsCombined.com
In the last few years, airport hotels have evolved from being an unavoidable stopover to luxurious, must-visit retreats. Some properties have gone to great lengths to attract travel-weary guests, with many now offering opulent rooms, expansive swimming pools, soothing spas and fine-dining restaurants. But naturally, the best part of an airport hotel stay is getting to watch planes take off and land in pure comfort and relaxation.
On that note, here are ten of our favourite luxury hotels for plane-spotters:
1. InterContinental Johannesburg O.R. Tambo Airport, South Africa
Observe the airstrip hustle and bustle of Africa's busiest airport through floor-to-ceiling glass windows while you either sweat off calories at the hotel's state-of-the-art gym or lay upon a daybed by the indoor pool. There's also a convenient meet-and-greet service where a friendly doorman welcomes guests upon arrival at the terminal and then personally escorts them to the hotel.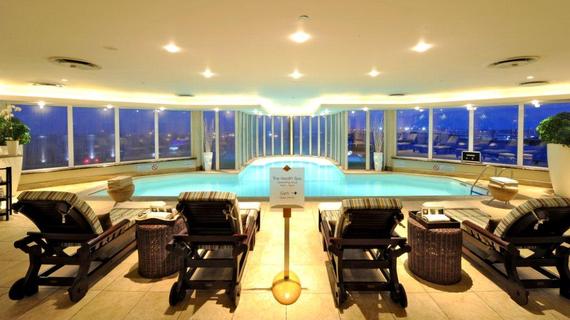 2. Sofitel London Heathrow, UK
Top-notch cuisine and elegant bars are the hallmark of this chic hotel near Heathrow's Terminal 5. Sip champagne at the Perrier-Jouët Bar, sample different cocktails at the Sphere lounge or indulge at one of the three acclaimed on-site restaurants. For the full royal treatment, book the Imperial Suite -- an impressive three-bedroom abode with glitzy Swarovski bathrooms and unrestricted runway views.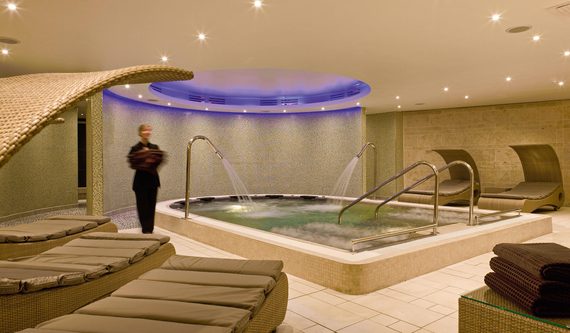 3. Crowne Plaza Hotel Changi Airport, Singapore
A funky architectural landmark linked to Terminal 3, this hotel is a tranquil oasis amid the hustle and bustle of airport life: Think tropical gardens with courtyards, a lagoon-style landscaped pool and lush garden views. Weary travelers will love the extra touches like yoga classes on the in-room TV systems, pre-loaded iPods and jetlag reflexology treatments at the spa. And with amazing amenities such as a butterfly garden, playground, arcade games, a movie theatre and a giant slide, the Crowne Plaza Changi Airport is also a great choice for families.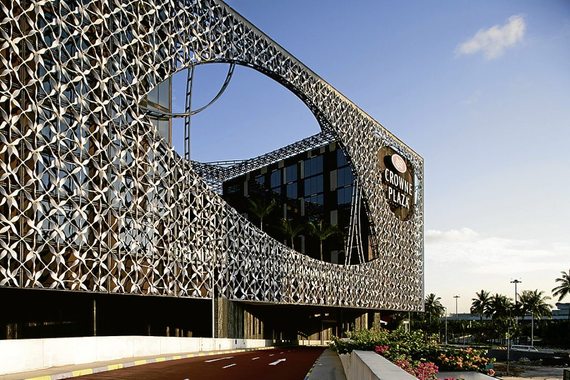 4. Airways Hotel Port Moresby, Papa New Guinea
Nestled within a picturesque mountainside setting, this quirky airport hotel in remote Papua New Guinea is somewhat of a surprise. It has contemporary interiors with quality furnishings and modern amenities such as wireless internet access, Nespresso machines, flat-screen LCD televisions and even 24-hour butler service. Located across the street from the end of the runway at Jackson International Airport, there are views across the waters of Bootless Bay towards the Owen Stanley Ranges.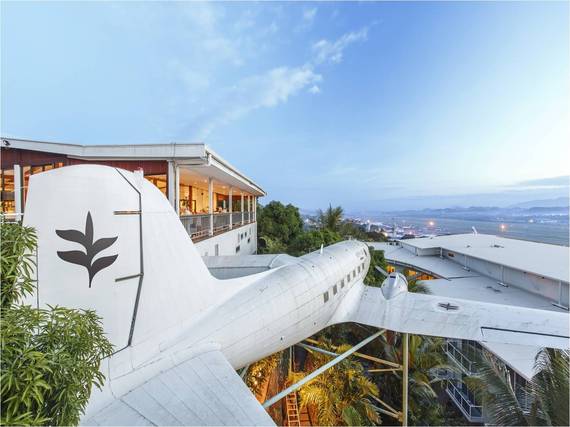 5. Grand Hyatt DFW, Texas, U.S.A.
Part of the Dallas Fort Worth Airport International, this hotel has a first-rate spa, gym and rooftop saltwater pool. Guestrooms boast pillow-top "Grand Beds", soaking tubs, showers and flat-screen televisions. Bonus: the Hyatt Fast Board program offers guests the chance to check in for flights directly from the lobby of the hotel.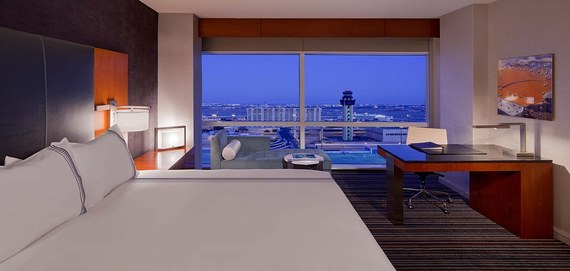 6. Kempinski Hotel Airport Munich, Germany
Located directly between Terminals 1 and 2, the hotel's attentive 24-hour concierge is on call to assist with services ranging from restaurant reservations and tickets for local events to chartering private air planes. We also love the ladies' suites especially designed for the traveling business woman, stocked with thoughtful touches such as fresh fruit, magazines and fluffy blankets.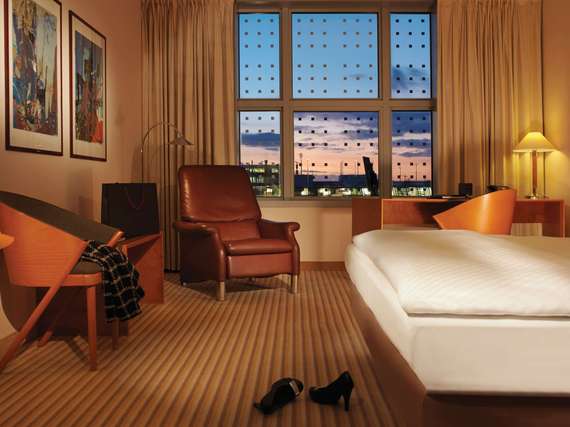 7. Regal Airport Hotel, Hong Kong
Connected to Hong Kong International Airport and just a 25-minute trip from the city via the Airport Express line, this grand hotel is a short walk to the shops and restaurants at SkyPlaza and the AsiaWorld-Expo convention centre. Rooms are plush and the spacious Presidential Suite is the very definition of luxury.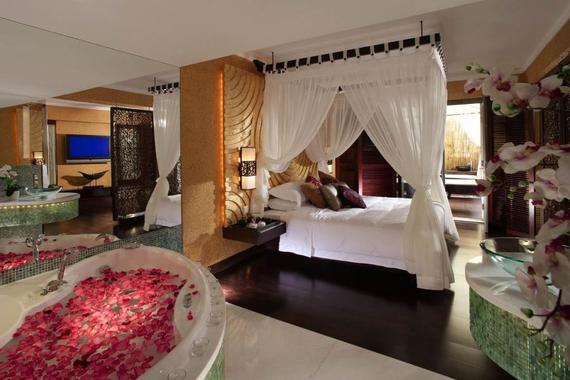 8. Dubai International Airport Terminal Hotel, UAE
Located throughout Concourses A, B and C, guests have to be in transit to be able to stay at this high-end hotel. Facilities include a fitness centre with steam room, Jacuzzi and swimming pool. Some rooms even have massage chairs, complimentary fruit baskets, chocolates, canapés and fresh juices.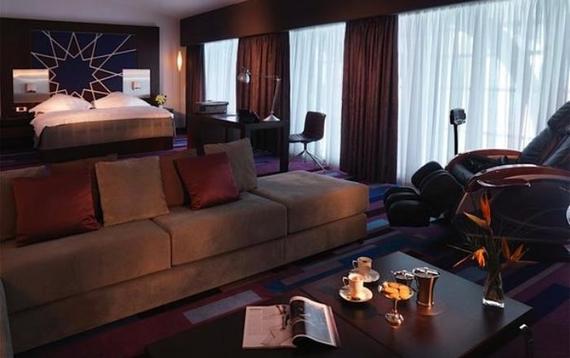 9. Rydges Sydney Airport Hotel, Australia
A 318-room, 4.5-star hotel near the international terminal, this new hotel offers a host of useful services for travelers such as a 24-hour gym and round-the-clock room service. Rooms offer panoramic views of the city, the airport terminal or the runways. There are two dining options: Touchdown, a casual sports bar, and the more upmarket Blackwattle Grill.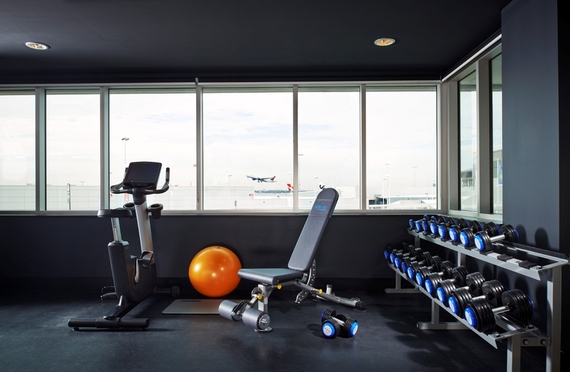 10. The Fairmont Vancouver Airport Hotel, Canada
A sound-proofed, award-winning hotel located directly above the US departures terminal, the Fairmont Vancouver Airport is a great spot for either a long or short term stay. Day use rooms are available for guests in transit or travelers can conveniently stay here while exploring all that Vancouver has to offer - the rapid transit train system regularly journeying into the city is just a hop, skip and a jump away. Runway views are available throughout the hotel, including from the cosy Jetside Bar which offers a scrumptious afternoon high tea daily.