By Taryn Wallis, HotelsCombined.com
It's hard to ignore Americans' cultural fascination with celebrity. From revelling in the drama of the Kardashians' on-screen spats to monitoring Miley Cyrus' latest burst of Instagram exhibitionism, the U.S. has plenty invested in the exploits of its stars. But in a world increasingly connected by the global reach of digital media, celebrity obsession transcends national boundaries, delivering up-to-the minute coverage to fans (and fanatics) across continents. At HotelsCombined, we set out to determine exactly which countries are most fascinated by the biggest stars on earth. To do so, we analyzed Google Trends data for searches relating to the world's 20 most powerful celebrities, as ranked by Forbes. Our results proved more than a little surprising.
Beyonce's Biggest Fans Are In... Equatorial Guinea? A Method to This Madness
We know: It sounds crazy. But before you slam your laptop shut with incredulity, let's explain how we arrived at our counter-intuitive conclusions. Given vast differences in the total number of Internet users in each country, we couldn't base our results on raw search totals. Even if every person in Switzerland searched for Queen Bey twice a day, that nation's total searches would pale in comparison to the U.S.'s, simply because the pool of American Internet users is much larger.
Instead, we utilized Google Trend's relative rankings, which measure what percentage of a country's total searches of a given term accounts for. So if 10% of Zambia's searches are for Jay-Z, and only 3% of American searches concern him, the former demonstrates a stronger obsession, even if the latter's total searches are greater in number. It's also worth mentioning that we used Google Trends' "Topics" feature, which accounts for searches closely related to a given celebrity's exact name. For example, this option incorporates searches such as "Mayweather Pacquiao" in our consideration of relative interest in Floyd Mayweather Jr. All our data refer to searches made between January 2004 and March 2015.
Far-Flung Fans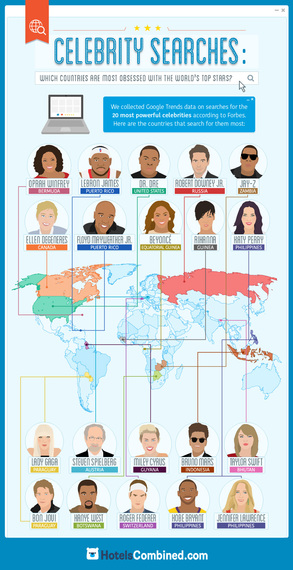 Of the 20 most powerful celebrities, only one finds his most vigorous fan base in the U.S.: Dr. Dre, legendary producer turned massively successful entrepreneur. Perhaps his strong ties to California's culture have kept his acclaim relatively local, but the countries most obsessed with his peers could hardly be more geographically scattered. Among the oddities: Aging rockers Bon Jovi join Lady Gaga as beneficiaries of Paraguayan adoration - Gaga played there in 2012, while Bon Jovi wowed crowds in '93 in a show that must have been... memorable.
What's up with the Philippines and fame? Katy Perry may have played America's ultimate concert in the Super Bowl, but the island nation takes the top spot for searches for her, hollywood darling Jennifer Lawrence, and future Hall of Fame baller Kobe Bryant. The Lakers star has often graced Manila with his presence, and the country is notably obsessed with basketball, a passion matched only by their apparent enthusiasm for "The Hunger Games" trilogy. Another interesting tidbit? Robert Downey Jr.'s Russian following borders on the occult: "Iron Man 3" set box office records there following this stunt.
Obsession International
Want to see the changing volume of searches by country over time? Check out our visualization of the spread of these searches below!
Beyonce
Jay-Z
Miley Cyrus
Taylor Swift
Celebrities Searches by State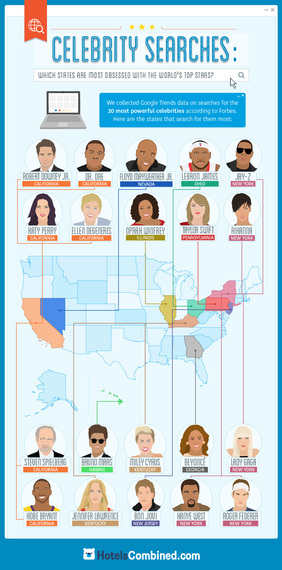 Delving deeper into American celebrity sentiment, we studied the states searching most for these 20 powerful personas. Katy Perry's "California Girls" proved especially loyal, with The Golden State claiming the top spot for her and five others: Dr. Dre, Ellen Degeneres, Robert Downey Jr., Steven Spielberg, and Kobe Bryant. Dre helped define California hip hop in the '90s, while Downey, Degeneres, Spielberg, and Bryant are Hollywood fixtures by profession.
How about Kentucky searching most for Cyrus and Lawrence? J-Law must be feeling some local love: Born and raised in Louisville, she's not afraid to sport her loyalty to her hometown team. Bon Jovi's members hail from Jersey, where they enjoy a fandom second only to that of fellow native Bruce Springsteen. Ditto for Taylor Swift in Pennsylvania, where she spent her first 14 years before relocating to Nashville to pursue her music career. Which brings us to...
Celebrities by City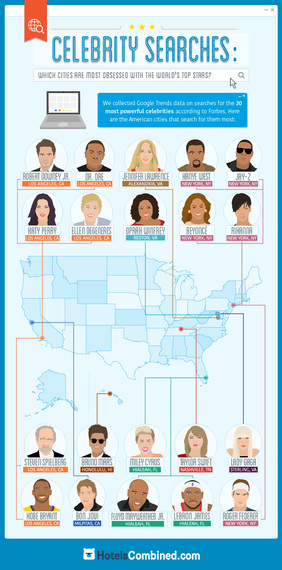 As one might expect, more than half these celebrities find their greatest following in the nation's powerful poles: Los Angeles and New York City. Jay-Z's image is inseparable from his Brooklyn roots, and Beyonce forms the other half of NYC's (and the world's) most visible power couple. But the city level data also shouts out some relatively unknown destinations as well; what's Oprah got to do with Reston, Virginia? How does Hialeah, Florida search more for three celebs than anywhere else?
Our interpretation lies in those cities' proximity to other major metropolises. Hialeah, for instance, is a proverbial stone's throw from Miami, where Floyd Mayweather, LeBron James, and Miley Cyrus have each made an impression over the past decade. Hialeah is subject to the same powerful local draw but apparently conducts fewer competing searches than does Miami's urban populace.
Conclusion
If our results speak to anything, it's the emergence of the global celebrity, unfettered by the traditional bounds of country and culture. If cultural critics once bemoaned America's turn toward the glitz and glam of the entertainment industry, the Internet has made the cult of personality an international experience. Celebrities have more influence across continents than ever before. After all, their greatest fans may live in a country they'll never visit. Maybe that dynamic fuels the obsessive searching; Beyonce may be thousands of miles from Equatorial Guinea, but she's never more than a click away.