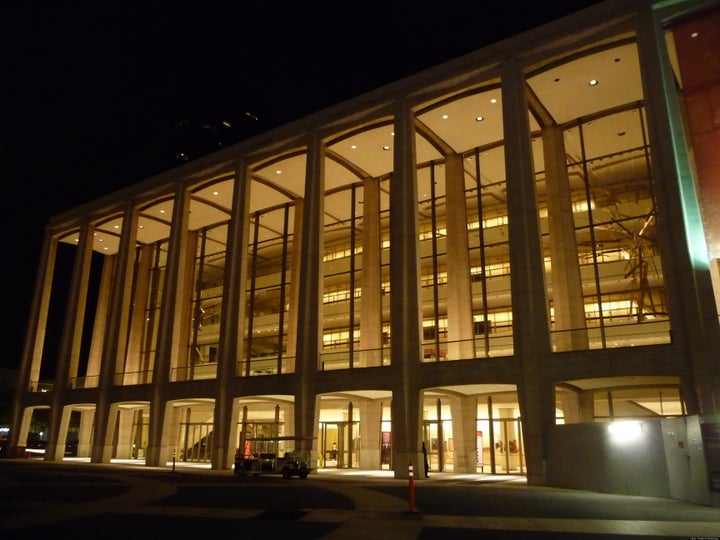 It is a source of endless wonder to me that a lot of the music we hear today in concert halls was originally intended to be played in living rooms.
Last week, for example, the last concert of the Chamber Music Society of Lincoln Center featured the group's co-artistic directors, cellist David Finckel and pianist Wu Han and their friend, one of the founders of the Emerson Quartet, Philip Setzer, performing the two heavenly piano trios of Franz Schubert.
It would be interesting to know just when chamber music began to be played on the concert stage, rather than in private homes. I know Berlioz first heard Beethoven's difficult late string quartets performed in public, suggesting they were beyond the range of the amateur musician (or perhaps that Berlioz, always something of an outsider, was not invited to the salons where fellow musicians played them.)
But my hunch is that a century and a half ago you would not have heard these extraordinary Schubert pieces except in the homes of musical friends. Even then, I doubt you would have heard performances as impassioned or thrilling as those of Finckel, Han and Setzer.
Similarly, a few weeks ago, before yet another brief stay in the hospital, I had a moving evening at Carnegie Hall hearing Brahms' Liebeslieder Waltzes, sung by a magnificent vocal ensemble featuring soprano Sylvia Schwartz, mezzo Bernarda Fink, tenor Michael Schade and bass-baritone Thomas Quasthoff, with Malcolm Martineau and Justus Zeyen at the piano.
Note that I have just mentioned six world class musicians -- in order to have heard these pieces a century and a half ago, you would have to have rounded up a similar number of accomplished amateurs in your living room.
What is extraordinary is that the pieces were such a success that Brahms' publisher begged him to write a second set, which, happily he did. Written in the late 1860s, they were first performed at Carnegie Hall nearly 40 years later, in 1909. Until then, only a privileged few could have heard them, and I doubt they would have been performed with as much finesse and depth as they were by Quasthoff, who organized the event, and his colleagues. The program also included other Brahms vocal quartets and the Schumann Spanische Liebeslieder.
All these pieces presumed not a passive audience, as we are today, but active participants, which is amazing to contemplate. Yes, these amateur performers had to have been part of the social elite -- working people wouldn't have had the time to practice to play works of this difficulty. But there was a sufficient number of them for a publisher to have anticipated -- and realized -- a profit putting them in print.
Did the people playing in their living rooms hear performances as vibrant as I did? Probably not. But practicing and performing gave them an intimacy with and understanding of these magical works I can never hope to attain.