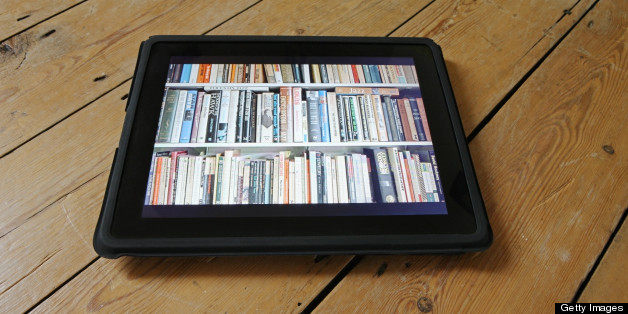 At the beginning of each month, Thin Reads presents its monthly ranking of the seven buzziest, coolest, most talked about, most topical and just plain most interesting e-book single topics based on a totally arbitrary assessment of titles available on digital newsstands.
Byliner vs. The New Yorker: Both Aim at Sharpshooter Story: Two quality long-form journalism publishers both came out with stories about the death early this year of Chris Kyle, perhaps the greatest sharpshooter in the history of the American military. E-book single powerhouse publisher, Byliner, released Death of an American Sharpshooter May 13 (see Thin Reads 3-reed review). Best-selling author Anthony Swofford penned the 40-page story. But two weeks later, The New Yorker produced a similar account by Nicholas Schmidle. Both stories examined Kyle's life after his successful tours in Iraq where he killed more than 160 men. And both looked at his ill-fated efforts to help a troubled vet upon his return, which eventually led to his shooting death. So which article was better? Schmidle's story. More details. Better reporting. And there will be no shortage of Chris Kyle-related media. The late hero has American Gun coming out June 4. And Steven Spielberg is set to direct a film based on Kyle's autobiography American Sniper.
Author Douglas Preston Becomes a Double-Threat: For the past month, Preston's Trial by Fury: Internet Savagery and the Amanda Knox Case has been one of the best-selling non-fiction e-book singles. But in May, a funny thing happened; his fiction e-book single Extraction (written with Lincoln Child) also landed in the best-seller list. Only one other author this year has had a fiction and non-fiction e-book single in the same week: some fella by the name of Stephen King.
A World of Hurt Feels No Pain: Who knew OxyContin sells? Eh-hem... we mean, who knew books about Oxycontin sell. Just days after The New York Times reporter Barry Meier's book A World of Hurt: Fixing Pain Medicine's Biggest Problem (about the over-prescription of OxyContin) the e-book single rocketed to become the industry's best-selling e-book single. Take that Amanda Knox (Trial by Fury, a book on Knox, dominated the e-book single non-fiction list for a month).
The Verdict Is In: Publishers Love Jodi Arias: There were five e-book singles about convicted murderess Jodi Arias this spring. Killer Girlfriend by two AP reporters seemed the weightiest.
Drinking Her Way Up the Best-Seller Lists: The surprise best seller of the month? Tiffany Peón's flirty dating confessional Drinking My Way Through 14 Dating Websites. In our review of the book, Thin Reads gave Drinking only one meager reed (out of 4). But it shows you what clout we have!
There's No Denying Denial: Jonathan Rauch's touching story about living in the closet for 25 years connects powerfully with readers. It jumped onto the best seller a few weeks after publication.
Pros and Cons -- E-Book Single of Marketing Pamphlet? That's the question about Janet Evanovich's new short story Pros and Cons. It's a prequel for her new novel The Heist coming out in mid-June. Whatever it is, if you're a fan of Evanovich maybe one dollar is a bargain for a 28-page story.