I woke up in Harare, Zimbabwe to the news of Mandela's death. Two newspapers sat outside my door, NewsDay, an independent paper, and The Herald, the official newspaper of Zimbabwe.
NewsDay, an independent paper, had no article about Mandela since it had been printed before the announcement the previous night. The following day, NewsDay printed a full page cover story "Mandela wanted Mugabe to see sense," leveraging the moment to directly rebuke President Mugabe.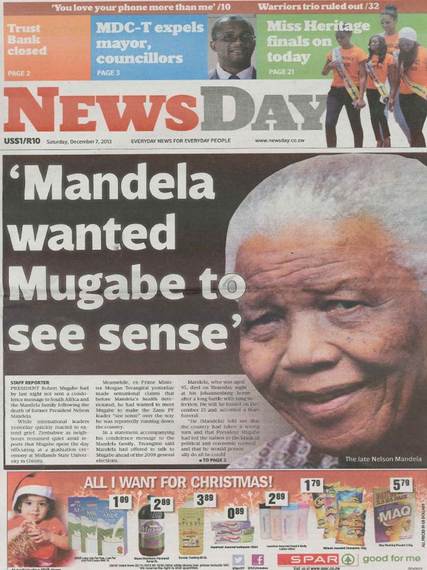 The Herald took a different approach. They delayed the distribution following the late night news and then adjusted the content. The adjustment consisted of a lead story about Mandela. The only other front page story was "Brig-Gen Tayanyiwa Declared National Hero" that discussed the Zimbabwean military leader who passed away in China last week. A few pages inside, The Herald had an article titled "President to be Honoured" that detailed Zimbabwean President Mugabe receiving a President of the Decade award from the All African Student Union.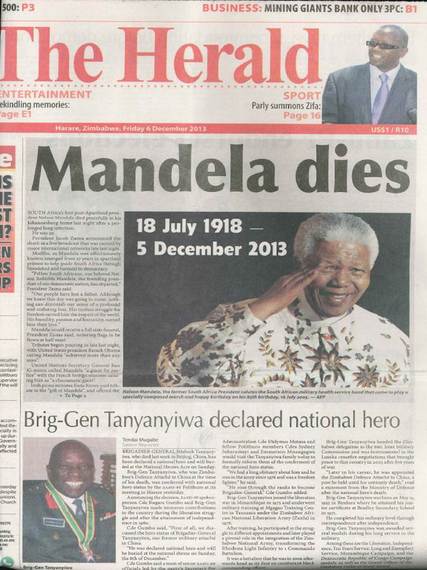 A golden rule of readership can be summarized by leveraging the old real estate cliché about "location, location, location." Prominent placement of an article, either in print or online, will ramp up readership. Burying an article in the back of a newspaper or shunting a blog piece to a simple link will usually suppress readership.
A corollary to that rule about location is the importance of your neighbors. It is said that it is wise to invest in the "worst house on block" where your house might appreciate by being near finer homes. The choice of the two front page stories, Nelson Mandela and General Tayanyiwa, sends a message about association, or at least who The Herald might like their readers to associate with Mandela.
The flags flew at half-mast the day following Mandela's death. As I walked through Harare, I asked a few locals about the flags and they all told me the same thing - that it was to honor the loss of both Mandela and the general. The rules of real estate seem to have held well.
Photos from Harare, Zimbabwe (December 2013)
PHOTO GALLERY
Harare, Zimbabwe