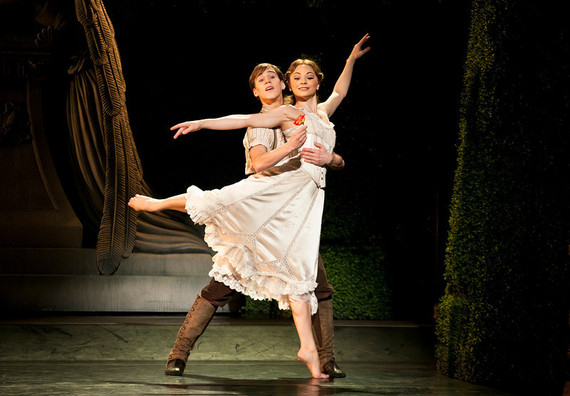 Dominic North and Hannah Vassallo in Sleeping Beauty
Photo by Mikah Smillie
Matthew Bourne's dazzling and captivating interpretation of Tchaikovsky's Sleeping Beauty is magnificent in every respect -- not simply the choreography, costumes and scenic design, but also Bourne's innovative and intelligent narrative. In this work, which opened this week at the Ahmanson Theatre, Bourne shows himself not only a master of choreography and visual imagining, but also a skillful and original storyteller.

Bourne draws from several versions of the classic fairy tale, including the Disney film rendition. The story begins in 1890, then moves to 1911, next to 2011 and finally the present day (or rather night) as the Princess Aurora (Hannah Vassallo), who was consigned to a hundred-year sleep by the curse of Carabosse, the dark fairy (Adam Maskell), is finally awakened by the kiss of her lover Leo (Dominic North).
By setting the story in the different eras, Bourne vastly expands the scope and landscape of the tale. From the richness and formality of the late Victorian and Edwardian eras to the breeziness and informality of the modern age, Bourne mines a treasure trove of dance styles, costuming, scenic design and even finds the contemporary echoes in Tchaikovsky's score. Making great use of his eclectic instincts, Bourne mixes ballet and modern choreography in a fascinating and evocative mélange.
Bourne also banishes any sense of stuffiness from the retelling of the classic tale. Using puppets, special effects and, above all, an abiding sense of humor, Bourne brings Tchaikovsky's opus alive in a magical and contemporary spirit. Interweaving drama and comedy, the profane and the profound, Bourne achieves a masterful theatrical reinvention for the twenty-first century.