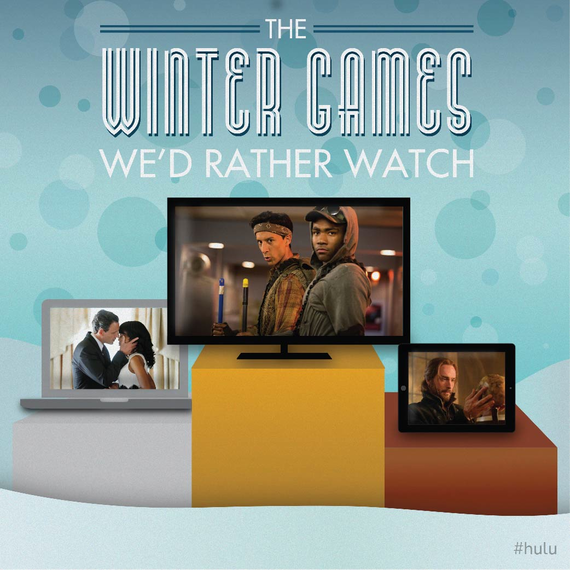 Sports. They're pretty great. And for two whole weeks this month the world will turn into the largest cheerleading section ever as we collectively rekindle our love of Pairs Figure Skating. But here at Hulu, we actually prefer our sports to be of the imaginary sort, turning our favorite shows and characters into legitimate athletes and pitting them against each other in battles of skill, grace and screaming matches. We've combed through our stable of programming and come up with some Winter Olympic alternatives we think definitely have a shot at being included in the 2018 games.
Ice Hockey? We Prefer Tonsil Hockey.
Slap shots, face-offs and hip-checks -- Tonsil Hockey has it all! It's just like regular hockey, but with more attractive participants who typically still have all their teeth. Here's who we predict as medal contenders in this year's games.
(BRONZE) New Girl
Three neurotic guys and one famously quirky girl living under the same roof? This show is a medal contender based on premise alone. But now that Nick and Jess are shacking up, Schmidt has awkwardly severed ties with two ladies, Winston is obsessed with cats, and Coach is just all around weird, we've seen a dramatic dip in lip-lockery. Not that we're obsessively tracking.
(SILVER) Scandal
The title implies salacious story lines, and for the past three seasons it has delivered in spades. So why only silver? Because while the main players are experts at getting into, and covering up, hot affairs, the whole team lost points because will Olivia and Fitz please decide if they're going to be together or not already?!
(GOLD) The Mindy Project
After two and a half seasons of sexual shenanigans among the staff of Shulman & Associates, everyone got the answer to the question no one wanted to admit they were asking -- when will Danny and Mindy finally hook up?! And while we can't wait to plunge into the waters of their budding new relationship, we expect nothing but the same misguided hijinks from Morgan, Betsy, Dr. Reed and Dr. Prentice. -- Raef Harrison
Figure Skating? We Prefer Figure Shaping.
In figure skating, athletes train for years to be in peak physical condition and to dazzle the audience with grace, athleticism, and artistry. The Figure Shaping event does none of these things, but instead rewards the programs that have the greatest influence on our physiques.
(BRONZE) Extreme Weight Loss
In one year, extreme trainer Chris Powell transforms the lives of extremely obese contestants through extreme diet and exercise (although a substantial amount of water weight is shed as contestants woefully admit to eating an entire pie for breakfast). Yes, the weight loss is extreme, but watching contestants wave their excess skin for the camera is extremely upsetting. Plus, with each episode focusing on only one contestant, it's hard to feel extreme emotional investment.
(SILVER) The Biggest Loser
The perennial favorite in weight loss programs, The Biggest Loser has captivated and motivated audiences for 15 seasons. Sure, 26 other nations have their own versions of The Biggest Loser, but here in 'Merica we excel at overeating and rump-roosting. We grow to love the contestants -- we may have even dropped a few tears in our Haagen-Dazs while watching this season's Tumi trying on wedding gowns.
(GOLD) Cupcake Wars
The "bad boy" of the Figure Shaping contenders, Cupcake Wars wreaks havoc on our nerves and waistlines. Within the first five minutes, we'd be willing to sell our souls for a slab of red velvet. In a "miracle on icing" twist, the bakers are able to make even the least appealing challenge ingredients seem downright tasty. A pork rind and Kool-Aid cake with relish and cream-cheese frosting? Yes, please. -- Courtney Hyde
Biathlon? We Prefer The Cryatholon.
The Cryathalon is a game where contestants are measured by the speed in which waterworks are produced, and the emotional quality of the tears themselves. Are they tears of joy? Tears of sadness? The effective single tear gently rolling down the cheek? Style points are key here.
(BRONZE) Grey's Anatomy
Set in a hospital in Seattle, Grey's Anatomy was packing a double whammy of depressing coming into this year's competition. A veteran in the category, Grey's has seen its share of Cryathalon gold. There is speculation, however, that this juggernaut peaked about six seasons ago. The show scored low marks when it tackled Obsessive Compulsive Disorder, a tactic introduced by former gold-winner Hoarders. But after a disqualifying "lip-quiver" by Kerry Washington in Scandal (slow-motion replay reveals never produced real tears), Grey's was able to edge itself into the bronze.
(SILVER) The Ellen Show
The Ellen Show introduced the highly effective tactic of inducing tears through laughter, producing water works in aprox. 1.063 seconds, only a tenth of a second behind the record-breaking Sun and Jin plot line in Lost. Ellen has been an intimidating force since the 2012 qualifying round where she introduced the infamous Kristen Bell sloth meltdown. She also racked up points scaring Taylor Swift and rounded out her performance with a few good "It Gets Better Videos" and rags to riches stories about talented children dancing or playing pianos.
(GOLD) Glee
This competition saw a devastating start for Glee, who took a near career-ending tumble right out of the gate with two hours of botched Beatles covers. The nation watched in horror for two straight weeks as the show limped along, desperately trying to fulfill their contractual obligation. Luckily, "The Quarterback" was a sincere, heart-wrenching episode, packed with enough oomph to steal a comeback and clench the gold. A major highlight was Lea Michelle, surprisingly absent for most of the episode, racing in during the last five minutes to seal the deal with her signature double eye flood. -- Rudy Martinez
Freestyle Skiing? We Prefer Freestyle Screaming.
The Freestyle Screaming event is as old as the Olympic Games itself. Ever since that epic first fight on the Ancient Olympic Games reality show "Pimp My Chariot," the battle to out-shout competitors has been a proud tradition.
(BRONZE) The View
There was a time when no one could even think of out-screaming a "Hot Topics" segment of The View, but now that Elisabeth Hasselbeck has gone pro over at FOX News, the long-running morning chat show isn't nearly as yell-y as it used to be. But the ladies' performance was still loud enough to land them on the medals stand, thanks to some solid screamwork teamwork.
(SILVER) The Real Housewives of Everywhere
The Real Housewives franchises have elevated Freestyle Screaming from a brute force event to a glamorous spectacle. It's true that the heart of the sport lies in celebrating those who scream loudest and longest, but the Botoxed, mimosa tossing, silk-n-sequins Housewives clan has turned Freestyle Screaming into the Ladies Figure Skating of the TV Olympics. Let's just hope no one gets hit in the knee with a pipe this time.
(GOLD) Kitchen Nightmares
Trying to out-scream Gordon Ramsay is like trying to out-smirk Stephen Colbert. The judges are straight-up too terrified not to give Ramsay the gold, and that's how you play the game. -- Liz Brown
Speed Skating? We Prefer Speed Plating.
Similar to Speed Skating, Speed Plating consists of epic collisions between chefs running in circles at ridiculous speeds trying to get their bouillabaisses plated while simultaneously simmering their raddichio. While bonus points might be given for the elegance of it all, it's the dramatic meltdowns behind a burner that we love to see.
(BRONZE) The Taste
The newcomer to the group slips onto the podium with Bronze mostly on effort points. It's entertaining enough, but kind of lame for basically being The Voice with aprons. Points were also deducted for the total lack of originality in naming. The Taste? Come on, people.
(SILVER) Hell's Kitchen
It's not an alt-Olympics without a Gordon Ramsey show medalling! Let's be honest, for all his insane tantrums, the guy gets results. He's basically the Bela Karolyi of the professional kitchen.
(GOLD) Top Chef
It's in the name! Top = The best. Also this: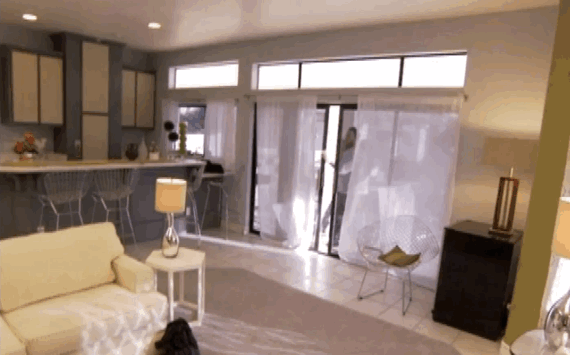 -- Katherine Rea
Two Man Luge? We Prefer... Well, Two Man Luge.
The two-man luge is the most intimate of sports and it requires teammates to share mutual respect, physical synchronicity and the understanding that if either of you gets a little turned on there's nothing weird or uncomfortable about that.
(GOLD) THREE-WAY TIE: Troy and Abed from Community; Sherlock and Watson from Sherlock; Sam and Dean Winchester from Supernatural
Simply stated: with the two-man luge, everyone wins. -- Liz Brown
Regular Curling? We Prefer Hair Curling.
Why furrow your brows over the mysteries of shuffleboard on ice? Curl up in a comfy chair and follow your favorite follicle follies. Here are the TV Goldilocks we think'll take home medals in the hair curling championships.
(BRONZE) Nashville
Representing Nashville, the reigning Southern champions Rayna Jaymes, Juliette Barnes and Scarlett O'Connor tousle their way into a three-way, third-place win. Flexing their flaxen with their effortless relaxed curls, these new-country coifs are perfect for on-stage and off -- or a scandalous romp in the hay, y'all.
(SILVER) The Carrie Diaries
The SATC prequal nabs the silver thanks to a young Carrie Bradshaw and her ever-so-versatile locks. Up, down, pulled back, or in full bouncy buoyancy, Carrie's array of looks take her from high school to the high streets, and straight to the big city. The judges also favored Miss Bradshaw's efforts in making judging easier by providing a self-narrated play-by-play.
(GOLD) The Goldbergs
The '80s homage that is The Goldbergs takes home the top spot in this category, making up for what its characters lack in curl intensity with volume and structural soundness. Beverly Goldberg's weather-proof variation of Farrah's flip, Aqua Netted to pure perfection, is enough to take the gold on its own. So, what does first place smell like? Gloria Vanderbilt and Jean Nate. -- Richard Ogawa
Note: Though the clear favorite to win was Felicity Porter, she was disqualified after testing positive for natural curls. Angered by the judge's decision, she rebelled by lopping it all off in season two.
Cross-Country Skiing? We Prefer Cross-Country Scheming.
Cross-country skiing is graceful, athletic, and... well, boring. Add in a little political intrigue, international or otherwise, and you've got our undivided attention. Here's who we think will scheme their way into some hardware this year.
(BRONZE) The Bridge
Spanning both Sweden and Denmark, two perennial favorites when it comes to skis and schemes, this moody crime show is a lock for medal placement. Sadly, we weren't really in the mood to read subtitles, which dropped it back in the pack a bit. Luckily its intriguing premise (is the body Danish or Swedish? Or both?!) was enough to land it on the podium.
(SILVER) Nikita
Breaking out of a secret, corrupt government agency is a feat unto itself. Breaking other people out of said corrupt agency and banning together to take them down? Unthinkable. But Nikita does it, week in and week out, all while never really messing up her hair.
(GOLD) Covert Affairs
Chasing slimy foreign agents down crumbling alleys in Venice, being chased by slimy foreign agents through bazaars in Marrakech, learning all those languages! When it comes to scheming, plotting and border-crossing espionage, Covert Affairs blows the competition out of international waters. -- Raef Harrison
Bob Sledding? We Prefer BobSlaying.
No Winter Games is complete without an icepick or two in the eye, wouldn't you say? With the increasingly inventive quality of murders on the tube these days, you've really got to be the stuff of nightmares to make it to the top. We're talking a body count that causes you to be brought up in national conversations about the culture of violence, and enough gore to make grown-ups miss the days of parental controls.
(BRONZE) The Following
The Following made news when it premiered for being unapologetically graphic and senselessly violent. But nobody could say it didn't excel at that goal: the show is the No. 1 reason more people are vaguely worried that they're going to get set on fire in the middle of the street. Despite that accomplishment, it gets points off for being kind of lame, and for killing puppies. Nobody wants to see that.
(SILVER) Buffy the Vampire Slayer
Although Buffy was famously roped into the roll of the Slayer, there's no denying the zest with which she was sticking stakes in hearts left and right (and looking good doing it). The best thing about Buffy is that the heads rolling usually belonged to bad guys, so you could still watch it and sleep well at night. But the gore level was zilch -- vampire bodies crumbled to dust, leaving nothing to spread out on an autopsy slab, or, say, drape artfully over a pair of antlers.
(GOLD) Hannibal
No series serves up murder with more adoration than Hannibal. You haven't seen a really lovingly mutilated human carcass until you've seen the work of this ensemble of sickos. The show's reverence for killing is what makes it so creepy, and the fact that it pulls you in makes it insane. There's no double that Hannibal and Will -- plus the revolving cast of guest serial killers -- are the BobSlay team of the year. -- Naivasha Dean
Skeleton? We Prefer... Well, The Skeleton.
The Skeleton is a bone-chilling event of speed, nerve and precision. Our preferred alternative is a bone-exposing event of murder, mystery, and... well, actual bone. Bonus points for any bones sledding downhill at dangerously breakneck speeds, however.
(BRONZE) Sleepy Hollow
While the obvious winner in many other events (such as Headless Machine Gun Shooting and Interdimensional Horseman Wrangling), Sleepy Hollow gets docked a few points in the Skeleton category for only featuring a skull. And while this skull is indeed a uniquely evil, living specimen -- and the Headless Horseman's missing head -- it spends most of its limited screen time encased in a glass container, hardly demonstrating the bone-mania required to earn the gold.
(SILVER) He-Man and the Masters of the Universe
He-Man earns a femur up on the competition by featuring a major character with a skeletal head, which overcomes the typical limitations of bone. In spite of having no eyes, nose, or discernable facial expressions, master villain Skeletor still manages to convey his malevolent intentions through a set-in-bone sneer and the ominous clacking of his yellowed mandible. This feat of skeletal-defying emotion is enough to earn He-Man the silver medal.
(GOLD) Bones
When it comes to celebrating bones, this aptly-titled show nails it. Just about every episode presents a new tableau of rotting human remains that showcase the entire bony form. At each crime scene, the camera hovers lingeringly over decomposing tissue, focusing in on each tibia, radius, and grinning skull like a lover caressing his mistress. Booth and Brennan may be the more popular romance, but the true love affair in this series is between the viewer and the skeletons. -- Kristin Knox