Here's a love story that began in the Catskills.
It was the summer of 1946. Hunny Feller and her identical twin sister, Bunny, were waitresses at a hotel. ANOTHER set of identical twins, Elliot and Danny Reiken (RYE-kin), worked as musicians in a band there.
At StoryCorps, Hunny and Elliot remembered what happened when the twins... met the twins.
Hunny Reiken: I have a twin sister, Bunny. And you have a twin brother, Danny. When we met we were 16 and a half, and we were waitresses in a hotel. You and Danny were musicians in a band. And we thought you were handsome, which you still are.
Elliot Reiken: At first, you and your sister couldn't tell us apart and we couldn't tell you two apart. Remember how you decided on which one you were going with?
Hunny: We said, "With whomever we walk." So I asked, "What's your name?" And you told me, "Elliot." And for the next few days I'd always ask, "Elliot?" Within a few weeks, I knew Elliot. I never went over to Danny thinking it was you. And lo and behold, those were the ones we ended up with. I walked with you; I married you. Bunny walked with Danny; she married Danny. Lucky us, because I don't think it would've worked the other way.
You were tall. You were handsome. And to me, being a musician made you glamorous and sexy, automatically. You took me out for my 17th birthday. We saw Oklahoma! on Broadway. I had never dated anyone else, but from then on I knew I loved you, and there was no chance of separating us.
Elliot: We didn't skip a beat. Right from the summer romance into the winter, and on and on.
Hunny: We were married at Temple Beth El in Borough Park, Brooklyn. You and I were married the same day as Bunny and Danny -- that was quite a big affair. We had a double wedding. And it was two brides, two grooms, one set of parents for each.
Bunny and I had identical gowns. The flowers were identical.
Elliot: We both went on our honeymoon by train to Miami Beach. But we went on different trains and to different hotels, so that people wouldn't stare at us.
What did you think about marrying me so many years ago? Did you think it would turn out this many years?
Hunny: I never thought anybody lasts this many years! To me divorce was not a foreign word, because if you remember, Elliot, my mother was a divorced woman when she was in her thirties. But I was sure you were the right one. And you know what? I was right. You are the right one for me.
I like the way you kiss. You bowled me over 60-some-odd years ago with your way of kissing, and the way you hold me when we dance. You're not a fantastic dancer, but you hold me fantastically, and I feel it. It's genuine.
Elliot: You've told me that many times, but it still makes me feel great.
Hunny: There are times we can be so annoyed at each other, Elliot, and we yell at each other. But when push comes to shove, we let it go, and we're back to our normal selves, because being unhappy is part of being happy.
When two people get married, they say two people become one. No, I don't agree. Two people should remain two people but walk side by side. I've not become Elliot. Elliot has not become Hunny. We remain Hunny and Elliot. And to me, that's important.
Elliot: You made my life complete. And I hope we'll go on for another 50 years.
Hunny: I'll take five good ones. Five good ones, and I'll say, "Thank you, God!"
Below, a photo of the Reikens on their wedding day, and in 2010.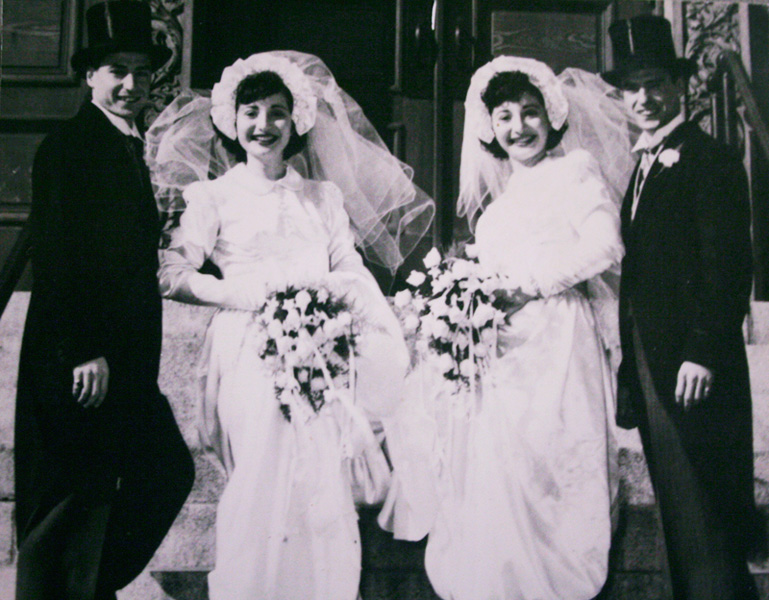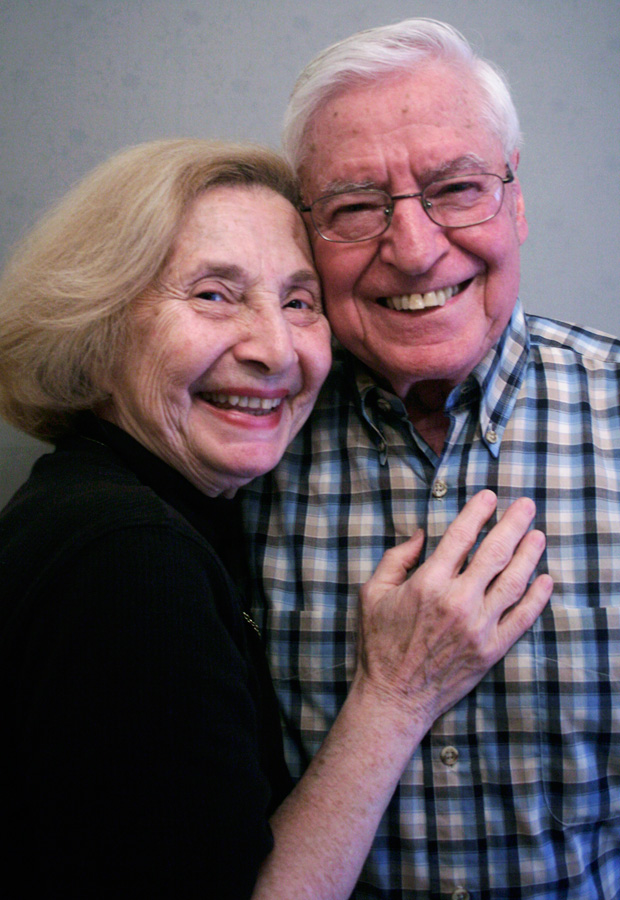 The Reikens live in Brooklyn, in the same house they bought with their twins over 50 years ago. Hunny's sister, Bunny, still lives upstairs. Reprinted with permission from StoryCorps. Read more love stories in "All There Is: Love Stories from StoryCorps."