When I was in seventh grade I learned about Tony Duquette and his poetic wife Elizabeth through an article in the Los Angeles Times' Home Magazine. From the minute I saw Tony Duquette sitting on the stage of his studio, on a throne from the Chapultepec Palace, wearing the robes of a Cardinal, surrounded by crushed abalone shells, crystal chandeliers, and mirrors, I knew at once what my future would hold. I believe firmly in "creative visualization" and from that moment on dreamed of that magnificent studio with its soaring 28 foot high ceilings, 18th century furniture and emerald, coral and gold color scheme! Elizabeth Duquette also figured in my dreams and more than once she led me on a nocturnal tour of the their vast studio so that when I finally was invited into it, I knew the entire layout by heart.

When I was in school I used to play "Tony Duquette" with my art teacher, only me, not the other students. One day she put a note in my locker which said "Tony Duquette is looking for volunteers to work on an art installation." I quit my school and my job that day and began my own personal adventure as I went to work as a volunteer with Tony Duquette. I was 17 years old and happy to work for the Duquettes for free. I worked gratis, like a renaissance apprentice for two years after which Tony paid me $50.00 every two weeks. I was never so rich! After five years of learning at the side of this brilliant American design icon, he offered me $5.00 an hour, an offer which I declined saying, "I think I could do better on my own."

I opened my own interior design firm and made a lot of money. That was an in-between time, just after the years that decorators had Rolls Royces, and just before the "information age" when people could buy everything wholesale but taste! I was fortunate to work for Los Angeles' old guard and their children, and it was at this time that Tony and I pooled our winnings and invested together in real estate. Jimmy Carter was in the White House and inflation was high. We used to say that we were paying off our mortgages with bad dollars.

I would hate to be accused of the possibility of conjuring overtones of luxury, decadence, artificiality, living in the past, academic tradition, lack of harmony with the green earth herself or even with the noble biped we call man, but I dare to continue my personal tale of a gentler time before the advent of the 21st Century. Those were the days when the people who built Los Angeles and made fortunes after WWII founded the Music Center and built LACMA. They lived a beautiful and privileged life, a life we cannot recognize in Los Angeles today.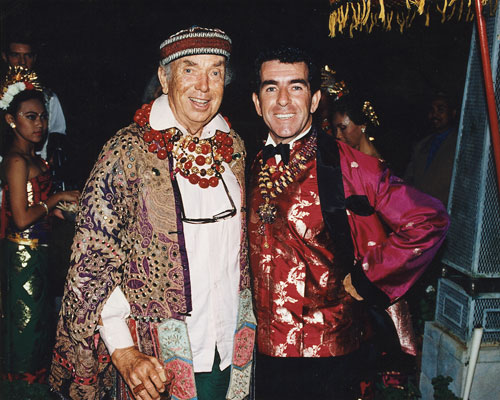 Tony Duquette and Hutton Wilkinson at a party in Hollywood in the late 1980s.
Credit: Ken Levine/© Berliner Studio/BEImages
Twice a month there were black tie events at the Beverly Wilshire in the days before Hernando Courtright sold it. These social and civic leaders would entertain royally, at home, or in private rooms at Chasens, The Bistro, or Perino's. The ladies would dress in couture by Galanos and Tassel, with one of a kind jewels by David Webb and Tony Duquette. This was a magical time to be a part of the action at the Tony Duquette Studio. All the dinners at the Duquettes were formal, and every month they would have a dance, not a disco, always a live orchestra. When ever there were interesting visitors in town from Paris, or Venice, London or New Delhi, New York, Hawaii, or South America they were always brought to the Duquette's either for lunch or dinner. I remember a parade of Maharajas, the Maharaja of Mysore being the most generous, distributing large stones set in heavy gold to Elizabeth Duquette and other ladies present. The movie stars came too, not the nobody stars we know today but real stars who wanted to be ladies and gentlemen. The ladies owned their gowns and bought their jewels; most of them had made their fortunes before the income tax in 1916, and they were happy to spend. Stars like Loretta Young, Anne Baxter, Jennifer Jones, Cary Grant, Fred Astaire, and James Coburn; directors like Vincente Minnelli, George Cukor, and King Vidor; writers like Anita Loos, Claire Boothe Luce, and Katherine Anne Porter; the designers, Jean Louis, Jimmy Galanos, Gustave Tassell; the millionaires, Norton Simon, J. Paul Getty, and Doris Duke; all of them came to the Duquettes rubbing elbows with artists like Rudolph Nureyev, Margot Fontaine, and Andy Warhol, and of course the Duquettes would also always invite beautiful young people who they could rely on to stir things up.


Although the stories in my book are complicated, the mis-en-scenes multi-layered and mysterious, the actual life was gentle and innocent, really childlike in a way. Although today there are many more people with much more money than Tony and his rich friends ever dreamed of, it seems to me that there is a lack of appreciation in the new Los Angeles rich for the beauty and luxury which is inherent in an individual and creative lifestyle. I think it will take another generation for this new money to come into its own and understand, like Tony did, that beauty not luxury is what we should value. "More is More" is not a nod to vulgarity but a reaction against "minimalism," and a realization that the human soul needs to be enchanted with color and pageantry, a personal and individual vision that is more than the plain white surface of the refrigerator door.

In my book I show this unique vision through my own personal experiences with the works and life of Tony and Elizabeth Duquette. The book illustrates through magnificent archival photographs, his interiors and gardens, his amazing jewelry and sculptures, their lavish parties and lifestyle, his unorthodox materials, her beautiful poetic paintings, as well as the use of his own words, which he wrote down 30 years before his death at the age of 85 in 1999.