Iain Maclean was born in a town and country that no longer exist, but that are now known as Kabwe, Zambia. His father was Scottish and his mother Polish. His earliest artistic influences were a mixture of African and European art. He moved to England in 1969 and studied fine art at Goldsmith's and Central St Martin's Colleges.

Here is one of my paintings called "From Lust to Dust." It's actually more than a painting, because I also made the frame from... wait for it... sand.
The reason for using sand will soon become apparent when, on closer examination, you'll see that the painting depicts the crushed bodies of a mother and baby in Darfur, in Syria, in Ethiopia... with soldiers' bootprints moving across their bodies. The baby is wrapped in an old United Nations hessian food sack.
The same bootprints depicted on the painting are sunk into the sand on the frame in 3-D. And, at the top, real hessian sacking is used above the traditional African geometric decoration.
The piece is made of Oils, acrylic, blood, hessian, PVA on canvas and sand with PVA on wood. It measures: 7ft 10 ½in x 4ft x 4in (200cm x 122cm x 10cm).
Maclean's website: http://www.themaclean.co.uk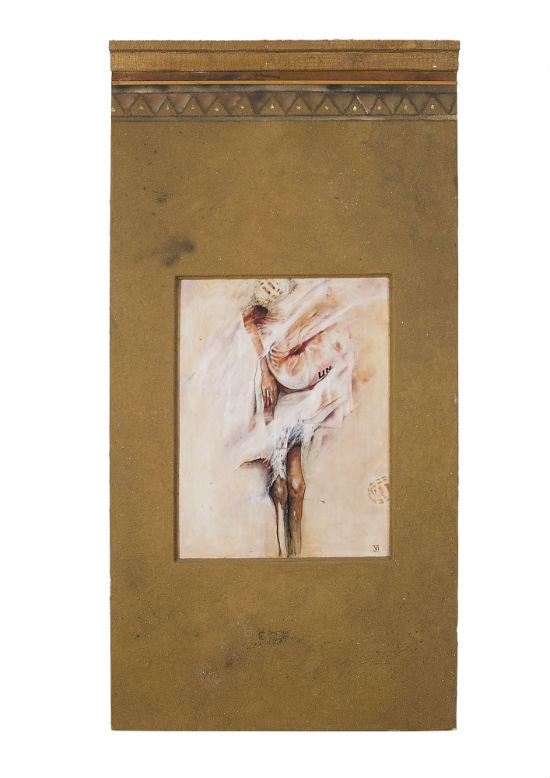 From Lust To Dust
Are you 50 or older? Want to submit your own art or photography for consideration? Send us your work at 50arts@huffingtonpost.com. See here for more details.