At a fundraiser in Manhattan on the eve of New York becoming the sixth state to grant same-sex marriages, President Obama said that he "believe[s] that gay couples deserve the same legal rights as every other couple in this country." By ordering the military to provide to servicemembers in same-sex marriages the same benefits provided to their heterosexual brothers and sisters in arms, President Obama, like his favorite president, can lead the nation on toward a more perfect Union.

Barack Obama's admiration for Abraham Lincoln is well known. He even calls Lincoln his "favorite president." Like his favorite president, President Obama is confronted with the greatest civil rights issue of a generation. For President Obama, it is the denial of fundamental rights and federal benefits to gays and lesbians. For President Lincoln, it was the institution of slavery and the denial of Constitutional rights to Blacks.

President Lincoln utilized his constitutional authority as the nation's chief executive to alleviate inequity where he could. He granted to free Blacks, then not recognized by the courts as citizens, certain privileges and benefits available only to citizens. President Obama should exercise his authority as Commander in Chief to make a difference where he can and order the military to provide equal benefits to servicemembers in same-sex marriages. Currently, enforcement of Section 3 of the federal Defense of Marriage Act (DOMA) prohibits the federal government and the military from recognizing same-sex marriages.

A year ago, President Obama reviewed Section 3 of DOMA and determined that it fails to meet constitutional muster and accordingly, instructed the Justice Department to enforce but no longer defend Section 3 in those federal circuits without binding precedent. This position was reiterated last week when the Justice Department notified Congress that it would not be defending Section 3 in a suit brought by servicemembers seeking benefits.
However, despite the Administration's view that the law is unconstitutional, the continued enforcement of Section 3 requires the military to discriminate against servicemembers in same-sex marriages by denying to them the same essential benefits provided to servicemembers in opposite-sex marriages - on base housing, medical and dental care, and various travel and pay allowances for dependents among others. This unequal benefits structure is not only unconstitutional, but given how critical the provision of benefits is to the ability of servicemembers to effectively execute their mission, it also weakens our national security.

Citing the adverse effect on military readiness resulting from the unequal provision of benefits, President Obama should notify Congress that he will no longer enforce Section 3 in the context of the military, and then order the services to provide benefits to personnel in lawfully performed same-sex marriages. While there is ample precedent to support a decision by the President to not enforce Section 3 at all, he possesses additional, independent authority as Commander in Chief to issue such an order to the military.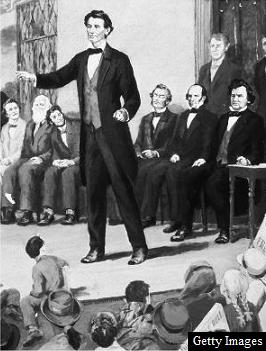 In 2007, then-Senator Obama's love of Lincoln led him to the steps of the Old State Capitol in Springfield, Illinois to announce his candidacy for President. It wasn't lost on Senator Obama that nearly 150 years earlier in that same capitol building, Abraham Lincoln delivered his famous House Divided speech, prophetically warning of the dangers posed to the Union by the expansion of slavery.
While campaigning for the U.S. Senate in 1857, Lincoln expressed profound disagreement with the Supreme Court's decision earlier that year in Dred Scott v. Sanford. The Court held that Blacks were not and had never been citizens of the United States, and consequently were not protected by the Constitution. He characterized the Court's decision as "erroneous" and "based on assumed historical facts." Lincoln's criticisms of Dred Scott were central to his campaign and to his famous debates with Stephen Douglas. He lost that election, but two years later in his first presidential inaugural address, Lincoln reiterated to the nation his belief that the Supreme Court had erred supremely in Dred Scott.
President Lincoln exercised presidential review of the principles flowing from the Dred Scott decision and concluded that they were unconstitutional. He courageously instructed his executive branch to treat free Blacks as citizens and to issue to them patents, passports, and other recognition available to only citizens. To be sure, Lincoln's non-acquiescence to the Court's decision was an exercise of power at the outer limits of the executive's constitutional authority. President Lincoln's courageous leadership not only endears him to President Obama and the nation, but it is also instructive today.
Ian Moss is an attorney and a Marine Corps veteran. He is a Presidential Management Fellow working at the U.S. Department of State. The views expressed in this article are his own, and do not necessarily reflect those of the U.S. Department of State or the U.S. Government.