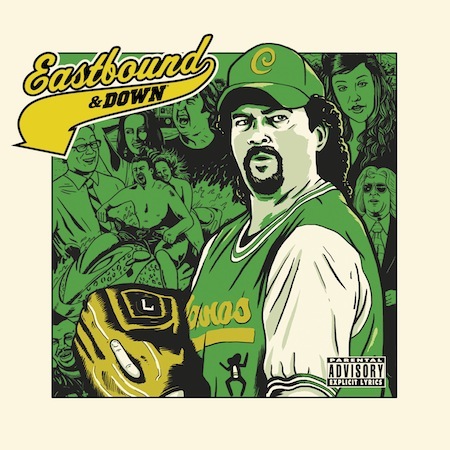 Of the maybe 50 or 60 incontrovertible reasons why HBO's Eastbound & Down is the best show on television, perhaps the most smack-you-in-the-face obvious one is the music. Ben Best, Jody Hill, Danny Mcbride and the rest of the Eastbound production team's decision making has been immaculate as far as scoring and music are concerned. So, last week when Fat Possum Records announced that they're releasing the show's soundtrack in April, the news was about as surprising as a visually striking Kenny Powers slow motion entrance set to rock and roll. And If you don't know what that means, then you need to get watching.
Since its inaugural six-episode season in 2009, the tragic, beautiful, hilarious tale of once great pitcher Kenny Powers' struggle to make it back to major league baseball has been a harrowing journey fraught with obstacles. It's been a long ride to redemption and it's played out to a musical backdrop unparalleled in television; from Lucinda Williams to Boston to Lee Hazlewood and DJ Daddy Ray Z every choice musically for Eastbound & Down has been the right one, without exception.
What does that mean? Well, for the show's producers and directing team it's as much a feat of big-picture visual tricks and masterful editing as it is the musical choices themselves. Right from the get-go Eastbound has employed a few cinematic/sound techniques very well. Their use of slow motion for example, proves that Wes Anderson has nothing on Eastbound & Down. The show's well executed slow-mo scenes set to music have become so frequent that it's almost a calling card. They'll keep doing it too, because it's compelling when done right, as it is here in this excerpt from season three featuring Lee Hazlewood's "I'd Rather Be Your Enemy."
There's an attention to detail present in the show's music that seems to border on obsessive: the soft almost indiscernible Ennio Morricone song playing during a showdown with Ashley Schaeffer (Will Ferrell) or the subtle nod they'll give when they bleed one song directly into another back to back a la The Graduate. Masters of the cold open, almost every episode of Eastbound starts precisely where the last one left off before abruptly cutting mid-scene into the show's theme song, Freddie King's "Going Down." They'll often employ a similiar technique to close as well, choosing to either leave on an open ended high/low note and cutting away to music, or having the credits roll in after a scene void of dialogue, with the music slowly wrenching up the emotions, as it does here with the Stuart Staples song, "Somerset House."
Eastbound & Down's relationship to music is closer to film than television and that's taking into account that this isn't television, it's HBO. They continually challenge expectations about what music should be playing based on the emotional stakes of the scene. Kenny Rogers will play while Powers destroys a BMW lot and Gregorian Monks will chant a Simon and Garfunkel song while Kenny pensively rides his jet ski. More often than not the choices are specific ones that initially feels counterintuitive but eventually hit their mark as the scene progresses. This inverse of expectations becomes so normalized in the show, that when you finally hear a song that seems to fit the scene perfectly, it packs even more of a wallop. It's the use of music to keep you on your toes and it pushes for a big payoff when it counts, like here with Kurt Vile's "He's Alright" in the closing scene to the second season.
The two disc soundtrack is set to drop April 24th, a week after Eastbound & Down officially rides off into the sunset with their series finale April 15th. Although the 16 tracks on the release represent a mere fraction of the complete archive of music that's been featured throughout the show's three seasons, the additional "exclusive foul dialogue" and liner notes written by Powers' assistant Stevie Janowski are more than enough to have any blue blooded American excited. Fat Possum Records was the obvious candidate for a soundtrack, being the label that represents Eastbound & Down featured musicians like R.L. Burnside and The Black Keys. Thank you's are in order too, as one can assume that they were burning the midnight oil on more than a few nights in order to get around the tricky licensing maneuvering involved with gathering a wide breadth of artists like this under one record. Track listing below.