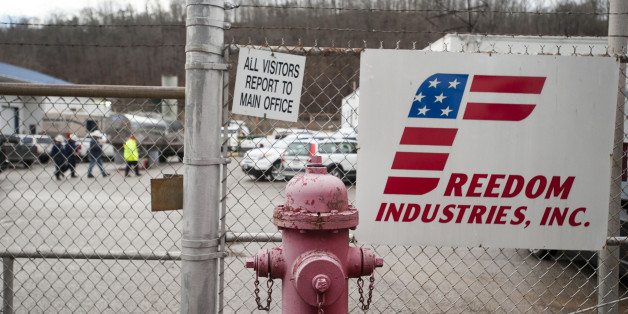 The news out of West Virginia in recent weeks is simply foul. Just last week we learned that a second dangerous chemical had entered the water supply. What's even more galling is that the company responsible, Freedom Industries, knew for two weeks about the presence of this second chemical in the muck that leaked out of its storage tank but held that information back from state and federal regulators until last week. Why? Because Freedom Industries considers the details about that second chemical compound, known as PPH, to be "proprietary."
In other words, they say they didn't want to talk about the exact makeup of the chemical compound because then other companies might copy it and hurt Freedom Industries' bottom line. They say it's a "trade secret." Of course, not knowing the makeup of the compound makes it a bit harder to assess minor details like, oh, I don't know, how toxic it is. Thankfully, the U.S. Centers for Disease Control thinks, probably, that PPH won't make things worse than they already feared based on what they previously knew about the West Virginia chemical spill.
For Freedom Industries, all that matters is the bottom line. Their goal, like that of too many other corporations, is to have as little interference from government as possible so that they can go about their, ahem, business, as they see fit. But it's not just West Virginia where this happens. It's at the heart of the push by Wall Street to weaken financial regulations being implemented in the wake of the Dodd-Frank legislation passed after the most recent financial crash.
Eduardo Porter, who really is a terrific writer on economic issues, analyzed in detail a report produced by the Dallas Fed on the full cost of the 2008 financial crash -- that is, including the recession that followed. Porter notes that the cost is anywhere from $20,000 to $120,000 per American. Although it's not as direct of a poisoning of people's bodies as what Freedom Industries did in West Virginia, there's no question that the financial industry's misdeeds has poisoned hundreds of thousands if not millions of lives.
Yet, despite these incredible costs, the financial industry still fights even the most common-sense regulations, ones that would, hopefully, stop banks from making the kinds of risky trades that caused the 2008 meltdown. Porter lists a number of examples of this kind of resistance and demonstrates the mindset of the financial industry with the following quotation from James Ballentine, the American Banking Association's executive vice president for congressional relations:
Our goal is to press the pause button on the multitude of regulations and rules, to give the industry time to digest them. The industry should have an opportunity to determine what is working and what is not.
The ABA is the banking industry's lobbying group and is headed by Frank Keating, former Republican governor of Oklahoma. Of course they believe that the industry should have the power to decide which regulations work and which don't. To them, a regulation only works if it doesn't cost them money, and they're really talking only about the short run. They have no concern about what happens when, if the regulations are too loose, a disaster strikes. Geniuses that they are, they'll always assume that they will avoid such a calamity. Eduardo Porter understands, however, that even if these regulations result in lower profits for the banks, "the goal is to ensure that banks internalize the costs of their risky business rather than have them borne by the rest of society." Exactly.
What would have been reasonable, in terms of a reduction in the (short-term) profits for the financial industry, if such a reduction had enabled America to avoid the financial crash and the recession that followed, or even simply made the recession half as bad? But the financial industry will never look at it that way. Even now, they'll just assume the next crash isn't coming, or they won't care and will just look to maximize profits in the meantime and hope to get bailed out again when it does.
And this really is the heart of the matter. There are countless other examples of corporations outside Wall Street and the banking industry lobbying against regulations, and of corporations other than Freedom Industries making people sick or worse and then still putting profits above doing everything possible to help maximize public safety.
Business, as a whole, simply cannot be trusted. Period. That may seem like a harsh statement to some, but let me explain. I'm not saying that every person who works for or owns a business is unethical or untrustworthy. The problem is with business as a collective entity.
As long as there is competition in business, as there must be in a capitalist system, there will be some who will cut corners to maximize profits. Not all, maybe not even most, but some. Some people cheat. Some people lie. Some people steal. This applies to all of us, by the way, not just people in business. That's human nature. It's why we have laws and jails.
Yet, somehow, the proponents of laissez-faire economics assume that regulations -- that is, laws that are supposed to prevent and/or punish harmful behavior -- are simply costs to businesses, and that reducing those costs is always a good thing. When right-wing politicians want to criticize regulation, they don't talk about "profit-killing regulations"; rather, they use faux populist language: "job-killing regulations." ThinkProgress found that the use of that phrase jumped by 17,550 percent in newspapers from 2007 to 2011.
But when regulations are too weak, either in terms of the punishment itself or the scope of what is being prohibited, the cheaters push the envelope to the point where one of two things happens: 1) disaster strikes, with huge direct costs to those who suffer the consequences, or 2) the cheaters' competitors lose so much market share that they either declare bankruptcy or even go out of business -- with huge costs to their owners and employees -- or are forced to start cutting corners and cheating themselves. The longer this goes on, the more likely disaster is going to occur.
The only way to stop this vicious cycle of cheating leading to more cheating leading to disaster is through regulation and, of course, enforcement. Will this cost some businesses some profits? Maybe in the short run, although maybe not if one takes the long-term view and considers the cost of cleaning up after the disaster that will come sooner or later. The inability of corporations, particularly those publicly held, to look past the current fiscal quarter is a real problem here, to say the least.
What really galls me is that this is obvious to anyone with a lick of common sense and an understanding of human nature. Any parent who has watched two children playing can tell you that the first time one child tries to take advantage of the other, you have to put a stop to it. You have to make sure that the child who tried to take advantage understands that doing so will not work and will result in that child being punished if the behavior persists. This is elementary. Yet corporate interests and their political allies will say that this is wrong, that the market can police itself. But what they really believe in is survival of the fittest.
Friedrich Nietzsche was right about this: "[L]ife itself is essentially appropriation, injury, conquest of the strange and weak, suppression, severity, obtrusion of peculiar forms, incorporation, and at the least, putting it mildest, exploitation." Where Nietzsche was wrong is in thinking that it should be that way. But he's right that it is at least a part of what we are as a species. Nietzsche called the instinct to exploit "the will to power."
Too many human beings -- especially those who are in direct competition with one another -- are not going to be able to refrain from acting on those instincts. Many of these people are actually addicted to wealth, and the acquisition of more of it defines their entire being. It's not about just making a living for these sharks.
The only thing that will stop them from acting on those instincts is the threat of harsh punishment. We have to define harmful behavior as outside the bounds of law, and then we have to severely penalize those who go outside the bounds. There simply is no other way. Don't believe me? Fine, here's what Sheryl R. Skolnick, an investment analyst who covers health care for a major Wall Street firm, had to say to The New York Times about corporations in that business: "Investors seem to think that [Department of Justice] investigations, qui tam suits and allegations of serious Medicare fraud are simply a cost of doing business." The Times article continues:
Many settlements run only into the tens of millions of dollars. That's a corporate slap on the wrist for companies whose stocks typically soar when executives push the profit envelope. Only if the penalty is at least $500 million, Ms. Skolnick said, are corporations likely to find the cost a deterrent.
Relying on those in the heat of the competition to "have an opportunity to determine what is working and what is not" is absurd. Yet that's what Republicans, and even some Third Way Democrats, will tell you. It's all about "growth" or even "economic freedom," some people say. Bollocks.
Their "freedom" always ends up costing us when we have to clean up their mess. There's a reason that the strict regulations imposed during the New Deal led to 50 years without a major financial crash, at least until the deregulated Savings and Loan Industry cracked in the late 1980s, and the repeal of Glass-Steagall in 1999 birthed the catastrophe of 2008-09.
When are we going to learn our lesson? When are we going to recognize the reality that the markets cannot police themselves, that capitalism only works well when there are strong regulations (not to mention a robust safety net)? When are we going to learn that the short-term interests of corporate America are not the same as the long-term interests of the people of America? How much more evidence do we need about greed?