12 years ago, I was invited to the Jewish federations' national Young Leadership Division (YLD) conference to participate in a session called "Alternative Faces of Judaism." I was representing Keshet, the LGBT Jewish inclusion organization I lead, and I opened my remarks with what I thought was a witty observation: "I did my best to find an alternative face to put on before leaving my hotel room this morning."
But as I looked out upon the ballroom of impassive faces, it was clear that my joke had fallen flat. The only people who chuckled appreciatively were my two co-panelists -- Nigel Savage, the CEO of Hazon, and Josh Neuman, then Editor-in-Chief of HEEB Magazine.
That was my first encounter with YLD and among my early encounters with the Jewish federation world. It was obvious that I didn't belong. The YLD people were insiders; I was an outsider. They seemed uniformly straight; I was an out lesbian... which, of course, is why I was invited to speak about being "an alternative face" in the first place.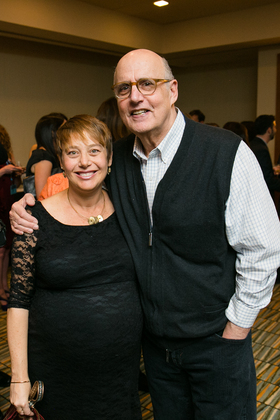 So, you can imagine my delight that this year Combined Jewish Philanthropies, Greater Boston's Jewish Federation, featured Jeffrey Tambor, the Golden Globe award-winning actor who plays Maura Pfefferman, the newly out Jewish transgender parent, in the hit TV series, Transparent, at "Chai in the Hub," its annual gala honoring young adult leaders. Tambor, whose character on Transparent would have been classified by any federation as "alternative" 12 years ago, wasn't speaking to an LGBTQ affinity group or at a Keshet fundraiser; he was the keynote speaker at a major federation's gala.
CJP's choice of Tambor is moving to many people. Joy Ladin, the first openly transgender professor at an Orthodox Jewish institution (Stern College of Yeshiva University) told me, "As a trans woman and trans parent, I am deeply grateful to Jeffrey Tambor for his moving portrayal of the complex negotiation of gender identity, family relationships and Jewish identity, and for affording such dignity and depth to the portrayal of Maura. I am delighted that CJP recognized his contribution to the Jewish community's growing awareness and inclusion of transgender Jews."
I'm quite amazed by the arc of change I've witnessed with regard to LGBTQ inclusion overall in the federation world since I first started building Keshet in the fall of 2001. Just five years ago, the first ever LGBTQ and allies reception at the Jewish Federations of North America General Assembly was essentially a closeted experience: left out of the program book, held in a tucked away, hard-to-find part of the hotel, and scheduled outside of regular GA activity hours. Fast forward two years and Stuart Kurlander, an openly gay man, is appointed president of the Greater Washington Jewish Federation, the first openly gay head of a major Jewish federation. And two years later, CJP's 2014-2015 calendar features a gorgeous photo of two brides signing a ketubah.
Even so, progress hasn't been easy, particularly with regard to issues of gender identity and trans inclusion. For many years, Keshet was regularly told by rabbis, heads of day schools, supplementary school directors, and other senior professionals to "please just focus on the gay and lesbian...we're not ready for transgender."
This reluctance, and in some cases, absolute unwillingness, to engage manifested in painful ways. Just one year after we saw over 100 Massachusetts rabbis eagerly declare their support for equal marriage rights, we struggled to recruit rabbinic signatories to an interfaith declaration in support of transgender rights legislation. In another instance, a director at a Jewish summer camp refused to allow a longtime camper to return for his CIT summer in his newly affirmed gender identity, even after we facilitated a counselor training on creating safe spaces for LGB kids.
But change is happening. In the past couple of years, we've seen the number of requests from day schools, summer camps, youth movements and other institutions for resources and training around trans issues grow exponentially. We've worked with day school administrators and educators to implement policy changes and teacher training to ensure safe and supportive space for out trans and gender nonconforming students from kindergarten through high school. We've worked with Jewish summer camps so they are ready to embrace trans campers and counselors.
We know that our journey as a Jewish community and a broader American society to full equality for people of all gender identities is far from over. Amid the rising tide of marriage equality in states nationwide-mirrored by the increased willingness of rabbis to officiate at same-sex weddings -- transgender rights lag far behind.
Needless to say, Tambor's headlining of this year's Chai in the Hub will not bring an end to these injustices. But the choice of Tambor, most widely recognized today for his role as Maura, does symbolize a powerful cultural shift in Jewish life. It marks a recognition of LGBT experience not as an alternative to normative Jewish experience but instead as another authentic face of Jewish life.