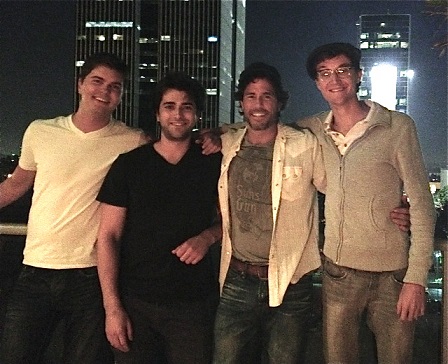 Jack Briggs, Freddie Smith, Shawn Christian, Nate Hartley of "Addicts Anonymous
What do you get when you mix passion with love, dedication and commitment? Freddie Smith!
Freddie, most famously known for portraying the gay character Sonny Kiriakis on the soap opera Days of our Lives, has now also taken on the role of producing his own webseries Addicts Anonymous with his good buddies Jack Briggs and Nate Hartley.
With Freddie's busy work schedule, some people might think he has no life outside of work, but work is his life! (Don't fret! Freddie does have some time to just relax, but his mind is always burning with ideas!)
You're currently on Days of our Lives and also involved in a passion project called "Addicts Anonymous." How did you get involved with Jack Briggs and Nate Hartley?
Jack and I have known each other for about six years through mutual friends, but were only casual acquaintances for several years. Over Christmas Break a few years ago I made a short webseries on YouTube with Jack's old roommate. Jack saw it and called me and asked if I'd be interested in getting together and coming up with an idea that the two of us could work on together. We met at his apartment and started spitballing ideas, and within several hours we came up with the idea and title for the show. We became close very quickly and started hanging out and writing frequently, and after we shot a couple of rough episodes, Nate Hartley, who we met at a party that we all attended, messaged us and asked if we'd be interested in having any help. We liked Nate so much and thought he was such an incredible comedian that he came on and started writing with us, and we realized how much fun we all had writing and coming up with ideas together.
You're raising money via Kickstarter. Why did you choose Kickstarter as opposed to one of the other crowdfunding sites?
Kickstarter is an innovative new way to make a project and have full creative control over our vision for the project. We loved the fact that people could donate and get incentives (essentially prizes for their contribution) that would make them feel like they really are a part of making our project with us. Kickstarter is different than a lot of the other crowdfunding sites because if you don't raise the total amount you're looking for, then none of the money donated actually comes out of the backer's pockets. That way, we didn't feel they'd be cheated if for some reason we weren't able to raise the full funds in time.
Who wrote the script for AA?
Addicts Anonymous is a passion project that we've been working on for years. After Jack and I wrote a couple of episodes of the original rough webseries that we never released, we asked Nate if he'd like to come and help us write the remaining episodes. We realized how well we all worked together and how much fun we all had, and it was a no-brainer that he become an integral part of our team. We did several drafts of the scripts before we decided to release it to Kickstarter, and once we started to raise our funds, Shawn Christian, who I work with on Days of our Lives, approached me. His enthusiasm and vision for the project really meshed with what we wanted to do. We brought Shawn on as an executive producer and co-creator, and we never could have imagined how incredible his writing contribution to the project would be, and how it could help take Addicts Anonymous to the next level. We originally had six male addicts and two female addicts, but we realized that another female lead would really help balance the show as well as bring a much-needed female voice to the show. We now have five male addicts and three female addicts, which we feel is the perfect number. Many script revisions were done over the years, and if there's anything we've learned through the process, writing is re-writing.
How does SAG-AFTRA weigh into this?
We want to make the most professional and best quality show we can, and in order to do that, we wanted to go through the proper channels. We registered Addicts Anonymous with SAG-AFTRA and will be paying our actors and crew the compensation they deserve for their hard work, dedication and talent.
Why did you decide to make this webisode project?
We made this webseries because we thought it was a really unique idea that had never been done before, and that people would enjoy it and find it very funny. We wanted to make a show with an ensemble cast so that anyone who tunes in can relate to one of these dynamic characters in one way or another. Our ultimate goal is to continue to make the show the best it can be and eventually sell it to a network. How cool would that be?
How do you schedule time for AA and Days?
For the past five months I've been dedicating all my time to Days and Addicts Anonymous. It's kept me incredibly busy, but when you love what you do, it never feels like work. I get my Days schedule about a week in advance and I schedule AA around my Days shooting schedule.
What was your first meeting for AA like with Jack and Nate?
After we originally met, we kept this on the back burner for several years. In January of this year, we got together and were reminiscing about how much fun we all had working on the show together, and it re-lit a flame to really make it something great and special this time. While we definitely hang out a lot, we talk and tell jokes and just make each other laugh, and when something hits, we just sit down at the computer and start writing what we see.
What would have happened if you did not raise the $31,590 by your goal date of May 27th?
We debated that question for a long time, and while we had a couple of other options in case it didn't happen, we couldn't believe how quickly we were able to raise it. We were $2,000 over budget in only 16 days, and have been so fortunate to raise over $44,000. It's honestly a dream come true!
How is working on an Internet project different than a television network show?
The main difference is the fact that we really get to make it the way we want to make it. We get to write the characters, the scenes and the overall story exactly as we see it. Because of how much we all love the show, the ability to translate our vision to screen exactly how we want is something that is unique to a webseries. Once you make a network show, many things change and many more people are involved before the show is brought to the viewers.
Your page states you want to possibly put AA on Netflix.
Once we have the final product completed, will be pitching the idea to many distributors such as Netflix, as well as creating a treatment [synopsis on paper] and sizzle [video pitch reel] for network pitch meetings. As of now, we are taking things one step at a time and are excited to bring this project to life.
How'd you decide on the cast?
One of the things we love about making this show is that every member of the cast are not just incredibly funny people, but also really close friends of ours. Most of the cast are working actors, and the fact that we're all so close and that they all wanted to be a part of this makes this project that much more special.
Do you have any long term achievements you want to accomplish?
We want to make this into a TV show! We think it's something that everybody can relate to and enjoy.
Anything else you'd like to say?
Just want to give a shout out to all of our friends, fans and families for believing in us and helping make Addicts Anonymous a reality.