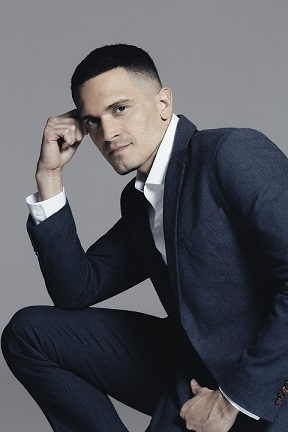 Vinicius Machado is set to star in the highly anticipated series POWER which premieres on STARZ June 7th at 9pm ET/PT. Vinicius has been hailed by Directors as "versatile with money-making looks" and is sought after today as a valuable talent around the world. Photo by Isaac Sterling and wardrobe by Tiffani Chynel.
It's a good day when you're compared to a younger Antonio Banderas with Orlando Bloom looks. Vinicius Machado doesn't let that stroke his ego - at least not out loud.
Vinicius is a very well spoken young man who knows exactly what he wants. There's a distinct hint of happiness in his smile and if you look really deep into his eyes, you can see the wheels in his head spinning.
In Starz' new show, Power, you play Nomar Arcielo, a Latino member of the Soldado Nation gang who is dating his boss' daughter. What were your audition(s) like?
I was asked to self-tape for the roles of Julio and Ruiz originally which then got me called back for Nomar. I didn't have a breakdown on Nomar. I knew only from the sides [pieces of script] that he was a Latin Kings member and was secretly dating his boss' 14 year old daughter. So having researched both worlds in depth, I wore black Dickies, a Yellow shirt, bandana and meditated on his Ego and Boldness. The courage he clearly demonstrates with his choices in life were the only way to approach my choices as Nomar.
Tell us about your family history. What does your name mean? Which languages do you speak?
Vinicius Comes from the Latin root word "VINE" meaning fruit of the wine! I guess I get better as I get older. :) I'm Brazilian, born and partly raised there. I was named after my mom's favorite Brazilian Poet Vinicius De Moraes. I speak Portuguese and Spanish fluently.
You've produced and have written some upcoming projects. What prompted you to jump to the other side of the camera? Tell us a story.
Writing is one of my biggest passions alongside of acting. I've done more than a dozen TV shows now, not to mention films, commercials and voice overs. Money is such an empowering tool. Having established myself as a working actor, it felt right to begin developing my own stories that I felt compelled to tell. I'm now completing post production on my last self-produced / written film titled "By Chance." We shot in NY with Andy Voegeli as our DP (Breaking Bad) and starring AZ (The Rapper), Leslie Lopez (also from POWER), Nicole Morris and myself. Directed by Joshua Williams. Shot on the Red Epic. We are anticipating going to festivals and being available for Digital Download by the end of the year. I'm currently prepping for my next film; a horror film, to be shot in Gettysburg, PA this coming summer. This is all aside from having been cast on "Swaggy" (A feature), also set to begin production this summer, and other negotiations currently in the making. Here's something I never in a million years thought would happen. When going to crowd funding (Indiegogo) for our film "Conflicted" to raise funds to shoot it, I was in AWE at the amount of instant support we received there, raising 102% of our funding goal. We received so much love, affirmations, encouragement, emails, phone calls, people willing to donate their time, assets, anything and everything to endorse, etc. It's been incredibly humbling.

You can be scary looking if you put your mind to it. How do you do that?!
Honestly? Self-abasement and music! I let myself go in a lot of ways in preparation for a role, depending on the role, to different degrees and get inspired by listening to what the character listens to. That helps me shape and mold the image of that persona and emulate that spirit as authentic as possible. Music is so influential that way! I love the process of transforming myself, always enriching to my soul.
What was it like working on network shows vs. cable shows?
We are not as restricted on cable shows as we normally are on network shows. In various ways, for numerous reasons. That freedom extends a level of grace to the creative collaboration, stretching the imagination, as well as providing a privilege for us actors to personify in a way that enhances the overall story telling.
When you were growing up, did anyone ever make fun of you?
I began being bullied when we moved to the United States when I was 12 years old. I didn't know any English at all and the kids in school just couldn't stop making fun of me. They would bump into me and say things like "No Speak English." I dreaded school. I was going through culture shock to begin with, and then on top of that being bullied. I became depressed and found escape in eating but that only increased the bullying because I became obese. It was a rough and tragic first few years for me in the United States.
Do you have any rituals? Do you sing in the shower? Do you pray?
Who doesn't sing in the shower? All the time! lol. I pray, yes, I believe in God! I don't have any rituals. I don't like labels, I don't like boxes and institutions of men. I'm not religious. I believe God is, was and will always be, and that we live, move and exist in Him. Not a selected group, the elites or certain denominations. We ALL are directly and intimately involved in a very individual relationship with Him.
Give us a behind the scenes story from Power.
There are so many stories but I don't want to spoil anything before we air. I will say in Episode 5 - I was carrying a bucket that had inside one of my biggest fears. It was so uncomfortable for me! I couldn't even look at anyone. I almost didn't do it, and had a hard time concentrating the entire time I had it in my hand. Even after I was shaking from the thought of it for days!
What is your work out routine?
No days off for me! I workout every day. I have a consistent routine of weight lifting and cardio. Low carb diet. No rice, bread, etc. No red meats of any kind. Tons of chicken and fish. Veggies and fruits as much as I can eat.
Anything else you'd like to say?
I support "Vision for the World" and "Feed The Children." I love my family to death; my dad is my greatest hero! To all my fans; "You are the source of my determination, your love and support are matchless, THANK YOU." One last word to everyone out there with a dream; "BE FEARLESS. It's only Impossible if you quit, for the future is an Achievement!"