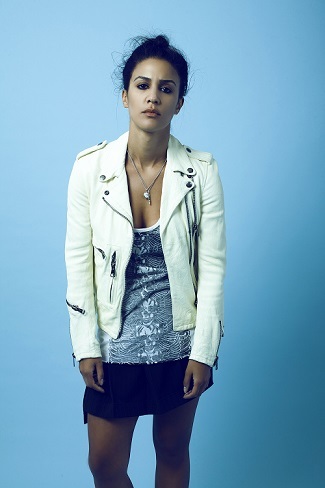 Christie Laing plays Marian in ABC's Once Upon a Time. Season 4 premieres September 28. Twitter @ChristieLaing. Photo by Kyla Hemmelgarn.
Christie Laing is great at teasing us, isn't she?! This down to earth actor really gets us going. Her bold personality is surely part of the cause. Christie is one of those actors that you want to keep an eye on throughout her career because you never know what's going to happen next.
You character, Marian, on ABC's Once Upon a Time, had a crucial role on Season 3's finale. What's your involvement in Season 4?
Although, I can't get into the details of where Season 4 is taking Marian I can tell you that I am involved in Season 4 and very excited for everyone to see where things start up in the premier. I can say that Season 4 is going to be a lot colder than Season 3.
How far did you get in your education? Which subject was your favorite and least favorite?
My favorite subject in high school was English. I love reading and writing and I felt really supported in this subject, and my least favorite was math since I felt completely lost. I went to a public high school and after graduation, college wasn't really much of an option for me. I didn't believe I had the money or the grades at the time, so I continued to work and save money to support my acting career. I would love to go back to college and I suspect I will be 40 years old getting my degree, which I very much look forward to.
You will be appearing in Lifetime's upcoming new series Un-real which is a behind-the-scenes look at the chaos surrounding a fictional dating competition program. Tell us about your character.
The character I play is Shamiqua who is an all around catch. She graduated from Spelman, now clerks for a Supreme Court Justice and is a violinist, so she has a few things going for her.
There is such an amazing amount of hoopla with OUAT introducing Elsa and Anna from Frozen. What are your thoughts on this?
I personally love that OUAT is doing Frozen. After seeing how they're weaving it together it makes perfect sense and the characters from Frozen do have a lot in common with the characters from OUAT. Georgina Haig makes a terrific Elsa and I think the fans are going to be very happy to see how it all comes together.
What do you do in your downtime?
In my downtime I love eating. It's pretty much my favorite hobby. Discovering new restaurants and revisiting consistent favorites is one of my top things to do when not filming. Otherwise keeping active is really important to me and I really have enjoyed getting outside to play tennis or go for a hike. I'm also looking forward to taking some cooking classes and to do combat training in the fall.
Name the spots in the world that you would never travel to and why wouldn't you go there?
Honestly, there isn't anywhere in the world that I can say I would never travel to, given the opportunity. I think there are many places in the world that operate very differently than where I'm used to, so I would want to be well informed before traveling there but seeing different cultures and ways of life I believe could only be a privilege.
Anything else you'd like to say?
For more anecdotes from my day to day life, Once Upon A Time and Un-Real updates, you can follow me on Twitter @ChristieLaing