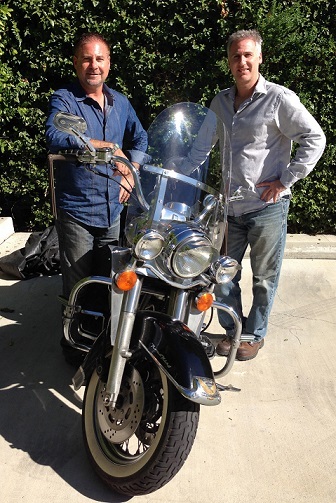 Executive Producers David & Scott Hillenbrand teamed up with Nickelodeon and writers Annette & Gina Cascone to bring one of the most memorable children's book series, Deadtime Stories, to the screen. Visit the Deadtime Stories website and Twitter: @DeadtimeStories . Pic: Brothers Scott & David Hillenbrand in the parking lot of their production offices.
Someone asked me if there's anything better than chocolate and my response was, "Yes! Nickelodeon's 'Deadtime Stories!' Watch it with your kids! Watch it NOW!"
I had a great learning experience from interviewing brothers David & Scott Hillenbrand who have been working for years to bring this project to our television.
Check out Part I of the interview below and please come back in a few days for Part II!
You both play dual roles as Directors and Executive Producers. How did you get the job on the FILM "Grave Secrets" and how did it lead to the possibility of a series on Nickelodeon?
We were first introduced to the 17 book Deadtime Stories series and we fell in love with it. We then decided to launch the series by first producing a full length movie version of the Grave Secrets story (based on the book) to be able to begin the show with a one-hour special. We also created a separate half-hour episode version of "Grave Secrets" and that is how Nickelodeon decided to launch the series and the same with CiTV in the U.K., who launched the show on Halloween. Some of the international territories are considering launching it with the movie version, and some are following Nickelodeon and CiTv's chosen path with all half-hour episodes.
As far as roles and titles on the show, we are the creators of the show, together with the Cascone sisters. The buck pretty much stops with us (David and Scott Hillenbrand) with regards to all aspects of the production from inception to preparation, pre-production, production, post-production and delivery to both Nickleodeon and our international distributor DHX Media. As Executive Producers / Showrunners, we are responsible for the economics of the show and for overseeing all creative aspects of the production. As far as directing the episodes, we decided to alternate directing; David directed some and Scott directed some and we enjoy going back and forth. It's a ton of fun!
How did you bring the idea of a series to Nickelodeon?
When we had completed the one-hour special, we showed it to a respected colleague Toper Taylor, President of a world-wide distribution company called Cookie Jar Entertainment, with an expertise in the kids content space. Toper and Cookie Jar have done many television series with the kids' networks in the U.S. and around the world. Cookie Jar has since merged with DHX Media, another powerhouse in the kids' entertainment world. When we met with Toper, he instantly responded to Deadtime Stories and it was his suggestion to prepare the half-hour pilot version of the Grave Secrets story to give Nickelodeon the option to launch the series either way. Toper took it to Nickelodeon and they tested the half-hour pilot version, and it tested extremely well. It had very high scores as kids have always responded enthusiastically to the Deadtime Stories. Subsequently a number of conversations took place which also included meetings with Nickelodeon executives at our facility in Tarzana as we discussed a potential production plan, and then together with DHX we finalized the deal with Nickelodeon.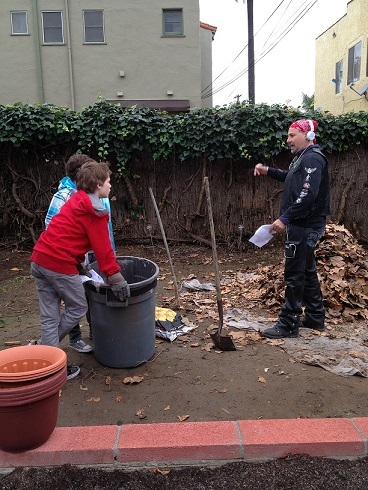 Scott Hillenbrand directing the principal actors in the "Deadtime Stories" episode called "Along Came a Spider."
You've had some hiccups previously in your career with your production company. How did you overcome them?
The movie and television business is a challenging one and attracts lots of different kinds of people. We have clearly seen "the good, the bad and the ugly" in this business but have been fortunate to have had great success with feature film and television projects through the years, across a number of genres, and when we've had hiccups along the way, or have gotten involved with people that in hindsight were people we should have run away from, we have been able to persevere and overcome those challenges including utilizing the judicial system when necessary, and we can say that whenever we had to go that route, justice has always prevailed in the end. Because the truth is always the truth, no matter what lies people may try to spin.
We'll tell you a little story about a lunch meeting we had with a very famous manager who had taken a liking to us earlier in our career. His name was Jay Bernstein - and he managed many of the fabulous actresses (often blonde) of the 70's, 80's etc. including Farrah Fawcett, Suzanne Somers to name a few. We both had the same attorney, Kim Swartz of Mitchell, Silberberg & Knupp LLP and after introducing us, the four of us on occasion would enjoy lunch at one of Jay's favorite places, the Polo Loung, in Beverly Hills. One such lunch, just before dessert arrived, Jay told us he had brought us both a gift and proceeded to hand each of us a box. When we opened the boxes, inside each was a different type of large, ornately decorated knife. He reached forward to remove the knives from the boxes, and while swinging them around, told us that with each additional success we had in the film and television business, we would need these knives to cut our way through all the BS we would encounter. It was a very, shall we say, interesting experience to have Jay Bernstein presenting us with the knives in the middle of the restaurant. Unfortunately Jay was right, and we are sure he is still swinging his knives around, too (he passed away several years ago).
Once "Deadtime Stories" the series was greenlit, how crazy busy did you get? At what point did you get on the phone to the Casting Director, writers and agents? Did you even have time for lunch?
It was definitely crazy busy after completing the deal, as Nickelodeon initially wanted the series to be on the air as soon as possible from the time we were getting going in October of 2012, so we launched into production practically immediately with an initial plan to do a sneak preview on Nick in November (of the Grave Secrets episode) and follow it with new episodes in January of this year (2013). We put together the full production team very quickly including beginning auditioning kids for the stories with our casting director Iris Hampton, and the Cascone sisters immediately began working on the teleplays adapted from the book series. While we were about half way through the production of the episodes, the release plan changed and we and Nickelodeon both agreed that it made more sense to wait to launch the series in the fall of this year. As far as eating lunch (LOL), fortunately, we always have a few minutes for a quick lunch because it is served on the set, so that the cast and crew can all break together to eat and then get right back to work in filming the episodes!
Which episode of "Deadtime Stories" was the most emotional for you and why?
Each episode has its unique set of emotions and they have all been a phantastically (pun intended) rewarding experience. We both agree that from an emotional point of view, Grave Secrets probably pulls at the heart strings the most, while also still being scary and fun.The story that the Cascone sisters spun with Grave Secrets connects in a very emotional way as it highlights themes of compassion and understanding, and not "judging a book by its cover." Until you walk in someone's shoes, you cannot understand what experiences have shaped who they are - sometimes for the better, sometimes for the worst. And the performances in Grave Secrets from the incredible Diane Ladd as Barnsy, as well as a talented young actress Mackenzie Brooke Smith as Anna the ghost, create a very emotion-packed climax to this story, not to mention the excellent performances from the entire Grave Secrets cast. Let's just say that when Anna the ghost character says "now we can rest. Now we can all rest," the audience finally feels the same sense of bittersweet relief and acceptance. On October 6th we screened the full length movie version of Grave Secrets, and at the end of the film, there were many in the audience with tears on their faces (including us, and we have seen the finished film a million times!!!)
Please come back in a few days for Part II of my interview with Executive Producers and Directors David & Scott Hillenbrand!