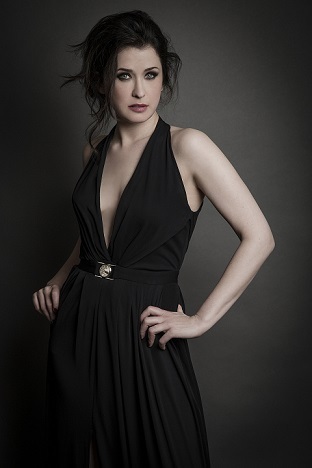 French actress Marie Mouté.
Photographer: Diana Ragland, Makeup: Agostina, Hair: Candace Bossendorfer, Wardrobe: Jordan Grossman.
It's hard to look directly at French actress Marie Mouté because she has these mesmerizing eyes. One second too long and you'd be put in a trance by this stunning beauty. Marie was born in 1983, and you know that year has a special meaning for me. So this makes Marie double enchanting.
Your recently released film Welcome to New York, also starring Gerard Depardieu and Jacqueline Bisset played at Cannes last year. Tell us about the Cannes experience.
Yes, I went to Cannes for a few days for the presentation of the movie. Cannes is always very crazy and a lot of fun...a great place to go to screenings. This time though I was with the team for promotion and the events for the movie. It was very nice to be reunited with Abel Ferrara, Gerard Depardieu and Jacqueline Bisset. It was very intense and we all had a nice time together.
You're known overseas for the French hit television series La vie devant nous and you've been doing very well in your career. Why did you decide to give the States a try? Which USA city did you pick to live in and why?
I spent part of my childhood in New York, so the U.S. has always been in my heart! I always had a lot of admiration for the movies and TV series here in the states. I had an opportunity to come to LA for the first time a couple of years ago. I really enjoyed it and started to visit more regularly. I am now between Europe and LA going back-and-forth to handle my career in both places. It is a lot of travels, but I love it!
What differences have you noticed on set in France vs. America?
I don't think there are many differences between the two...besides the language of course! You have a script, you work on a character, you meet and work with your partners and the director, etc. You notice more differences depending on the type of project and the budget (i.e. a TV show versus a studio movie versus an independent film) rather than the nationality of the crew.
Tell us a behind-the-scenes story from one of the theater shows you've done.
I was on an international tour for a French comedy. We were going all around France as well as Switzerland, Belgium and Tunisia. A fun fact happened in Tunisia. We were playing for New Year's Eve for the official re-opening of the National theatre. It was an official event playing in front of the Tunisian government. Before a play usually starts, you always have a countdown of the time remaining before the curtain raiser announced by a technician. Normally it is "30 min before," then, "10 min before"...this time as we had to wait for all the guests, it was "5 ministers before" ... "3 ministers before " ... It was funny and made us relaxed before playing for this very special audience!
What are your thoughts on the French actress Catherine Deneuve?
Catherine Deneuve is an icon. I grew up watching her movies. She is a stunning and amazingly talented actress. I admire her and would love to work with her one day!
What was the hardest choice you had to make after you decided to move to the States?
I actually live between the two. It's sometimes hard to handle both at the same time, but as an actress, you always have to be ready to move. We traveled a lot when I was young, so I am used to it. It is very exciting actually. My family lives in Europe, so I try to spend as much time as I can when I am there. And of course you have phone, Skype.... It is pretty easy these days with the technology to keep in contact than it was 20 years ago.
Do you have a significant other?
I don't actually! That is part of the tricky things of traveling a lot! You have to find someone who will accept and understand this rhythm of life! When I settle with someone though, I will have to make a decision on where to be based.
Which art museums in Paris have you been to?
Paris is a treasure for culture... So many museums, exhibitions, historical monuments.... You just walk around and you can feel so much of the French history with the beautiful architecture. I love going to the Louvres, Versailles of course, le Grand Palais. Le muse d'Orsay... I mean there are so many! It is hard to make a choice! I also love to go on the river boats at night going all around the city. The lights are magical and you see the monuments from the outside...it feels like timeless.
Where would you like to travel to that you've never been to before? Why?
I would love to go to Thailand. So many friends went there and told me how fascinating it is. The landscapes, the culture, the history and also stunning islands!
Have you had any formal acting training, coaching, classes?
Yes of course! I did a three year drama school in Paris when I was a student actress, plus many other training courses. It is very interesting and enriching to see and discover different acting techniques. Whenever I'm not on a set I like to train. Acting is like being a musician or an athlete. You need to train regularly. Here in Los Angeles, I go to the Aquila Morong studio to work with Deborah Aquila and Donna Morong. They are amazing, with a tons of experience and they're both also very beautiful human beings.
What advice can you give overseas actors who decide to give it a go in the States?
Every actor has a different background and professional experience. You have to be truly passionate and totally dedicated, ready to work very hard and just go for it. Also trust yourself and try to meet as many people as you can. I love that folks in LA are very welcoming and happy to meet new people.
What genre of books are your favorite?
It depends on my mood! I love to read historical books, biographies and sometimes more fun books or thrillers.
What's the worst audition you ever had?
It was for an indie movie at the beginning of my career. I was nervous going to the audition and totally lost it. I felt like I was going to faint, had hot flashes...I did not get the part as I was too young anyway, but the casting director still sees me and totally understood that I was overwhelmed as a very young actress. He felt it was touching actually! It was really terrible for me, but also a great experience! It never happened to me since and now I laugh about it!
Anything else you'd like to say?
I was truly blessed in my career to have been hired on my first audition. My first one in France was for a TV show that last three years and my first one in the U.S. was for "Welcome to New York." I am very grateful to have had unique experiences with veteran actors through my career and look forward to new ones!