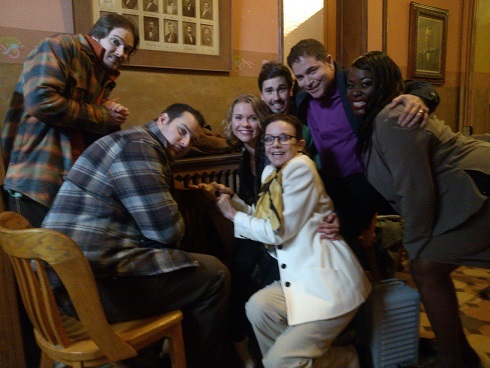 Chilled to the bone, actors huddle around a radiator while filming in the pouring rain at the beautiful courthouse in Charlotte, Michigan.
"Conversion therapy" has always been a hot topic.
Written and executive-produced by Jay Paul Deratany and directed by Matthew Ladensack, Saugatuck Cures is a buddy comedy that satirizes the controversial practice. The indie film stars Judith Chapman (The Young and the Restless), Max Adler (Glee, Switched at Birth), and Danny Mooney (Whip It, Ides of March). Chapman plays Maggie, the mother of Drew (played by Adler), who is gay and goes on an adventure to convert homosexuals into heterosexuals in order to raise money to help pay for his mom's cancer treatments.
Is Saugatuck Cures controversial? Definitely. Fun to watch? Yes. Something to talk about with your friends? You tell me after you see it!
I spoke with Ladensack, Deratany and Chapman. Our interviews appear below.
* * * * *
Ilana Rapp: Why did you choose to be in show business, and why did you choose directing?
Matthew Ladensack: It's in my blood to tell stories. It's just one of those things that I have always known. Growing up, I was always a little of an outcast in parts of my life, and telling stories visually was a way for me to communicate how I saw the world and hopefully create an emotional reaction in people; it was a way to say, "This is how I feel. This is who I am. Please listen to me." I've wanted to be a director since I was 8 years old. I fit in with the proverbial story of my father letting me play with his video camera and creating short films and trying to create in-camera visual effects. Most films involved my sister getting murdered (sorry, Melissa!), because I was obsessed with the Scream movies growing up. Directing was something that always was appealing, because you have to be a leader; you have to be emotionally connected with the world but also be able to make arduous decisions and communicate. Directing is one of the most thrilling experiences.
Rapp: Saugatuck Cures is your feature-film directorial debut. What differences have you seen between directing a feature film and directing a television show?
Ladensack: Yep, this is my first feature, and outside of this I've directed independent pilots, shorts and Web series. I was very lucky to have Jay Paul Deratany trust me with his work and cannot thank him enough for the fantastic opportunity! Working on a TV pilot and indie are very similar, because you have to move so fast. That being said, the greatest difference is the companionship that is created on set of a feature film. It's been said before that making a film is like going to war, and those people become your family. You're pulling extremely long hours, bouncing ideas off of each other in the middle of the night, and opening up about your deepest insecurities and wishes. It's a shared experience, and when it's 2 a.m. and it's raining (or snowing), you have to come together and remember why you are telling this story and pull together as a team. There is a lot more prep that goes into a feature film -- mainly more locations, more actors, a larger budget, more crew -- and in the indie world sometimes you work longer ours and have to move a lot faster, since you have only so many days to get the film in the can.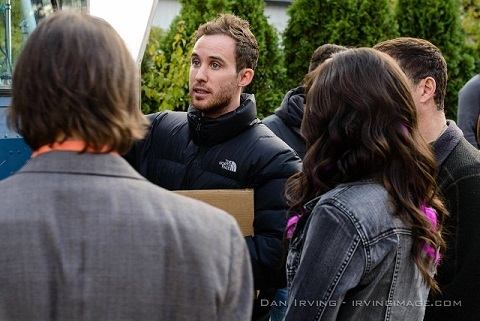 Matthew Ladensack directing Saugatuck Cures (photo by Dan Irving)
Rapp: Which scene in Saugatuck Cures was the most complicated to direct, and why?
Ladensack: Hands down, the Thanksgiving dinner-table scene. It's extremely complicated to have all of your leads at one table for a scene full of dialogue. Everyone has input and questions, and often at the same time. The cast was fantastic about listening to each other and feeding off ideas. There are so many angles to cover and little reactions to get and, of course, never enough time. We had to do a major recast and had to pick up the entire scene again, which meant recreating all of the food and dressing the scene. That was a blessing in disguise, since I could watch what we covered and put the scene together in my head and pick up anything that we missed. It turned out great, thank goodness, and I'm really proud of the entire cast and crew for sticking it through.
Rapp: Were you involved in the casting of the actors? Describe the casting process.
Ladensack: Casting was very complicated, since I live in Los Angeles and everyone outside of Max, Danny and Judith came from either Chicago or Michigan. We held auditions in Chicago and found amazing talent there, and thankfully Luke Jaden came on and assisted with finding the right people in Michigan for the roles. Luke is very talented and well-connected with actors; I really couldn't have done it without him. The coolest part about casting was casting Max Adler and Danny Mooney together. They are real-life friends, and Max and I went to high school. When I approached Danny (through Max) to be a part of the project, Max wanted to jump on. Their chemistry made the film what it is, and it's truly something special. I couldn't be happier with all the performances from everyone. I am extremely proud of Judith Chapman, Amanda Lipinski, Matthew Klingler and Julianne Howe; they just brought so much life to their characters and the film!
* * * * *
Ilana Rapp: Are you a lawyer who's a writer or a writer who's a lawyer?
Jay Paul Deratany: Ha! I think once a writer, always a writer. I've always loved writing, but I chose law because, frankly, it was more pragmatic to earn a steady income. My earliest memory of writing was a poem I wrote about the holidays that was published in our junior-high news. I thought it was good, and so did others, but because I poked a bit of fun about the holidays, my teacher did not give me a good grade. I guess that was my first experience with critics as well.
Rapp: Saugatuck Cures has a gay theme, as did your play Haram Iran. What made you decide to incorporate gay themes into your work?
Deratany: The treatment of gays. I read a human-rights story about two boys, age 15, who were hanged in Iran for allegedly being gay, and that disturbed me greatly. For Saugatuck Cures the motivation was seeing right-wing politicians talk about how gays could be "cured" and I thought, "How absurd. What exactly do we need to be cured of?"
Rapp: You also executive-produced Saugatuck Cures. What exactly were your responsibilities as an executive producer?
Deratany: Wow, I didn't know how hard a job producing really was! In an indie production it's everything. I raised funds, met with investors, hired directors, helped cast, reviewed casting and location agreements, worked through flight schedules with the actors, etc. I was even the last on the set, emptying the garbage at night.
Rapp: You've done acting, and you're in the union SAG-AFTRA. How and when did you get your union card?
Deratany: I got my union card with a small role on a Lifetime show called Strong Medicine about 15 years ago. It was so exciting being on that show. I've always loved the whole process of acting. I love stage acting the best. There's nothing like the jittery feeling you get when you are about to go on stage.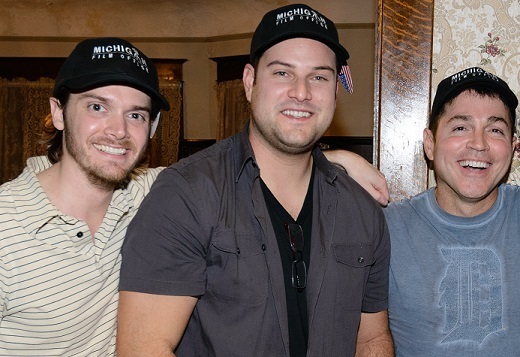 Danny Mooney, Max Adler, and Jay Paul Deratany (photo by Dan Irving)
* * * * *
Ilana Rapp: How did you become involved with Saugatuck Cures?
Judith Chapman: Producer/screenwriter Jay Paul Deratany and I were asked to do a reading of a short film for a mutual friend, Chad Everett. We had never met but so enjoyed playing mother and son in script. By the time we had finished, Jay Paul told me about his film Saugatuck Cures. He asked if I would be interested in reading it. He thought I would be perfect for Maggie. I loved the script, the character, and Jay Paul. Deal done!
Rapp: What's the difference between working on a soap opera and working on a feature film?
Chapman: When working on a soap, you pretty much know your schedule, location, time into work, time out, etc. A feature film, however, especially when shot on location, is a whole different situation. Locations, weather, even time of day can change everything overnight. On Saugatuck Cures all of the craft services and meals were homemade, which gave a wonderful sense of camaraderie, everyone eating in the kitchen of the B&B or at the dining-room table. Soap meals and craft services? The cafeteria!
Rapp: Your character in Saugatuck Cures has cancer. Did you do any research for the role? Did you have your character in your head a certain way, and that's how you portrayed her, or were you directed differently from what you came up with?
Chapman: I did do research on cancers and talked to close friends, survivors. I knew what I wanted; the director, Matthew Ladensack, and Jay Paul knew what they wanted. Thank heavens we all agreed. I trusted their comments; they trusted me. Wonderful.
Rapp: You've been in several soap operas. What's the worst experience you've ever had working on a soap?
Chapman: Worst experience on a soap? Having to work with an actor and do love scenes when you didn't get along. We won't mention any names. Love my day job: It has given me so much freedom to pursue my outside projects, like Saugatuck Cures.
* * * * *
To learn more about Saugatuck Cures, visit the website, saugatuckcuresmovie.com, and follow them on Twitter @SaugatuckCures.
Follow Matthew Ladensack on Twitter @LifeOfLadensack.
Follow Jay Paul Deratany on Twitter @deratany.
Follow Judith Chapman on Twitter @VivienThePlay.